Alberta Bound: Works by Lynn LeCorre
From Red Deer Arts Council
Red Deer Arts Council and Red Deer Public Library are pleased to present,

Alberta Bound: Works by Lynn LeCorre

which runs from

August 19 to October 14, 2019

in the Kiwanis Gallery.
En Plein Aire artist Lynn LeCorre explores Alberta in her exhibit at the Kiwanis Gallery.
Travelling the highways and byways around Alberta inspired Lynn to not only discover what Alberta's landscapes have to offer, but to get out of her car and paint the landscape right on the spot! Dust, wind, rain, – it didn't matter as long as she could capture the image of her beloved province.
Although sometimes she had to use a photograph when stepping out didn't work, such as capturing the winter landscape or to get the aerial views from an airplane or the perfect view from the middle of the road.
Born in Regina, but raised in St. Albert, Lynn has lived in Northern Alberta (Grand Prairie and High Level) for 21 years and Jasper for a few years. She has been an Alberta girl her whole life. The landscapes around the various places she lived inspired this exhibit after a move to Red Deer in 2016 to become the Education Coordinator at the Red Deer Museum + Art Gallery. She balances that job with teaching youth painting classes for Culture Services with the City of Red Deer. She is once again excited to explore the southern province with fresh eyes for new compositions and landscape challenges. That was the impetus for this show – to see how diverse the landscape is all across Alberta from her road trips and painting excursions.
From her artist statement:
Why 'Alberta Bound?" I love a road trip! The diverse Alberta landscape inspires me. Having lived in Alberta all my life (from Edmonton, Jasper, High Level, Grande Prairie and now Red Deer) and with all my travels across the province, I am continually in awe of this land. When I drive, I am inspired to just pull over and paint what I see. So that is what I do. I pull off onto secondary highways, road allowances or any safe space that gives me the view I wish to paint. Armed with an easel, folding chair and paints, I start sketching a composition. Then I paint quickly before the fleeting light and sky change. This is my challenge. I have been painting the Alberta landscape 'en plein aire' for over 15 years and continue to search for new compositions and new challenges.
Red Deer Arts Council and Red Deer Public Library are pleased to present, Alberta Bound: Works by Lynn LeCorre which runs from August 19 to October 14, 2019 in the Kiwanis Gallery.
Larry Reese and Judy Sutter among five Central Alberta artists featured in OUR West Country exhibition at MAG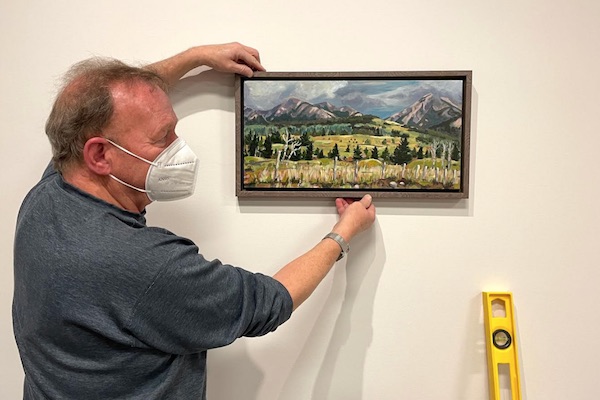 News Release from Red Deer Museum & Art Gallery (MAG)
Five Central Alberta artists worked en plein air, painting the incredible landscape that is the West Country.
The Eastern Slopes of Alberta and prospective coal mining in that area have been the focus of much controversy in the last year. These mountains are more than the resources they hold. They provide the people of Alberta with much of the province's fresh water supply as well as mental and physical connections to nature. In the summer of 2021, central Alberta artists Lynn LeCorre, Kate More, Larry Reese, Judy Sutter, and Susan Woolgar worked en plein air, painting and sketching onsite in the open air. Through their eyes, we experience the incredible landscape that is the West Country along the eastern slopes of Alberta's Rockies. See the exhibit OUR West Country: Plein Air Painting in Alberta's Eastern Slopes on display at the Red Deer Museum + Art Gallery (MAG) December 11, 2021 to March 12, 2022, with an opening reception on Sunday, December 12th from 2-4pm.
Words from Pat Matheson, Curator of Art:
"The MAG is looking forward to seeing this exhibition installed as it touches on a topic near and dear to many Albertans, including myself. With the new awareness most Albertans have with the landscape so close to us to the west, we invited a group of en Plein Air artists to capture the atmosphere, the beauty and the spirit of Alberta's eastern slopes through their eyes."
Opening Reception: Sunday, December 12, 2-4pm
Join us at 2 pm for the opening of the new exhibits OUR West Country: Plein Air Painting in Alberta's Eastern Slopes and Ya Ha Tinda – The Ranch: Photography by Arto Djerdjerian. Artists in attendance.
Talks & Tours:
Open for First Fridays! Guide in the Gallery – January 7, 5-8pm
2 O'CLOCK TOURS – Staff-led informal tours. February 12, 2pm
Yvette Brideau's photography captures small and silent spots throughout Central Alberta.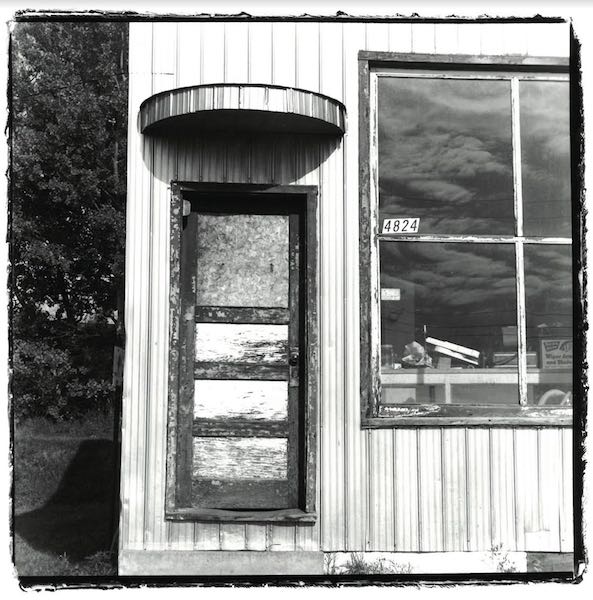 Yvette Brideau,"Tunnie" (Lorne) Nielsen's Welding/Mechanic Shop, Benalto, AB 1995.
Empty windows and empty rooms reflect and echo what once was.
Yvette Brideau's small black and white photographs of abandoned churches and quiet spaces reflect what is left behind by the passage of time. See the photographic exhibit Vestige: Photography by Yvette Brideau on display at the Red Deer Museum + Art Gallery (MAG) December 10, 2021 to February 27, 2022.
This is a hallway exhibit: a small collection of 2-dimensional works.
Vestige /'vestidᴣ/ noun [French from Latin vestigium sole of the foot, footprint, trace.] A mark, trace, or visible sign of something no longer present or in existence; a piece of evidence, an indication; a surviving remnant.
Words from Joanne Gruenberg, Curator of Art: "In Vestige, photographer Yvette Brideau's small scale black and white photographs take us to the quiet spaces that are often overlooked or left behind as people pass by and move on."
About the Artist
Born in northern New Brunswick of Acadian descent, Yvette Brideau attended St. Thomas University in Fredericton, graduating with a degree in French Literature in 1973. She developed a fascination for black and white photography and
studied with Dr. Harry Thompson, a devotee to the zone system of Fred Picker and methods of Ansel Adams. Yvette moved to Red Deer in 1984 and in 1994 Yvette and her husband David More re-located to the hamlet of Benalto and established a wee home and former church studio and a garden named Benhaven. Partners since 1977, Yvette and David's journey together is revealed in the Red Deer MAG book The Greatest Garden.