Alexa Swenson honoured as 2021 LTCHS Valedictorian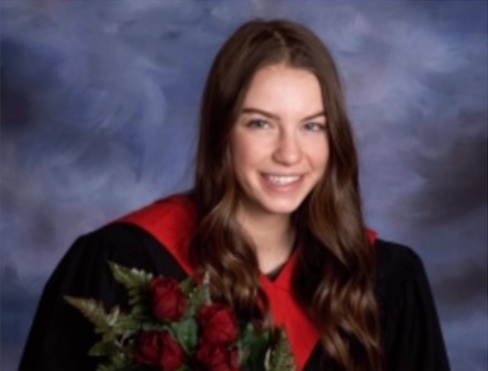 LTCHS valedictorian reflects on her high school career
Setting a goal to achieve well academically has landed Alexa Swenson a top honour as she gets ready to walk across the graduation stage.
Alexa has been named the valedictorian for the Class of 2021 at Lindsay Thurber Comprehensive High School.
"I was so surprised when I learned I was this year's valedictorian! Mr. Good called my mom ahead of time and came to my doorstep with balloons. It was awesome," she said. "It's really a great acknowledgement of my achievements."
Graduation ceremonies for Lindsay Thurber will take place on June 25 at Bower Ponds.
Finishing high school during a global pandemic was no easy feat, and Alexa said her class was hopeful that their Grade 12 year would have been more like a normal year.
"As the year went on it became obvious that we probably wouldn't get all of our grad events – we had lots planned and then canceled," she said. "Motivation was the hardest factor. It's been really hard to go from in-person to online over and over again because you're learning strategies have to shift. It's about being self disciplined and making sure you are doing the work because it's really easy to fall behind if you're at home."
Alexa credits a strong support system for helping her achieve her goals.
"My family is awesome and I have two younger siblings who have also been doing online school in our house as well. We check in with each other and make sure everything is going okay," she said. "My friends were great as well. Each of my classes had a group chat where we could talk and make sure we all knew what was going on and discuss any questions we had with each other."
Reflecting on her Grade 12 year, Alexa said one of the highlights was taking part in the activities in her Outdoor Ed class.
"One of the best parts was being given the opportunity to go on some trips," she said. "We were able to go skiing a couple times and we just did a mountain bike trip. We were able to really bond as a class by going on these trips together."
Looking ahead, next year Alexa will be making the leap to the University of Victoria to complete her Bachelor of Science in Psychology.
"I'd like to go into healthcare, maybe in rehabilitation as an Occupational Therapist or a Speech Pathologist," she said. "I love being around people and last year I volunteered with Healing Through the Arts at our school. We would do art as rehabilitation for people who had a stroke or people who had an amputation. I thought it was really fulfilling and I enjoyed getting to know everyone involved."
Chris Good, Principal at Lindsay Thurber Comprehensive High School, said they are proud to have Alexa represent the class of 2021 as valedictorian.
"Alexa is a great student whose hard work has paid off with excellent academic achievement all four years she has been at Lindsay Thurber," he said. "Alexa is not only a great student but a great person. She is kind to everyone, participates and leads school activities and has been a member of the volleyball team. Alexa goes out of her way to make other students feel welcome and included, she represents the resilience and kindness of our 2021 grad class and embodies what it means to be a Lindsay Thurber Raider."
CPNewsAlert: Quebec to lift COVID-19 curfew Monday, extend vaccine passport to retail
MONTREAL — Quebec Premier François Legault says the COVID-19 curfew he imposed across the province in December will be lifted on Monday.
He told reporters today the health order can be ended because the number of COVID-19 infections seems to have peaked.
Legault says health officials estimate that COVID-19-related hospitalizations are expected to peak in the coming days.
The curfew was imposed on Dec. 31 after having been used for almost five months earlier in the year, between January and May 2021.
Legault also announced that the province's vaccine passport will be extended to big box retail stores, except for grocery stores and pharmacies.
Earlier today, Quebec reported 45 more deaths attributed to the novel coronavirus and a rise of 117 COVID-19-related hospitalizations.
More coming.
The Canadian Press
We've got THOUSANDS of reasons to SMILE!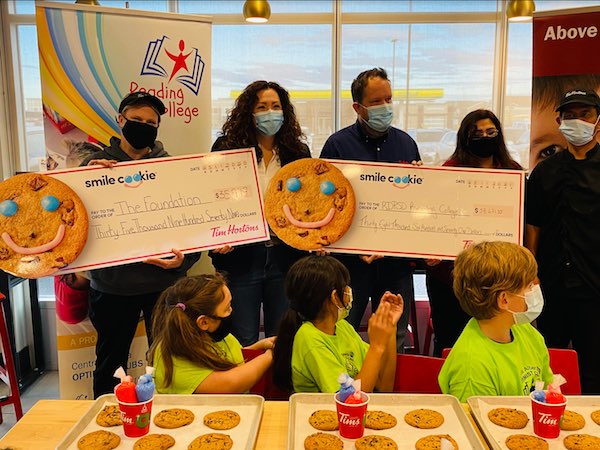 It took us a while to count ALL the money raised from the Tim Hortons Smile Cookie Campaign…and it's very impressive!
Today, we celebrated the presentation of two cheques – one from the 2020 Smile Cookie campaign, and one from this year's campaign. Due to the COVID-19 pandemic, we were unable to hold last year's cheque presentation.
Over the last two years, Red Deerians ate 74,650 cookies, which means $35,979 was raised in 2020 and $38,671 was raised in 2021 to help struggling readers become readers of potential through Reading College, a project of the Foundation for Red Deer Public Schools.
Reading College, held in the month of July, provides students who already have reading gaps, an amazing summer experience that will not only develop their reading skills but more importantly, their interest and motivation in reading. Students leave the program with increased reading and writing abilities, and a solid foundation for future success in school and life.
"The Smile Cookie Campaign is a great opportunity to raise awareness on the importance of literacy, it really does create life chances for students. Reading College is made possible through great support from our community and Tim Hortons – we could not operate it without this support," said Kristine Plastow, Foundation Board Chair. "We are so grateful to the community for buying Smile Cookies and supporting this fantastic program."
From September 13 – 19, Tim Hortons restaurant owners in Red Deer generously donated all proceeds from sales of a special smiling chocolate chunk cookie to support the Reading College program through The Foundation for Red Deer Public Schools. The $1 treat helps community programs across Canada in the cities where they are sold.
"On behalf of all restaurant owners and team members in Red Deer, I would like to thank our loyal guests for their generosity and support of the Smile Cookie campaign," said Tanya Doucette, Tim Hortons Restaurant Owner in Red Deer. "Tim Hortons is thrilled to support The Foundation for Red Deer Public Schools and Reading College with the funds raised and bring smiles to so many people's faces."