Local artist records original song for Remembrance Day with video showcasing Red Deer's military history
This spring, a singer and songwriter friend of mine from Red Deer, Shelly Dion, came to me with a song idea that had, in her words, been "knocking around in my head for the past 30 years". She said that she really wanted to pay her respects to the people who sacrificed their lives and livelihoods to go to war.
The song is called "Lay Me Down", and it's a very fitting song for this time of year. We decided to get together and record a simple version of the song.  Then I sent her off to see musical wizard, Red Deer's Heath West of Medodius Design.  Heath came up with some excellent improvements and we recorded it in his studio this fall.
As Honorary Colonel of 41 Signal Regiment in Alberta, I'm always looking for opportunities to promote the military, our Regiment's members, and of course at this time of year, to acknowledge the sacrifice made by the men and women who serve in the Canadian Armed Forces. "Lay Me Down" hit all the right notes.
With some help from Counsellor Michael Dawe, long time archivist for the City of Red Deer, I gained access to some wonderful historic photos that helped me to tell the some of the story of Red Deer's military history. At the same time, I wanted to help the members of our Regiment honour the many local members who have volunteered to put their lives and careers on hold to deploy internationally to places like Afghanistan, Golan Heights, Bosnia-Herzegovina, Croatia, and more recently Ukraine and Latvia. This project allowed me to both profile some local history and recognize our more modern history. Thanks to WO Drew Adkins of 41 Signal Regiment for his help in coordinating photos from our wall of fame inside Cormack Armoury.
The above video is the result. Take some time to learn about our local military history. Do you know who Cormack Armoury  is named after? You'll also learn about local members of 41 Signal Regiment (2 Sqn), many of whom actively serve in Armed Forces today. You may even know some them as neighbours, friends, and co-workers.  Please take a moment to acknowledge their service, and on November 11th, with so many restrictions that limit our usual services and ceremonies, please take a moment at 11 AM to be silent and consider how lucky we are to be at peace in our country.
"Lay Me Down" is written and performed by Shelly Dion and produced and engineered by Heath West. Musicians: Bagpipes Glenn MacLeod, acoustic guitar Heath West, electric guitars Lloyd Lewis, drums Phil Liska, Bass Doug Gagnon.
Click to read more on Todayville.
Three charged after investigators find fentanyl, meth, and cannabis on property at Bowden Institution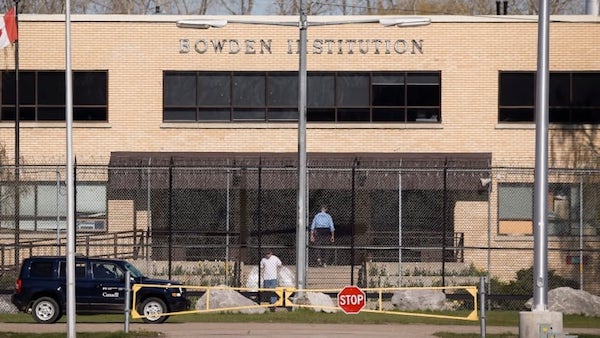 News Release from Innisfail RCMP
Drug Investigation Leads to Charges
A drug investigation at the Bowden Institution has resulted in charges after a year and a half long investigation. In November of 2019 Bowden Institution staff responded to suspicious activity on Correctional Service Canada's property. A search was conducted that resulted in locating contraband that had been concealed on the property. The contraband packages contained fentanyl, methamphetamine, cannabis concentrates and tobacco. Innisfail RCMP General Investigation Section worked on the investigation in partnership with the Bowden Institution's Security Intelligence Office and Slave Lake RCMP General Investigation Section.
Raymond Foss (32), Braden Foster (31) and Joshua Laboucan (23) all of Slave Lake, Alta., have been charged with:
Trafficking a controlled substance, contrary to the Controlled Drugs and Substances Act (x2),
Distribute Cannabis, contrary to the Gaming, Liquor and Cannabis Act, and
Trespass by night.
Foss and Foster were arrested and after a judicial release hearing were remanded into custody.  After a subsequent bail hearing, Foss was released.  Foss and Foster's next Court appearances are both scheduled for August 19, 2021 in Red Deer Provincial Court. Laboucan remains at large with outstanding warrants for his arrest.
Innisfail RCMP encourage the public to report any criminal or suspicious activity.  Reports tell us where to look, who to look for, and where to patrol in the future. If you see a crime in progress, dial 911. If you wish to remain anonymous, contact Crime Stoppers at 1-800-222-8477 (TIPS), online at www.P3Tips.com or by using the "P3 Tips" app available through the Apple App or Google Play Store.
Summer Vacation Idea – Central Alberta's collection of Train stations preserved along the Highway 56 Corridor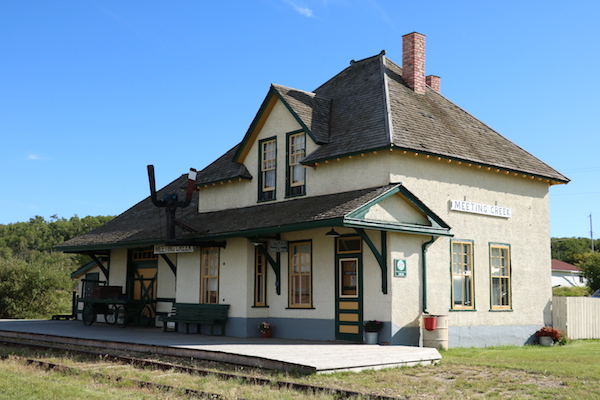 Article submitted by Paul O'Neil
For decades, the railroad station or "depot" was the transportation hub of many communities across North America.  As the "storefront" for the railway company, the depot was the town's gateway, handling express freight, serving travelers, and providing vital communication in an erathat is now almost forgotten.  In Canada's West, the remaining small-town depots that continue to exist are now museums, private businesses or residences, or in the worst cases have been left to deteriorate as hulks on private property.
There is however a special historical railway on the Prairies that has developed into a true "historic railway district".  A visit to the depots preserved by the Canadian Northern Society in Central Alberta provides a glimpse into the past – an entire collection of classic railroad station designs, carefully and lovingly maintained by a dedicated group of volunteers.
History Background:
Members of the Canadian Northern Society include historians, community volunteers, gardeners, and other local supporters who have since 1987 been active in the preservation of its namesake railway's history, and in particular its depots.  The Canadian Northern Railway (CNoR) traces its origins to Manitoba in 1896.  Visionary founders Sir William Mackenzie and Sir Donald Mann – both instrumental as contractors in the completion of the Canadian Pacific Railway – grew the company from a modest short line between Gladstone and the Dauphin district of Manitoba into to a 9500 mile transcontinental system.
Despite the relative business success of the CNoR's branchline network, negative financial impacts created by the First World War, together with mounting debt from the over-expansion led to the company being nationalized in late 1918.  By 1924, operations in Central Alberta were amalgamated with the rival Grand Trunk Pacific Railway under the newly formed Canadian National Railways (CN) banner.
DEPOTS
Similar to other western railroads, the CNoR designed standard plans to be used at individual locations based on the size and importance of the locality to be served.  In Alberta, the most common CNoR design was the combination freight and passenger "Third Class" station.  Several "Second Class" depots intended primarily for divisional points were constructed, and a single-story "Fourth Class" depot design were also found.  The designs were flexible enough that additions could be constructed as traffic or operations warranted.  The distinctive pyramid or "semi-pyramid" roofline of a CNoR depot, a feature designed by company architect Ralph Benjamin Pratt, created a unique and pleasing image.
By the late 1960's the depot-era on the former CNoR Battle River Subdivision (a large portion had by then been renamed the "Stettler Subdivision") was drawing to a close.  However, the presence of a branch line passenger service in the form of a Budd RDC service between Edmonton and Drumheller ensured the continued existence of several depots as passenger shelters that otherwise would most certainly face demolition.  The Edmonton to Drumheller service lasted into VIA Rail Canada times until the Trudeau Government service cuts of November 1981 gutted passenger service across Canada.
ENTER THE CANADIAN NORTHERN SOCIETY
Meeting Creek, MP 21.2
By 1986, the CNoR Third Class depot at Meeting Creek was surviving on borrowed time, vandalized and yet escaping the fate of several identical structures in neighboring towns.  As a result of an interest by a small group of younger railroaders and rail historians, powered perhaps by a few pints enjoyed in a Stettler pub, the Canadian Northern Society (CNoS) was soon established with the intent to save this classic structure from imminent destruction.
Armed with enthusiasm, some grant money, and the support of short-line Central Western Railway; the CNoS got to work repairing the roof, floors, rebuilding the wooden platform, painting, and replacing missing windows, doors and chimneys.  By 1989 the Meeting Creek depot was resurrected from a sad state to her today's 1940's-era appearance.
Complimenting the station today is another vanishing prairie icon.  A 1917 Alberta Pacific Grain elevator located across from the depot was purchased by CNoS from the Alberta Wheat Pool in 1992.  Over the years, it too has been conserved by the Society and work continues into its second century.  A second grain elevator, while privately owned, ensures that Meeting Creek continues to feature two classic prairie elevators that dominate the skyline in this picturesque location.
Donalda, MP 30.9:
9.7 miles south of Meeting Creek lies the Village of Donalda.  Always an agrarian-based community, Donalda was never larger than 500 souls, and as such rated a Canadian Northern Railway "Third Class Depot".  Unfortunately, the original depot at Donalda was demolished in 1984.
Thanks to the efforts of the CNoS, the group was able to relocate an original CNoR "Fourth-Class" type depot, donated by a Saskatchewan farmer many miles to the east.  All the Societyhad to do was physically move this building 700 miles from her location at Vandura, Saskatchewan to Donalda!  Through fundraising and community support, the building was moved to Donalda in 1991. The depot was restored to her CN oxide red paint scheme, with cream trim on the windows and facia boards.  The interior of the depot was refurbished to her heyday as a depot and is now included in the present-day collection of the Donalda & District Museum. Like Meeting Creek, a short section of original CNoR 60-pound steel main track remains preserved in front of the depot.
Warden MP 55.8:
Five miles south of Stettler is the one-time important junction of the CNoR Brazeau Subdivision, its westward extension into the coal fields at the foot of the Rockies.  Originally, a "Fourth Class" station was located here, being destroyed by fire and replaced with a standard later version of the company's "Third Class" design in 1919.  This structure was sold and demolished in the 1980's, and was recently replaced by a "representative" train order office/depot built entirely by CNoS volunteers, that features design features, artifacts, and "parts" of the original depot.  It is used for educational purposes in a peaceful park-like setting along what is now short-line Alberta Prairie Railway.
Big Valley, MP 72.1:
Established in 1911, Big Valley was once hub of the division for the CNoR.  By 1921 this one-time bustling terminal boasted well over 300 employees on payroll and featured a 10 stallroundhouse, coaling plant, water tank, and other terminal facilities.  Big Valley's 1912-built depot was a large "Second Class" design commonly constructed by the CNoR at divisionalpoints across the system. The main floor handled passenger and LCL business, while the second-floor housed accommodations for the agent – and later crews and offices.
The Big Valley depot was the second major conservation project for the Canadian Northern Society in 1989.  Encouraged by the Village of Big Valley, CNoS began refurbishment of the station, and was able to raise funding from Alberta Historical Resources Foundation and various temporary job creation programs to restore the depot to today's attractive 1940's-era exterior appearance.  
At the same time, short–line operator Central Western Railway was launching Alberta's first tourist railroad service. Big Valley, like in her previous railroad life, again had the infrastructure to accommodate steam powered trains into the community.  In addition, the 10-stall roundhouse,by then in ruins with only the concrete walls showing her prominence to the community was preserved as an interpretive park through the efforts of CNoS, Central Western, and the Village of Big Valley.  Volunteers cleared and excavated the site, allowing the view of the ash and turntable pits, boiler room and machine shop.  You can imagine the one-time bustling activity of Ten-Wheelers and Consolidations locomotives receiving service at the Roundhouse.  
Big Valley today is the centerpiece of this rich CNoR heritage, plus a restored grain elevator to complete the scene of a bustling prairie railroad terminal.  The Big Valley Historical Society also operates an excellent local museum in a classic garage on Railway Avenue, together with maintaining St. Edmund's Church – a spiritual home of many of the community's early railroaders.   Serving as primary destination for Stettler based Alberta Prairie Railway, seasonal excursion trains arrive at Big Valley on a scheduled basis, where passengers spend a few hours in the community, experiencing the magic of its railway, ranching, and mining historical attractions.
Further along the line in the ghost town of Rowley is another preserved CNoR Third Class depot, built to a similar floor plan as Meeting Creek's railway station.  While not part of the Canadian Northern Society's collection, it is certainly worth a visit while in historic "Rowleywood".
Other Projects
In addition to its Stettler Subdivision projects, the Canadian Northern Society has and continues to support other railway preservation efforts.
Over the years the preservation of depots at Rowley, Smoky Lake, Viking, Canora in Saskatchewan, and Dauphin in Manitoba have all been supported by CNoS. A roundhouse project at the former CNoR divisional point of Hanna has also been aided by the CNoS.  While the 1909 Viking depot is in fact a rival GTP station, the CNoS was instrumental in its 1991 preservation – and remarkably you can still catch a train here – with VIA Rail Canada's flagship train "The Canadian" stopping upon request.
The CNoS collection of depots and the corresponding regional history that they represent has become part of the historical fabric of Western Canada.  It is proud to have left this legacy – and its true hope is that future generations will continue to be educated by its efforts, and will perhaps contribute to the further preservation of each of these wonderful historic structures.  
This summer the Canadian Northern Railway Historical Society invites you to visit these historic buildings along Alberta's Highway 56 corridor.