"India? Are you nuts? Join Gerry for part 1 of his series on India.
This is the first in a four-part series on India
"India. Are you nuts?" an incredulous friend remarked. "Why would you want to go there? It's dirty, crowded, smelly and full of stray cows."
So, I was anxious as I stared out the window of the Dreamliner 787 on descent into New Delhi after a 14-hour flight from Vancouver. But Delhi was nowhere to be seen. The worst smog in the country's history had enveloped India's capital. Visibility was near zero.
The late-night ride to the hotel was a dystopian dream. With the twelve-hour time change we were in a trance-like state. The streets were eerily quiet. An acrid smell hung in the air. As we drove through dense smog, the moon made a futile effort to silhouette India Gate, Parliament House and the Prime Minister's residence.
"What's happening?" we asked the clerk at check-in.
"Diwali," he smiled.
Diwali is an ancient Hindu festival that pays tribute to the victory of light over dark, good over evil – and a highlight of the annual celebration is the setting off of fireworks. When Delhi's 22,000,000 inhabitants simultaneously ignite firecrackers and other pyrotechnics, the sub-tropical air becomes thick with the stagnant refuse of gunpowder. Add to this the exhaust of 9 million vehicles, smoke from burnt stubble fields in nearby Punjab, plus a temperature inversion – and you have unimaginable, eye-searing air pollution.
"…At the top of the heap are India's cows. Bovines stand nonchalant, impervious – and sacred – amongst the vehicular pandemonium…"
Schools were closed. Construction was halted. Roads were sprayed to keep dust down. Farmers were threatened with fines for illegally burning rice stubble; all to no avail. The particulate index climbed, from just over 600 when we arrived, to 964 three days later. This level is 15 times the "safe" limit in India – and 60 times what would be considered hazardous in Canada.
Then the currency crisis hit. In an effort to weed out "black money" – cash hoarded through corruption and counterfeiting – Prime Minister Narendra Modi announced the demonetization of all 500 and 1000 rupee bills. That's like cancelling all our $10 and $20 bills.
India's 1.3 billion people were given a fortnight to exchange old rupees, after which the old bills would become worthless. The bank lineups were horrifying.
India's is a cash economy and many people don't even use banks. The country was in chaos. But surprisingly, most people we met – guides, drivers, shopkeepers, restaurant employees – were sick of the endemic corruption and in favour of this Draconian strategy.
Our tour group consisted of my wife Florence and me, together with our fun-loving travel-mates Kim and Simone from Victoria and Joe and Carla from Saskatoon. We struggled through these pollution and currency crises from the comfort of an air-filtered, credit card-accepting hotel. Meanwhile out on the streets the locals coughed, lined up and resolutely carried on life in 21st century India.
But for me more astonishing and unfathomable than the choking smog and worthless bills was India's overwhelming, perpetual traffic congestion.
The "sub-continent" has 54 cities with more than a million people. Four of these urban agglomerations have over 20 million souls. And even the smallest Indian village is a clogged spoke of trucks, buses, cars, motorcycles, rickshaws, bicycles and foot traffic. Pecking order is determined by size. Bicycles give way to motorcycles, which give way to rickshaws… ascending up to the big Tata transport trucks.
Buses overflow with humanity – arms, legs and heads spilling from every door and window. A moped transports an entire family – and their belongings. The lowly pedestrian occupies the bottom of the traffic heap, flirting death with each wary footstep.
At the top of the heap are India's cows. Bovines stand nonchalant, impervious – and sacred – amongst the vehicular pandemonium.
This may come as a somewhat of a surprise but Indians are fantastic drivers. In what can only be termed functional chaos, traffic actually moves. Roads designed for two lanes harbour four – in each direction. The tiniest opening in traffic is immediately filled by the largest object that fits that space. India abhors a vacuum.
Horns blast non-stop in a cacophonous chorus, used not in anger but to convey a message. A little beep means, "Hey, I'm here." A resolute honk indicates, "I'm filling that gap." And an extended blast from a bus states unequivocally, "Coming through, out of my way."
The first two weeks of our month-long stay in India were spent in the company – and under the watchful eye – of guide Anoop Singhal and driver Devinder Singh. Each morning Singh Ji, a soft-spoken Sikh, greeted us with a colourful turban and a contagious smile. ("Ji" is an honorific, used to show respect – and we happily started referring to one another as Kim Ji, Anoop Ji, etc.)
Despite the culinary curry shock to my digestive system – and the occasional experiment with street food – I managed to avoid "Delhi belly." I credit my intestinal well-being to a daily dose of local yoghurt. But even with the use of air masks, we all eventually succumbed to the dreaded Delhi cough.
After "seeing" the capital, we travelled a few hundred kilometers southwest to Udaipur to begin an exploration of the fabulous architecture of Rajasthan. Vast palaces built by fabulously wealthy Maharajas in the 17th century still dominate the landscape. The Lake Palace of Udaipur, the White City, is a stunning snow-white jewel set in a liquid surface.
In Jodhpur, the Blue City, we looked down on a jumble of turquoise buildings from the heights of Mehrangarh Fort. The last in the colourful triumvirate of Rajasthan's famous towns is Jaipur, the Pink City, where in 1857 Maharaja Ram Singh ordered his palace painted pink to impress the British overlords.
India is a photographer's paradise. No need to search out photo ops; simply plunk down on any curb and start snapping: a vendor hawking fruit, women in crimson saris haggling over spices, a cow imperially chewing its cud, children laughing, beggars begging. All day, every day the flavour, colour, texture, sound, energy and urgency of India unfolds spontaneously, unrehearsed.
On the last day of our stay in Rajasthan, we stopped in at the famed camel festival of Pushkar where local dromedaries are auctioned annually. I nearly closed on a fine one-humped specimen but was outbid by a clever camel herder from the Punjab. Just as well; probably would have been tough to squeeze a grumpy dromedary into my suitcase.
Next time: Taj Mahal and the Sacred Ganges.
Thank you to these great local sponsors who make these stories possible!
If you go: Explore India from Vancouver B.C., www.exploreindia.ca, capably and professionally handled all aspects of our private month-long tour – air and land travel, hotels, meals, guides, drivers, entrance fees and activities – for one all-inclusive price.
Click below to read about some of Gerry's other great travel adventures.
Fighting Food Waste in 2021 – The Leftovers Foundation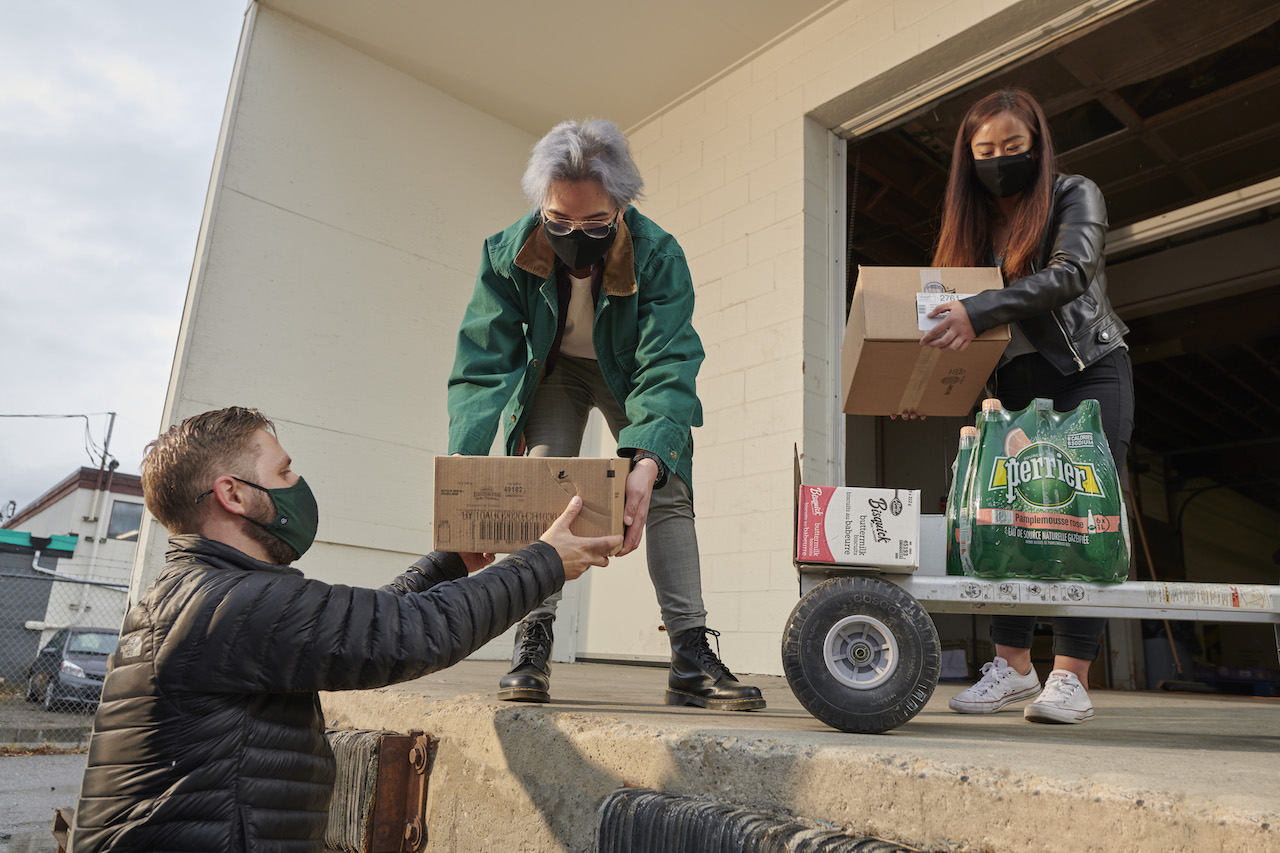 It's 2021, and world hunger persists.  
Statistics show the global agricultural industry produces enough food to successfully feed the population of the entire planet. Yet, hundreds of millions of people in both developing and developed nations experience food insecurity and poverty every single day. Food waste represents a massive modern crisis. 
Food waste, not to be confused with food loss, refers specifically to edible items that are discarded, despite being completely fit for human consumption, following initial production stages such as harvest and transportation.
Between restaurant, retailer and household waste, massive amounts of edible food are wasted every single day, all around the globe. Despite much of this waste being avoidable, the fact remains that thousands of pounds of viable food travel from farms to landfills each year. From both a human interest and environmental perspective, food waste represents a crisis with significant consequences.  
According to a 2018 report on Global Food Waste and its Environmental Impact, "An estimated 1.3 billion tonnes of food is wasted globally each year, one third of all food produced for human consumption."
A 2019 Technical Report on The Avoidable Crisis of Food Waste by Second Harvest highlights that in Canada alone, the annual avoidable food loss and waste totals 11.2 million metric tonnes, reaching a total value of $49.5 billion. According to the report, this amount "equates to 3% of Canada's 2016 GDP and would feed every person living in Canada for almost 5 months" (6). 
In addition to harming the community, food waste negatively impacts the environment by creating a massive drain on existing resources without reason. "When edible items are discarded, it's not just food that is wasted. Consider all the resources required to bring food from the farm to your table: water for irrigation, land for planting, fuel for powering harvest and transport vehicles … when restaurant owners fill their rubbish bins with uneaten meals, all those resources are essentially wasted" (1).
Reallocating surplus goods, as opposed to throwing them away, is a critical step in reducing food waste, minimizing the carbon footprint of the agricultural sector, and aiding individuals in gaining access to basic needs. According to Second Harvest, "Four million Canadians have insufficient access to food. Nevertheless, of the avoidable and edible food loss and waste (FLW) that occurs along the value chain, an estimated 86 percent is currently not rescued and redistributed" (6).
In Calgary, a number of citywide and business specific "food rescue" programs are in place with the goal of addressing and reducing those staggering statistics. Organizations such as the Leftovers Foundation reduce food waste by collecting and redirecting leftover products to places in need, such as shelters or charities, as opposed to letting them be thrown away at the end of each day.  
With three locations across Calgary, Edmonton and Winnipeg, the Leftovers Foundation works with local restaurants, bakeries, grocers and distributors to redirect excess edible food where it is needed most. In Calgary, city coordinators work closely with food donors and service agencies to establish weekly and bi-weekly routes for pick up and drop off by volunteers. The Leftovers Foundation fulfills service agency food needs on both a scheduled and as-needed basis. "We are the connection point between people who have good, edible, nutritious food to donate," says Audra Stevenson, Interim CEO for the Leftovers Foundation, "and those who are unable to put food on their plates." 
In 2019, the Leftovers Foundation launched their Food Rescue app in partnership with Technovation, to streamline connections between volunteers and food redirection routes. Stevenson describes the app as a "game-changer" for the organization, and as a result, the Leftovers Foundation has been able to standardize and scale their operations much more effectively.
In this line of work, where the ultimate goal is to reduce food waste, food poverty, and the associated environmental impacts, collaboration is key. The Leftovers Foundation works collaboratively with other food rescue services around the city to avoid duplication and ensure all the food that can be saved, gets saved. "We're supportive of every possible food rescue initiative," says Stevenson, "It's about every pound of food that makes it way onto someone's plate instead of into the landfill." 
Other food rescue resources: 
Calgary Food Bank Food Rescue and Share Program
https://www.calgaryfoodbank.com/foodmovement/
Kerby Centre Food Rescue
https://www.kerbycentre.com/support-services/foodrescue/
Zero Waste YYC
https://www.facebook.com/yyc.zerowaste/
In the war on food waste, every effort counts. "Food insecurity is becoming a bigger and bigger problem with COVID," says Stevenson, "It's not going to just go away. Any way you can get involved with our systems, whether it's volunteering, donating, just paying attention to gaps in the community – now is the time to get involved and help reduce food waste." 
For more information on the Leftovers Foundation and how to get involved in Calgary's efforts to reduce food waste, visit https://rescuefood.ca
For more stories, visit Todayville Calgary.
Patricia's Story – Supporting transportation and delivery programs for seniors
Patricia's Story – Supporting transportation and delivery programs for seniors
When the pandemic hit, Patricia was worried about how she would be able to safely get essentials like food and medicine. Like many other local seniors, she has a limited income and is unable to drive.
United Way worked rapidly with our partners to identify the needs of the most vulnerable and rallied the community to provide supports such as transportation for local seniors in need. Because supporters do local good, seniors like Patricia are not alone.
Help make a difference in your community today by visiting myunitedway.ca/donate-united-way.
Mary's Story – Helping domestic violence survivors heal and find safety