Todayville Travel: Down on the Bayou- Cajun Hospitality
The news from Louisiana is often hurricanes, burst levees and the dangerous streets of New Orleans.
What we've discovered down South has been unreserved hospitality.
A few years ago on our first trip through the Bayou State the weather turned cold. We became stranded in the town of Natchitoches, blind-sided by a gale of sleet. Thrilled locals informed us they hadn't seen snow in NAK-a-tish (that's how it's pronounced) for nine years. As polite Canadians, we controlled our elation.
As luck would have it we had arrived the day of the annual river-barge parade. We mingled with happy revelers on the banks of the Red River. As we strolled, the sound of a Cajun band spilled from an antebellum mansion fronting Front Street. The owner, a well-dressed southern gentleman, was watching the parade through his wrought-iron fence. Small talk ensued. Soon the wandering Canadians were invited into a stately pre-Civil War home to join a bon fête.
The party lasted into the wee hours. Filet gumbo, stomping feet, a crackling fire and genuine Louisiana friendliness kept us warm. After much cajoling I joined the band, rang the Cajun ti-fer… and did credit to all Canadians – in the beverage consumption department.
On our return to Louisiana this time we bypassed Natchitoches, hugging the Gulf Coast, seeking the blue bayou of the South. Roadside billboards stuck in the swamp advertised free consultation to shrimpers still affected by the Deepwater Horizon disaster. The ex-lawyer in me was intrigued. The guy seeking quiet solitude was – quietly disgusted.
The bayous of Louisiana start where the Mississippi River begins to end: in the silted course of its enormous delta. Braided channels open and close. New rivers form. Shallow meandering creeks emerge in swamps overgrown with cypress and mangrove forests. These muddy backwaters are the birthplace for a vast array of aquatic life. Their predators – birds and reptiles – lurk quietly in the sultry stagnant shadows.
When we arrived at the Morgan City campground it was dark. We were hungry, tired, irritable – and without a reservation. Most horrible camping experiences begin with a late arrival. While attempting to set up in the dark I backed into the last open site, glancing off an oak tree and a concrete picnic table, fanning the fires of a simmering matrimonial dispute.
I walked, fuming, past a campsite's roaring fire toward the office to register. A happy group of tenters were huddled near the flames, laughing and smoking.
"You were pretty lucky to get that spot on a busy weekend," said the affable occupant of site B12. "Where y'all from?
I told him we were from Alberta and said we were hungry and hoping to find a Cajun restaurant nearby. He recommended a place in town down by the Riverwalk and wished us a pleasant evening.
My mood was greatly improved when we drove back through the gate a couple of hours later, stuffed to overflowing with crawfish and dirty rice.
"How was the Creole?"
The small group settled around B12's fire was well into their cups and still going strong. My relaxed demeanor confirmed we had not been led gastronomically astray.
"Why don't you and your wife come on over for a drink?" asked the friendly fellow who was responsible for my contented smile. I slipped into our RV and grabbed a couple of Pilsners I had lugged from home. I handed a cold one to Dean Landry and his wife Vicky.
"These all the way from Canada?" Dean asked.
"Yup. There is no finer Canadian beer." (I had my fingers crossed behind my back.)
"How come he talk so funny?" asked Zach, Vicky's precocious twelve-year-old.
"Sshh, you mind your manners," said Miss Vicky.
Zach carried on, unabashed. "You got a different kind 'a money up ther' in Canada?"
I reached into my pocket and handed Zach a blue, five-dollar bill. I proudly told him it was worth almost $4 American and that it was now his.
"This's made out of plastic," he screamed, running through the campground, announcing to the world that some geezer from Canada had just given him a foreign blue fiver.
"Why you come down to these parts?" Mr. Landry asked. His surname and that unique Louisiana cadence confirmed his Cajun ancestry.
(Cajuns are the descendants of Acadians, French Canadians expelled from Nova Scotia in the eighteenth century. They brought a distinct culture and dialect to the swamps of the South. To the uninitiated, Cajun French is unintelligible. Their English is only marginally more comprehensible. For instance if a Cajun asks, "where you gonna powk de caw?" he is not rudely inquiring about your bedroom habits – he's just asking where you intend to park the Buick.)
"We're here to see the bayou," I told Dean. "I want to get into the backwaters, see the swamp, the alligators. I noticed there are some operators in town offering boat tours. What do you think?"
Dean looked at the fire for a moment, drained the last of his Pil and said, "You an early riser?"
"Not particularly," I replied truthfully.
"Dean, he an early bird," chimed in Vicky. "He's up with the roosters."
"I live only a little more than fifty mile from here, up near Thibodau, in Lafourche Parish." Unlike the other 49 States of the Union, which have Counties, Louisiana is divided into Parishes – further tribute to its French roots.
"Ain't any big deal for me to scoot over first thing in the morning and hook up my boat. By the time y'all get up, my skiff'll be waiting for you. I'll show you the real bayou, not some tourist crap."
We'd had a few brewskies by then – and I don't put a lot of stock in late-night campfire bravado. So when I popped my head out of the camper the next morning my expectations for a bayou experience weren't high.
"There you are," shouted Dean, wiping down the lovely flat-bottomed craft that had appeared at his site. He'd driven 80 kilometers to his home, breakfasted with his daddy, hitched up the boat and returned – all while I was still sawing logs.
"And he's been polishing that motor for near an hour now," Vicky smiled.
My mother told me I'd never amount to anything if I didn't get up early and get to it. But somehow serendipity follows my late-morning shadow, shaking me awake with fortunate encounters.
Vicky, Zach, my wife Florence and I jumped into the boat and Dean motored us into the bayou. The perspective from water was entirely different from the bits of swamp we could see while driving. Narrow muddy channels serpentined every which way and within minutes I was completely lost in a vast wet labyrinth.
We floated through vast groves of bald cypress trees draped in Spanish moss, their knees soaked in brackish water; past "fishing camps" – remote wooden cabins fronted by a small deck for fishing. (Many sported a Confederate flag. For the South, the Civil War is not yet over.)
The gators were out, sunning on logs or floating motionless, eyes protruding silently above the water. These malevolent-looking reptiles can grow to four meters and 400 kilograms – top of the food chain in these hidden warrens. In the bayou it'd be easy to dispose of things unwanted. I was glad Dean was a friendly chap.
Zach acted as lookout, chatting constantly, identifying all flora and fauna the bayou had to offer.
An abandoned orange hurricane pod, resembling a wayward UFO, floated uselessly in a backwater, testament to the unrelenting power of Mother Nature.
We moored for lunch at Gros' Place, a remote camp accessible only by water. A huge kettle of fragrant jambalaya boiled above an open fire. A fresh-dressed deer carcass dangled from a hook in the kitchen.
After a meal of fried catfish and white beans – and an afternoon of great camaraderie, Dean steered us out of the bayou, effortlessly retracing our path through the indiscernible twisting, turning channels. The sun, shining through a thick canopy of cypress and mangrove, hinted vaguely at our direction of travel.
At the dock we shook hands with Dean and Vicky, said good-bye and climbed into our RV, headed for New Orleans. As we pulled away Zach strolled up. I rolled down the window:
"That new? That got a diesel engine in it? My grandpa told me down on the farm that you got to fill a special compartment with somethin' called urea to keep a diesel engine running. Urea same as pee, but you got to pay twenty dollar for five gallons."

If there's one thing I can't stand it's a know-it-all kid. I thanked him for his advice and drove off.
"That kid is either a savant or a nut," I said to Florence.
Less than a hundred kilometers down the road a yellow warning light flashed on the dash. I pulled over. The owner's manual indicated there was a malfunction in something called the DEF. The problem required immediate attention. After twenty ignition starts the vehicle would be rendered inoperable. I stopped at an Auto Zone and explained my problem to the man behind the counter.
"You need to add DEF fluid. It's over there behind the antifreeze. It's really just urea," he said in a thick Cajun drawl.
"Yeah," I replied. "Just like pee, but costs twenty bucks."
About the author:
Gerry Feehan QC practised law in Red Deer for 27 years before starting his second life as a freelance travel writer and photographer. When not on the road, Gerry and his wife Florence live in Red Deer and Kimberley, BC. Todayville is proud to work with Gerry to publish some of his most compelling stories from his vast catalogue developed over more than a decade of travel.
Check out other stories by Gerry simply by clicking on the title below.
Backlog of air passenger complaints tops 57,000, hitting new peak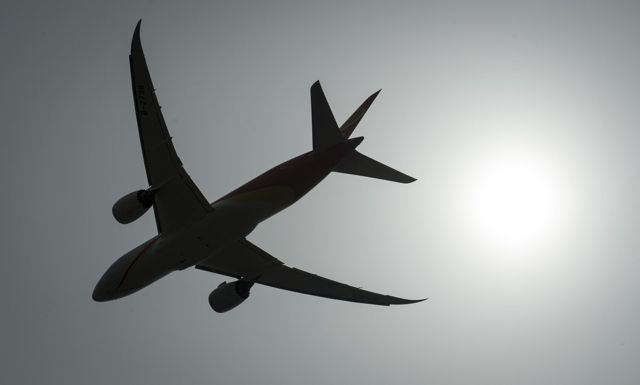 A plane is silhouetted as it takes off from Vancouver International Airport in Richmond, B.C., on May 13, 2019. THE CANADIAN PRESS/Jonathan Hayward
By Christopher Reynolds in Montreal
The backlog of air passenger complaints at Canada's transport regulator has hit a new high topping 57,000, as dissatisfaction over cancellations and compensation persist three and a half years after the outbreak of the COVID-19 pandemic.
The numbers reveal that an average of more than 3,000 complaints per month have piled up at the Canadian Transportation Agency (CTA) over the past year, with the current tally well over three times the total from September 2022.
Vancouver residents Chad Kerychuk and Melissa Oei say they are mulling a complaint after they arrived in Halifax six hours later than planned on a flight from their hometown in August 2021 and found themselves separated on board despite buying pricier tickets to select side-by-side spots in advance.
The couple said WestJet has rejected their request for a partial refund.
"More than a year has lapsed since the departure date and the claim period has expired. As such, your claim cannot be approved," WestJet told them in an email.
Kerychuk said the response "feels like a wrong way to treat loyal customers" after years of opting for that carrier over competitors.
"There was no effort made to support us, because we supported them during the pandemic. And I thought that was completely unfair," he said in a phone interview.
WestJet said the disruption was caused by unplanned maintenance, an exclusion from compensation rules that the federal government says will soon be unavailable to carriers.
In June, the government passed legislation to overhaul Canada's passenger rights charter, laying out measures to toughen penalties and tighten loopholes around traveller compensation as well as streamline the complaints process as a whole.
"There will be no more loopholes where airlines can claim a disruption is caused by something outside of their control for a security reason when it's not," then-transport minister Omar Alghabra told reporters in April.
The Canadian Press has reached out to the CTA and WestJet for comment.
While some reforms aren't slated to take effect until Sept. 30, Air Passenger Rights advocacy group president Gabor Lukacs claims the transport agency could take steps immediately to up the maximum fine for airline violations and kick off consultations on who bears the administrative cost of complaints.
Their rising tally comes as no surprise to Lukacs.
"Those soaring numbers show the failure of the government to design regulations which are actually practically enforceable and provide meaningful protection to passengers," he said.
He pointed to the Air Passenger Protection Regulations, also known as the passenger rights charter, that the government introduced in 2019 — in theory a legal milestone for Canadian travellers, but one that failed to live up to its promise due to loopholes and a lack of simplicity, Lukacs said.
"The government adopted a regime which is so complicated, so complex … that it takes inordinate resources to actually verify eligibility," he said.
He also called out a "dismal record" of enforcement.
"The few fines which are being issued are for low-hanging fruit … and the CTA has not actually laid the groundwork to issue higher fines."
The amendments to the passenger rights charter allow the regulator to ratchet up the maximum penalty for airline violations to $250,000 — a tenfold increase — and put the regulatory cost of complaints on carriers. In theory, that measure gives airlines an incentive to brush up their service and thus reduce the number of grievances against them.
This report by The Canadian Press was first published Sept. 18, 2023.
Airline competition ramps up, setting stage for showdown and reducing (some) fares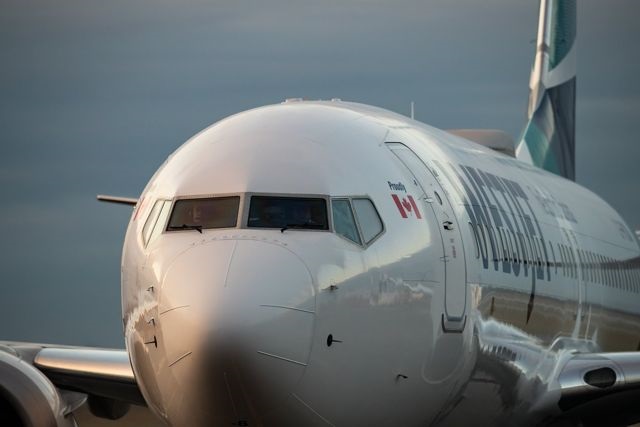 Though Canadian flights have long been dominated by Air Canada and WestJet, the emergence of newer carriers including Flair Airlines and Lynx Air has shaken up the sector, injecting fresh competition to a once-complacent market. A WestJet Airlines Boeing 737 Max aircraft taxis to a gate after arriving at Vancouver International Airport in Richmond, B.C., Thursday, Jan. 21, 2021. THE CANADIAN PRESS/Darryl Dyck
By Christopher Reynolds in Montreal
Passengers aren't the only ones feeling cramped these days.
Though Canadian flights have long been dominated by Air Canada and WestJet, the emergence of newer carriers including Flair Airlines and Lynx Air has shaken up the sector, injecting fresh competition to a once-complacent market.
Most airlines are setting plans in motion to ramp up growth over the next year, adding more planes to an already crowded field — and cheaper fares on the busiest routes.
"Whenever you've got players trying to establish themselves in these markets, it is a boon for consumers," said former Air Canada chief operating officer Duncan Dee.
Key domestic arteries such as Toronto-Vancouver, Vancouver-Calgary and Montreal-Toronto host more airlines than ever — up to six now versus as few as two several years ago — with fares dragged down by a pair of budget carriers.
The cost of a domestic round-trip plane ticket fell to $289 on average this fall, a drop of 24 per cent from 2019 levels and 11 per cent from a year ago, according to travel booking app Hopper Inc.
The hub-to-hub rivalries within Canada come ahead of a battle over routes running from big cities to sun destinations this winter.
More than three-quarters of the trips by ultra-low-cost Flair this winter will be to the U.S. Sun Belt, Mexico and the Caribbean compared with 40 per cent last winter, CEO Stephen Jones said in an interview last month. It plans to grow its fleet by nearly a quarter to 26 planes next year.
Lynx, a no-frills airline that launched its maiden voyage in April 2022, aims to expand to 17 aircraft from nine at the moment. Its newest route flies between Toronto and Los Angeles for as low as $129 one way, tax included. The cheapest Air Canada ticket on the same route and dates was $490.
"We're really investing strongly in this market, because it's underserved by low-cost carriers," Lynx CEO Merren McArthur said of sun destinations — particularly flights out of Toronto's Pearson airport.
Meanwhile, Porter Airlines has bought 50 132-seat Embraer E195s, hoping to grow its fleet to 79 by 2025 from 46 currently.
"They will not shy away from a gun fight," John Gradek, who teaches aviation management at McGill University, said of Porter.
The 17-year-old carrier joined the five other airlines plying the skies between Toronto and Vancouver in February. It also plans to launch service between Toronto and Orlando, Fla., in November, going up against an equal number of rivals.
"I'd say it's a highly competitive market," said chief executive Michael Deluce, who also expressed doubt about how long the system can hold.
"I think the current set of competitors is not a sustainable long-term proposition. I'm not going to highlight which carriers I think will not be here 12 or 24 months from now," he added.
Meanwhile, Air Canada aims to operate eight per cent more flights to sun-splashed spots this winter than in 2019. WestJet plans to hit 15 per cent more capacity overall next year than last.
More competition amounts to lower fares, particularly if demand drops off at a time when consumer spending is slowing.
"The Canadian market this fall on travel, you'll get a hell of a deal," Gradek said.
Outside of Mexico and the Caribbean, supply for international trips still falls short of demand, pushing fares ever higher.
The price of round-trip flights this fall rose 22 per cent for Europe, 16 per cent for South America and 32 per cent for Africa and the Middle East compared to 2019, according to Hopper.
It shot up 45 per cent for Australia and a whopping 121 per cent for Asia, with flights between China and Canada numbering 10 per week versus 100 per week in 2019, according to Transport Canada.
The plunge is due largely to China's tight restrictions on tour group visits to Canada and a Russian airspace ban that forces Canadian carriers to take a longer route to Asia, tacking significant fuel and labour costs on to diplomatic tensions.
Back in Canada, regional fares are also on the rise apart from the biggest routes as the two dominant players retrench around their old hubs.
Over the past year, Calgary-based WestJet cut routes in Ontario, Quebec and Atlantic Canada to refocus on the West. It has also cut flights on some more heavily travelled corridors, including roughly 80 per cent of its trips between Toronto and Montreal compared to 2019 levels, according to aviation data firm Cirium.
Montreal-based Air Canada has mirrored this move, remaining in Central and Eastern Canada while scaling back in the West — it axed six long-haul routes out of Calgary last month. It also scrapped 26 regional routes east of Winnipeg in June 2020, with only a handful resuming since.
"Bottom line: play where you can win," said Robert Kokonis, president of consulting firm AirTrav Inc.
That lack of regional competition — though budget airlines have filled a handful of those gaps — means pricier fares on most smaller domestic routes, according to an analysis of Cirium data earlier this year.
A tight labour market is limiting growth.
"No. 1 would have to be the pilot resourcing. Everybody's ramping up very quickly and everyone's competing for the same pool of pilot candidates," said Lynx's Merren McArthur.
In a memo viewed by The Canadian Press, Air Canada executive vice-president Mark Galardo told staff last month that "an industry-wide shortage of pilots … has had a prolonged impact on our regional network," with ripple effects on mainline operations.
He also cited a need to "defend our position against increased competition from new entrants, existing competitors making strategic moves and, in some cases, even other flag carriers" at Air Canada's three hubs of Toronto, Montreal and Vancouver.
Meanwhile, jet fuel prices are climbing back up to six-month highs, "implying this cost may pressure margins," said TD Cowen analyst Helane Becker — all as pilot unions demand, or already secured, higher wages at Air Canada and WestJet, respectively.
Ultimately, Canadians' urge to travel remains the key driver, one resting heavily on economic concerns as more and more of consumers' cash goes to service their debt. Whether planes stay full in the next 12 months remains to be seen.
"I think it's an open question whether we'll be able to see the same amount of pent-up demand that we've seen over the last year," Dee said.
This report by The Canadian Press was first published Sept. 10, 2023.