I'm goin' back to Boulder Hut
BOULDER HUT by Gerry Feehan
I asked the pilot where we were bound.
"Boulder Hut" he said. "Where's that?" I queried. "Twelve minutes that way," he said pointing west over Northstar Mountain.
There are no baths or showers at Boulder Hut. Clean-up after a day of strenuous backcountry skiing involves soaping up in a wood-fired sauna, then dumping a bucket of water over one's head. To my surprise a fellow guest, fit naked – and female – offered to do the pouring. I reluctantly acquiesced. Thereafter, the absence of a proper shower seemed trivial and I decided to forego my complaint to management.
Management at this remote backcountry lodge consists of owners Mark and Sarah Yancey, whose infectious love of Boulder Hut – and the remote lifestyle it entails – is evident from the moment they greet you on the snow-packed heli-pad.
Over the years I've acquired all the accoutrements for ski-touring – and on occasion I've skinned up from our condo on the Kimberley, BC ski hill – but I had never before toured in the backcountry.
So I was curious when a helicopter touched down at the base of the ski hill on a sunny morning in January. A group of people, ski paraphernalia in tow, was preparing to board. I put down my coffee, stepped off the deck and wandered over. I asked the pilot where they were bound.
"Boulder Hut" he said.
"Where's that?" I queried.
"Twelve minutes that way," he said pointing west over Northstar Mountain.
As I ain't gettin' no younger, I determined to be on that chopper before the season ended. And so in mid-March I was soaring over our place, watching my wife Florence waving goodbye from our deck. I hoped it was not a permanent farewell.
Moments later we were up and over the Black Forest on the ski hill's back side.
Then we were into the rugged roadless world of the Purcell Range. We hugged a ridge of wintry peaks, summited Boulder Pass and descended into a broad forested valley. A tiny dot far below soon resolved into Boulder Hut.
After a welcoming lunch and safety briefing we strapped on skins and started our first ascent through the thick forest of old-growth spruce that provides Boulder's gorgeous back-drop. The conditions were fabulous; a storm had just blown through. Fresh powder and sunny, bluebird conditions greeted us.
Drinking water is drawn directly from a small creek that flows year-round.
Every winter the media warns of avalanche danger in the backcountry. At Boulder Hut safety is paramount. With Mark and alpine guide Brent Peters constantly checking conditions – and leading the way through dicey areas – we felt safe and comfortable. When there was any hint of risk they dug a snow profile to check for stability and to ensure some rogue slab wouldn't ruin our day.
Boulder Hut is remote, quaint and rustic – guests share an open sleeping cabin. If you forget earplugs (and sleeping pills), your repose may be ruined; exhausted snoring skiers make a hell of a racket.
In the evening guests are responsible for stoking the wood-burning stove. Failure to maintain the fire means for a long cold shivering night. As the only rookie, I was utterly exhausted at the end of each day and slept like a baby – with an assist from earplugs (and a little blue friend).
Drinking water is drawn directly from a small creek that flows year-round. The same stream supplies power via a small hydroelectric plant.
Boulder has no laundry facilities. By the fourth night my ski socks, hanging over the bunk to dry, had taken on a crisp flavourful bouquet – or so my fellow guests noted (I was obliviously comatose).
Boulder's bathrooms are located al fresco; open A-frame jobbies where one can enjoy a panoramic view of the Purcell Mountains whilst engaging in one's morning constitutional. A sign planted in the snow announces whether the privy is occupied or available.
At Boulder Hut there is no cellphone coverage or internet. And guests are (gasp) expected to help with the dishes after dinner.
I've been to five-star ski lodges where a cat whisks you to the top of the mountain for each run. At Boulder Hut every turn is earned. Mark calculated that we climbed 14,000 feet (4300 meters) during our stay.
Sound like a miserable experience?
I had the time of my life. Mark, Sarah, their kids Grace and Alden, mascot Rosie the Great Pyrenees and my seven fascinating fellow guests made for a fabulous, unique experience.
I'm going back to Boulder this winter – and taking along a few buddies – all rookies.
Now if only I can arrange for a reprise of that fit lady with the water bucket.
Gerry Feehan QC practised law in Red Deer for 27 years before starting his second life as a freelance travel writer and photographer. He says that, while being a lawyer is more remunerative than travel writing, it isn't nearly as much fun. When not on the road, Gerry and his wife Florence live in Red Deer and Kimberley, BC. Todayville is proud to work with Gerry to re-publish some of his most compelling stories from his vast catalogue developed over more than a decade of travel.
Click to read an excellent story about the Turks and Caicos.
How air passenger complaints ballooned to 42,000-plus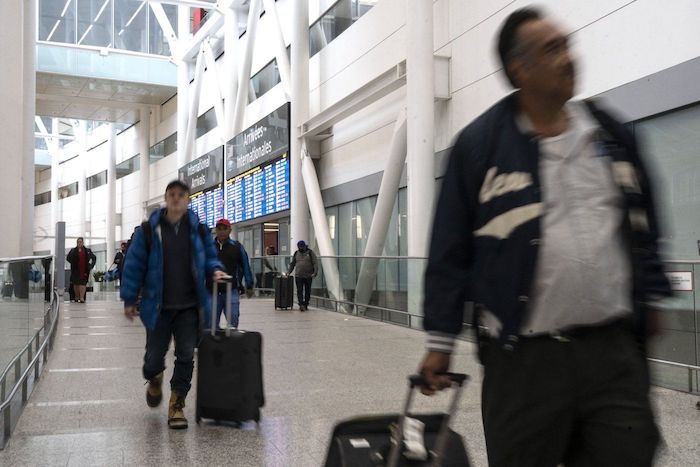 Passengers arrive at Pearson Airport in Mississauga, Ont. on Tuesday, March 14, 2023. The number of air passenger complaints to Canada's transport regulator has more than tripled over the past year, soaring past 42,000. THE CANADIAN PRESS/Chris Young
By Christopher Reynolds in Montreal
The number of air passenger complaints to Canada's transport regulator has more than tripled over the past year, soaring past 42,000 as of this month.
The ballooning backlog means each case now needs more than a year and a half to handle, spurring advocates and politicians to question the efficacy of the process, even as hiring and funding ramp up.
The complaint tally shot up after travel chaos erupted over the summer and again during the winter holidays as flight demand surged and poor weather conditions disrupted flight schedules.
Complaints totalled about 13,400 as of March 31, 2022, before skyrocketing to unprecedented highs in the ensuing 12 months, according to Canadian Transportation Agency reports. They hit 36,000 in late January, and rose by another 17 per cent since then.
The growing number of grievances comes despite an $11-million funding top-up for the regulator in the federal budget last April, and $76 million more announced last week, with the aim of boosting staff numbers and expediting complaints processing.
The chair of the Canadian Transportation Agency says processing complaints remains its main focus and enforcement comes second. But critics say the backlog owes to major gaps in the air passenger rights charter and inaction on the part of the regulator.
NDP transport critic Taylor Bachrach is poised to table a private member's bill Monday afternoon that seeks to close loopholes, increase fines and make compensation automatic for travellers whose flights are delayed or cancelled.
The Air Passenger Protection Regulations, which took effect in 2019, allow airlines to reject compensation claims by citing safety-related reasons. The proposed legislation would end that exception.
Meanwhile, a dearth of fines speaks to the agency's disregard for enforcement, advocates claim. The total issued against airlines and airports reached $645,630 over the past 12 months, up from $253,975 in 2021-22 and $54,500 in 2020-21. However, the most recent figure amounts to a fraction of annual airline sales — less than 0.04 per cent of Air Canada's $16.56-billion revenue last year, for example.
Bachrach is calling for higher penalties and more rigorous enforcement.
"The fines in the legislation as it currently stands are insufficient to act as a deterrent. As long as the cost of following the rules is higher than the cost of breaking them, we're going to see airlines operate outside the rules as a course of normal business," he said in a phone interview from Prince Rupert, B.C.
Agency chair France Pégeot told the transport committee in January that clearer, stronger rules would lead to better enforcement.
But she qualified that the agency's role as a quasi-judicial tribunal handling complaints is priority No. 1, while its mandate to penalize violations comes second.
"The first thing we do is that we really focus, first of all, on complaints, because this is what puts money in the pockets of consumers," Pégeot told the committee on Jan. 12.
The agency had only six enforcement officers at the time, she noted.
It has also never fined an airline for violations around passenger compensation, she said.
Both Bachrach and John Lawford, who heads the Public Interest Advocacy Centre, say the passenger rights overhaul promised by the federal government for this spring also needs to make compensation automatic in the event of significant delays or short-notice cancellations.
"You need a very dedicated regulator with a clear set of rules that enforces a lot, and a regime that's easy for consumers to navigate — almost automatic," Lawford said in a phone interview.
Last week, Transport Minister Omar Alghabra pledged $75.9 million over three years to chip away at the backlog by hiring 200 more employees. He also vowed to end the loophole that allows airlines to dismiss compensation requests on safety grounds such as unscheduled maintenance or even crew shortages.
Tom Oommen, the agency's director general of analysis and outreach, told The Canadian Press in August it was trying to hire more facilitators who can help resolve customer complaints, but that worker retention remained a problem.
"The CTA has already been reviewing its current complaint resolution process to identify and make process improvements to ensure it makes the best use of the resources provided to it by the government," the agency said in an email last week.
"For example, we have already been able to streamline the intake of complaints and reduce incomplete and inaccurate applications from 50 per cent of all applications received to 10 per cent, which results in less administrative back and forth, and shorter wait times for complainants."
This report by The Canadian Press was first published March 20, 2023.
Transport minister pledges to close passenger compensation loophole used by airlines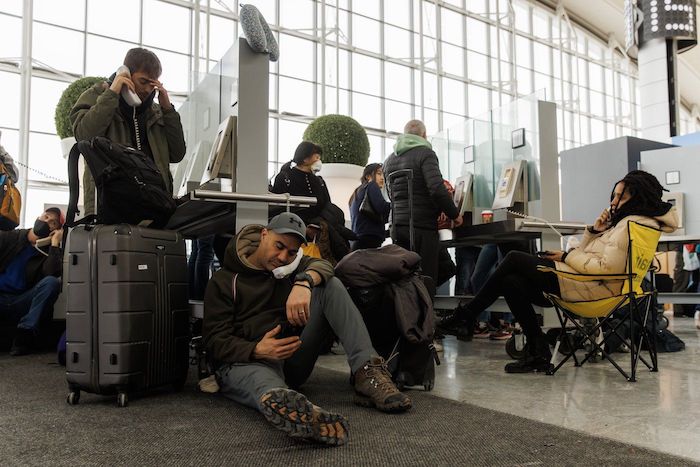 Transport Minister Omar Alghabra says the federal government will close a loophole that allows airlines to deny customers compensation for cancelled flights. Travellers wait on hold as they try and speak with their respective airlines at Toronto Pearson International Airport, as a major winter storm disrupts flights in and out of the airport, in Toronto, Saturday, Dec. 24, 2022. THE CANADIAN PRESS/Cole Burston
By Christopher Reynolds in Montreal
Transport Minister Omar Alghabra said Tuesday the federal government will close a loophole that allows airlines to deny customers compensation for cancelled flights.
The reform will come as part of an overhaul of passenger rights to be tabled in Parliament this spring, he said at a press conference.
Asked whether he would end the exemption that lets carriers reject compensation claims by citing safety issues, Alghabra answered in the affirmative.
"The short answer is yes. We are working on strengthening and clarifying the rules to ensure that we make a distinction," he said.
"Obviously we don't want planes to fly when it's unsafe to do so. But there are certain things that are within the control of the airlines, and we need to have clearer rules that puts the responsibility on the airlines when it's their responsibility."
Alghabra's pledge came during a press conference at Toronto's Pearson airport this morning, where he promised $76 million to reduce the backlog of complaints at the Canadian Transportation Agency.
The money will allow the transport regulator to hire 200 more employees who can chip away at the 42,000 complaints currently filed there, he said.
The announcement comes after the government granted an additional $11 million to the agency in last year's budget — shortly before travel chaos erupted over the summer as flight demand surged, prompting another wave of complaints.
The compensation loophole in Canada's Air Passenger Protection Regulations does not exist under European rules.
The latter require compensation on top of refunds if an airline cancels a flight for any reason that falls under its control, which covers most situations except for strikes, extreme weather or war. In Canada, a last-minute cancellation or significantly delayed flight triggered by an event within the airline's control also triggers a refund — except in the case of safety-related concerns.
This report by The Canadian Press was first published March 14, 2023.
— With files from Maan Alhmidi in Toronto.