Todayville Travel: I survived the Road to Hana
I survived the Road to Hana! by Gerry Feehan
"…I've done enough beach holidays to fill a leaky bucket. Watching overweight tourists in undersized beach wear (throngs in thongs) has long since lost its lustre…"
The village of Hana is located on the quiet 'windward' side of Maui. Windward is a euphemism for rainy. Precipitation here averages three hundred inches a year. No person of sound judgment would live in a place where an inch of rain in an afternoon is considered a light drizzle.
Most tourists endure the gruelling drive to Hana as a day trip, rising early to negotiate the eighty-five kilometer journey with its six-hundred-plus curves, 54 narrow bridges and frustratingly slow traffic. They choke down a fish taco and lemon bar at a roadside food stand then snake back at a snail's pace in darkness to the dry leeward side of the island, collapsing into bed at a fancy seaside resort in Kaanapali or Wailea, a checkmark on their Hawaiian holiday agenda firmly ticked off.
"… But as is often the case when one ventures off the beaten track, our choice was serendipitous…"
Some time ago a clever marketer began selling T-shirts with the caption: "I survived the road to Hana!" It really is a challenging drive, so that intrepid shirt salesman is probably now quite wealthy.
I've done enough beach holidays to fill a leaky bucket. Watching overweight tourists in undersized beach wear (throngs in thongs) has long since lost its lustre. We were looking for a change, an out-of-the-way Hawaiian adventure. There's hardly a soul living out Hana way. So we decided to spend a week with the free spirits and addled Vietnam vets.
My search for accommodation in Hana was careful and meticulous. Not. I booked the first place I found on the net: Entabeni Cottage. Click here for their website. But as is often the case when one ventures off the beaten track, our choice was serendipitous.
We had absolute privacy, from the gorgeous ocean view to the solar-heated outdoor shower. The north wall of the cottage consists entirely of glass doors. Each morning we awoke to a 180-degree view of the ocean and the barely discernible sound of waves crashing on the rocky shore hundreds of meters below.
"Entabeni means the place on the hill in Zulu," explained owner Terry Kristiansen as she toured us in morning sunshine through the horticultural wonder of her amazing garden. We meandered amongst gigantic Cook pine, African tulip and mango trees. She and her husband Michael maintain a tropical nursery. I tried not to blush when she mentioned that some of the flowering plants were viviparous.
Two dogs, a cat, a goat, a multitude of chickens and a raucous gaggle of guinea fowl followed our progress. Terry's hens lay green eggs – organically of course. Each morning our doorstep was laden with a fresh coop-full of Entabeni's emerald bounty.
Our Hana booking was for seven days. Perhaps a mistake? There's purportedly nothing to do there. (A renowned friend of mine, Dr. D, who is intimately familiar with Maui, asked bluntly, "You're going to Hana? For a week?") So, soon after arrival, we decided to scout out some adventure. We meandered into town and chatted up some locals:
"What do you do out here in Hana?" I asked Tyler, a mixed-blood Hawaiian of Portuguese pedigree.
"Not much" he replied, "sometimes we fish… when it's not rough." He looked ruefully out to sea, as whitecaps roiled in a sub-tropical winter storm. A lone humpback whale breached in the distance. I concluded that there'd be no fishing on this trip.
"Sometimes we drive into town and pick up mail," offered his cousin, who was high on friendliness but low on wisdom teeth. "And of course there's the big meetin' tonight at the church to vote on the offal plebiscite."
I'm not sure what offal is but it sounds terrible. I was about to excuse myself, vacate the cottage and head for dry, civilized parts of Maui when Tyler added: "What we really like is hunting wild boar. We're going out tomorrow morning. You're welcome to come along if you don't mind getting a little muddy."
My expertise as a hunter is renowned. I once shot a gopher – grazing it only slightly but deeply wounding its pride; and I've caught two fish – three if you include the goldfish I netted in my backyard pond. Still I figured 'when in Rome' and agreed to meet them in the morning at mile marker 26, near an abandoned, burnt-out pickup truck.
"It's blue," offered my newfound toothless friend, perhaps to ensure I didn't wait by a red, abandoned burnt-out pickup truck at mile marker 26.
Terry drove me down at 7am sharp. We hadn't waited more than a minute when up rolled a pineapple-yellow Ford crew-cab, loaded to exploding with Hawaiians, hunting dogs and guns. The truck, high on its suspension, teetered on two wheels before finally rocking to a stop. The occupants piled out and cracked a Budweiser. The humans that is. The dogs were content to slurp at the slough that had formed around the old blue pickup during the previous evening's downpour.
Like most flora and fauna in the Hawaiian Islands, the wild pigs are alien. These invasive, destructive critters are a cross between the small Polynesian variety brought to the islands by the first human inhabitants a thousand years ago and larger European pigs imported in the 1800's; the result is the large, black, elusive, ornery beasts that Hawaiians love to hunt.
By 7:30 a.m. we were a kilometre deep in the rainforest, up to our knees in muck. The dogs had sniffed out a promising dig. Fresh tracks confirmed that a large sow was nearby. Three hours later we were still zigzagging back and forth over, around and through jungle streams laced with invasive strangler figs and giant eucalyptus trees. The pigs were clever. On a couple of occasions the dogs bolted excitedly into the impenetrable jungle on a promising scent but near noon, with the tropical sun beating down and steam rising in the heated rainforest, we admitted defeat and called it a day.
"What happens if you get injured in here?" I asked Tyler as we began the slow hour-long crawl back to the pickup.
"Hurt is not a' option," he answered, tugging at a rubber boot sunk deep in a wallow of mud.
Back at the truck, with the last of the morning Budweiser, we conceded the feral pig's victory over man.
"Why don't you and your bride come down to our place tomorrow for Super Bowl," offered Tyler, "there'll be plenty of grind and bevvies."
I assumed he meant food and drink.
We arrived fashionably late with a plate full of devilled (green) eggs and a cooler full of cold ones. After the game (quite exciting – not a Superbore) I asked if it would be okay were I to bring out my ever-present ukulele from its coincidental resting place in the trunk of the rental car.
"That'd be great bra'," said Tyler, using the term of endearment that forms every second word of Hawaiian pidgin vocabulary.
When I returned, a slack guitar and four ukuleles were jamming on the lanai. Uncle Bobby (whose relationship with our hosts I never did quite grasp) was pouring himself a stiff concoction, lighting a smoke and settling into an over-worn armchair for what turned out to be a long night of music and laughter.
Later in the week, as we strolled Hana's streets locals were honking, waving "hey bra''" and inviting us for grind. Apparently we 'haole' (white people from another place) were a hit.
In closing I offer seven recommendations on how to pass a week in Hana:
Walk awestruck as Terry Kristiansen guides you through the horticultural wonder that is Entabeni Cottage (whilst chickens peck at your progress);
Shower outdoor at night in the Entabeni rain;
Crawl on all fours for hours through steep, muddy rainforest with a pack of men, dogs and Budweiser on the hunt for wild boar;
Enjoy a candle-lit repast of raw sashimi-grade ahi tuna, followed by lightly seared opaka-paka, served with a glass of white wine by your favorite fellow hominid;
Get lit up with Hawaiian locals at a ukulele jam;
Waste a day by shooting close-up photographs of the incredible rainbow eucalyptus trees;
Snorkel at a 'clothing optional' black sand beach, oblivious to the nudity of those around you;
Hike the seven sacred pools to Waimoku Falls or traverse the jagged lava cliffs of Waianapanapa State Park.
Did I say seven things? I guess there's more to do in Hana than first meets the eye. So get off the beaten track, out of the th(r)ong and seek some adventure.
Gerry Feehan QC practised law in Red Deer for 27 years before starting his second life as a freelance travel writer and photographer. He says that, while being a lawyer is more remunerative than travel writing, it isn't nearly as much fun. When not on the road, Gerry and his wife Florence live in Red Deer and Kimberley, BC. Todayville is proud to work with Gerry to re-publish some of his most compelling stories from his vast catalogue developed over more than a decade of travel.
Click to read more excellent stories by Gerry Feehan.
My European Favourites – Emilia-Romagna, Italy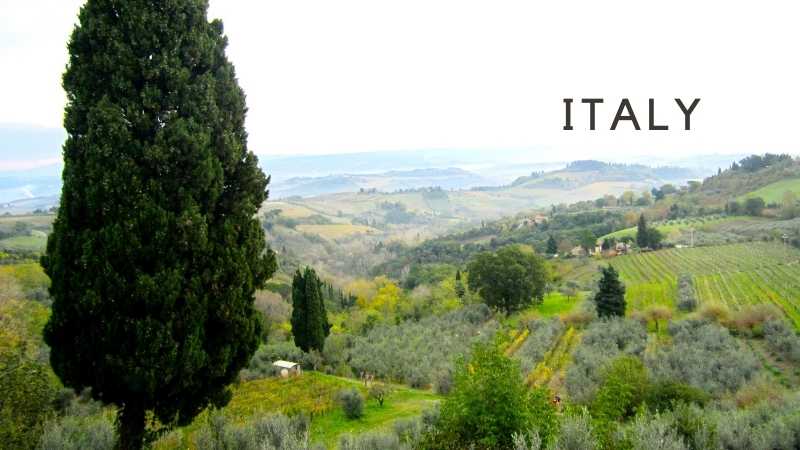 My European Favourites – Emilia-Romagna, Italy
When people think of Italy, the first places that usually come to mind are Rome, Venice, Milan and the region of Tuscany, which includes Florence and Pisa. I would go to any of these places in a heartbeat. I love them all, but a region that many tourists overlook is Emilia-Romagna. The region's name might not be well known, but its exceptional agricultural, automotive and mechanical sectors are known the world over.
Much of the gastronomy we associate with Italian cuisine has its roots in Emilia-Romagna. The region is famous for Parmigiano Reggiano (Parmesan cheese), Modena balsamic vinegar, Parma ham (prosciutto), and various types of pasta, just to name a few items. If you are a wine lover, Sangiovese and Lambrusco are two of their well-known "vinos" for their unique taste and quality.
If you are a motor sport buff, Ducati motorcycles and luxury car manufacturers Lamborghini, Maserati and Ferrari all have their roots in the area. With this racing heritage, it's only natural that two major circuits are located in the region. The motorcycle racing Misano World Circuit Marco Simoncelli is located near Misano Adriatico and is named after a local rider who died during a race in Malaysia in 2011. The Autodromo Enzo e Dino Ferrari located in Imola, which has been used for Formula 1 Grand Prix races, is named after Ferrari's founder and his son. The track is sadly the location where three time World Champion Ayrton Senna of Brazil died in 1994.
It is best to do these tours with Parma as your base in Emilia-Romagna, but I enjoy its capital and largest city, Bologna. The city is Italy's seventh largest with about 400,000 people, and it is famous for its medieval towers, churches, colonnades and historical city centre. The University of Bologna, which was established in 1088 AD, is the oldest university in the Western world. I love exploring the narrow city centre streets and browsing the food markets and shops with fresh produce, cured meats, fish, breads, pastas and regional products. I'm no chef, but I imagine that it would be sensory overload for any culinary expert. The small restaurants with street front patios make some of the best dishes you will eat in all of Italy. You have to go there.
Parmigiano Reggiano
We depart in the morning from our hotel in central Bologna to a family cheese making operation that produces the "king of cheeses," Parmigiano Reggiano. The just over an hour drive brings us to a farm and factory near the town of Parma. They are members of the consortium that designates and controls authentic Parmigiano Reggiano production. Under law, the designation Parmigiano Reggiano is protected as a PDO (Protected Designations of Origin) and can be used only by certified producers from this area, so consumers know they have the real deal.
Around 1000 AD, monks reclaimed the marshy lands in the Po valley. The fertile land was plowed and worked by the monks using cows. With numerous cows, the monks had to invent a method to preserve the large quantities of high-quality milk they produced into a product that could be stored and used over time. The monks eventually developed a technique to produce a distinctive cheese in large boilers. The large round Parmigiano Reggiano is still made the same way today.
The Minardi family own and operate the Borgo del Gazzano farm factory that we are visiting. As an organic farm, they pay close attention to the entire local supply chain process to ensure the highest quality of ingredients. We arrive as they are reaching their final steps of the boiler process that was perfected by the monks long ago. Two men collect the curd from the boiler using muslin cloth and place it in large round molds. The cheese is left to set for a day or two then the mold will be removed to add a plastic wrap that has the imprint of the famous Parmigiano Reggiano stamp along with the date and the producer's number. The mold is then reattached over the plastic wrap and tightened. The imprint from the wrap will solidify as a permanent mark on the rind over the next day. The wrap and mold are then removed and the cheese is placed in a rectangular vessel filled with a brine mixture for 20-25 days so that the cheese can absorb salt.
Finally, the cheese is placed on a shelf in the warehouse to age for 12 months. Prepare to be astounded to see row after row of these shelves that are over 20 cheeses high and at least 80 cheeses long per side. It feels like a library made of cheese! Do you hear a mechanical sound coming from the next aisle? It is a machine working its way up, down and across the shelves. Its job is to grab one heavy cheese off the shelf at a time, spin it around so it can brush off the excess bits, flip the cheese, then place it safely back on the shelf, before automatically moving on to the next one. I guess now we know where they get the parmesan cheese shavings for the cheese shakers we buy at our local grocery store.
We will step outside to the barn area to see the cows and dairy operation before moving to the tasting area and shop. Tasting the celebrated "fromaggio," with its distinctive texture and sharp flavour, at the very place where it is produced is really something special. This is not to be mistaken with the cheese we often get at home, as outside of Europe, companies can only use the word "Parmesan" to describe their cheese. To get the real deal, you have to make sure that it is clearly sold as, or even better, see it stamped as Parmigiano Reggiano.
Parma Ham (Prosciutto)
Just 30 minutes from the Borgo del Gazzano is a producer that makes another iconic food. The Lanfranchi family are specialists in the making of a cured meat known the world over as Raw Parma Ham (Prosciutto Crudo di Parma). For 20 years, they have been selecting the finest raw materials and using their traditional methods and expertise to produce the finest and tastiest prosciutto, salamis, pancetta, culatello and coppa di parma. Like the Parmigiano Reggiano cheese producers, the Parma Ham producers are also part of a consortium, and as such, must adhere to high standards and follow precise rules of production.
We will get an introduction of the prosciutto making process. Our tour starts with the trimming of the excess fat and rind of the pork thigh to give the ham its rounded shape and to assist in the salting process. The rind is treated with wet salt while the lean parts are sprinkled with dry salt. During a three week period, the ham is salted twice and placed in walk-in freezers with different temperatures. During this period, it slowly absorbs salt, loses moisture, and loses about 4% of its weight.
In the next stage, the ham's residual salt is removed and it is placed in a special room with controlled humidity and temperature for just over two months. While in this room, the salt penetrates even deeper and it is reduced by another 8-10%. We continue into a room with windows that are opened for the ham to dry over the next few months in natural process that will result in another weight loss of 8-10%.
The ham's final move is to the cellar on the seventh month. In the cellar, important biochemical and enzymatic processes occur. Here it loses another 5% of weight but gains the distinct aroma and taste of the Param Ham.
At the end of the curing process, the ham is penetrated by a horse bone needle by experts who can verify its quality with a trained sense of smell. Finally, after a twelve month journey, the ham is inspected by the Parma Quality Institute and branded with the "5 pointed crown" as a guarantee to the consumer that the product is of the highest quality.
The tour gives us a great appreciation for the care that goes into making these products, and underscores why they are highly sought after. We move to the La Perla tasting room where we can try some of the local wines while enjoying lunch, which of course, includes pasta, cured meats, prosciutto, Parmesan cheese, bread and a dessert. It is always tough to get a group to leave because the Lafranchi family are great hosts who love to meet people from around the world. But we must leave, as one hour away, is a mecca for car enthusiasts.
Ferrari Museum
As we arrive at Maranello, we are greeted by a traffic circle that has a familiar silver prancing horse in the middle. This is undeniably, the home of Ferrari. Founded by Enzo Ferrari in 1929 as Scuderia Ferrari, the company sponsored drivers and manufactured race cars before moving into production of street-legal vehicles as Ferrari S.p.A. in 1947.
As we arrive to the Museum, we see a F1 race car in what looks like scaffolding and a welcoming bright red arch. Ferrari is the most successful Formula 1 team in history and has millions of loyal and exuberant fans worldwide. The motorsports cars in the museum are dedicated to the 90 years of Ferrari racing heritage. The cars will take your breath away.
My favourite area of the museum is the Michael Schumacher exhibition dedicated to his 11 years of racing with Ferrari. The room has some of his F1 race cars on display in an awe-inspiring semi-circle with a video wall in the background playing highlights of his career. On the other side of the room is a lower wall dedicated to Ferarri champion drivers and an upper wall full of shiny trophies.
In addition to the racing automobiles, the museum also displays its most famous street cars through history, including the iconic Ferrari Testarossa. The Ferrari shop is full of items with the iconic item emblazoned on them, but like the high performance cars, they are pricey.
With your adrenalin pumping from being surrounded by automotive power, you will be ready to try a couple of unique experiences. If you are mechanically inclined, you will love the Pit Stop Experience, where they time you as you make a front tire change on a Formula 1 car. Those that "feel the need for speed" will drool at the sight of the unbelievable Scuderia Ferrari F1 simulators. After you climb into the pilot's cockpit, you are given a brief explanation of how to use the paddles behind the steering wheel and the gear box. They can set up the simulator for regular driver or in a more advanced mode for "professionals." You even get to choose one of the famous F1 tracks for your race experience. The simulator lets you feel the track surface including rubbing strips feel the breaking and throttle forces.
If you are interested, you can combine the museum ticket with a tour of the Ferrari track and factory. For the duration of the tour, you must remain on the company's shuttle buses and no photos or video are allowed. The factory entrance has been kept the same as it was in 1947 and the track is where all of Ferrari's competition and road cars have been tested since 1972.
Those that want to get behind the wheel can go to the nearby Autodromo di Modena race circuit and drive a Ferrari for 15 minutes or longer. The experience includes track information and safety protocols from a professional driver.
Balsamic Vinegar
After the heart racing Ferrari experience, we make a short early evening drive to a Balsamic Vinegar producer or "Acetaia" that was founded in the 1800s. The Paltrinieri Acetaia, established in 1845, maintains the family tradition and replenishes over 1000 barrels of balsamic using the experience handed down generation after generation. Adhering to the strict regulations and using local ingredients from the Trebiano and Lambrusco vineyards, Guido Paltrinieri guides the production of the vinegar must.
The company harvests 160,000 kilograms of grapes on their 25 acre farm, which produces 15,000 litres of balsamic vinegar. We will visit the warehouse attic to see the medium sized barrels made from durmast, chestnut, mulberry, cherry, acacia, ash and precious juniper wood.
The flavour garnered from the barrels, along with the aging process, result in the unique scent and flavour of the balsamic. In the tasting room, we try a range of balsamic they produce, and it is amazing how varied the taste can be in terms of the sweet and sour tones. They also vary in density. The denser the vinegar, the more of a syrupy texture it has. Mind you, this is not the balsamic you find at your local grocery store. A high quality Modena balsamic in a 100 ml bottle, and aged up to 25 years, can cost hundreds of dollars. The company also produces balsamic based products like Balsamotto, Acet-Up, Dulcia and Saba which are great for use in cooking or as a condiment, including on ice cream!
One of my favourite meals in Italy is at the Acetaia Paltrinieri restaurant. After our balsamic tasting and tour, we head across the courtyard to the rustic farm house restaurant. Just before we arrive to the restaurant doors, we are greeted with a glass of Pignoletto sparkling wine and crumbled Parmigiano Reggiano drizzled with DOP Modena Balsamic Vinegar. The balsamic and the cheese go so well together.
Once inside, we are greeted with bottles of Lambrusco wine on the table, which everyone is quick to spot and partake in. Soon, a plate of a local flatbread called "tigelle" similar to an English muffin, and served warm, arrives with a spread. They are so good!
I have had two different first courses, and I'm not sure which I love more. One is a creamy risotto made with "riserva" balsamic vinegar, and the other is a pasta called Strozzapreti or "choke the priest" pasta. The name always makes me laugh, but the pasta, which also contains balsamic, is absolutely fantastic.
The second course is a meat course which is served with vegetables or salad. During my previous visits, I've enjoyed stuffed roast pig, chicken with ham or Balsamotto roast beef, with each dish including balsamic as an ingredient. Even my ice cream dessert contains balsamic. After a glass of a special local walnut liqueur called "nocino" or a nice espresso, we are on our way back to Bologna. It will be a late return to our hotel in Bologna but I'm sure we will venture out to find a nice place in the historic city centre to have a glass of wine and to talk about our amazing day in Emilia-Romagna.
Explore Europe With Us
Azorcan Global Sport, School and Sightseeing Tours have taken thousands to Europe on their custom group tours since 1994. Visit azorcan.net to see all our custom tour possibilities for your group of 26 or more. Individuals can join our "open" signature sport, sightseeing and sport fan tours including our popular Canada hockey fan tours to the World Juniors. At azorcan.net/media you can read our newsletters and listen to our podcasts.
Images compliments of Paul Almeida and Azorcan Tours.
Click here to read more of Paul's travel series on Europe.
My European Favourites – Day Trip From Amsterdam
The Netherlands is a great place to visit either as a main destination or as a stopover for a couple of days. I have always enjoyed flying KLM and use them often for our many groups travelling throughout Europe. Amsterdam's Schiphol Airport is an east hub to fly into from North America, and I like the airport layout over other big and busy European airports.
Amsterdam itself has many interesting places to visit and explore. The city is full of history, great architecture, canals, bridges, museums, great shopping, cyclists, interesting cafes, the Anne Frank House, the Heineken Brewery, and yes, the notorious red light district. Not many people venture outside the city during a stopover, but one of our favourite day trips is from Amsterdam. We always try to do it on a Wednesday, so we catch the Edam cheese market show.
Zaanse Schans
Our twenty minute early morning trip to Zaandam starts after a good breakfast at our centrally located hotel in Amsterdam. On the way, you can enjoy the beautiful Dutch countryside including dikes and plots of land reclaimed from the water, called polders. Starting in the late 16th century, the Zaandam and the Zaan river area were important wood milling regions during the "Dutch Golden Age" with thousands of saw windmills. In the 19th century, the area became a leader of the "Industrial Age" in the Netherlands.
Starting in 1961, the Zaanse Schans was turned into an open air museum with windmills and buildings from the 18th and 19th centuries. Various wooden houses, barns, shops, warehouses and windmills were transported here starting in 1961. The buildings along with traditional farmsteads, paths, ditches and fields depict how village life was like during that prosperous time.
When we arrive at the Zaanse Schans parking lot, you will undoubtably smell chocolate from the nearby cacao processing factories. Entrance to the Zaansee Schans is free, but some of the workshops and windmills located throughout the grounds are museums and require an entrance fee. You can purchase a ticket to have access to all the museums.
One of the first buildings you will see on arrival is the Kooijman Souvenirs & Clogs Wooden Shoe Workshop. Here you can see a wooden clog machine demonstration. Afterwards, wander throughout the site checking out the bakery, fisherman's house, weavers house, clock house, merchant house, cheese house, pewter house, pancake house and see how vats and barrels are made at the cooperage. With a little breeze, you can see the sails of the windmills slowly turning while the inner workings churn away. The windmills saw wood or mill oil, flower, spices or pigments to dye cloth. Some windmills allow visitors to climb up to the deck via narrow stairs for a nice view of the river and the area.
The Zaans Museum, located by the parking area, opened in 1998, and contains clothing and artifacts from the area. At its Verkade Experience you can see original chocolate and biscuit factory machines from the early 20th century at work. The museum also has a café and shop.
Edam
Another short 20 minute drive, and we reach Edam, which is famous for its cheese market that started in1520. Edam cheese is round with a flattened top and bottom and is coated with a red paraffin wax which allowed it to age well and not spoil on long voyages. Its unique taste plus the lack of spoilage made it extremely attractive for exporting throughout the world. The market was closed in 1922 when cheese began to be made in factories rather than by local farms.
At the original market, farmers would bring their cheese using horse drawn cart or by boat. Once they arrived, the cheese carriers, who wore different colored hats depending on which cheese guild they belonged to, would load the product onto wooden barrows. Once the barrow was loaded, the carriers placed carry straps over their shoulders and walked the precious cargo to the cheese tasters. The tasters would drill a core sample from the cheese and based on the exterior wax, smell, taste and other factors began to bargain the price with the seller using a series of shouts and hand claps. When the price was settled the cheese was taken to the weighing house to determine the final amount to be paid.
Every Wednesday in the summer from 10:30 to 12:30, the town re-enacts the hustle, and bustle of the market at the Jan van Nieuwenhuizen Square. The colorful market includes many family members, including children, wearing traditional costumes, dresses and clogs plus kiosks selling cheese. Throughout the performance, horse carts and boats arrive, cheese carriers scurry at a comical pace and bargain shouts and hand slaps can be heard. So visitors understand everything that is happening, there is a person on a microphone explaining the entire process. It's quite interesting and fun to witness.
Smoked Eels
Next, we will travel from Edam to the seaside fishing village of Volendam to visit a local smokehouse that was founded in 1856.  Smoked eels at one time were an important staple food in the Netherlands but recently a drop in the eel population and the resulting price increase has made it a delicacy. Today, the 5th and 6th generations of the Smits' family keep their family's secret fish smoking process and traditions alive. The smoked eel is their specialty and during the eel fishing season the entire family is involved in the cutting, gouging, skinning, digging and filleting of the eels. The Paviljoen Smit-Bokkum offers private tours of the smokehouse to introduce people to the traditional eel fishing, processing and smoking activities. In addition to eel, they smoke salmon, dorado and sea bass using pine wood. The eel is delicious and at their restaurant you can try various local dishes. The location also has a shop and a small Palingsound (eel sound) Museum dedicated to Volendam's unique and famous pop music.
Volendam
Volendam, once a simple catholic fishing village, is now Holland's best-known seaside town and is visited by millions annually. The Volendam Catholic fishermen had their own typical costumes and dialect. The town's boardwalk, once home to fishermen's wooden shacks, is now adorned with colorful wooden houses, tourist shops, cafes and restaurants. As you walk through the town and its shops, you will see locals wearing the traditional clothing. If you explore the village's narrow lanes in the old neighborhoods, you can still see some of the old fishermens' houses.
There used to be hundreds of vessels at one time when Volendam's fishing fleet had access to the North Sea, but after closing its access, the harbour contains only a few fishing vessels doing fresh water fishing on Markermeer lake. Nowadays, leisure boats and the ferries that go to the nearby island of Marken occupy the majority of the harbour space.
Some restaurants offer tasty local seafood dishes and cool drinks on patios overlooking the harbour. For a quick lunch, food stands and take away restaurants sell kibbeling (battered and fried fish nuggets), herring, shrimp and of course smoked eel.
A visit to the Volendams Museum provides an interesting look into the town's history, costumes, traditions and art. If you have time, you may consider taking the Volendam Marken Express boat to Marken.
Cheese Farm
On the way back to Amsterdam, and a short distance from Volendam, we will stop at the Henri Willig Jacob's Hoeve cheese farm. The staff wear traditional clothing, and they give a short introduction and demonstration of the cheese making process. The number of cow goat and sheep cheese varieties is quite overwhelming but very interesting to sample. Some flavours you might encounter include truffle, cumin, pesto, red chili pepper, coconut, pepper, rosemary and garlic. They are all for sale in various sizes along with other Dutch souvenirs and foods. You can also see the cows in their new stable especially designed for the organic farm's herd of Jerseys.
It is only twenty minutes back to Amsterdam and as you enjoy the countryside you can decide on what great restaurant you will go to tonight. I think an authentic Indonesian "rijsttafel" or rice table would be a great way to end the day. The rice table was brought back to the Netherlands from the Dutch East Indies where it was created by the Dutch as a festive way to showcase their colony's diverse and multi-ethnic Indonesian cuisine. The rice is accompanied by a multitude of small meat, vegetarian and condiment dishes that may include spring rolls, satay meat skewers, curries, fish, boiled eggs, spicy sauces, peanut sauces, vegetables, and fried bananas. It is great for sampling different tastes and for sharing. You can find Indonesian fast food and restaurants throughout Amsterdam, but a place like Tujuh Maret or Ron Gastrobar Indonesia offering a rice table is definitely something you should experience.
Explore Europe With Us
Azorcan Global Sport, School and Sightseeing Tours have taken thousands to Europe on their custom group tours since 1994. Visit azorcan.net to see all our custom tour possibilities for your group of 26 or more. Individuals can join our "open" signature sport, sightseeing and sport fan tours including our popular Canada hockey fan tours to the World Juniors. At azorcan.net/media you can read our newsletters and listen to our podcasts.
Images compliments of Paul Almeida and Azorcan Tours.