It's starting to feel like a real old-fashioned NHL playoff
Hard to believe, but this is starting to feel like a real, old-fashioned NHL playoff. The Stanley Cup will not be awarded for months.
Yet, here we are, two weeks away from the official lid-lifters in the opening round of what will become a five-series marathon for two teams and the internet universe is full of hopes and doubts, fears and prayers — almost as if this was April, not mid-July.
The shocking news that a $600-million edifice like Rogers Place is as susceptible to flooding as a mere million-dollar structure did nothing to delay this outbreak of opinions. No further proof is needed that hockey, for large groups of us, stands at least equal to COVID-19 in daily interest.
In Edmonton, for example, there is growing hope that the Oilers will cruise through their first series with Chicago, largely because proven goaltender Corey Crawford has been declared "unfit to play" and any available backup for the Blackhawks is far less competent.
Having Leon Draisaitl and Connor McDavid available will also help, and there were signs late last season that the depth pieces at forward and on the blue line are more than just place-holders until the superstars take control.
In Calgary, optimism is quieter, maybe because the Flames have won only a single playoff round in six years. And maybe because talented Johnny Gaudreau was separated from familiar linemates in early workouts while other holdovers have been — like Crawford — handed the unique "unfit to play" designation.
General manager Brad Treliving went online quickly to defend Gaudreau against suggestions that he is not in game shape and has struggled in the early going. Gaudreau himself labeled the criticism "just one of those things."
Other potential issues have not been widely discussed. Coronavirus infection for Derek Ryan and others who have stayed off the ice? Chances are fans will never know.
At least one presumed expert on Friday went so far as to say in print that the Oilers "have a real chance to win the Stanley Cup." Pre-playoff season is the time to dream big in any sport.
In a normal NHL season — if there is ever such a thing as normalcy in sports — the focus for most fans goes to player signings, free-agent talk and the like, including inevitable calls by so-called supporters for one or several coaches and general managers to be dismissed.
A big difference now is fan interest in winners of individual honours: Ted Lindsay Award for best player, Lady Byng for most gentlemanly, Masterton Trophy for dedication to the sport and others for top rookie, top defenceman and the like.
Automatically, Calgary fans insist, for example, that Mike Giordano is the league's top defender. Oilers fans and several media types, always convinced their opinions lack bias, have gone on record with demands that Daisaitl must win the Lindsay award and that McDavid, who used the entire 2020 pre-season to battle a career-threatening knee injury, should have no challengers for the Masterton Trophy, which this old reporter believes should go to Bobby Ryan of the Ottawa Senators.
So far, it seems, the biggest difference between Edmonton's observers and the similar group in Calgary is positive versus negative. Some Oilers-watchers honestly hint that their two superstars might portend the beginning of a magical run like Edmonton's domination in the 1980s.
In Calgary, there are fresh complaints about Treliving's performance and the sad recent finishes by a team that figures to be seriously challenged by the Winnipeg Jets in their first-round match.
Is it too soon to be talking about a Flames rebuild. Several voices in Calgary insist it is not.
'A miracle': Advocate says help being planned for victims of Calgary house explosion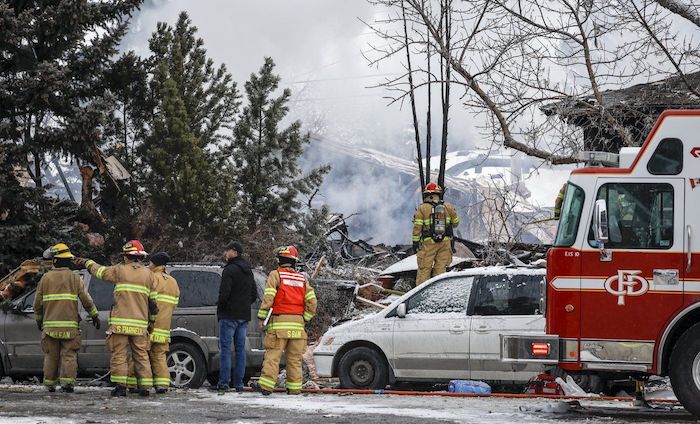 Firefighters attend the scene of a house explosion that injured several people, destroyed one home and damaged others in Calgary on Monday, March 27, 2023. A leader in Calgary's South Sudanese community says efforts will be made to provide financial help to 10 people seriously injured in a house explosion. THE CANADIAN PRESS/Jeff McIntosh
By Bill Graveland in Calgary
A leader in Calgary's South Sudanese community says efforts are to be made to provide financial help to 10 people seriously injured in a house explosion.
The blast Monday destroyed one home, damaged several others and left part of the roof from the house that blew up in a yard across the street in the neighbourhood east of downtown.
Calgary Emergency Medical Services has said all the victims were adults, and that six of them had life-threatening injuries and four were seriously hurt.
Community advocate Gar Gar said it appears all of the victims were from South Sudan. Gar said he and some of the victims' family members met at one of the hospitals where the injured were taken.
"I met a son who came to the hospital and went in and saw his dad and you could see the tears in his eyes. That sounds like it's related to something that he saw and the shape is father is in," Gar said Tuesday.
"There are family members, cousins, uncles and their nephews and nieces. Eventually, those will be the houses that some of them, when they get out of the hospital, might also be hoping to get back in."
The fire department said the force of the explosion created "a large debris field" and several fires. A tangle of what appeared to be charred beams, pink insulation and splintered wood could be seen where the house once stood.
Homes on either side were charred and one had a shattered window. A tree in front had a piece of plywood and other debris stuck in it.
Gar said after hearing about the explosion and seeing its aftermath, he can't believe there have been no deaths so far.
"To hear that they're still fighting for their lives and some of them are stable — that by itself is a miracle and we give thanks for the responders who came in and took them so quick," he said.
"Back home, we would probably have been talking about something different."
Gar said if all 10 victims were living inside the home, he wants to know why.
"That's certainly something we are asking when we get more details to see what kept 10 people in one house. Is that affordability issues or is that simply because we're seeing the homelessness coming into the South Sudanese community?"
Gar said community members will be meeting with the families Tuesday to see about setting up a crowdfunding page.
"Basically they lost everything in one blink of an eye. They're fighting not to lose their lives," Gar said.
"We're hoping to rally around those families and the community to come together and to support them where we can."
The cause of the explosion is still under investigation.
This report by The Canadian Press was first published March 28, 2023.
Calgary city council to debate safety bylaws after protests at library drag events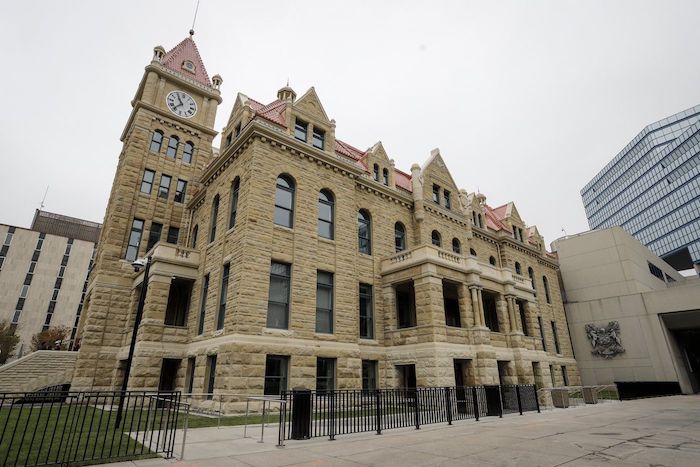 Calgary's city council is set to discuss updating one bylaw and bringing in another to address protests at drag events.
The proposed changes, which are on the agenda for this week's council meeting, include adding the word "intimidation" to the existing public behaviour bylaw.
A second bylaw, which would be called the safe and inclusive access bylaw, is also set to be debated by councillors as early as today.
It would prohibit protests within 100 metres of an entrance to a recreation facility or library and anywhere inside those facilities.
The move comes as a 36-year-old man faces criminal and bylaw charges related to a disruption during a Reading with Royalty event at a public library in February.
The family-friendly story times at libraries are led by drag queens or kings, and children are invited to dress in their best outfit, cape or crown.
Charges under the city's public behaviour bylaw carry a maximum penalty of up to $10,000 or six months in jail.
If passed by council, the safe and inclusive access bylaw would carry the same penalty.
"Recent protests have targeted members of the (LGBTQ) community and impeding the city of Calgary's ability to provide safe and inclusive access to city services," reads the new bylaw proposal. "The public is entitled to access these services without being exposed to messaging or behaviour that is hateful, intimidates, harasses or discriminates."
It lists multiple events that have led to safety concerns including: a Drag on Ice event that was postponed at the Chinook Blast festival Feb. 10; ongoing protests at Canyon Meadows aquatic and fitness centre, which is connected to Calgary Recreation's transgender and gender diverse facility; and the children's reading programs at public libraries.
Libraries across Canada — including Moncton, Halifax and Coquitlam, B.C. — have faced similar protests this year.
There have also been anti-drag protests outside the Tate Britain art gallery in London, as well as several bookstores and libraries in the United States.
Tennessee recently brought in a law that would ban drag shows in public spaces, starting July 1, and several other states are considering restrictions.
Across the United States, conservative activists and politicians have complained that drag contributes to the "sexualization" or "grooming" of children.
The efforts seek to smother popular "drag story hours," at which drag queens read to kids. Organizers of LGBTQ Pride events say they put a chill on their parades.
This report by The Canadian Press was first published March 14, 2023.
— With files from The Associated Press