The Raptors (Ridgefield Raptors that is) are coming to Edmonton next summer
At first word that the Raptors will be spending a few days in Edmonton next summer, sports fans might be excused for jumping up and down at the thought of a high-profile NBA event.
But the Raptors under discussion play another game — baseball — and they're based not in Toronto but in Ridgefield, Wash., a small centre near the Washington-Oregon border which claims fewer than 10,000 residents in its Wikipedia profile. Edmonton — officially labeled the Riverhawks — is now a partner in the West Coast League, which develops college players and has seen several top prospects selected in recent Major League Baseball drafts.
Also joining this week are teams based in Kamloops and Nanaimo, bringing the British Columbia contingent to four teams. Victoria and Kelowna were already members of what now is a 15-team organization.
Teams currently occupy Yakima, Wenatchee, Walla Walla and Port Angeles in Washington, as well as Bend, Corvallis and other communities in Oregon.
The city of Edmonton confirmed months ago that the Edmonton Prospects of the Western Canadian Baseball League would not be returning to Re/Max Field. Several years of association with Pat Cassidy and the Prospects had led to difficult feelings on both sides.
The Prospects are developing a new facility in Stony Plain. It will be ready for competition in 2022. Cassidy has said his team will find another place to play in 2021. All comments on next year and beyond are based, of course, on the progress of local, provincial and national fights against COVID.
Randy Gregg, the former Edmonton Oilers defenceman who led the new group's campaign to function in Re/Max Field, unveiled his new organization at a well-attended news conference and said several options concerning the WCBL were considered but "there were continuing roadblocks."
During months of negotiation, Gregg and his supporters did not communicate with the public. Neither did city council. "When you sign a non-disclosure agreement, you have to abide by it. Your signature has to mean something," he said.
Gregg insisted the Riverhawks organization has no ill feelings about the WCBL. "It might have worked well," he said. A few casual remarks were made about the potential value to this entire region if both the WCBL and the WCL are profitable.
The Edmonton approach includes sharing in travel costs for existing West Coast League teams. Similar situations made it difficult for a pair of so-called "independent" teams to operate in the years after the Edmonton Trappers were sold and Edmonton had no significant baseball.
Gregg is convinced the new load of travel costs will not be insurmountable. The Riverhawks are a collection of 28 contributors. He also pointed out that at least a couple of Edmonton's new partners are owned or controlled by owners with major-league connections.'
"We've got a big job ahead of us," he said. "We know that a lot of baseball fans have never seen a game at Re/Max Field."
As things were unfolding between the Prospects and city officials, there were regular suggestions that no lease would have been granted for the WCBL in 2021. "Can you imagine what it would feel like to have no baseball for maybe three or four years in this great sports city?"
Last week our nation ran into a spree of high-profile miracles
Glenn Anderson adds some colour to the "Day of Golf"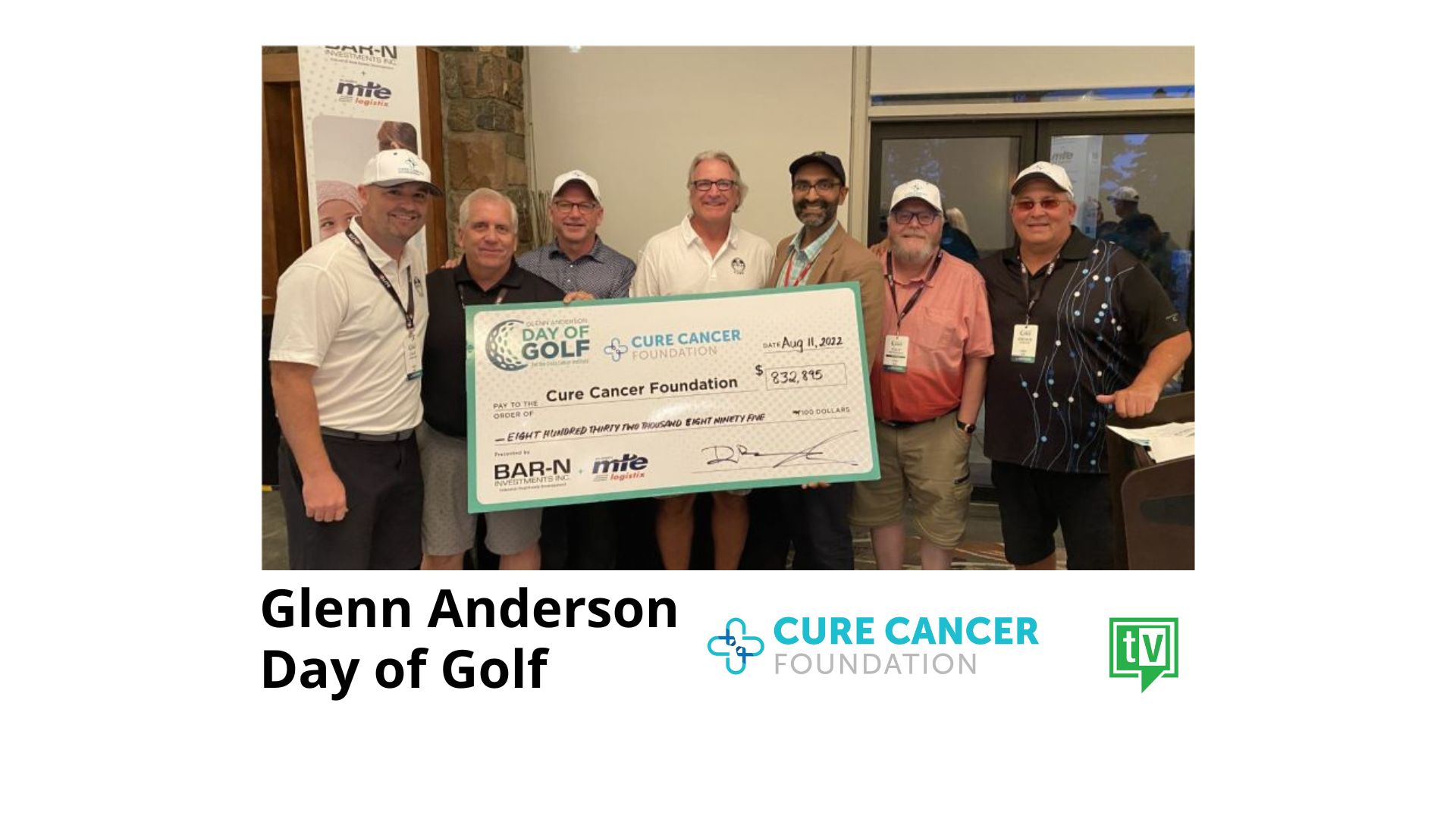 Last week, the 32nd edition of the Glenn Anderson Day of Golf raised an incredible amount of money … in fact more than $832 thousand dollars! Chances are as the numbers are tallied up, that total will be near $900K! That's a big deal and the money raised will fund cancer research. Congratulations to the organizers and a shout out to the Derrick Club who did an amazing job of hosting the event.
But today's story is more about Glenn Anderson. A class act, Anderson travels up to Edmonton from Florida each year to help make this event a roaring success. He told some great stories at a reception the night before the tournament. If you're an Oilers fan, you'll enjoy this video!
Click here to watch the video.
Headliners Wickenheiser and Straschnitzki lead the way at Lending Cupboard fundraiser with $10,000.00 donation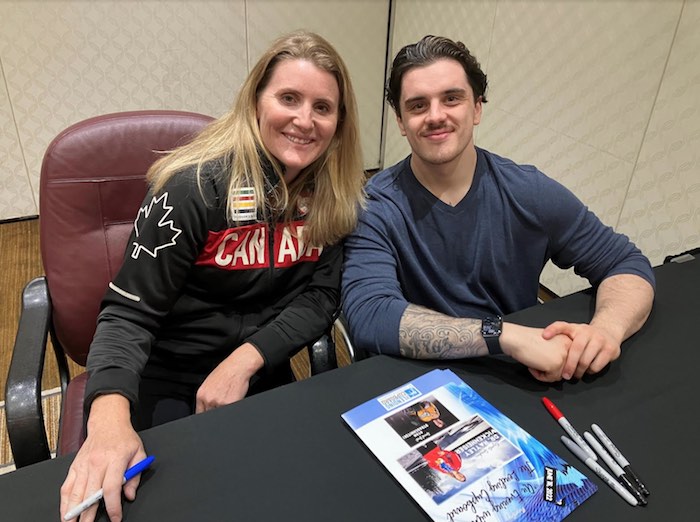 'An Evening with The Lending Cupboard' proves an inspiring, community-building event
Special guests Dr. Hayley Wickenheiser and Ryan Straschnitzki strongly endorse TLC's vision
'An Evening with The Lending Cupboard', held on June 16th at the Cambridge Hotel in Red Deer, proved to be an exciting, inspiring event featuring Dr. Hayley Wickenheiser and Ryan Straschnitzki.
"When I was contacted to come and do this, it was a no-brainer given what I do now in medicine," explained Wickenheiser, who is also of course a highly-acclaimed Olympic gold medalist and author in her own right. "This is a brilliant idea. I don't know why we aren't doing this across the country – it makes a lot of sense!
"It provides a very valuable service in the community…if we can help to raise that profile, that's so good."
During the event, Wickenheiser shared many details of her own memorable journey, reflecting on the hockey dreams that have been intrinsic to her life from a young age. She then interviewed Straschnitzki onstage, giving him the opportunity to reflect on the Humboldt bus crash of April 6, 2018 and the courageous steps he has taken to re-build his life since.
"My entire process from the time of the accident has made me realize how this kind of support really helps out," explained Straschnitzki, adding that bolstering awareness about the service is critical as well. "It's such a great idea, and it benefits so many people. The more the word can be spread about it, there's even more of an impact that can be made. "Being in a wheelchair these past four years, I've realized how inaccessible things can be when you live with a disability, so I think it's important to raise awareness about these kinds of programs," he added. "I think it's a great initiative!"
Executive Director Dawna Morey also commented on how thankful she was for how the event unfolded, and how inviting Wickenheiser and Straschnitzki – who turned out to be a powerful duo – was indeed the right choice. "I'm humbled that they joined us, and I'm also humbled by their incredible generosity – having donated $10,000 back to The Lending Cupboard."
Amanda Blair, TLC's Board Chair, said she was blown away by the generosity of all the attendees, including of course Wickenheiser and Straschnitzki – and the overall support from the community. "Seeing everyone pull together just gives you that faith in humanity – it warms your heart," she said. "Everyone there was also super enthusiastic about it – I think a lot of people learned more about The Lending Cupboard, which is also what we are trying to do."