Edmonton's connection to the defection of Baltimore Orioles' superstar Jose Iglesias
Here's the simplest possible message for all and any who are bothered by the realization that the real world has interfered with the world of sport, so often described with great accuracy as "the world's playpen" — it has happened before and surely will happen again.
For many, the most dismal example of politics destroying a major sports event is the 1936 Olympics, when Adolf Hitler's prejudices were on open display. Memory of the brilliant sprinting by Black American Jesse Owens during those Games stands as civilized society's best-known antidote to such critics of what now is identified as "social justice."
In some ways Alberta is central to this debate: strong statements were made in support of Black Lives Master by players in the anti-Covid bubble designed to keep them healthy enough in Edmonton to complete the NHL's first-ever late summer Stanley Cup playoffs at Rexall Place.
The international response, pro and con, will continue for some time, close observers predict.
"…. (Castro) was really angry. He was loud."
It surprised me during the weekend to recall that a hubbub, but smaller, touched international baseball in 2008, when 18-year-old Cuban infielder Jose Iglesias defected from his national team during the world junior baseball championships in Edmonton's North Saskatchewan River Valley. The memory was triggered by coincidence: Iglesias showed on television as a member of the Baltimore Orioles in a series against the Toronto Blue Jays.
That world championship was one of several conducted in Edmonton by a group of volunteers headed by the late alderman, Ron Hayter. There was immediate evidence that the shortstop with excellent defensive skills was important in his nation: Premier Fidel Castro called personally to object..
Longtime Edmonton resident Don Clark of Edmonton has spoken often of the experience. He wound up taking a long-distance call initially intended for Hayter.
"I only got on the phone because Ron wasn't around," Clark said. "At first, I didn't know who I was talking to, but soon it got pretty clear. There was nothing any of us could do. They were gone."
Smiling at the discomfort of that distant moment, Clark recalled the sound of Premier Castro's voice.
"There's no doubt he was really angry. He was loud."
Years later, in an interview with a Detroit newspaper, Iglesias explained the departure from team headquarters on the University of Alberta campus. During a stretch of about two hours when the team was not under direct supervision, "We just got up and walked out."
At the time, Iglesias spoke no English.
"It was tough. Really tough. I had no family. No friends. I just wanted to do what I loved: play baseball."
He signed a big-league deal with the Boston Red Sox in 2009 and made the all-rookie team before signing his current $3-million one-year deal with Baltimore. He also played with the Cincinnati Reds and Detroit Tigers. With Detroit, he signed long-term contract for about $6 million a year.
Major League Baseball lists 32 active players as defectors from Cuba, including promising Toronto outfielder Lourdes Gurriel, New York Yankees pitcher Aroldis Chapman and other stars.
Read more of John's stories here.
Premier Smith reacts to Liberal Government's announcement on new methane reduction targets at COP 28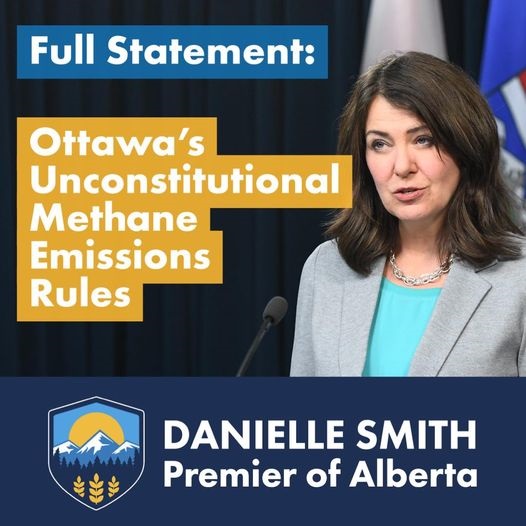 Federal methane emissions targets: Joint statement
"Once again, the federal government is setting unrealistic targets and timelines. Infrastructure can only be updated as quickly as technology allows. For example, Alberta will not accept nor impose a total ban on flaring at this time, as it is a critical health and safety practice during production. Any regulation that completely prohibits this is putting lives at risk"
Premier Danielle Smith and Minister of Environment and Protected Areas Rebecca Schulz issued the following statement on the federal government's proposed methane emissions regulations:
"The federal government has unilaterally established new methane emissions rules and targets to help win international headlines. Instead of building on Alberta's award-winning approach, Ottawa wants to replace it with costly, dangerous and unconstitutional new federal regulations that won't benefit anyone beyond Environment and Climate Change Minister Steven Guilbeault's post-office career.
"Managing emissions from Alberta's oil and gas industry is our constitutional right and responsibility, not Ottawa's, and we are getting the job done. Using a province-led approach, Alberta has already reduced methane emissions from the oil and gas sector by 45 per cent – hitting our target three years early – and we're just getting started.
"Meanwhile, not only is it illegal for Ottawa to attempt to regulate our industries in this manner, Ottawa also hasn't even hit one of its past arbitrary and unscientific emissions targets largely because it has little to no credible expertise regulating the natural resource, agricultural and other industry sectors in this space.
"Ottawa could have helped us keep reducing emissions with joint incentive programs in line with Alberta's Emissions Reduction and Energy Development Plan. It could have listened to the Supreme Court's declaration that the Impact Assessment Act was unconstitutional and abandoned this kind of arrogant and ineffective scheme. Instead, these new regulations threaten our successful province-led approach and impede good work that's already underway.
"Once again, the federal government is setting unrealistic targets and timelines. Infrastructure can only be updated as quickly as technology allows. For example, Alberta will not accept nor impose a total ban on flaring at this time, as it is a critical health and safety practice during production. Any regulation that completely prohibits this is putting lives at risk. A total ban would also be costly, resulting in shut-ins and loss of production.
"This approach will also cost tens of billions in infrastructure upgrades, yet Ottawa has provided virtually no financial support to do so. Thousands of Albertans could be put out of work in the coming years due to these costly regulations. A federal government willing to invest $37.7 billion into just three battery plants in Ontario and Quebec cannot credibly refuse to provide tax credits and financial incentives for producers in Alberta and Saskatchewan to assist with achieving a carbon-neutral economy by 2050.
"For years, Alberta, not Ottawa, has done the hard work and achieved results. We strongly support reducing methane emissions and have invested tens of millions into developing these technologies. Minister Guilbeault must work with us, and not against us, to keep cutting methane emissions and charting a course for carbon neutrality by 2050.
"Given the unconstitutional nature of this latest federal intrusion into our provincial jurisdiction, our government will use every tool at our disposal to ensure these absurd federal regulations are never implemented in our province."
Alberta's Methane Target Reached Early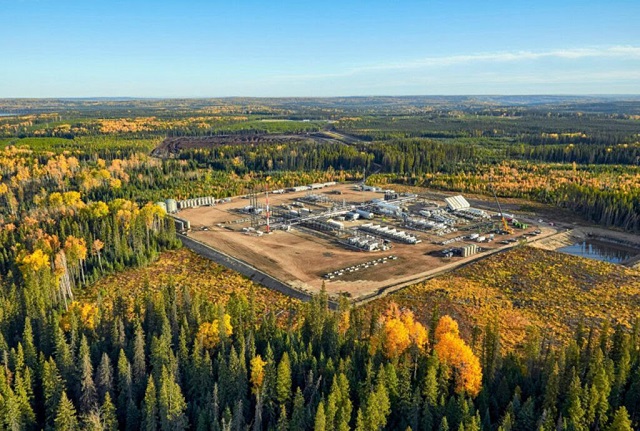 Gas processing plant in northwest Alberta, courtesy of EnergyNow
Courtesy of ENERGYminute
See more articles and infographics from ENERGYminute HERE
---
In a pat-yourself-on-the-back moment, Alberta's oil and gas industry successfully achieved a 45 percent reduction in methane emissions, surpassing the province's mandated target ahead of schedule.
Background: Alberta was the first province in Canada to commit to a 45 percent reduction in methane emissions from the oil and gas sector by 2025, based on 2014 levels. Spoiler alert: Alberta achieved its methane mission three years early.
Their targeted approach to reducing methane emissions from flaring, venting and fugitives has become an example globally, earning national and international awards for its effectiveness and cost-efficiency.
Alberta strong: The government credited the early success to close collaboration with the industry, implementing early action programs such as carbon offsets, tough regulations for all facilities, and enhanced leak detection and repair methods.
Minister of Environment Rebecca Schulz highlighted that this made-in-Alberta approach not only achieved the goal three years ahead of schedule but also resulted in roughly $600 million in savings for the industry compared to the proposed federal program.
Getting the job done: Alberta allocated $57 million from the Technology Innovation and Emissions Reduction fund for methane emissions programs, including:
$25 million in rebates to companies adopting emissions reduction equipment.
$17 million supporting alternatives to detecting and quantifying emissions.
$15 million to help small- and medium-sized operators assess methane reduction opportunities.
Overall, the initiatives eliminated 16.6 million tonnes of carbon dioxide equivalent from the atmosphere.
Looking ahead: Alberta is committed to building on this momentum and collaborating with industry experts to determine the next steps in their emissions reduction journey, aligning with the goal of carbon neutrality by 2050.