Football Confusion Keeps Growing
The Canadian Football League doesn't know whether it will operate this year. It may not operate ever again.
This nation's top level of amateur football, which links top universities from coast to coast, has no idea whether to play four or five games this season. One step below the college guys is Canadian junior football, which now considers schedules of four, five, six or seven games in what would be the 2020 season.
Confusion is everywhere.
On all three of the major gridiron tiers, COVID-19 – what else? – dominates every imaginable picture of the future, both short- and long-term. The same applies throughout the sports universe, of course.
It can never be guaranteed that a league cancelling its 2020 season will return in 2021 or beyond, with the exception of the Big Four: NFL, NBA, MLB and NHL. Already, the American Hockey League, hockey's top playpen for future big-timers, has been forced to back away from any prospect of completing the current season. Season-ending games, gone. Playoffs, gone.
It's a simple scenario, written indelibly for all organizations without TV crowds or million-dollar sponsors: the AHL is a gate-centred league; playing before empty stands won't come close to paying the bills. That scenario is written indelibly for amateur and minor-league entitles everywhere.
Too often overlooked in concern over sport's billionaire owners and millionaire players is the group of youngsters just about to start their professional careers. Thomas Jack-Kurdyla, the University of Buffalo grad selected first by the Edmonton Eskimos in the recent CFL draft, has said several times that he's anxious to get here from his Montreal home. Mentally, he's ready to play.
In a similar situation is offensive tackle Theren Churchill, a Stettler product who starred for the Edmonton Huskies in the Prairie Junior Football Conference before becoming a Regina Ram and producing a three-year university career good enough to be grabbed as the Toronto Argos' second pick in the first round. Churchill, too, wants to earn a living as a professional athlete.
John Belmont, the respected veteran junior, university and Eskimos assistant coach who watched Churchill closely as a Huskie, is confident for him.
"He came from a good program in Stettler. He's tall (6-foot-5) and that helps a lot. He has long arms. That helps, too.
Most important was Belmont's judgment of the young man's talent. "He worked hard to get bigger (he's listed at 295 these days) and he improved day after day and week after week."
It's equally important: Churchill is durable. He played 25 regular-season games in a row, plus a Rams' semi-final loss to UBC.
Another possible area of comfort is that Canadian college teams play before tiny crowds. As an Argo, the rookie is sure to see empty seats when they play at home. As CFL boosters bided their time waiting for word on potential financial aid to this wonderful football tradition, there was good news in western amateur precincts. University teams have designed a program that could provide five-game schedules and the PJFC declared itself (mostly) confident that there will be a season this year.
The national picture remains cloudy; five provinces have junior teams. Will all lockdown procedures end in roughly the same way at roughly the same time?
"I don't know," said the veteran Belmont. "Nobody knows, but I think this league could be ready for almost a full schedule by the middle of July. I hope nobody rushes to make a decision (to reduce or eliminate games) before it's necessary."
Tour "The Abigail" by Sorento Custom Homes – Grand Prize in the 2022 Red Deer Hospital Lottery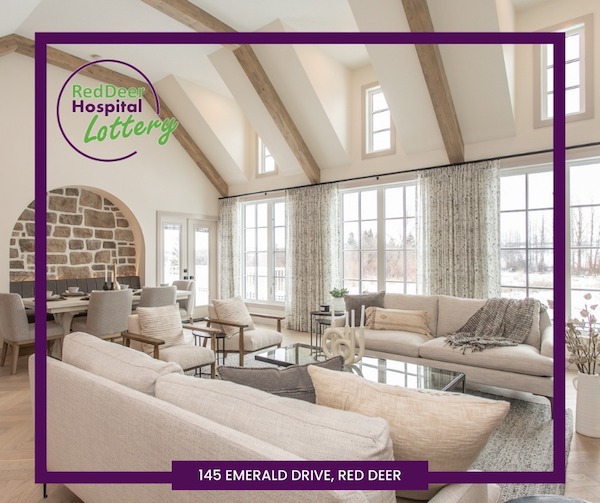 Have you seen it yet? Take a nice long look at the beautiful grand prize dream home!
NEW
TICKET GIFTING
OPTION
Step 1 – Click the GIFT TICKETS NOW! button
Step 2 – Enter the order for tickets and your personal information under buyers details
Step 3 – Click Send as Gift button and enter the giftee name and information
Print off this order form and mail in to the address listed on order form.
You can choose to get your tickets by mail, you will receive them in 3 to 4 week once processed by the lottery office.
You can also choose e-ticket and you will receive your tickets by email the day your order is processed. A valid email address is mandatory for e-ticket.
Mail to:
Red Deer Hospitals Lottery
PO Box 1098 Red Deer AB T4N 6S5
Call 1-877-808-9005 and a representative would be happy to help with your order, our agents are taking calls 7 days a week from 8am to 11pm
MAIN TICKETS
1 for $25 | 5 for $75 | 10 for $125 | 25 FOR $250
ORDER BY PHONE
Call Toll Free: 1.877.808.9005
MEGA BUCKS 50
1 for $10 | 10 for $25 | 25 for $50 | 50 FOR $75
5 winners already in Red Deer Hospital Lottery – Previous Supporters Draw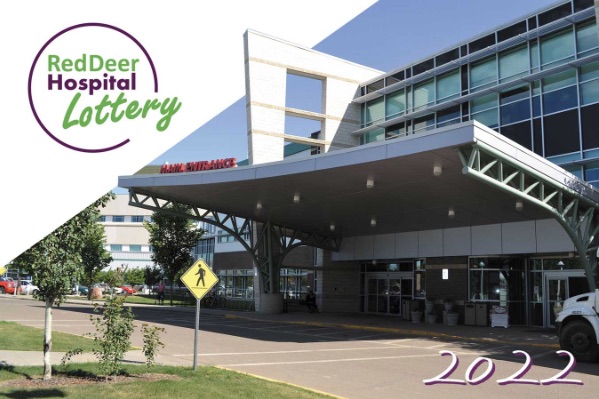 Five lucky people are already glad they purchased a Red Deer Hospital Lottery ticket – and the winning has just begun!
Thank you to Cecile A of Red Deer, Lynda H of Lacombe, Dan & Wendy K of Sylvan Lake, Bobbi & John W of Millet, and Jack W of Stettler who supported our hospital. They each won $1,000 in our Previous Supporter draws.
There are still 115 prizes totaling over $1.1 million to be won!
Our Grand Prize Dream Home package is valued $940,332.00 including furnishings from Urban Barn and $10,000 Dream Home CASH!
Maybe you'll win a 2022 GMC Yukon SLT worth over $81,000.00! Tickets are only $25 each.
There's still more. Buy before May 25th and you could win our EARLY BIRD CASH PRIZE OF $25,000
CHECK OUT OUR GREAT TICKET PACKAGES
$25 EACH | 5 FOR $75 | 10 FOR $125 | 25 FOR $250
Win half of an increasing jackpot of up to $1,000,000.
The jackpot grows with every ticket sold!
1 for $10 • 10 for $25
25 for $50 • 50 for $75
Win half of the current jackpot of:
17 of 83 pieces of equipment have already been funded!
Every ticket purchased will support the Red Deer Regional Hospital Centre with proceeds used to purchase eighty-three pieces of medical equipment for several units.
Since opening a few weeks ago, we've already secured funding for 17 stretchers benefiting 8 different units at our hospital!
CALL RED DEER & AREA OR TOLL FREE
403.340.1878 1.877.808.9005
Red Deer Hospital Lottery
PO Box 1098
Red Deer AB T4N 6S5Lottery Licence 590314 | Mega Bucks 50 Licence 590315
© RED DEER HOSPITAL LOTTERY 2022