Universal Pictures to release #Yeg produced Doc, Inmate #1: The Rise of Danny Trejo
Adam Scorgie (39), is a self-described, "producer, creative hustler, indie filmmaker". In his movie and TV career that has spanned almost two decades now, he has also been, a voice, dancer, movie and soap opera actor, line-writer, fundraiser, production manager, co-producer, producer, executive producer, equipment sherpa, camera operator, husband, father and more.
While having a tireless, relentless work ethic, believing in himself, his team and taking big chances, is nothing new for Scorgie, the owner multi-award-winning, Edmonton based Score G Productions. He is not one to get too far ahead of what might be in his next professional script.
Will Universal Pictures' world-wide release of Inmate #1: The Rise of Danny Trejo, be the Alberta film producer's big break-out film?
Scorgie, sported a big smile while contemplating his response to being asked if the deal with one of the "big six" Hollywood studios will make him an overnight success? The already, highly acclaimed documentary film maker, energetically deflected, "I am just honoured to have contributed to and be part of a great team." One of those team members being his long-time collaborators, Vancouver based director, Brett Harvey.
While Scorgie has a two-decade long list of supporters and backers that he does like to thank. Explaining that 'any success in this business' is great, he got more serious, "It isn't about any one production, over another, my proudest accomplishment is my family." Lead by his wife and mother of three children, Lauren Scorgie.
"What are you doing in Edmonton?" That is something Scorgie hears 'a lot' of when travelling to different parts of the world while either working on, fundraising, planning or promoting whatever projects he has in the soup.
The B.C., born and raised Scorgie use to answer, "Because I had a chance to come to Alberta to work with Aquila Productions, the job that really changed my life and career." Expanding, "Working and learning with owner, Don Metz along with Michael Bobroff and Gord Redel was essential for me and my team to get stability and to take that next step." Adding, "Now I just answer, women's hockey. There is no better city with the supports, teams, coaches, the U of A Pandas' programs."
Turns out, Adam is not only headline grabber in the Scorgie family. His now, 13-year-old daughter Riley, scored 50 goals in 19 games when she was just 11. Garnering the young girl local and international coverage of her own. Including, ESPN's Best Player in the World of the Week award.
It was not the Wayne Gretzky type numbers she posted that got her international media coverage. It was the fact that she so beat the odds by quickly overcoming a rare and debilitating medical emergency. The family was blind-sided when the youngster struck down by Guillain-Barre syndrome. Leaving her unable to walk or stand-up without supports.
The syndrome uses a person's immune system to attack the nerves. It starts with weakness and tingling in the extremities, that can quickly spread, paralyzing the bodies proper functions.
While Riley continued to go through a battery of tests, the doctors explained to the stunned and distraught parents that all was not lost. They were told she could recover, "It would take time, a lot of care and physiotherapy." Adding, "She would not be able to play hockey for at least a year." The pre-teen flat-out rejected that idea.
Showing the Scorgie family fighting spirit. She quickly became like one of her dad's featured documentary subjects. Working through treatments as hard as she could to get back. Her dad explained it didn't stop there, "Holding the rail, she started slowly taking stairs one at a time. Soon, she would then go up and down the stairs without using the railing to try to get her legs working, her balance and back."
To everyone's surprise, even while still experiencing weakness and balance issues, she was back on her skates within weeks. The budding star made a team on the last day of try-out and the rest of her scoring feat is history.
Proud papa explains, "We were just glad to see her walk again, in a way this has been a blessing for her. She learned at a young age that nothing you want in life is achieved easily. You hit roadblocks and you have to work through them." Continuing, "When I talk at panels, I always say that there are no over-night successes. It is a long road, it is a lot of hard work, with roadblocks, disappointments and that you have to take a lot of chances."
Rejections is another tip Scorgie shares during industry Q&A's, "Our movies have been commercially successful, but I've lost count of how many Film Festivals we have been turned down by every year. I tell everyone to never give up."
His team's long list of rejections to be shown at international film festivals include, Inmate #1; The Rise of Danny Trejo.
Scorgie explains why this release announcement is such a big deal for any full-length documentary maker, "In its 108-year history, Universal Pictures has only released 70 documentaries like this (world-wide)." Happily adding, "The official Universal Pictures trailer, has already had over a million views."
For those movie fans that like to look for local landmarks, you will have to know what the inside of the old Remand Centre (closed April 2013) and the Panther Gym look like, "Danny came to Edmonton, some boxing shots that made the cut, where in Panthers gym." Adding, "All of the sit-down prison interviews with Danny are from the old Remand Centre." Lots of love for Alberta, the staff was awesome, love the blue-collar approach from the Alberta film industry, the minimal egos and continued support, is why I continue to produce out of Edmonton."
So, what's next for the Score G Productions team? "We have a documentary on UFC Hall of Famer, Michael Bisping in post-production." Scorgie said adding, "Plus we have docs on Arturo Gatti and Roy Jones Jr. in production."
Scorgie asked to add one last important shout out for a long-time supporter and to also add a tip for Canadian TV audiences, "I wouldn't have a career and our production team wouldn't be successful without Super Channel's amazing support over the years. Super Channel is key for indie Canadian filmmakers and support better than ANY other network in Canada PERIOD!" Adding for those that want to watch the film early, "I highly recommend Canadians support local and subscribe to Super Channel. A bonus is that it's the only place in the world where you can currently watch or stream Inmate #1; The Rise of Danny Trejo."
Synopsis. Inmate #1; The Rise of Danny Synopsis
The Trejo documentary features the radical ups-and-downs this amazing and tirless 75-year-old. The film takes the audience through the life of one of the scarcest looking bad guys in the history of cinema. Weaving through never-before-seen visuals and personal testimony and stories from Danny, his closest family, friends, movie stars and producers. The movie shows how the LA born Trejo goes from a life of drugs, armed robbery, hard prison time, overcome his demons, becoming a champion boxer in San Quentin, through to the red carpets of some of his 400+ Hollywood credits, to helping troubled addicts, a successful business owner and community leader. For over 50 years of sobriety, Trejo's personal mission and debt to society is to pay it forward and give back to his community every single day. The Hollywood icon has become a symbol of hope to people around the world.
Other award winning projects Adam Scorgie has worked on
Edmonton company releases a world first NFT project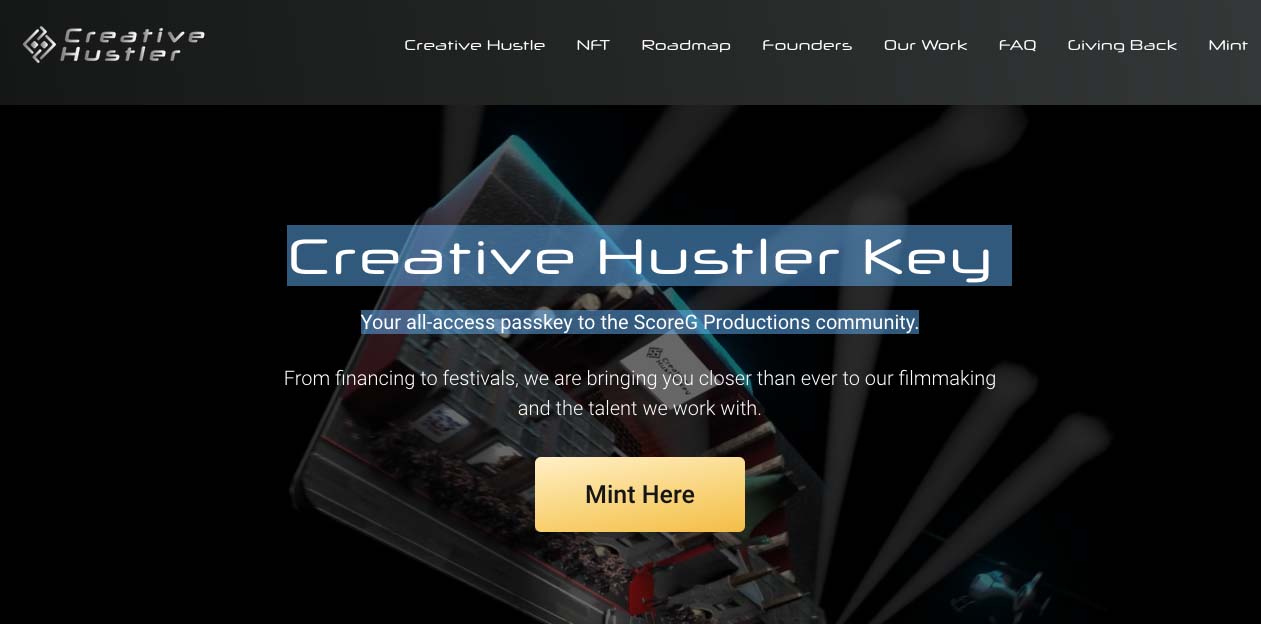 Edmonton based; Score G Productions, launched a first of its kind in the world NFT (non-fungible token) project on April 17th. It's called, Creative Hustler Key. Creative Hustler Key gives buyers through a one-time payment, a lifetime all-access passkey to the Score G Productions. This includes access to a full community of content producers, executive producers, exclusive 3-D NFT artwork, exclusive videos, and even monthly members only access to online workshops featuring creative content producers from around the world. The Creative Hustler Key NFT even offers chances to win access to live in-production sets, access to their studios during editing and post-production, and chances to win tickets and trips to future red-carpet movie premier events. There's more in the works too. Basically, buyers will get access to Score G Productions' impressive Rolodex and industry knowledge.
There are only 999 pass keys for sale, once gone, it will never be expanded, with the promise of no copycat versions of this Creative Hustler Key to ever be started by their team.
We asked Score G Productions founder, father of three, married to his high school sweetheart, Edmonton based Adam Scorgie why he'd take on such a huge undertaking when they are already successful in the film production industry? Scorgie replied, "We get calls, emails and social media posts asking us to help people all the time. People approach us at public events, asking for mentorship, internships, contact access, script readings, it is all kind of overwhelming." Continuing, "I wish I had people I could have called when I was starting out. I knew what I wanted to do, but I knew no one and knew nothing." Explaining, "This is our pay it forward move. I want to help as many people as possible, in any way I can."
A huge personal belief for Scorgie is explained, "I like to do things in and as a team; this will be a world's first team like this. Extremely unique."
The now, world-wide known and highly respect filmmaker with an extensive library of finished and in-production projects never planned on being a film producer, he in fact, never went to film school. He did however, go to acting school in New York and had credits in voice, as dancer, movie and soap opera acting credits. Things were looking up and moving along nicely.
But then his father, Buddy, got sick, very quickly. At 23, he dropped his dreams of Hollywood fame and fortune, moving back to Kelowna where he was born and raised to take over his dad's business, Cheetah's Show Lounge & Bar. Kelowna's only stripper bar. "I went from 23 to 35 in like six months!" the forced adult entertainment entrepreneur said.
His father passed away after a short health battle.
Then things got "really tough". A lawsuit was filed against his father's estate, he had a new partner in the business. While he tried to keep the clothes on his own back and his business afloat; Adam noticed a lot of his patrons, high school friends, same age as himself with cash pouring out of their pockets and stacked high on their tables in the VIP section. They all had 70+ thousand-dollar trucks, 50k Harleys, houses and more. He asked them, what the hell they were all doing to become so rich, so fast? They all said, "We are in the Union, you should join us."
This was in the height of the multi-billion-dollar BC Bud days. The "Union" was code for underground pot grower for organized crime rings being done at arm's length. While Adam admits, he did come close to joining the "Union", he ended up selling his share in the stripper club and put every last cent he had, plus some extra money borrowed from his stepdad into making a full-length documentary movie with his new partner, Vancouver director Brett Harvey. The film was called, The Union: The Business Behind Getting High and it quickly gained a cult following around the world.
And the rest is history! If only it was that easy. Scorgie laughs while reminiscing, "People said I was nuts. I have heard that a lot over the years, especially for just living in Edmonton and not Hollywood."
He fully expects people to say this again about this unique NFT rollout. Being young and ahead of the curve is nothing new for Adam and his team. Scorgie expands, "We didn't have any money for PR marketing firms or to pay agents to promote us. So, we did it all on Facebook and other social media platforms." Continuing, "We had 1.2 million followers on Facebook alone. "Today every production has huge teams of social media specialists, with very expensive detailed marketing plans for social media promotions long before any production even gets close to post-production."
Scorgie remembers one meeting with Hollywood executives when they were shopping a world-wide release of the final cut of the Union. One said, "Oh isn't that cute, you have a Facebook page." Then they saw the Union page had over a million followers for the indie production. Adding, "That got their attention. No one is laughing at us anymore." Finishing, "And years from now, no one will be over this new NFT project."
One of Scorgie's closest friends and partner in Score G Productions, Shane Fennessey, explains more about the Creative Hustler Key project, "There is nothing in the world like what we just launched by offering a real, hands-on community of successful high-quality, award-winning professionals from the film production industry." Adding, "NFT's are known for exclusive digital images and video, yes with us you still get exclusive 3-D images that took months to produce and exclusive videos with the purchase of these keys." Continuing, "What is truly different and very exciting is that this is a utility driven NFT project, a place where professionals will collaborate. It has long-term value too. We are young. As long as we are a business, these keys never expire" Adding, "There are no annual renewal fees, you own the Keys, you can sell them for the going price any time in the future, you can even add them to your estate, they are yours."
Expanding on the added values of the only 999 keys available, Fennessey says, "We know how to apply for grants, we know where the grants are, we know how to fund-raise for the next project." Continuing, "We know all the tax credits and other forms of how to finance projects. We are going to share all of this and even more knowledge that we have about this industry."
In closing Fennessey said, "We love the idea of opening doors for new young Creative Hustlers." Asked if it will it sell out, "Most likely and very quickly we expect, with no outside advertising or media coverage 10% of the 999 keys sold in just the first 2-hours of the Sunday release."
Details for how to get involved can be found here; https://creativehustlerkey.com/
Score G Production's main catalogue;
A breathtaking image of Alberta from a passionate Alberta artist – Bow Lake by Larry Reese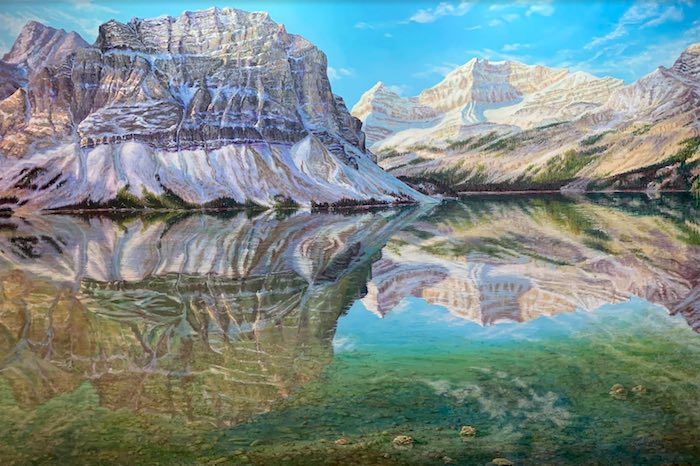 With gratitude, Todayville shares this work from well known Central Alberta artist Larry Reese. Larry has been a fixture in the artistic community for decades.
In this brief article, Larry shares the inspiration behind this recent work "Bow Lake"
In these busy and interesting times, we invite you to take a moment to stop and smell the flowers, or in this case to drink in the overwhelming beauty of Alberta.
From Larry Reese:
The Painting of Bow Lake
Last October my wife and I left our home in Half Moon Bay, Alberta very early in the morning heading out to Summerland B.C. to attend a dedication in her father's name, of the new George Ryga Arts & Culture Centre.
It was a clear, crisp day and around 9:30am we passed by Bow Lake. I have stopped at Bow Lake many times over the years but was so awestruck by the scene on this particular morning that we decided to turn around and go back to have a closer look. The sunlight and reflections on the water were extraordinary. There was just a slight breeze and honestly it made the lake and mountains look incredibly spectacular. In fact more spectacular than usual.
For me it was a profound experience. I quickly got a few photos and mentally did a rough sketch. When we returned home I was somewhat disappointed with the pictures as they didn't capture the emotions I felt at the time. But my mental image was so vivid that I decided to see if I could replicate the feeling in a painting.
I knew I had to go big so the canvas I used was 40"X60". It took me a couple of months to paint but I was in no hurry. Which was a good thing because I used oils and needed to wait for them to dry after each layer of glazing (which there were many) in order to get the water to look believable. I worked hard to get the light just right, the way I remembered the sun's beams nestled amongst the mountain rocks and crags.
As a result I've got to say I am proud of the way it turned out because it comes close to expressing those wonderful sensations I had on the day. I don't paint to make a living so I'm not sure I want to sell it. However if anyone is interested in Bow Lake, they can contact me through my website:
larryreese.ca
P.S. Bow Lake is situated along the Banff/Jasper Highway 93 just south of the Saskatchewan Crossing turnoff to Highway 11. This area is one of my favourite places to go plein air painting. I have painted in this region for decades and will continue to do so for as long as I can.
Larry Reese
Born in Wisconsin in 1951 and immigrating to Edmonton, Alberta, Canada ten years later, Larry made his first impact on the art scene by winning a city wide contest to attend art classes at the Edmonton Art Gallery. There he was taught by the renowned Alberta artist, Sylvain Voyer. In 1966 his family moved to Dacca, East Pakistan where Larry learned to play the sitar, meeting Ravi Shankar in 1967 in Calcutta. Two years later Larry returned to Edmonton to pursue his music studies earning a degree in music composition at the University of Alberta. In 1971 Larry opened for British rock group, Procol Harum the night they recorded their platinum selling LP, Procol Harum – Live with the Edmonton Symphony. He toured North America with the Canadian Rock Opera's production of Jesus Christ Superstar, and took UofA extension art classes with another famous Alberta artist, Harry Savage and family friend artist Harry Wolfarth.
Larry was off to Brandeis University near Boston Massachusetts to get a Master's Degree in Acting in 1976 culminating in a stint at the famous off-off Broadway theatre, Café LaMama, NYC, in 1978. Larry's first major role was in the Canadian classic film, The Hounds of Notre Dame, which over the years was followed by roles in Academy Award winning films including Clint Eastwood's, Unforgiven and Ang Lee's, Brokeback Mountain. Most recently Larry had a role in the Ridley Scott produced TV mini series, Klondike.
In 1983 Larry and wife Tanya Ryga went to Mexico and various places throughout South America, where Larry met and worked with German Expressionist artist Georg Rauch.