Universal Pictures to release #Yeg produced Doc, Inmate #1: The Rise of Danny Trejo
Adam Scorgie (39), is a self-described, "producer, creative hustler, indie filmmaker". In his movie and TV career that has spanned almost two decades now, he has also been, a voice, dancer, movie and soap opera actor, line-writer, fundraiser, production manager, co-producer, producer, executive producer, equipment sherpa, camera operator, husband, father and more.
While having a tireless, relentless work ethic, believing in himself, his team and taking big chances, is nothing new for Scorgie, the owner multi-award-winning, Edmonton based Score G Productions. He is not one to get too far ahead of what might be in his next professional script.
Will Universal Pictures' world-wide release of Inmate #1: The Rise of Danny Trejo, be the Alberta film producer's big break-out film?
Scorgie, sported a big smile while contemplating his response to being asked if the deal with one of the "big six" Hollywood studios will make him an overnight success? The already, highly acclaimed documentary film maker, energetically deflected, "I am just honoured to have contributed to and be part of a great team." One of those team members being his long-time collaborators, Vancouver based director, Brett Harvey.
While Scorgie has a two-decade long list of supporters and backers that he does like to thank. Explaining that 'any success in this business' is great, he got more serious, "It isn't about any one production, over another, my proudest accomplishment is my family." Lead by his wife and mother of three children, Lauren Scorgie.
"What are you doing in Edmonton?" That is something Scorgie hears 'a lot' of when travelling to different parts of the world while either working on, fundraising, planning or promoting whatever projects he has in the soup.
The B.C., born and raised Scorgie use to answer, "Because I had a chance to come to Alberta to work with Aquila Productions, the job that really changed my life and career." Expanding, "Working and learning with owner, Don Metz along with Michael Bobroff and Gord Redel was essential for me and my team to get stability and to take that next step." Adding, "Now I just answer, women's hockey. There is no better city with the supports, teams, coaches, the U of A Pandas' programs."
Turns out, Adam is not only headline grabber in the Scorgie family. His now, 13-year-old daughter Riley, scored 50 goals in 19 games when she was just 11. Garnering the young girl local and international coverage of her own. Including, ESPN's Best Player in the World of the Week award.
It was not the Wayne Gretzky type numbers she posted that got her international media coverage. It was the fact that she so beat the odds by quickly overcoming a rare and debilitating medical emergency. The family was blind-sided when the youngster struck down by Guillain-Barre syndrome. Leaving her unable to walk or stand-up without supports.
The syndrome uses a person's immune system to attack the nerves. It starts with weakness and tingling in the extremities, that can quickly spread, paralyzing the bodies proper functions.
While Riley continued to go through a battery of tests, the doctors explained to the stunned and distraught parents that all was not lost. They were told she could recover, "It would take time, a lot of care and physiotherapy." Adding, "She would not be able to play hockey for at least a year." The pre-teen flat-out rejected that idea.
Showing the Scorgie family fighting spirit. She quickly became like one of her dad's featured documentary subjects. Working through treatments as hard as she could to get back. Her dad explained it didn't stop there, "Holding the rail, she started slowly taking stairs one at a time. Soon, she would then go up and down the stairs without using the railing to try to get her legs working, her balance and back."
To everyone's surprise, even while still experiencing weakness and balance issues, she was back on her skates within weeks. The budding star made a team on the last day of try-out and the rest of her scoring feat is history.
Proud papa explains, "We were just glad to see her walk again, in a way this has been a blessing for her. She learned at a young age that nothing you want in life is achieved easily. You hit roadblocks and you have to work through them." Continuing, "When I talk at panels, I always say that there are no over-night successes. It is a long road, it is a lot of hard work, with roadblocks, disappointments and that you have to take a lot of chances."
Rejections is another tip Scorgie shares during industry Q&A's, "Our movies have been commercially successful, but I've lost count of how many Film Festivals we have been turned down by every year. I tell everyone to never give up."
His team's long list of rejections to be shown at international film festivals include, Inmate #1; The Rise of Danny Trejo.
Scorgie explains why this release announcement is such a big deal for any full-length documentary maker, "In its 108-year history, Universal Pictures has only released 70 documentaries like this (world-wide)." Happily adding, "The official Universal Pictures trailer, has already had over a million views."
For those movie fans that like to look for local landmarks, you will have to know what the inside of the old Remand Centre (closed April 2013) and the Panther Gym look like, "Danny came to Edmonton, some boxing shots that made the cut, where in Panthers gym." Adding, "All of the sit-down prison interviews with Danny are from the old Remand Centre." Lots of love for Alberta, the staff was awesome, love the blue-collar approach from the Alberta film industry, the minimal egos and continued support, is why I continue to produce out of Edmonton."
So, what's next for the Score G Productions team? "We have a documentary on UFC Hall of Famer, Michael Bisping in post-production." Scorgie said adding, "Plus we have docs on Arturo Gatti and Roy Jones Jr. in production."
Scorgie asked to add one last important shout out for a long-time supporter and to also add a tip for Canadian TV audiences, "I wouldn't have a career and our production team wouldn't be successful without Super Channel's amazing support over the years. Super Channel is key for indie Canadian filmmakers and support better than ANY other network in Canada PERIOD!" Adding for those that want to watch the film early, "I highly recommend Canadians support local and subscribe to Super Channel. A bonus is that it's the only place in the world where you can currently watch or stream Inmate #1; The Rise of Danny Trejo."
Synopsis. Inmate #1; The Rise of Danny Synopsis
The Trejo documentary features the radical ups-and-downs this amazing and tirless 75-year-old. The film takes the audience through the life of one of the scarcest looking bad guys in the history of cinema. Weaving through never-before-seen visuals and personal testimony and stories from Danny, his closest family, friends, movie stars and producers. The movie shows how the LA born Trejo goes from a life of drugs, armed robbery, hard prison time, overcome his demons, becoming a champion boxer in San Quentin, through to the red carpets of some of his 400+ Hollywood credits, to helping troubled addicts, a successful business owner and community leader. For over 50 years of sobriety, Trejo's personal mission and debt to society is to pay it forward and give back to his community every single day. The Hollywood icon has become a symbol of hope to people around the world.
Other award winning projects Adam Scorgie has worked on
New Zealand arts funder rejects Shakespeare as 'imperialism'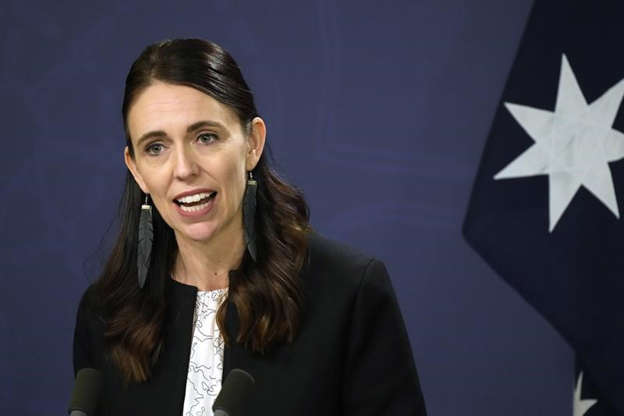 WELLINGTON, New Zealand (AP) — Is Shakespeare still relevant to today's students?
New Zealand's arts council appears to have its doubts after ending funding for a popular school Shakespeare program, arguing it relied too heavily on busy schools, failed to show relevance to "the contemporary art context" and relied on a genre "located within a canon of imperialism."
But many have taken issue with the decision by Creative New Zealand, including Jacinda Ardern, the nation's prime minister — and former student thespian.
"I was a participant in Shakespeare in Schools. I thought it was a great program," Ardern said.
She said students interested in drama and debate have limited opportunities to interact with peers from other schools.
"I was one of those kids. And so I would like to continue to see other kids have those opportunities," she said.
Ardern added that the funding decision wasn't up to her, or even to the government. Creative New Zealand is funded by taxpayers but is run independently.
The school programs, workshops and festivals have been run for about 30 years by the Shakespeare Globe Centre New Zealand. Students can act, direct make costumes or create a soundtrack. Often the plays are set in contemporary times or have different takes on the originals written by William Shakespeare more than 400 years ago.
The center has been receiving about 30,000 New Zealand dollars ($17,000) each year from the arts council, about 10% of its overall budget.
Dawn Sanders, the center's chief executive, said the initial rejection last month, which remained in place after a crisis meeting Friday, blindsided her.
"I was gobsmacked and disgusted," she said.
She said more than 120,000 students had been involved in the festivals and programs over the years, and many became professionals in theater or film.
Others, she said, had used their acting skills in their jobs, for instance lawyers who were better able to argue their cases or doctors who developed a more engaging bedside manner.
Creative New Zealand did not immediately respond to requests for comment.
In its 11-page rejection note, however, one arts council assessor said the center had "proved the ongoing value" of its regional and national Shakespeare competition model, with some 4,600 young people participating in 24 regional festivals annually.
"The application does make me reflect on the ongoing relevance of Shakespeare, and question whether a singular focus on an Elizabethan playwright is most relevant for a decolonizing Aotearoa in the 2020s and beyond," the assessor added, using the Indigenous name for New Zealand.
A panel concluded that the Shakespeare center "seems quite paternalistic" and that its funding proposal "did not demonstrate the relevance to the contemporary art context."
Sanders said she would try to find alternative funding and vowed the show would go on. Since the dispute became public, she said, people had already donated thousands of dollars through online crowdsourcing.
Former Deputy Prime Minister Winston Peters wrote on Facebook that the decision amounted to political and social engineering by "overpaid sickly liberal bureaucratic wokester morons."
Ardern, meanwhile, said it would be wrong to extrapolate a wider comment on society from a single funding decision. And she demurred on saying what Shakespeare role she had played as a student, saying such a disclosure could become a distraction.
"So I might just leave out the details for now," she said.
Nick Perry, The Associated Press
Activists in UK court after soup thrown at Van Gogh picture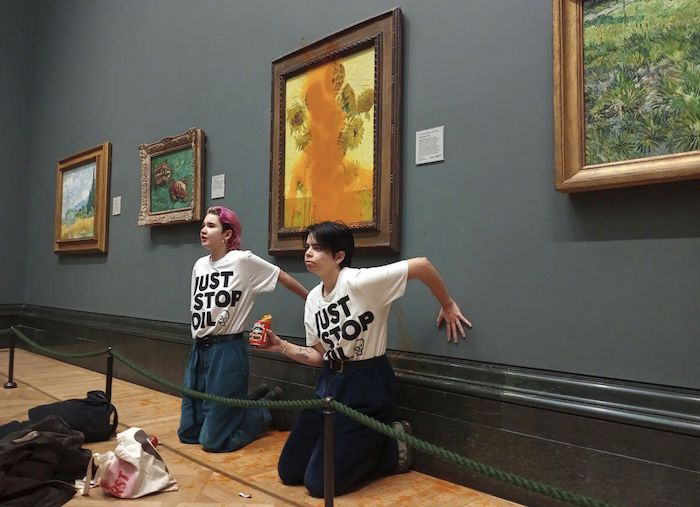 By Sylvia Hui in London
LONDON (AP) — Three climate activists appeared in a London court on Saturday on charges of criminal damage after protests including throwing soup over Vincent van Gogh's "Sunflowers" painting in the National Gallery.
Two women, age 20 and 21, were charged in relation to the soup-throwing protest on Friday, while a third was charged over paint sprayed on a rotating sign at the Metropolitan Police's headquarters in central London. The three women pleaded not guilty to criminal damage at Westminster Magistrates' Court during two brief hearings Saturday.
Demonstrators from climate change protest groups Extinction Rebellion and Just Stop Oil, which wants the U.K. government to halt new oil and gas projects, staged a series of protests in London on Friday.
Just Stop Oil said activists dumped two cans of tomato soup over the Van Gogh oil painting, one of the Dutch artist's most iconic works. The two protesters also glued themselves to the gallery wall.
Prosecutor Ola Oyedepo said the pair didn't harm the oil painting, which was covered by a glass protective case, but damage was caused to the frame.
The painting, one of several versions of "Sunflowers" that Van Gogh painted in the late 1880s, was cleaned and returned to its place in the National Gallery on Friday afternoon.
District judge Tan Irkam released the women on bail on condition that they don't have paint or adhesive substances on them in a public place.
Police said they made some 28 arrests in relation to Friday's protests, and 25 others were bailed pending further investigation. On Saturday, police arrested a further 26 people after Just Stop Oil protesters blocked a major road in east London. Some demonstrators glued themselves to the road surface.
Just Stop Oil has drawn attention, and criticism, for their disruptive tactics, including targeting artworks in museums. In July, activists glued themselves to the frame of an early copy of Leonardo da Vinci's "The Last Supper" at London's Royal Academy of Arts, and to John Constable's "The Hay Wain" in the National Gallery.
Activists have also blocked bridges and intersections across London during two weeks of protests against the U.K. government's approach to climate change.
The latest wave of demonstrations came as Prime Minister Liz Truss ' Conservative government opened a new licensing round for oil and gas operations in the North Sea and reversed a 2019 ban on fracking in England. Environmentalists say the U.K. government was undermining the fight against climate change.
___
Follow AP's climate coverage at https://apnews.com/hub/climate-and-environment