Universal Pictures to release #Yeg produced Doc, Inmate #1: The Rise of Danny Trejo
Adam Scorgie (39), is a self-described, "producer, creative hustler, indie filmmaker". In his movie and TV career that has spanned almost two decades now, he has also been, a voice, dancer, movie and soap opera actor, line-writer, fundraiser, production manager, co-producer, producer, executive producer, equipment sherpa, camera operator, husband, father and more.
While having a tireless, relentless work ethic, believing in himself, his team and taking big chances, is nothing new for Scorgie, the owner multi-award-winning, Edmonton based Score G Productions. He is not one to get too far ahead of what might be in his next professional script.
Will Universal Pictures' world-wide release of Inmate #1: The Rise of Danny Trejo, be the Alberta film producer's big break-out film?
Scorgie, sported a big smile while contemplating his response to being asked if the deal with one of the "big six" Hollywood studios will make him an overnight success? The already, highly acclaimed documentary film maker, energetically deflected, "I am just honoured to have contributed to and be part of a great team." One of those team members being his long-time collaborators, Vancouver based director, Brett Harvey.
While Scorgie has a two-decade long list of supporters and backers that he does like to thank. Explaining that 'any success in this business' is great, he got more serious, "It isn't about any one production, over another, my proudest accomplishment is my family." Lead by his wife and mother of three children, Lauren Scorgie.
"What are you doing in Edmonton?" That is something Scorgie hears 'a lot' of when travelling to different parts of the world while either working on, fundraising, planning or promoting whatever projects he has in the soup.
The B.C., born and raised Scorgie use to answer, "Because I had a chance to come to Alberta to work with Aquila Productions, the job that really changed my life and career." Expanding, "Working and learning with owner, Don Metz along with Michael Bobroff and Gord Redel was essential for me and my team to get stability and to take that next step." Adding, "Now I just answer, women's hockey. There is no better city with the supports, teams, coaches, the U of A Pandas' programs."
Turns out, Adam is not only headline grabber in the Scorgie family. His now, 13-year-old daughter Riley, scored 50 goals in 19 games when she was just 11. Garnering the young girl local and international coverage of her own. Including, ESPN's Best Player in the World of the Week award.
It was not the Wayne Gretzky type numbers she posted that got her international media coverage. It was the fact that she so beat the odds by quickly overcoming a rare and debilitating medical emergency. The family was blind-sided when the youngster struck down by Guillain-Barre syndrome. Leaving her unable to walk or stand-up without supports.
The syndrome uses a person's immune system to attack the nerves. It starts with weakness and tingling in the extremities, that can quickly spread, paralyzing the bodies proper functions.
While Riley continued to go through a battery of tests, the doctors explained to the stunned and distraught parents that all was not lost. They were told she could recover, "It would take time, a lot of care and physiotherapy." Adding, "She would not be able to play hockey for at least a year." The pre-teen flat-out rejected that idea.
Showing the Scorgie family fighting spirit. She quickly became like one of her dad's featured documentary subjects. Working through treatments as hard as she could to get back. Her dad explained it didn't stop there, "Holding the rail, she started slowly taking stairs one at a time. Soon, she would then go up and down the stairs without using the railing to try to get her legs working, her balance and back."
To everyone's surprise, even while still experiencing weakness and balance issues, she was back on her skates within weeks. The budding star made a team on the last day of try-out and the rest of her scoring feat is history.
Proud papa explains, "We were just glad to see her walk again, in a way this has been a blessing for her. She learned at a young age that nothing you want in life is achieved easily. You hit roadblocks and you have to work through them." Continuing, "When I talk at panels, I always say that there are no over-night successes. It is a long road, it is a lot of hard work, with roadblocks, disappointments and that you have to take a lot of chances."
Rejections is another tip Scorgie shares during industry Q&A's, "Our movies have been commercially successful, but I've lost count of how many Film Festivals we have been turned down by every year. I tell everyone to never give up."
His team's long list of rejections to be shown at international film festivals include, Inmate #1; The Rise of Danny Trejo.
Scorgie explains why this release announcement is such a big deal for any full-length documentary maker, "In its 108-year history, Universal Pictures has only released 70 documentaries like this (world-wide)." Happily adding, "The official Universal Pictures trailer, has already had over a million views."
For those movie fans that like to look for local landmarks, you will have to know what the inside of the old Remand Centre (closed April 2013) and the Panther Gym look like, "Danny came to Edmonton, some boxing shots that made the cut, where in Panthers gym." Adding, "All of the sit-down prison interviews with Danny are from the old Remand Centre." Lots of love for Alberta, the staff was awesome, love the blue-collar approach from the Alberta film industry, the minimal egos and continued support, is why I continue to produce out of Edmonton."
So, what's next for the Score G Productions team? "We have a documentary on UFC Hall of Famer, Michael Bisping in post-production." Scorgie said adding, "Plus we have docs on Arturo Gatti and Roy Jones Jr. in production."
Scorgie asked to add one last important shout out for a long-time supporter and to also add a tip for Canadian TV audiences, "I wouldn't have a career and our production team wouldn't be successful without Super Channel's amazing support over the years. Super Channel is key for indie Canadian filmmakers and support better than ANY other network in Canada PERIOD!" Adding for those that want to watch the film early, "I highly recommend Canadians support local and subscribe to Super Channel. A bonus is that it's the only place in the world where you can currently watch or stream Inmate #1; The Rise of Danny Trejo."
Synopsis. Inmate #1; The Rise of Danny Synopsis
The Trejo documentary features the radical ups-and-downs this amazing and tirless 75-year-old. The film takes the audience through the life of one of the scarcest looking bad guys in the history of cinema. Weaving through never-before-seen visuals and personal testimony and stories from Danny, his closest family, friends, movie stars and producers. The movie shows how the LA born Trejo goes from a life of drugs, armed robbery, hard prison time, overcome his demons, becoming a champion boxer in San Quentin, through to the red carpets of some of his 400+ Hollywood credits, to helping troubled addicts, a successful business owner and community leader. For over 50 years of sobriety, Trejo's personal mission and debt to society is to pay it forward and give back to his community every single day. The Hollywood icon has become a symbol of hope to people around the world.
Other award winning projects Adam Scorgie has worked on
'A big part of my life': Orillia mourns hometown legend Gordon Lightfoot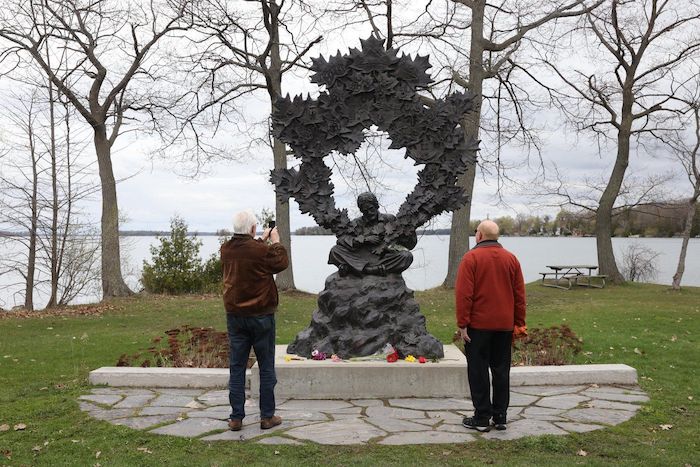 Two men pay respects at Gordon Lightfoot's Golden Leaves statue at Tudhope Park in Orillia, Ont., on Tuesday, May 2, 2023. Flowers were placed on the tribute after news broke that Lightfoot passed away at 84 years old Monday May 1, 2023. THE CANADIAN PRESS/Christopher Drost
By Sharif Hassan in Orillia
It didn't take long for the flowers to appear at the statue of Gordon Lightfoot in his Ontario hometown.
The legendary folk musician, claimed by the City of Orillia as its "favourite son," died of natural causes at a Toronto hospital on Monday at the age of 84.
Barely 24 hours later, Orillia residents stopped by the bronze sculpture of Lightfoot that stands in a city park to pay their respects.
Cam Gardy, who brought yellow flowers to lay at the base of the statue, said his mother went to school with the musician and would tell tales of how he'd perform for students.
"He has been a part of my life as I have grown up," Gardy said, adding that while he never met Lightfoot personally, he had been to one of his concerts.
"Mr. Lightfoot is iconic, not only to the residents and the city but obviously to the people across Canada."
Lightfoot put Orillia on the map, Gardy said, and was an "incredible ambassador" for the city.
"He always spoke of his town fondly," Gardy said.
Joanna Bell, who brought a rose to place at the statue, said she cried when she woke up to news of Lightfoot's death on Tuesday morning.
"Gordon Lightfoot was a big part of my life, my childhood," she said, adding that she is one of seven siblings. "He was loved by all of us, and of course he wrote the most beautiful music."
Lightfoot's music brings to mind the beauty of Canada, she said.
"He is such a well-respected Canadian," she said. "That is why I came today, I felt compelled to come."
Heather Placken, who said she's been a fan of Lightfoot's for 40 years, said she only learned of the singer's death when walking by the entrance of the Orillia park hosting his statue – an announcement had been posted by the entrance.
"I feel really honoured and grateful that I had the opportunity to see him here last summer," she said.
Lightfoot was more than just a songwriter and musician, she said.
"Every song he has ever written and sang, it tells a story of something significant that everyone of us can relate," she said.
"He was an amazing individual and for Canadians, to have somebody of that stature to look up to in the music industry is phenomenal."
Lightfoot was born in Orillia in 1938, sang in a church choir as a boy and dreamed of becoming a jazz musician.
He later emerged from Toronto's Yorkville folk club scene in the 1960s, and went on to record more than 20 studio albums and hundreds of songs, including "Early Morning Rain," "Carefree Highway" and "Sundown."
Orillia Mayor Don McIsaac said Lightfoot was highly regarded in the city.
"His homecoming concerts at the Orillia Opera House and appearances at the Mariposa Folk Festival have always been celebrated by Orillians as they welcomed him home," the mayor wrote in a statement.
"Many of us who knew him will remember his soft-spoken demeanor, generous personality and infectious laugh."
There are reminders of Lightfoot throughout Orillia, McIsaac said, noting that the singer's name graces a city auditorium stage and a trail, while a bust of him sits at the Orillia Opera House, in addition to the sculpture honouring him in the city's J.B. Tudhope Memorial Park.
"His deep roots in our city are woven into the fabric of Orillia," McIsaac said. "Our community is mourning together along with the rest of the world."
The city has lowered its flags to half-mast, the mayor said. Books of condolences for the music icon are available at the Orillia Opera House and Orillia City Centre.
A concert tour to celebrate Lightfoot's music had been set to begin on Saturday, on the stage named after him at the Orillia Opera House. It will still go ahead, with the show's creator saying she hopes it will serve as a celebration of Lightfoot's music and life.
"My band and I were huge fans of Gordon Lightfoot. The reason that we created this concert is because his music has impacted all of our lives so much," Leisa Way said in an interview.
"He's just shaped who I am as a Canadian, certainly growing up in northern Ontario, and now it will be very emotional for all of us."
Way said the concert, called Early Morning Rain: The Legend of Gordon Lightfoot, had premiered for three weeks in February 2020 but the COVID-19 pandemic meant it had to stop.
She said she hopes Saturday's concert will be a special event for the residents of Orillia.
"There's nothing that Gordon Lightfoot would love more than knowing that audiences are getting together in theaters and singing along to all of his songs," she said. "I think he'll be smiling down on us."
– with files from Maan Alhmidi in Toronto.
This report by The Canadian Press was first published May 2, 2023.
Antiquities, plucked from storeroom, on Roman Forum display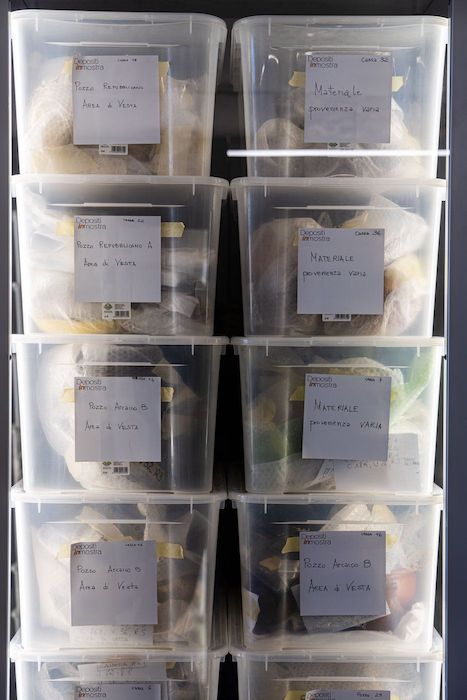 Archaelogical findings are stored in plastic tubs in the antiquities storeroom inside the Roman Forum in Rome, Wednesday, April 19, 2023. The pieces today on display at the Forum were part of the myriads of findings still kept in the Colosseum storehouse that is not open to the public. (AP Photo/Domenico Stinellis)
By Frances D'emilio in Rome
ROME (AP) — Hundreds of remnants of ancient Roman life — including colored dice, rain gutter decorations depicting mythological figures, and burial offerings 3,000 years old — have long been hidden from public sight. Until now.
For the next few months, a limited number of visitors to the Roman Forum, Colosseum or Palatine Hill can view a tantalizing display of ancient statuettes, urns, even the remarkably well-preserved skeleton of a man who lived in the 10th-century B.C. All the exhibits have been plucked from storerooms in the heart of the Italian capital.
Indeed, so many artifacts are kept in storerooms that "you could open 100 museums," said Fulvio Coletti, an archaeologist with the Colosseum archaeological park. On Wednesday, Coletti stood at the entrance to a "taberna," a cavernous space which had served commercial purposes in ancient Roman times and belonged to the palace complex of the 1st-century Emperor Tiberius.
Three such "tabernae" now double as exhibition rooms for once-hidden antiquities. To give an idea of just how many more artifacts are still not on display, curators stacked enormous see-through plastic tubs, chockful of discoveries from some 2,000 years ago and bearing minimalist labels like "Ancient Well B Area of Vesta," a reference to the temple in the Forum erected to the goddess of the hearth.
One display holds row after row of ancient colored dice — 351 in all — that in the 6th century B.C. were tossed into wells as part of rituals. Also in the exhibit is a decoration from a temple rain-gutter depicting a bearded Silenus, a mythological creature associated with Dionysus, the wine god.
Some artifacts are displayed in showcases custom-made by archaeologist Giacomo Boni, whose excavations in the first years of the 20th century revealed dozens of tombs, including many of children. Some of the tombs dated from as far back as the 10 century B.C., centuries before the construction of the Roman Forum, the center of the city's political and commercial life, when the city's inhabitants dwelt in a swampy expanse near the River Tiber.
In one display case is the largely intact skeleton of a man who was a good 1.6 meters tall (about 5-foot-4 inches), on the taller side for his time, in the 10th century B.C. He was buried with some kind of belt, whose bronze clasp survived. Found in his tomb and on display are a scattering of grains, remnants of funeral rites. Layers of mud, formed in Rome's early days, helped preserve the remains.
The director of the Colosseum's Archaeological Park said staff were working to make an inventory of artifacts kept in more than 100 storerooms, whose contents up to now have been accessible to academics but few others.
"We want in some way to make objects come to light that otherwise would be invisible to the great public," Alfonsina Russo, the director, told The Associated Press.
"We're talking of objects that tell a story, not a big story, but a daily story, a story of daily life," Russo said.
Every Friday through July, visitors can admire the antiquities pulled out of the storerooms during 90-minute guided tours. The "tabernae" are small exhibition spaces, so only eight visitors can enter during each tour. Reservations are required, and visitors must buy an entrance ticket to the archaeological park. Park officials indicated they hope the initiative can be extended or renewed.