Universal Pictures to release #Yeg produced Doc, Inmate #1: The Rise of Danny Trejo
Adam Scorgie (39), is a self-described, "producer, creative hustler, indie filmmaker". In his movie and TV career that has spanned almost two decades now, he has also been, a voice, dancer, movie and soap opera actor, line-writer, fundraiser, production manager, co-producer, producer, executive producer, equipment sherpa, camera operator, husband, father and more.
While having a tireless, relentless work ethic, believing in himself, his team and taking big chances, is nothing new for Scorgie, the owner multi-award-winning, Edmonton based Score G Productions. He is not one to get too far ahead of what might be in his next professional script.
Will Universal Pictures' world-wide release of Inmate #1: The Rise of Danny Trejo, be the Alberta film producer's big break-out film?
Scorgie, sported a big smile while contemplating his response to being asked if the deal with one of the "big six" Hollywood studios will make him an overnight success? The already, highly acclaimed documentary film maker, energetically deflected, "I am just honoured to have contributed to and be part of a great team." One of those team members being his long-time collaborators, Vancouver based director, Brett Harvey.
While Scorgie has a two-decade long list of supporters and backers that he does like to thank. Explaining that 'any success in this business' is great, he got more serious, "It isn't about any one production, over another, my proudest accomplishment is my family." Lead by his wife and mother of three children, Lauren Scorgie.
"What are you doing in Edmonton?" That is something Scorgie hears 'a lot' of when travelling to different parts of the world while either working on, fundraising, planning or promoting whatever projects he has in the soup.
The B.C., born and raised Scorgie use to answer, "Because I had a chance to come to Alberta to work with Aquila Productions, the job that really changed my life and career." Expanding, "Working and learning with owner, Don Metz along with Michael Bobroff and Gord Redel was essential for me and my team to get stability and to take that next step." Adding, "Now I just answer, women's hockey. There is no better city with the supports, teams, coaches, the U of A Pandas' programs."
Turns out, Adam is not only headline grabber in the Scorgie family. His now, 13-year-old daughter Riley, scored 50 goals in 19 games when she was just 11. Garnering the young girl local and international coverage of her own. Including, ESPN's Best Player in the World of the Week award.
It was not the Wayne Gretzky type numbers she posted that got her international media coverage. It was the fact that she so beat the odds by quickly overcoming a rare and debilitating medical emergency. The family was blind-sided when the youngster struck down by Guillain-Barre syndrome. Leaving her unable to walk or stand-up without supports.
The syndrome uses a person's immune system to attack the nerves. It starts with weakness and tingling in the extremities, that can quickly spread, paralyzing the bodies proper functions.
While Riley continued to go through a battery of tests, the doctors explained to the stunned and distraught parents that all was not lost. They were told she could recover, "It would take time, a lot of care and physiotherapy." Adding, "She would not be able to play hockey for at least a year." The pre-teen flat-out rejected that idea.
Showing the Scorgie family fighting spirit. She quickly became like one of her dad's featured documentary subjects. Working through treatments as hard as she could to get back. Her dad explained it didn't stop there, "Holding the rail, she started slowly taking stairs one at a time. Soon, she would then go up and down the stairs without using the railing to try to get her legs working, her balance and back."
To everyone's surprise, even while still experiencing weakness and balance issues, she was back on her skates within weeks. The budding star made a team on the last day of try-out and the rest of her scoring feat is history.
Proud papa explains, "We were just glad to see her walk again, in a way this has been a blessing for her. She learned at a young age that nothing you want in life is achieved easily. You hit roadblocks and you have to work through them." Continuing, "When I talk at panels, I always say that there are no over-night successes. It is a long road, it is a lot of hard work, with roadblocks, disappointments and that you have to take a lot of chances."
Rejections is another tip Scorgie shares during industry Q&A's, "Our movies have been commercially successful, but I've lost count of how many Film Festivals we have been turned down by every year. I tell everyone to never give up."
His team's long list of rejections to be shown at international film festivals include, Inmate #1; The Rise of Danny Trejo.
Scorgie explains why this release announcement is such a big deal for any full-length documentary maker, "In its 108-year history, Universal Pictures has only released 70 documentaries like this (world-wide)." Happily adding, "The official Universal Pictures trailer, has already had over a million views."
For those movie fans that like to look for local landmarks, you will have to know what the inside of the old Remand Centre (closed April 2013) and the Panther Gym look like, "Danny came to Edmonton, some boxing shots that made the cut, where in Panthers gym." Adding, "All of the sit-down prison interviews with Danny are from the old Remand Centre."  Lots of love for Alberta, the staff was awesome, love the blue-collar approach from the Alberta film industry, the minimal egos and continued support, is why I continue to produce out of Edmonton."
So, what's next for the Score G Productions team? "We have a documentary on UFC Hall of Famer, Michael Bisping in post-production." Scorgie said adding, "Plus we have docs on Arturo Gatti and Roy Jones Jr. in production."
Scorgie asked to add one last important shout out for a long-time supporter and to also add a tip for Canadian TV audiences, "I wouldn't have a career and our production team wouldn't be successful without Super Channel's amazing support over the years. Super Channel is key for indie Canadian filmmakers and support better than ANY other network in Canada PERIOD!" Adding for those that want to watch the film early, "I highly recommend Canadians support local and subscribe to Super Channel. A bonus is that it's the only place in the world where you can currently watch or stream Inmate #1; The Rise of Danny Trejo."
Synopsis.  Inmate #1; The Rise of Danny Synopsis
The Trejo documentary features the radical ups-and-downs this amazing and tirless 75-year-old. The film takes the audience through the life of one of the scarcest looking bad guys in the history of cinema. Weaving through never-before-seen visuals and personal testimony and stories from Danny, his closest family, friends, movie stars and producers. The movie shows how the LA born Trejo goes from a life of drugs, armed robbery, hard prison time, overcome his demons, becoming a champion boxer in San Quentin, through to the red carpets of some of his 400+ Hollywood credits, to helping troubled addicts, a successful business owner and community leader. For over 50 years of sobriety, Trejo's personal mission and debt to society is to pay it forward and give back to his community every single day. The Hollywood icon has become a symbol of hope to people around the world.
Other award winning projects Adam Scorgie has worked on
Alberta's Distinguished Artist Award Recipients Announced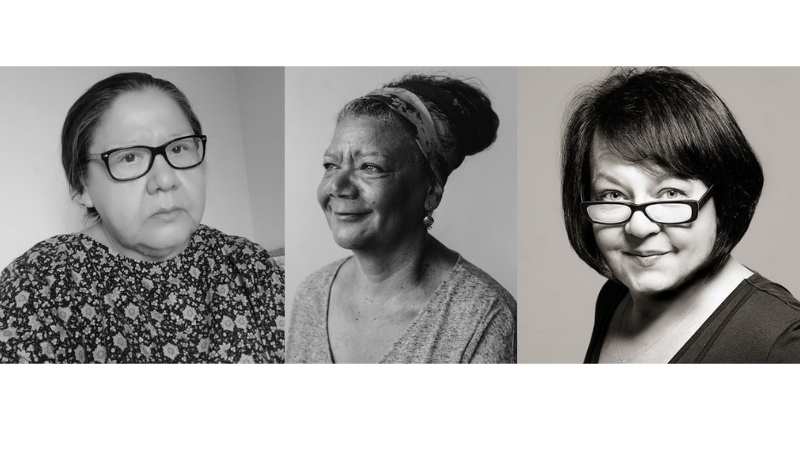 June 16, 2021
Alberta's Distinguished Artist Award Recipients Announced
(Calgary, AB) The Lieutenant Governor of Alberta Arts Awards Foundation is pleased to announce that artist Faye HeavyShield (Blood Reserve, Kainaiwa Nation, AB), writer and filmmaker Cheryl Foggo (Calgary, AB), and dance choreographer Vicki Adams Willis (Calgary, AB), have been selected to receive the 2021 Lieutenant Governor of Alberta Distinguished Artist Award.
Arlene Strom, chair of the Lieutenant Governor of Alberta Arts Awards Foundation said, "Albertans can be proud of these three whose contributions have pushed the boundaries of art to reflect Indigenous identity and expression; present a more inclusive and diverse view of Alberta's history; and define the province as a beacon for jazz dance artists. Each has contributed immeasurably to the development of the province's artists, arts communities and expanding art disciplines."
Faye HeavyShield, Visual Arts
Over the past 30 years, Faye HeavyShield has been one of Canada's pre- eminent artists within Alberta and the Blackfoot Confederacy. Currently living on the Blood Reserve in southwestern Alberta, Faye studied at Alberta University for the Arts in Calgary.
Honouring her Kainaiwa (Blood) Nation, the striking landscape they dwell within and the Blackfoot language which she speaks, Faye HeavyShield's legacy of three-dimensional art and sculpture including recent installations incorporating photography and delicately constructed paper figures make her a senior figure in the artistic and cultural renaissance of Indigenous nations in the country.
"…My art is a reflection of my environment and personal history as lived in the physical geography of southern Alberta with its prairie grass, river coulees, and wind and an upbringing in the Kainaiwa community. I would say the environment is an extension of myself because it's always been there, from the time I was a child. It was one of the first things that I saw and smelled. I consider it a part of me. The landscape is an extension of the body because we're dependent on it, and to flip that, the landscape is dependent on us…" Faye Heavyshield
Beyond her personal practice, Faye is actively involved with her community by working with youth through art programming and creating cultural connections for children in care.
Cheryl Foggo, Playwright, screenwriter, film maker, author
Creating a more inclusive and diverse view of Alberta's history through her plays, films, books, articles and multi-media presentations has been Cheryl Foggo's life work. Profiled in Who's Who in Black Canada and the recipient of the 2008 national Harry Jerome Award for The Arts, Foggo has applied her talent as a researcher and writer to uncovering the compelling but overlooked stories of Alberta's Black settlers and
cowboys. Most recently, the award winning National Film Board feature- length documentary, John Ware Reclaimed (2020), highlighted an earlier thriving Black community in the province often left out of the history books.
Her seminal, autobiographical book, Pourin' Down Rain: A Black Woman Claims Her Place In The Canadian West, is a powerful narrative of Foggo's ancestors' journey from enslavement in the United States to Western Canada. The book, first published in 1990, received the distinction of a special 30th anniversary reprint in 2020. Her books for young people: Dear Baobab, I Have Been in Danger and One Thing That's True have garnered many commendations between them, including One Thing That's True being short-listed for the Governor General's Award. In addition to her books, Cheryl Foggo has published prose in more than 40 journals and anthologies.
Two new productions of Foggo's plays are scheduled in 2021 with the Citadel Theatre in Edmonton and the Urgency Collective in Calgary, and her short play The Sender is currently available through Toronto's Obsidian Company's 21 Black Futures Project. As a cultural activist, mentor and volunteer she advocates for writers and Black artists.
Vicki Adams Willis Performing Arts: Dance
Vicki Adams Willis has changed the face of jazz dance in Alberta and Canada. A co-founder nearly 40 years ago of Decidedly Jazz Danceworks (DJD), she is foremost a teacher and choreographer of more than 35 original productions. She is recognized as a true leader in the world of jazz; an acclaimed ground-breaking choreographer who created one of the most unique jazz dance companies in the world, and the key person to ensure Calgary, Alberta as a viable dance centre for serious jazz artists. She has helped to change the very course of the jazz dance art form by influencing students, dancers, musicians and audiences with her strongly researched and brilliantly creative work.
Jazz dance is a misunderstood art form. Born of African parents and of the Black American experience, Vicki Adams Willis acknowledges herself as a guest in this form and has demonstrated her deep understanding of, and utter respect for, the authentic roots and history of jazz through her research, teaching and choreography. The company she co-created in 1984 – Decidedly Jazz Danceworks (DJD) has gained international recognition. It has been referenced in articles, dissertations, anthologies and, most recently, in an award-winning international film: Uprooted–The Journey of Jazz Dance, which had its Canadian premiere at the 2021 Toronto Black Film Festival.
"..These three ground-breaking women have offered important contributions to the arts in Canada. Their creativity has brought new light to their respective disciplines and created countless opportunities for us all to learn, grow and explore fresh ideas. Artists like this are essential to the vibrancy of our communities and we are truly fortunate to have them as cultural leaders in our province and country as a whole…"
Her Honour, the Honourable Salma Lakhani, Lieutenant Governor of Alberta
The laureates will each receive a handcrafted medal, a $30,000 award and a two-week residency at the Banff Centre's Leighton Artist Studios. The awards patron, the Honourable Salma Lakhani Lieutenant Governor of Alberta, will present the awards at a celebration hosted by the Community of Lac La Biche and Portage College, Lac La Biche campus, at an awards event June 10 and 11, 2022.
The awards are funded through an endowment established with private donations and gifts from the Province of Alberta and Government of Canada. The Lieutenant Governor of Alberta serves as honorary patron of the awards. Since its inception, 23 Distinguished Artists and 63 Emerging Artists have been recognized across Alberta with this significant honour. See details at artsawards.ca
The 2021 Distinguished Artists were chosen from nominations received and reviewed by a jury of experts overseen by the Banff Centre for Arts and Creativity. Jurors for the 2021 Distinguished Artist Awards were Mary-Beth Laviolette, visual arts curator and author; John Estacio, 2017 Distinguished Artist and JUNO nominated composer; Seika Boye, scholar, writer, artist and Assistant Professor, University of Toronto, Centre for Drama, Theatre & Performance Studies; Jordan Abel, Nisga'a writer from Vancouver and Assistant Professor in the Department of English and Film Studies at the University of Alberta teaching Indigenous Literatures and Creative Writing.
Click to learn more about the Lieutenant Governor of Alberta Arts Awards Foundation.
Read more on Todayville.com.
DISTINGUISHED & EMERGING ARTIST AWARDS JUNE 2022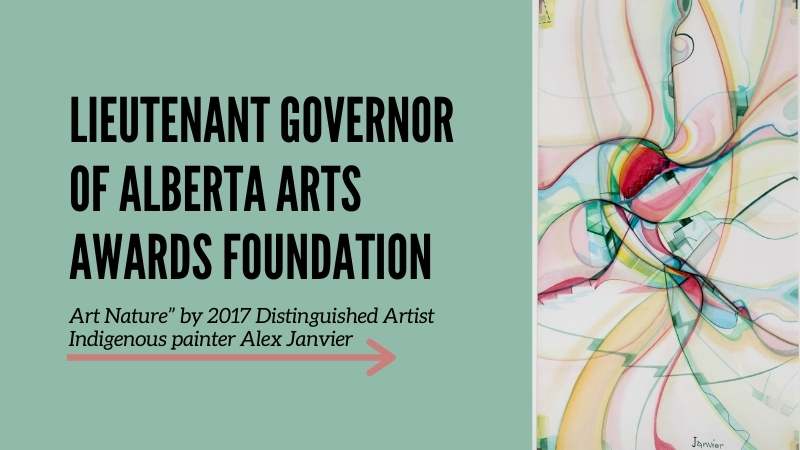 Lac La Biche County and Portage College have been making plans for a community celebration to honour three new 2021 Lieutenant Governor of Alberta Distinguished Artists. Given the ongoing COVID-19 related challenges of convening in person, Portage College, Lac La Biche County, and the Lieutenant Governor of Alberta Arts Awards Foundation have moved the celebration to June 11, 2022.
This change has provided a new opportunity: for the first time in the Awards' history, the host community of Lac La Biche County will celebrate both the 2021 Distinguished Artists and up to 10 new 2022 Emerging Artists.
Her Honour Salma Lakhani, Lieutenant Governor of Alberta, says she is looking forward to honouring the Distinguished and Emerging Artists next summer in Lac La Biche.
"I appreciate the tremendous work that the community has already invested into this special celebration, and I know that the 2022 awards will be well worth the wait. In the meantime, I offer my heartfelt thanks to all of the artists, administrators and patrons across Alberta for everything that you are doing to keep the arts a vibrant part of our lives and our communities during this extraordinary time."
The organizers look forward to hosting this prestigious event and showcasing Alberta's diverse arts scene. Their June 2022 plans include opportunities to chat with artists, outdoor community celebrations featuring an Art Walk and Market, art classes and demonstrations, an artist retreat, and a celebratory awards gala.
Click to learn more about the Foundation.