Alberta company develops first of its kind technology in Canada to predict crisis before it hits.
From SAM (Social Asset Management)
​SAM, a startup company based in Edmonton leads the way globally with first of its kind technology to predict patterns and crisis before it becomes unmanageable. Many early warnings of COVID-19 were missed due to out-dated monitoring. This provides a tool to predict and plan.
SAM taps into real-time data sources in social media and uses AI to dissect and identify disruption trends hours ahead of traditional alerting systems.
James Neufeld, founder and CEO of SAM, said, "Our system scans billions of pieces of content on platforms such as Twitter and emergency feeds to discover correlations. We've built an AI engine that can identify an event in one part of the world and decipher if it is unfolding as an emergency, such as a school lockdown or an outbreak, earlier than anyone else. That information is extremely valuable to devise a strategic response in a crisis. We think this is a ground-breaking development in AI that helps move society forward."
Recent investment from venture capitalists, of 3.6 million dollars has positioned SAM at the forefront, ahead of lagging technology, during this unprecedented health crisis of Covid-19.
"The pandemic proved there's an incredible need to decipher world events and potential hazards sooner," said Brian Craig, founding partner of Calgary-based Adventure Capital leading the investment round. "The SAM platform can help predict a crisis earlier allowing organizations to react more quickly."
SAM's technology creates situational awareness to ensure decisions are made quickly and can be applied to a variety of settings, including, education, travel and with first responders.
ABOUT SAM
SAM was founded in Edmonton in 2013 and has been growing rapidly after launching its global disruption monitoring platform. The startup now works with large enterprises, emergency responders, and NGOs across the world that all depend on the delivery of real- time, accurate crisis data. As SAM continues to grow, they are working with users across the globe on more ways AI can detect potential problems or hazards—to benefit human safety, business, and community.
Telus Corp. marks opening of Telus Sky in downtown Calgary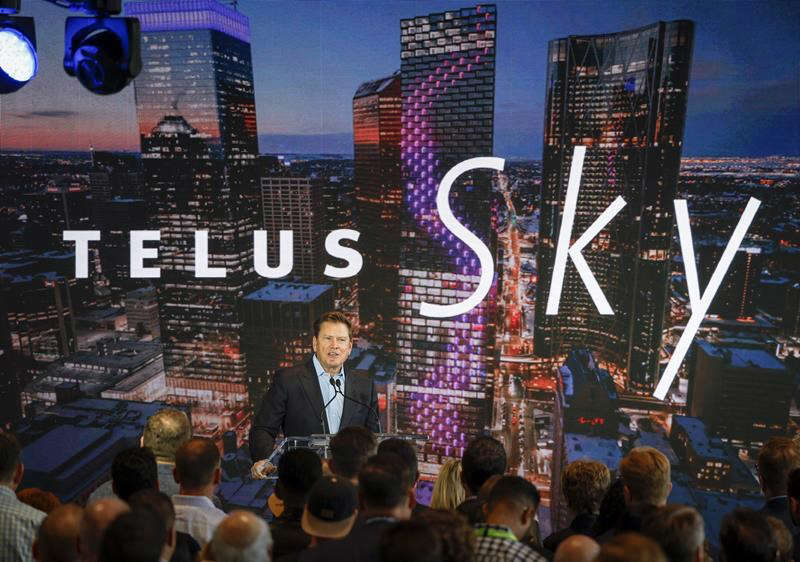 CALGARY — Telus Corp. marked the opening of its new 60-storey Calgary headquarters on Wednesday.
The new $400-million skyscraper, Telus Sky, has been in development for nine years and is now the third-tallest building in downtown Calgary. It features 750,000 square feet of office and retail space as well as 326 rental homes.
The building's eye-catching design, by architects Bjarke Ingels Group (BIG) and Dialog, along with developer partner Westbank and Allied, starts with a rectangular floorplate and then gradually twists as it rises.
Integrated into the facade of Telus Sky is Canada's largest public art display. "Northern Lights" by Canadian author and artist, Douglas Coupland, creates a light show across the building's exterior.
Telus Sky will be home to more than 1,600 Telus employees. It joins TELUS Garden in Vancouver, TELUS Harbour Toronto, TELUS House Ottawa, and Place TELUS Québec as one of the company's LEED (Leadership in Energy and Environmental Design) Platinum-certified buildings.
Among the building's environmental features is a storm water management system that recycles rainwater for use in washroom toilets, reducing the building's municipal water demand by 70 per cent.
This report by The Canadian Press was first published July 6, 2022.
Companies in this story: (TSX:T)
Amanda Stephenson, The Canadian Press
First set of tickets for Pope's mass in Edmonton booked within minutes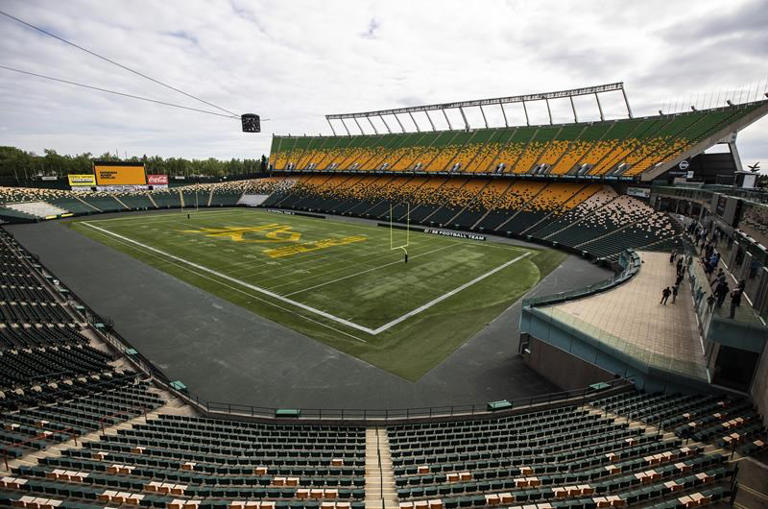 EDMONTON — Thousands of tickets for the Pope's open-air mass at Edmonton's Commonwealth Stadium were all booked about 15 minutes after they were made available to the public for free.
The July 26 mass with Pope Francis is part of his six-day Canadian tour, which also includes stops in Quebec City and Iqaluit.
Neil McCarthy, a spokesperson for the papal visit, says organizers were hopeful the first block of 16,000 tickets would be booked immediately because the impact of the event cannot be underestimated.
A total of 65,000 people can attend the mass at the football stadium.
McCarthy says if people haven't been able to book a seat, they can do so on two other days later this month, when the remaining blocks of free tickets will be made available.
Organizers divided the booking process for the mass over three days, because they say it is easier to manage and want to prioritize some Indigenous people who want to attend.
"We've got seating allocations for Indigenous participation, whether it's residential school survivors, elders, knowledge keepers or those who are supporting them," McCarthy said Wednesday.
"Today was a very, very positive start to the day. People really want to be with him."
The Pope is to arrive in Edmonton on July 24. The next day, he is to meet survivors and visit the site of the former Ermineskin Residential School in Maskwacis, about 80 km south of Edmonton.
He is scheduled to arrive in Quebec City on July 27 and stop in Iqaluit on July 29.
The Pope's visit comes after he apologized in April to Indigenous delegates at the Vatican for the Roman Catholic Church's role in Canada's residential schools and the intergenerational trauma it caused.
This report by The Canadian Press was first published July 6, 2022.
The Canadian Press