Edmonton Humane Society Feature Pet Showcase: Meet Eliot!
We're huge animal lovers here at Todayville Edmonton and we always want to do what we can to help the fantastic organizations in our city that are working to ensure the animals who need it receive compassionate care and humane treatment.
So we've teamed up with the Edmonton Humane Society and we'll be regularly showcasing some of their adoptable animals who have yet to find their forever homes!
Every animal had unique needs, so be sure to read the details about the pet carefully. If they seem like they would be a good addition to your home, first read up on the adoption process, then get in touch with the great folks at the Edmonton Humane Society at 780-491-3500.
And with that, meet Eliot!
I'm an Adventurer! A thrill seeker at heart, I am always on the lookout for new things to see, smell, and do! I have lots of energy and drive to play, even a stray piece of string on your pants might catch my attention! I would love a home where I can go, go, go! Please make sure you have enough time in your day to play with me and maybe teach me something new to stimulate my mind! I can't wait to find my next Adventure Buddy!
Behaviour Observed in Shelter:
–  Social with humans
–  High drive to play
–  Highly attention seeking
May Be Prone To:
–  High energy, bursts of energy
–  Boredom when not provided with outlets for energy
–  Curiosity/Exploratory behaviours
–  Rough play
–  Vocalizing
Recommendations:
–  Ample mental and physical stimulation (trick training, games, puzzles)
–  Daily play with variable toys
–  Provide with appropriate outlets for energy release for use throughout the day as desired
Eliot came in to the shelter as an owner surrender. He was surrendered because of behavioral problems due to a lack of mental and physical stimulation.
Click here to learn more about the adoption process at the Edmonton Humane Society.
My European Favourites – Day Trip From Amsterdam

The Netherlands is a great place to visit either as a main destination or as a stopover for a couple of days. I have always enjoyed flying KLM and use them often for our many groups travelling throughout Europe. Amsterdam's Schiphol Airport is an east hub to fly into from North America, and I like the airport layout over other big and busy European airports.
Amsterdam itself has many interesting places to visit and explore. The city is full of history, great architecture, canals, bridges, museums, great shopping, cyclists, interesting cafes, the Anne Frank House, the Heineken Brewery, and yes, the notorious red light district. Not many people venture outside the city during a stopover, but one of our favourite day trips is from Amsterdam. We always try to do it on a Wednesday, so we catch the Edam cheese market show.
Zaanse Schans
Our twenty minute early morning trip to Zaandam starts after a good breakfast at our centrally located hotel in Amsterdam. On the way, you can enjoy the beautiful Dutch countryside including dikes and plots of land reclaimed from the water, called polders. Starting in the late 16th century, the Zaandam and the Zaan river area were important wood milling regions during the "Dutch Golden Age" with thousands of saw windmills. In the 19th century, the area became a leader of the "Industrial Age" in the Netherlands.
Starting in 1961, the Zaanse Schans was turned into an open air museum with windmills and buildings from the 18th and 19th centuries. Various wooden houses, barns, shops, warehouses and windmills were transported here starting in 1961. The buildings along with traditional farmsteads, paths, ditches and fields depict how village life was like during that prosperous time.
When we arrive at the Zaanse Schans parking lot, you will undoubtably smell chocolate from the nearby cacao processing factories. Entrance to the Zaansee Schans is free, but some of the workshops and windmills located throughout the grounds are museums and require an entrance fee. You can purchase a ticket to have access to all the museums.
One of the first buildings you will see on arrival is the Kooijman Souvenirs & Clogs Wooden Shoe Workshop. Here you can see a wooden clog machine demonstration. Afterwards, wander throughout the site checking out the bakery, fisherman's house, weavers house, clock house, merchant house, cheese house, pewter house, pancake house and see how vats and barrels are made at the cooperage. With a little breeze, you can see the sails of the windmills slowly turning while the inner workings churn away. The windmills saw wood or mill oil, flower, spices or pigments to dye cloth. Some windmills allow visitors to climb up to the deck via narrow stairs for a nice view of the river and the area.
The Zaans Museum, located by the parking area, opened in 1998, and contains clothing and artifacts from the area. At its Verkade Experience you can see original chocolate and biscuit factory machines from the early 20th century at work. The museum also has a café and shop.
Edam
Another short 20 minute drive, and we reach Edam, which is famous for its cheese market that started in1520. Edam cheese is round with a flattened top and bottom and is coated with a red paraffin wax which allowed it to age well and not spoil on long voyages. Its unique taste plus the lack of spoilage made it extremely attractive for exporting throughout the world. The market was closed in 1922 when cheese began to be made in factories rather than by local farms.
At the original market, farmers would bring their cheese using horse drawn cart or by boat. Once they arrived, the cheese carriers, who wore different colored hats depending on which cheese guild they belonged to, would load the product onto wooden barrows. Once the barrow was loaded, the carriers placed carry straps over their shoulders and walked the precious cargo to the cheese tasters. The tasters would drill a core sample from the cheese and based on the exterior wax, smell, taste and other factors began to bargain the price with the seller using a series of shouts and hand claps. When the price was settled the cheese was taken to the weighing house to determine the final amount to be paid.
Every Wednesday in the summer from 10:30 to 12:30, the town re-enacts the hustle, and bustle of the market at the Jan van Nieuwenhuizen Square. The colorful market includes many family members, including children, wearing traditional costumes, dresses and clogs plus kiosks selling cheese. Throughout the performance, horse carts and boats arrive, cheese carriers scurry at a comical pace and bargain shouts and hand slaps can be heard. So visitors understand everything that is happening, there is a person on a microphone explaining the entire process. It's quite interesting and fun to witness.
Smoked Eels
Next, we will travel from Edam to the seaside fishing village of Volendam to visit a local smokehouse that was founded in 1856.  Smoked eels at one time were an important staple food in the Netherlands but recently a drop in the eel population and the resulting price increase has made it a delicacy. Today, the 5th and 6th generations of the Smits' family keep their family's secret fish smoking process and traditions alive. The smoked eel is their specialty and during the eel fishing season the entire family is involved in the cutting, gouging, skinning, digging and filleting of the eels. The Paviljoen Smit-Bokkum offers private tours of the smokehouse to introduce people to the traditional eel fishing, processing and smoking activities. In addition to eel, they smoke salmon, dorado and sea bass using pine wood. The eel is delicious and at their restaurant you can try various local dishes. The location also has a shop and a small Palingsound (eel sound) Museum dedicated to Volendam's unique and famous pop music.
Volendam
Volendam, once a simple catholic fishing village, is now Holland's best-known seaside town and is visited by millions annually. The Volendam Catholic fishermen had their own typical costumes and dialect. The town's boardwalk, once home to fishermen's wooden shacks, is now adorned with colorful wooden houses, tourist shops, cafes and restaurants. As you walk through the town and its shops, you will see locals wearing the traditional clothing. If you explore the village's narrow lanes in the old neighborhoods, you can still see some of the old fishermens' houses.
There used to be hundreds of vessels at one time when Volendam's fishing fleet had access to the North Sea, but after closing its access, the harbour contains only a few fishing vessels doing fresh water fishing on Markermeer lake. Nowadays, leisure boats and the ferries that go to the nearby island of Marken occupy the majority of the harbour space.
Some restaurants offer tasty local seafood dishes and cool drinks on patios overlooking the harbour. For a quick lunch, food stands and take away restaurants sell kibbeling (battered and fried fish nuggets), herring, shrimp and of course smoked eel.
A visit to the Volendams Museum provides an interesting look into the town's history, costumes, traditions and art. If you have time, you may consider taking the Volendam Marken Express boat to Marken.
Cheese Farm
On the way back to Amsterdam, and a short distance from Volendam, we will stop at the Henri Willig Jacob's Hoeve cheese farm. The staff wear traditional clothing, and they give a short introduction and demonstration of the cheese making process. The number of cow goat and sheep cheese varieties is quite overwhelming but very interesting to sample. Some flavours you might encounter include truffle, cumin, pesto, red chili pepper, coconut, pepper, rosemary and garlic. They are all for sale in various sizes along with other Dutch souvenirs and foods. You can also see the cows in their new stable especially designed for the organic farm's herd of Jerseys.
It is only twenty minutes back to Amsterdam and as you enjoy the countryside you can decide on what great restaurant you will go to tonight. I think an authentic Indonesian "rijsttafel" or rice table would be a great way to end the day. The rice table was brought back to the Netherlands from the Dutch East Indies where it was created by the Dutch as a festive way to showcase their colony's diverse and multi-ethnic Indonesian cuisine. The rice is accompanied by a multitude of small meat, vegetarian and condiment dishes that may include spring rolls, satay meat skewers, curries, fish, boiled eggs, spicy sauces, peanut sauces, vegetables, and fried bananas. It is great for sampling different tastes and for sharing. You can find Indonesian fast food and restaurants throughout Amsterdam, but a place like Tujuh Maret or Ron Gastrobar Indonesia offering a rice table is definitely something you should experience.
Explore Europe With Us
Azorcan Global Sport, School and Sightseeing Tours have taken thousands to Europe on their custom group tours since 1994. Visit azorcan.net to see all our custom tour possibilities for your group of 26 or more. Individuals can join our "open" signature sport, sightseeing and sport fan tours including our popular Canada hockey fan tours to the World Juniors. At azorcan.net/media you can read our newsletters and listen to our podcasts.
Images compliments of Paul Almeida and Azorcan Tours. This article was original published in March 2021. 
Flames and Oilers Battle of Alberta brings in a Million dollars for the Central Alberta Child Advocacy Centre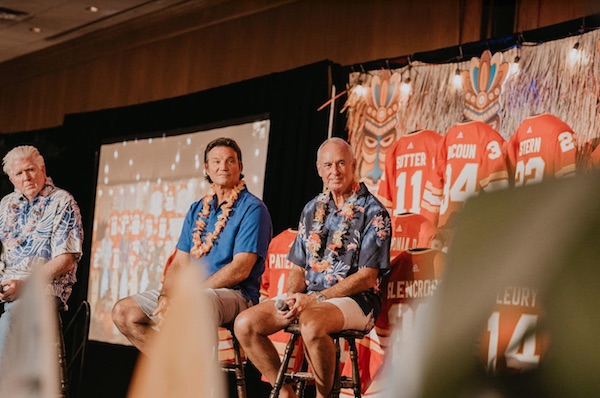 News Release from the Central Alberta Child Advocacy Centre
Records Broken for the CACAC Battle of Alberta
The Central Alberta Child Advocacy Centre held their signature event: The Battle of Alberta for the second time this past Tuesday and Wednesday after being postponed for a year, grossing over $1M!
The CACAC Battle of Alberta Charity Golf Tournament is a two-day event presented by the Edmonton Oilers and Calgary Flames. The two notorious rivals come together with one goal in mind – helping our children by bringing together both alumni and current players to battle it out on the green!
"The past 18 months have been extremely challenging and have certainly brought Mental Health even more to the forefront than it had already become before COVID. The fact that the Central Alberta Child Advocacy Centre is in the Mental Health sector it is fitting that we are having one of the first events post COVID." – Terry Loewen, Board Chair, CACAC
The first night of the BOA includes a celebrity auction hosted at the Cambridge Hotel & Conference Centre, and this year records broke with highest bid for the top two players: Kelly Buchberger and Theoren Fleury. Twenty-eight other Oilers & Flames joined in to cap-off the 30 team roster, including: Lanny MacDonald, Louie Debrusk, Kris Russell, Glenn Anderson, and Mike Vernon. The Luau-themed event also included exclusive hot-stoves with Brian Burke, and was co-hosted by Danny Hooper and Ron Maclean.
"The Calgary Flames and the Calgary Flames Alumni are always so grateful for the support we receive from our fans in Central Alberta. We consider Red Deer our home that we happily share with our rivals in Edmonton during this important fundraising event in support of the Central Alberta Child Advocacy Centre. Congratulations to Terry Loewen and his hard-working committee on another extremely successful Battle of Alberta Golf Tournament. And a special thank you to Flames alumnus Sheldon Kennedy for his leadership in changing the way Alberta responds to child abuse. This new facility in Red Deer will ensure every child's needs are met, and they are supported in the most child-friendly way."
– Rollie Cyr, Executive Vice-President, Calgary Flames
The golf tournament was hosted at the beautiful Red Deer Golf and Country Club, where the 30 teams teed off with their celebrity players and caddies. Every hole was sponsored by local community organizations and included activities, draws, food and beverages, along with stories of the old days by alumnus and talks about the upcoming season with the current players.
"It was truly incredible to see the community come together for the Battle of Alberta Golf Tournament in support of the Central Alberta Child Advocacy Center (CACAC) in Red Deer. What the CACAC is doing to help children and families in central Alberta is remarkable, and they're making a difference for so many children in need of support. The entire Oilers Entertainment Group and Oilers Alumni are proud to support central Alberta and the CACAC, and you can bet we're already looking forward to the tournament in 2023." –Bob Nicholson, Chairman, Edmonton Oilers
The event concluded with the After Party back at the Cambridge where another two hot-stoves took place, along with a record-shattering live auction and newly added virtual silent auction.
"To say we're blown away by the generosity and support at the child advocacy centre is an understatement. As an organization, we could not have had three better events over the two days to celebrate the work we do for children. At the end of the day, we're trying to make a difference for children and families in Central Alberta. What we witnessed at this event is what happens when a whole group of difference makers come together for the good of a community. A heartfelt thanks to the many people who helped make the Battle of Alberta tournament a success."
– Mark Jones, CEO, CACAC
Another new stand out addition to the Battle of Alberta was the donation of two custom trucks to the Live Auction! A fully custom, one-of-a-kind Calgary Flames truck and Edmonton Oilers truck, both valued over $90,000 were given to the CACAC to auction off.
Dan Wiebe of Integrity Group of Companies heard about the work that the CACAC was doing and wanted to be involved. Dan enlisted the help of friend Brad Rempel of Alberta Boys Custom to customize an Edmonton Oilers truck specially for the BOA Live Auction!
After the donation of the Oilers truck, a few of our supporters wanted to ensure the "C of Red" was represented! Together, Rob McWilliams of McWilliam Auto Appraisals, Garrett Scott of Kipp Scott GMC, TNT Customs, and Dave Appleby of Vibe Audio came together to create their very own exclusive Calgary Flames Truck for the 2021 Battle of Alberta Live Auction. Both trucks were auctioned off Wednesday night with 100% of the proceeds going to the CACAC.
The CACAC is overwhelmed with the success of the event – and the support of the community. Final numbers are still coming in with net proceeds to be calculated in the coming weeks, but the CACAC is proud to say that over $1,000,000 gross was raised in two nights with a small but mighty group of people. Not only was money raised for the CACAC, going towards specific projects like the upcoming building project, but awareness was raised; conversations were had, and everyone stood up to be a voice for the children in our community who need it most.
The CACAC would like to thank every single donor, participant and volunteer who had a part in the 2021 Battle of Alberta.
"I want to thank all of you for your participation and sponsorships. I'm not sure if people fully realize the magnitude of their impact; the lives they change or lives they have saved by supporting this organization! You are all champions of the CACAC – thank you! – Terry Loewen, Board Chair, CACAC 
The CACAC would like to recognize the following donors with special thanks to the committee and volunteers (Listed in randomized order):
Presenting, Major & Event Sponsors:
Edmonton Oilers | Calgary Flames | Integrity Group of Companies | D.J. Will Holdings | Alberta Boys Custom | McWilliam Auto Appraisals | Cambridge Hotel & Conference Centre | Eagle Builders | Kipp Scott GMC Cadillac Buick | Vibe Audio | Blue Grass 
Sponsors:
HPC High Performance Coatings, Flo-Pro Performance Exhaust, Waschuk Pipeline, MNP,  GSC Energy Services,  Electric Horsepower,  Scotia Wealth Management: Keylock Group, Gallagher Insurance, White Swan Environmental Ltd., ATB,  Edmonton Oilers Community Foundation, Scotia Wealth Management: Calgary, Marshall Construction Company, Cody Snyder Bullbustin', Earth Smart, Precede Occupational Health Services, Q2 ALS, Blackfalds Bulldogs,  Red Deer Motors, Phone Experts,  Jedco, Glover Trucks, The Liquor Hutch,  Fourlane Ford, Ing + McKee Insurance, Bill Hull, Canadian Western Bank, Rogers Insurance, Cilantro & Chive, Tiffany's Steakhouse, Shek Crane, Mal's Diner, Chiefs, Molson Beer, Earls, Bo's Bar and Grill, Culligan Water, Red Deer Golf & Country Club, Cooperators, Deerfoot Inn & Casino, TRC Auctions, Riverview Insurance, Abbey Platinum Master Built, Four Star Drywall, Pivotal LLP, Care Industries, Servus Credit Union, ViTreo, Melcor, Tar-ific Construction, Red Deer Discount Golf, The Coverall Shop, P.J.M. Home Advantage, Alberta Parking Lot Services, Adrenaline Exotics, General Appliances, Parkland Funeral Homes ,BJ Bobcat Trucking Ltd., Aesthetic Solutions, Apollo Landscaping Compass Geomatics, Big 105 & Rewind Radio, Gasoline Alley Harley-Davidson, Al Sim Remax, League Projects, The Zukiwsky Group, True Spirits Mobile Bar, Ten02, Willson Audio Visual, Ash Maclean Photography, Danny Hooper Productions, Prospector Visual,  Haywork Secure Driving Services/Douglas Workman, Central Alberta Tile One, Duane Sokalski, Theoren Fleury, Grant Fuhr, Reid & Wright Advertising, Andrew Hutchins, Calgary Flames Foundation, Toast of the Town, Todayville, Trevor Roszell, Nucleus Energy Services, John Macphail, Kelly Hallgren, Laebon Homes, Johnston Ming Manning, Printing Place, Red Deer Rebels, Safari Spa & Salon, Flames TV, Oilers TV, SN960, OilersNOW, Rivertown, Chainsaw Spirit plus our incredible Silent Auction sponsors (check them out here!)
Please visit centralalbertacac.ca to learn more about the community support services the CACAC offers. Collectively, we can end child abuse.