Enjoy wine and support local art at 'Art! Live at the Hive!'
Art! Live at the Hive
Come join us Thursday, August 22 for an evening showcasing some of YEG's most unique artists, benefiting the Nina Haggerty Centre for the Arts.
Our city is a hub for some incredible artistic talent and local art is truly a part of the fabric here at The Creative Hive. To celebrate the artists we're constantly inspired by, we're excited to host Art at the Hive, a fundraiser focused on creativity, community and connection benefiting the Nina Haggerty Centre for the Arts.
Come as you are, grab a glass of wine and browse the creations of an exciting mix of artists who'll be on hand displaying & selling their work!
Admission is just $5 at the door with all proceeds donated to the Nina Haggerty Centre for the Arts.
Address: 16819 111 Ave NW Edmonton, Alberta T5M2S4
Featured Artists:
New Zealand arts funder rejects Shakespeare as 'imperialism'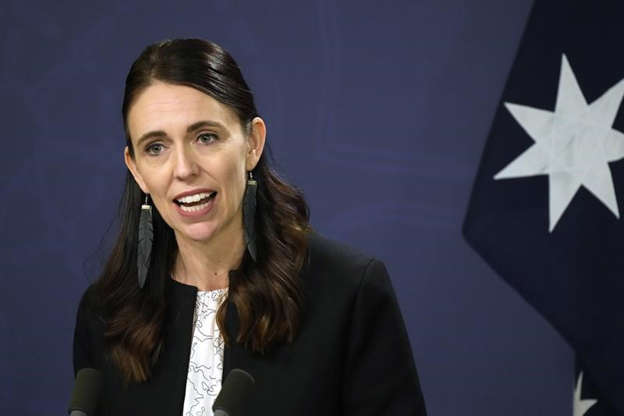 WELLINGTON, New Zealand (AP) — Is Shakespeare still relevant to today's students?
New Zealand's arts council appears to have its doubts after ending funding for a popular school Shakespeare program, arguing it relied too heavily on busy schools, failed to show relevance to "the contemporary art context" and relied on a genre "located within a canon of imperialism."
But many have taken issue with the decision by Creative New Zealand, including Jacinda Ardern, the nation's prime minister — and former student thespian.
"I was a participant in Shakespeare in Schools. I thought it was a great program," Ardern said.
She said students interested in drama and debate have limited opportunities to interact with peers from other schools.
"I was one of those kids. And so I would like to continue to see other kids have those opportunities," she said.
Ardern added that the funding decision wasn't up to her, or even to the government. Creative New Zealand is funded by taxpayers but is run independently.
The school programs, workshops and festivals have been run for about 30 years by the Shakespeare Globe Centre New Zealand. Students can act, direct make costumes or create a soundtrack. Often the plays are set in contemporary times or have different takes on the originals written by William Shakespeare more than 400 years ago.
The center has been receiving about 30,000 New Zealand dollars ($17,000) each year from the arts council, about 10% of its overall budget.
Dawn Sanders, the center's chief executive, said the initial rejection last month, which remained in place after a crisis meeting Friday, blindsided her.
"I was gobsmacked and disgusted," she said.
She said more than 120,000 students had been involved in the festivals and programs over the years, and many became professionals in theater or film.
Others, she said, had used their acting skills in their jobs, for instance lawyers who were better able to argue their cases or doctors who developed a more engaging bedside manner.
Creative New Zealand did not immediately respond to requests for comment.
In its 11-page rejection note, however, one arts council assessor said the center had "proved the ongoing value" of its regional and national Shakespeare competition model, with some 4,600 young people participating in 24 regional festivals annually.
"The application does make me reflect on the ongoing relevance of Shakespeare, and question whether a singular focus on an Elizabethan playwright is most relevant for a decolonizing Aotearoa in the 2020s and beyond," the assessor added, using the Indigenous name for New Zealand.
A panel concluded that the Shakespeare center "seems quite paternalistic" and that its funding proposal "did not demonstrate the relevance to the contemporary art context."
Sanders said she would try to find alternative funding and vowed the show would go on. Since the dispute became public, she said, people had already donated thousands of dollars through online crowdsourcing.
Former Deputy Prime Minister Winston Peters wrote on Facebook that the decision amounted to political and social engineering by "overpaid sickly liberal bureaucratic wokester morons."
Ardern, meanwhile, said it would be wrong to extrapolate a wider comment on society from a single funding decision. And she demurred on saying what Shakespeare role she had played as a student, saying such a disclosure could become a distraction.
"So I might just leave out the details for now," she said.
Nick Perry, The Associated Press
Activists in UK court after soup thrown at Van Gogh picture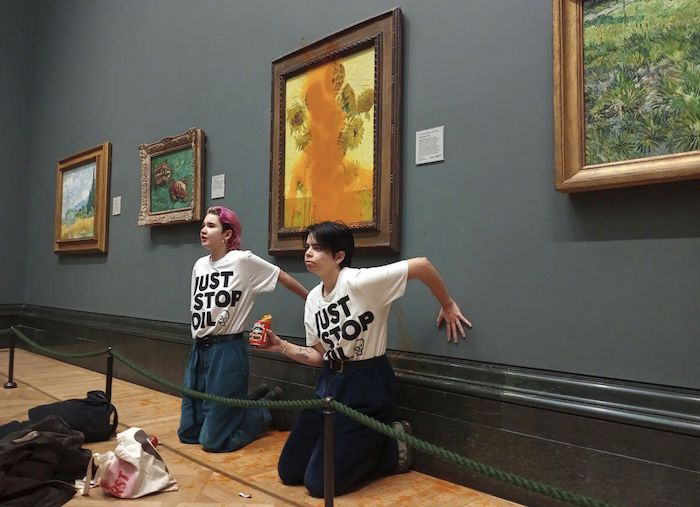 By Sylvia Hui in London
LONDON (AP) — Three climate activists appeared in a London court on Saturday on charges of criminal damage after protests including throwing soup over Vincent van Gogh's "Sunflowers" painting in the National Gallery.
Two women, age 20 and 21, were charged in relation to the soup-throwing protest on Friday, while a third was charged over paint sprayed on a rotating sign at the Metropolitan Police's headquarters in central London. The three women pleaded not guilty to criminal damage at Westminster Magistrates' Court during two brief hearings Saturday.
Demonstrators from climate change protest groups Extinction Rebellion and Just Stop Oil, which wants the U.K. government to halt new oil and gas projects, staged a series of protests in London on Friday.
Just Stop Oil said activists dumped two cans of tomato soup over the Van Gogh oil painting, one of the Dutch artist's most iconic works. The two protesters also glued themselves to the gallery wall.
Prosecutor Ola Oyedepo said the pair didn't harm the oil painting, which was covered by a glass protective case, but damage was caused to the frame.
The painting, one of several versions of "Sunflowers" that Van Gogh painted in the late 1880s, was cleaned and returned to its place in the National Gallery on Friday afternoon.
District judge Tan Irkam released the women on bail on condition that they don't have paint or adhesive substances on them in a public place.
Police said they made some 28 arrests in relation to Friday's protests, and 25 others were bailed pending further investigation. On Saturday, police arrested a further 26 people after Just Stop Oil protesters blocked a major road in east London. Some demonstrators glued themselves to the road surface.
Just Stop Oil has drawn attention, and criticism, for their disruptive tactics, including targeting artworks in museums. In July, activists glued themselves to the frame of an early copy of Leonardo da Vinci's "The Last Supper" at London's Royal Academy of Arts, and to John Constable's "The Hay Wain" in the National Gallery.
Activists have also blocked bridges and intersections across London during two weeks of protests against the U.K. government's approach to climate change.
The latest wave of demonstrations came as Prime Minister Liz Truss ' Conservative government opened a new licensing round for oil and gas operations in the North Sea and reversed a 2019 ban on fracking in England. Environmentalists say the U.K. government was undermining the fight against climate change.
___
Follow AP's climate coverage at https://apnews.com/hub/climate-and-environment