An amazing lineup of headliners awaits at this year's CFR Cabaret!
The Canadian Finals Rodeo returns to Red Deer October 29th, bringing together the world's best rodeo athletes and fans from all around! Over six days, you can catch high energy performances in Bareback Riding, Bull Riding, Steer Wrestling, Ladies Barrel Racing, and more!
And the party really kicks off after dark with the CFR Cabaret! As the official post-performance party of the Canadian Finals Rodeo, the Cabaret features some of the hottest acts in country music today!
Even better, entry for the CFR46 Cabaret is free, with the exception of Saturday night's performance featuring Corb Lund.
Just look at this entertainment lineup!
Tuesday, October 29th – Doc Walker
With over 20 Top 10 singles in total, Doc Walker is one of the most recognized Canadian country acts of the past two decades. The group has received multiple Canadian Country Music Awards, including Fans' Choice, Group or Duo of the Year, CMT Video of the Year, Single of the Year, and Country Music Program or Special of the Year. In addition, Doc Walker has been nominated for several JUNO Awards for Country Album of the Year, including a win in 2009 for the album Beautiful Life.
Wednesday, October 30th – Bobby Wills
An acclaimed musician with a reputation for writing from the heart, CCMA Award winning artist Bobby Wills (MDM Recordings Inc. / Universal Music Canada) is best known for two things – his signature cowboy hat and a diverse musical personality, combining a classic country sound with a toe-tapping, dynamic twist.
Thursday, October 31st – George Canyon
George Canyon's accomplishments include CCMA Awards, Juno Awards, ECMA Awards and 12 recorded albums! Canyon is a highly regarded humanitarian, strong supporter of the military, and, most important, a proud father and devoted husband. George Canyon's latest single is titled 'Out Of This Town'. Produced by Scott Cooke, it is now available on all streaming and purchasing platforms, and is climbing the charts at Canadian country radio. The single is the first from a forthcoming new album.
Friday, November 1st – The Road Hammers
The highest selling Canadian country band in history, The Road Hammers, are back with a brand-new album, The Squeeze, a compilation of tracks that epitomizes what the band has become known for – a truly synergistic blend of classic rock meets country.
Saturday, November 2nd – Corb Lund
"When you come from generations of ranchers and rodeo people, you can't help but be influenced by the West," says award-winning roots country singer Corb Lund. Lund embraces his Western heritage through his music, touching on a range of cowboy themes past and present—from rough-and-tumble tales of lawless frontier saloons, to the somber realities of running a modern family ranch.
This is the only ticketed event at the CFR Cabaret- tickets are $25 each and you can get yours HERE.
Click to find out everything there is to know about the Canadian Finals Rodeo in Red Deer, AB.
List of 2023 Oscar winners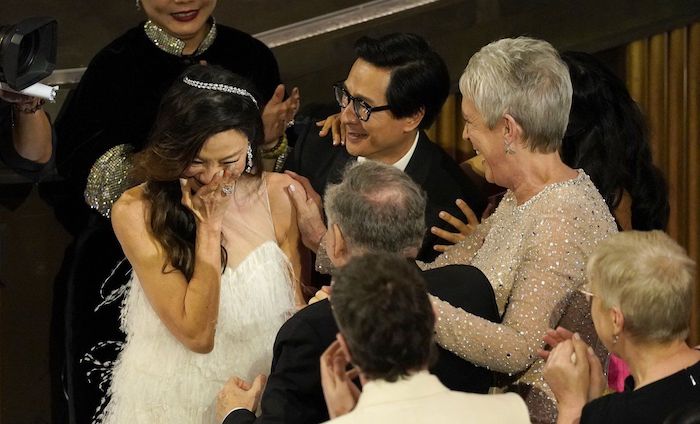 Michelle Yeoh, left, reacts in the audience with excitement as she accepts the award for best performance by an actress in a leading role for "Everything Everywhere All at Once" at the Oscars on Sunday, March 12, 2023, at the Dolby Theatre in Los Angeles. Jamie Lee Curtis, from right, and Ke Huy Quan are seen in the audience. (AP Photo/Chris Pizzello)
By Jake Coyle in Los Angeles
LOS ANGELES (AP) — Oscar winners announced Sunday:
Best picture: "Everything Everywhere All at Once"
Best actress: Michelle Yeoh, "Everything Everywhere All at Once"
Best actor: Brendan Fraser, "The Whale"
Best supporting actor: Ke Huy Quan, "Everything Everywhere All at Once"
Best supporting actress: Jamie Lee Curtis, "Everything Everywhere All at Once"
Original song: "Naatu Naatu" from "RRR"
Film editing: "Everything Everywhere All at Once"
Best director: Daniel Kwan and Daniel Scheinert, "Everything Everywhere All at Once"
Best animated feature: "Guillermo del Toro's Pinocchio"
International feature film: "All Quiet on the Western Front" (Germany)
Documentary feature: "Navalny"
Live action short: "An Irish Goodbye"
Cinematography: James Friend, "All Quiet on the Western Front"
Makeup and hairstyling: "The Whale"
Costume design: "Black Panther: Wakanda Forever"
Documentary short: "The Elephant Whisperers"
Animated short: "The Boy, the Mole, the Fox and the Horse"
Production design: "All Quiet on the Western Front"
Music (original score): Volker Bertelmann, "All Quiet on the Western Front"
Visual Effects: "Avatar: The Way of Water"
Original screenplay: "Everything Everywhere All at Once"
Adapted screenplay: "Women Talking"
Sound: "Top Gun: Maverick"
___
For more on this year's Oscars, visit: https://apnews.com/hub/academy-awards
Bruce Willis has frontotemporal dementia. What is FTD?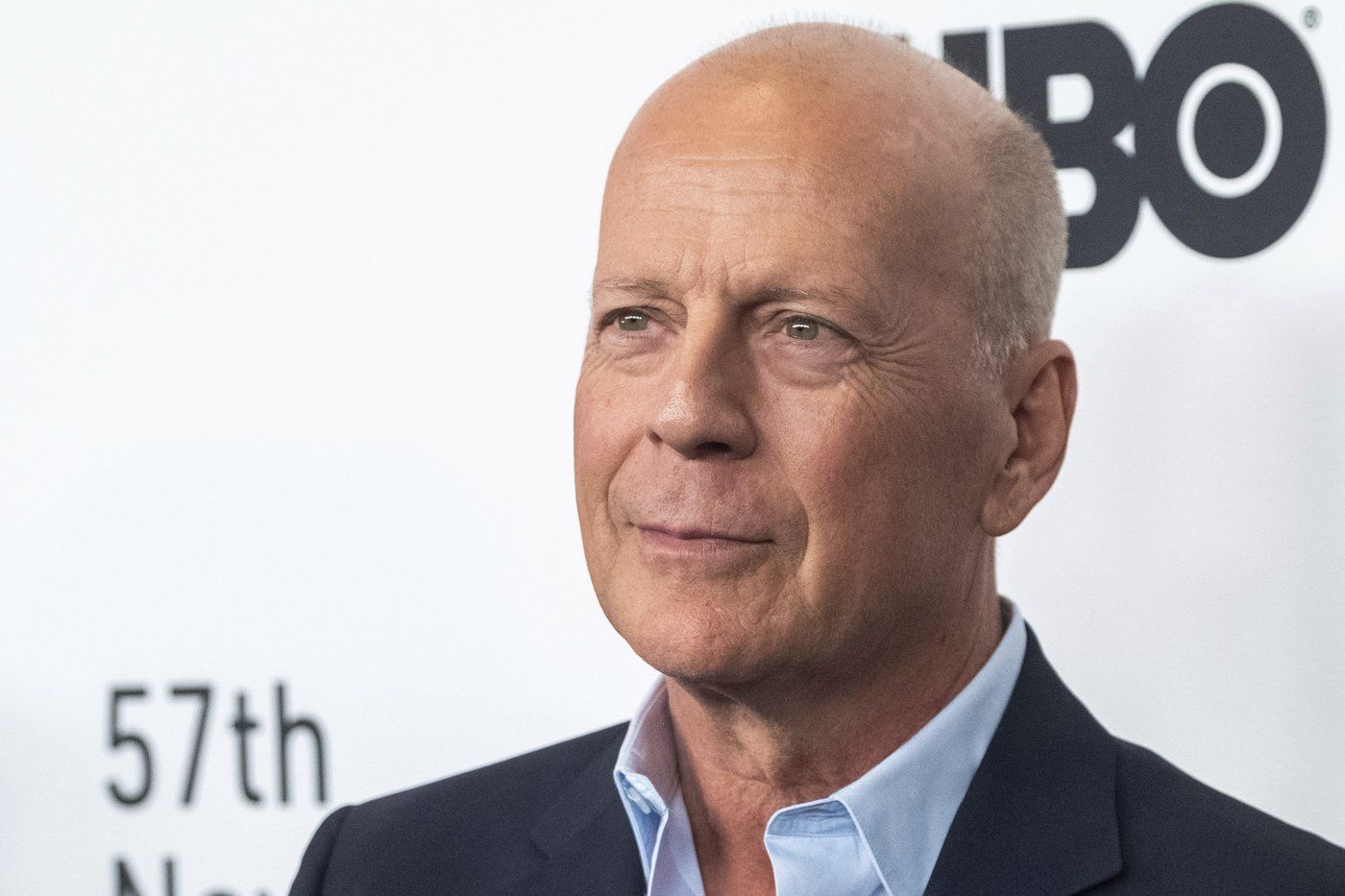 Bruce Willis' family has announced that he has been diagnosed with frontotemporal dementia.
The announcement Thursday came about a year after his family said that Willis would step away from acting after being diagnosed with aphasia, a brain disorder that leads to speaking, reading and writing problems.
Here's some details on the condition:
WHAT IS FRONTOTEMPORAL DEMENTIA?
There are different types of dementia, and the frontotemporal form affects regions in the front and sides of the brain. Because it causes problems with behavior and language, aphasia can be a symptom.
It's caused by damage to neurons, the brain's information carriers, but the underlying reasons for a particular case are often unclear. People with a family history of the condition are more likely to develop it. It's rare and tends to happen at a younger age than other forms of dementia, between ages 45 and 65.
The terms frontotemporal disorders and frontotemporal dementia are sometimes shortened to FTD.
WHAT ARE OTHER SYMPTOMS OF FTD?
Symptoms can include emotional problems and physical difficulties, such as trouble walking. Symptoms tend to worsen over time, though progression varies by person.
The statement from the actor's family said communication problems "are just one symptom of the disease Bruce faces."
CAN FTD BE TREATED?
There are no treatments to slow or stop the disease, but some interventions can help manage symptoms.
Some patients receive antidepressants or drugs for Parkinson's, which has some overlapping symptoms with frontotemporal dementia. Many also work with speech therapists to manage communication difficulties and physical therapists to try to improve movement.
People with the condition are more likely to have complications from things like falls, injuries or infections. The average life expectancy after symptoms emerge is seven to 13 years, according to researchers.
___
The Associated Press Health and Science Department receives support from the Howard Hughes Medical Institute's Science and Educational Media Group. The AP is solely responsible for all content.