An amazing lineup of headliners awaits at this year's CFR Cabaret!
The Canadian Finals Rodeo returns to Red Deer October 29th, bringing together the world's best rodeo athletes and fans from all around! Over six days, you can catch high energy performances in Bareback Riding, Bull Riding, Steer Wrestling, Ladies Barrel Racing, and more!
And the party really kicks off after dark with the CFR Cabaret! As the official post-performance party of the Canadian Finals Rodeo, the Cabaret features some of the hottest acts in country music today!
Even better, entry for the CFR46 Cabaret is free, with the exception of Saturday night's performance featuring Corb Lund.
Just look at this entertainment lineup!
Tuesday, October 29th – Doc Walker
With over 20 Top 10 singles in total, Doc Walker is one of the most recognized Canadian country acts of the past two decades. The group has received multiple Canadian Country Music Awards, including Fans' Choice, Group or Duo of the Year, CMT Video of the Year, Single of the Year, and Country Music Program or Special of the Year. In addition, Doc Walker has been nominated for several JUNO Awards for Country Album of the Year, including a win in 2009 for the album Beautiful Life.
Wednesday, October 30th – Bobby Wills
An acclaimed musician with a reputation for writing from the heart, CCMA Award winning artist Bobby Wills (MDM Recordings Inc. / Universal Music Canada) is best known for two things – his signature cowboy hat and a diverse musical personality, combining a classic country sound with a toe-tapping, dynamic twist.
Thursday, October 31st – George Canyon
George Canyon's accomplishments include CCMA Awards, Juno Awards, ECMA Awards and 12 recorded albums! Canyon is a highly regarded humanitarian, strong supporter of the military, and, most important, a proud father and devoted husband. George Canyon's latest single is titled 'Out Of This Town'. Produced by Scott Cooke, it is now available on all streaming and purchasing platforms, and is climbing the charts at Canadian country radio. The single is the first from a forthcoming new album.
Friday, November 1st – The Road Hammers
The highest selling Canadian country band in history, The Road Hammers, are back with a brand-new album, The Squeeze, a compilation of tracks that epitomizes what the band has become known for – a truly synergistic blend of classic rock meets country.
Saturday, November 2nd – Corb Lund
"When you come from generations of ranchers and rodeo people, you can't help but be influenced by the West," says award-winning roots country singer Corb Lund. Lund embraces his Western heritage through his music, touching on a range of cowboy themes past and present—from rough-and-tumble tales of lawless frontier saloons, to the somber realities of running a modern family ranch.
This is the only ticketed event at the CFR Cabaret- tickets are $25 each and you can get yours HERE.
Click to find out everything there is to know about the Canadian Finals Rodeo in Red Deer, AB.
Elton John rockets toward retirement at Dodger Stadium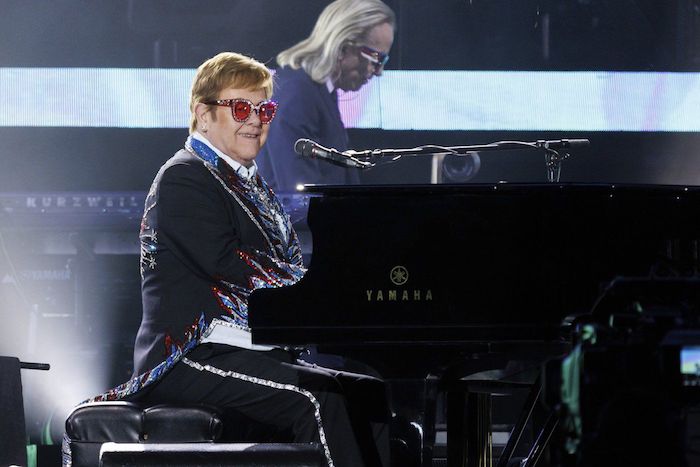 Elton John's career came fiull circle last night.
Forty seven years after he took the stage at Dodger Stadium in Los Angeles in a sequined-studded baseball uniform as the world's biggest pop star, John walked on to the same stage last night wearing a bedazzled Dodgers bathrobe.
It was a uniform more fitting for a 75-year-old man on the verge of retirement.
The crowd of more than 50-thousand roared at the moment that came in the final minutes of the final North American concert of a tour John says will be his last.
He told fans that "I want to spend time with my family because I'll be 76 next year — adding "I want to bring them out and show you why I'm retiring."
He embraced and kissed his husband, David Furnish, while his two sons, 11-year-old Zachary and 9-year-old Elijah, wearing matching Dodgers jackets that read "Elton" on the back, waved gleefully at the crowd.
John then broke into "Goodbye Yellow Brick Road," the inevitable final song that gave the "Farewell Yellow Brick Road" tour its name.
The crowd full of rocket men and rocket women, of blue jean babies and LA ladies, many John's age but plenty in their 20s and 30s and 40s, swayed and sang along as they had throughout the two-hour show during songs like "Rocket Man" and "Tiny Dancer."
Some wiped away tears.
Many were wearing their own sequins and spangles, sparkling spectacles, top hats, feather boas, and in a few cases, Donald Duck suits, representing stages of John's 55-year career.
When that last song ended, John shed the robe and exposed another retirement outfit, a green-and-red tracksuit, and climbed into a small, clear elevator that lifted him into an opening in the backdrop.
He could then be seen on a giant video screen walking down a yellow brick road into the distance.
Netflix Canada launches ad-supported tier for $5.99 on Nov. 1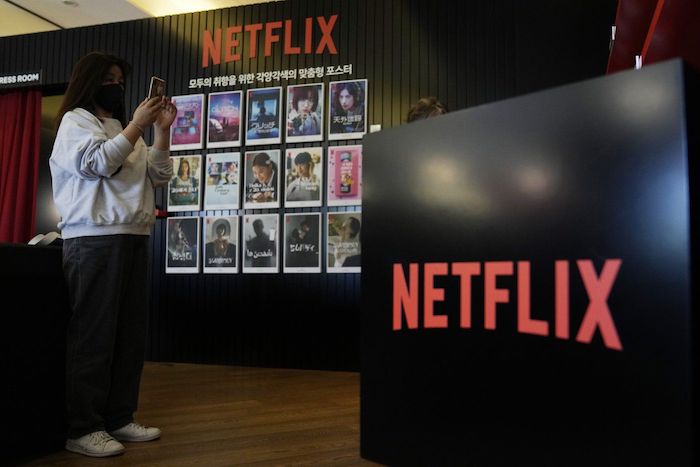 By David Friend in Toronto
Netflix is giving Canadian viewers the option for a cheaper monthly subscription plan — as long as they're willing to sit through commercial breaks.
The streaming giant said it has marked Nov. 1 to launch its new ad-supported streaming tier in Canada for $5.99 per month. The price is significantly less than Netflix's ad-free plans which start at $9.99 and go as high as $20.99 a month.
In exchange for the savings, Netflix said subscribers will see an average of four to five minutes of ads per hour placed before and during TV shows and films.
Netflix said the pricing for its existing plans will not be affected by the introduction of the ad tier.
The experience drifts away from Netflix's insistence for years that it would never stray into ad breaks during its programs, a choice the company has said helped build its reputation.
But competition in the streaming space has intensified in recent years with newcomer Disney Plus quickly encroaching on the company's status as the most popular streaming service. Wall Street analysts have raised concerns that a decline in Netflix subscribers earlier this year may continue if more people switch to alternative platforms.
"We want to offer consumers choice and for them to figure out what is the best offering for them," Greg Peters, Netflix's chief operating officer, told reporters in a conference call.
"And that could mean some of our existing members shift off of a plan that doesn't include ads into this basic with ads plan. But if that's the better experience for them in terms of the price … then we want to enable them to do that."
However, not everything in the Netflix library will be available on the ad tier and subscribers won't have the option to download titles for remote viewing.
Those limitations are due to licensing agreements with the distributors and will vary by country, Peters said. He estimated roughly five to 10 per cent of TV and films on the higher-priced tiers will be missing from the ad tier.
The experience of breaks will be similar to what viewers have seen on other platforms, including Bell Media's free CTV streaming library.
Before the program begins, a limited run of 15- and 30-second ads will play, while during the show, there will be fade-outs to a commercial at natural times in the narrative.
In the press briefing, Netflix executives used an example from "Emily in Paris" where the commercial break was placed between the end of dialogue at a restaurant and the establishing shot of a new scene on the streets of Paris.
Netflix movies will take a slightly different approach that aims to "preserve the cinematic model" for new titles, according to Peters. Instead of placing commercials within the film, recent releases will have pre-roll ads only, while mid-roll ads will be introduced after the title has been available for an undetermined period of time.
Advertising will eventually be targeted by the specifics of a user's profile which will require people at sign up to provide their date of birth and gender — with the options of male, female or neither/prefer not to say. However, executives said that ads will only be targeted to genre and not more specific user demographics on the launch date.
In the United States, several of Netflix's competitors have already launched ad-supported tiers which trade occasional commercial breaks for a lower subscription price.
HBO Max, Peacock and Paramount Plus are among the companies that have the option stateside, while Disney Plus has outlined plans to begin offering its own version in the coming months.
Netflix rolls out the advertising tier in Canada two days before most other major markets. It will introduce the option in countries that include the United States, Brazil, France and the United Kingdom on Nov. 3.
This report by The Canadian Press was first published Oct. 13, 2022.