More Important Now Than Ever: Remembrance and a few thoughts on this World Suicide Prevention Day
More Important Now Than Ever: Remembrance and a few thoughts on this World Suicide Prevention Day
On August 31, 2019 my sister Kelly and I lost our bright, kind, and beautiful mother Tracey to suicide. In the weeks preceding her death, a major depression Mum had dealt with and overcome several times before in her life came back with a suddenness and intensity that staggered us. It was terrifying to see this episode's impact and how debilitating it was; the helplessness you feel when a loved one is being tormented by their own mind is it's own kind of torture. Still, even through her long and grinding bouts of depression in years past, suicide somehow never felt like a possibility. The very notion was abstract, dark, and seemed impossible- so it was the most shocking and devastating thing we could have imagined that it happened. It's now just over a year later and there are many days we still can't believe she's gone.
Our Mom was our best friend, our biggest cheerleader and just exuded light and kindness. She always wanted to help, whether it was my sister and I, her friends and family or complete strangers- if there was a need for volunteers, she'd be one of the first to sign up. She had so much love for us, for her dogs, for travelling, for golfing, for gardening, for relaxing with drinks on the patio and talking for hours. She was so compassionate and could truly see the good in everyone. When we were growing up, she worked as a registered nurse and often brought home little gifts from patients and their families that she had cared for. She left such an impression on the people she met and this was especially obvious at her memorial, where we were just blown away by the amount of people who attended that had worked with her years, even decades ago. The stories people were generous enough to share with us about our mom were so beautiful- they were such a gift and helped to propel us through that surreal day.
Last year at this time, as we moved through the chaos and fog immediately following Mum's death, I began to see bright yellow billboards all over town stating that '11 Edmontonians attempt or die by suicide per day'. As it turns out, each year, over 50 countries recognize September 10th as World Suicide Prevention Day. So soon after losing my mother this way, the subject of suicide was the only thing on my mind apart from the endless 'Why?'s. This campaign's timing was bananas.
I quickly learned the ads were promoting 11 of Us, a resource portal developed as part of Living Hope: A Community Plan to Prevent Suicide in Edmonton. The Living Hope initiative was developed by a committee of individuals and organizations dedicated to preventing suicides in Edmonton. The plan's objectives include raising awareness and making education on mental health and suicide prevention available to Edmontonians, in most cases free of charge.
Over the past year, I've taken advantage of this initiative and attended excellent courses provided by Living Hope stakeholders including Mental Health First Aid (Basic Course), Safe Talk, Question, Persuade, Refer (QPR), Applied Suicide Intervention Skills Training (ASIST), and Trauma Informed Care. Through these courses I have been lucky enough to meet and share my story with so many kind, compassionate and interesting people, whether they were the ones delivering the course or learning alongside me.
Of course COVID-19 has changed everything. Most of these courses are now offered online, including one I have yet to take called LivingWorks Start which teaches trainees to recognize when someone is thinking about suicide and to connect them with help and support. While many of us are dealing with screen-fatigue, please don't let the idea of one more online session deter you. Most courses don't require more than an hour, but the information you'll learn really could help keep someone with us.
This past year has been the hardest of my life, yet I've been encouraged and inspired by the work and efforts of so many as I try to gain peace and a better understanding of my family's experience. It goes without saying that suicide is a difficult topic- I've come to learn that nothing sucks the air out a room quite like the mention of it. It's much easier to look away, but for World Suicide Prevention Day this year, if your own mental health allows for it, take a moment to read about the experiences of suicide attempt survivors, caregivers, suicide loss survivors, and those at risk of suicide.
We live in a new world now and we're going to need each other more than ever. Like another one of those big yellow 11 of Us billboards I saw recently said, 'There's rarely been a more important time to check in with one another.'
WHERE TO GET HELP
Call 911 if someone is in immediate danger of becoming injured or dying.
In Edmonton: Call The Canadian Mental Health Association's (CMHA) Edmonton Distress Line 24/7 at (780)-482-4357 (HELP)
In Red Deer & across Alberta: Call the Mental Health Help Line at 1-(877)-303-2642
In Calgary: Call the Distress Centre Calgary's Crisis Line 24/7 at (403)-266-4357 (HELP)
Qatar, Norway and 'The Trouble with Canada'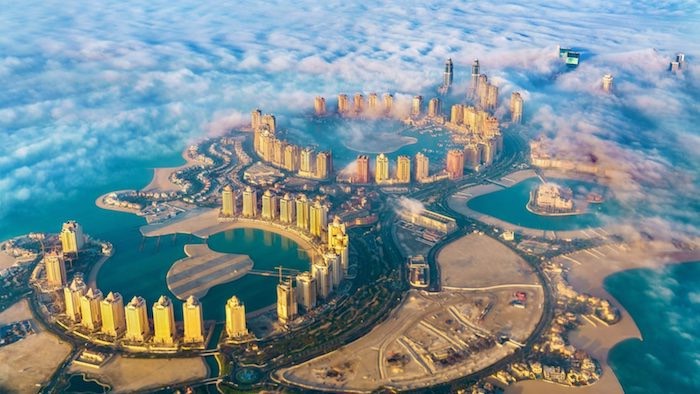 From the Canadian Energy Centre Ltd.
By David Yager
Resource developers in Canada face unique geographical, jurisdictional, regulatory and political obstacles
That Germany has given up on Canada to supply liquefied natural gas (LNG) and instead signed a massive multi-year LNG purchase agreement with Qatar has left many angry and disappointed.
Investment manager and perennial oil bull Eric Nuttall recently visited Qatar and Saudi Arabia and wrote an opinion piece for the Financial Post titled, "Canada could be as green and wealthy as Qatar and Saudi Arabia if government wakes up – Instead of vilifying the oil and gas sectors, Canada should champion them."
Nuttall described how Saudi Arabia and Qatar are investing their enormous energy wealth to make life better for their citizens. This includes decarbonizing future domestic energy supplies and making large investments in infrastructure.
Nuttall concludes, "Why is it that Qatar, a country that embraced its LNG industry, has nearly three times the number of doctors per capita than Canada? We can do it all: increase our oil and natural gas production, at the highest environmental standards anywhere in the world, thereby allowing us to help meet the world's needs while benefiting from its revenue and allowing for critical incremental investments in our national infrastructure…This could have been us."
The country most often mentioned that Albertans should emulate is Norway.
Alberta's Heritage Savings and Trust Fund has been stuck below $20 billion since it was created by Premier Peter Lougheed in 1976.
Norway's Sovereign Wealth Fund, which started 20 years later in 1996, now sits at US$1.2 trillion.
How many times have you been told that if Alberta's politicians weren't so incompetent, our province would have a much larger nest egg after 47 years?
After all, Canada and Alberta have gobs of natural gas and oil, just like Qatar and Norway.
Regrettably, that's all we have in common.
That Qatar and Norway's massive hydrocarbon assets are offshore is a massive advantage that producers in the Western Canada Sedimentary Basin will never enjoy. All pipelines are submerged. There are no surface access problems on private property, no municipal property taxes or surface rights payments, and there are no issues with First Nations regarding land claims, treaty rights and constitutional guarantees.
Being on tidewater is a huge advantage when it comes to market access, greatly reducing operating and transportation costs.
But it's more complicated than that, and has been for a long time. In 1990, Olympic athlete and businessman William G. Gairdner wrote a book titled, "The Trouble with Canada – A Citizen Speaks Out." It takes Gairdner 450 pages to explain how one of the most unique places in the world in terms of resource wealth and personal and economic opportunity was fading fast.
That was 33 years ago. Nothing has improved.
As I wrote in my own book about the early days of settlement and development, citizens expected little from their governments and got less.
Today politics increasingly involves which party will give the most voters the most money.
The book's inside front cover reads how Gairdner was concerned that Canada was already "caught between two irreconcilable styles of government, a 'top down' collectivism and a 'bottoms-up individualism;' he shows how Canadian society has been corrupted by a dangerous love affair with the former."
Everything from the constitution to official bilingualism to public health care were identified as the symptoms of a country heading in the wrong direction.
But Canadian "civil society" often regards these as accomplishments.
The constitution enshrines a federal structure that ignores representation by population in the Senate thus leaving the underpopulated regions vulnerable to the political desires of central Canada. This prohibited Alberta's closest access to tidewater for oil through Bill C48.
Official bilingualism and French cultural protection has morphed into Quebec intentionally blocking Atlantic tidewater access for western Canadian oil and gas.
In the same country!
Another election will soon be fought in Alberta over sustaining a mediocre public health care system that continues to slide in international rankings of cost and accessibility.
What's remarkable about comparing Canada to Norway or Qatar for missed hydrocarbon export opportunities is how many are convinced that the Canadian way of doing things is equal, if not superior, to that of other countries.
But neither Norway or Qatar have the geographical, jurisdictional, regulatory and political obstacles that impair resource development in Canada.
Norway has over 1,000 years of history shared by a relatively homogenous population with similar views on many issues. Norway has a clear sense of its national identity.
As a country, Canada has only 156 years in its current form and is comprised of Indigenous people and newcomers from all over the world who are still getting to know each other.
In the endless pursuit of politeness, today's Canada recognizes multiple nations within its borders.
Norway and Qatar only have one.
While relatively new as a country, Qatar is ruled by a "semi-constitutional" monarchy where the major decisions about economic development are made by a handful of people.
Canada has three layers of elected governments – federal, provincial and municipal – that have turned jurisdictional disputes, excessive regulation, and transferring more of everything to the public sector into an industry.
Regrettably, saying that Canada should be more like Norway or Qatar without understanding why it can't be deflects attention away from our challenges and solutions.
David Yager is an oilfield service executive, oil and gas writer, and energy policy analyst. He is author of  From Miracle to Menace – Alberta, A Carbon Story. 
Oilers' offence lowers the boom on Blackhawks in 7-3 win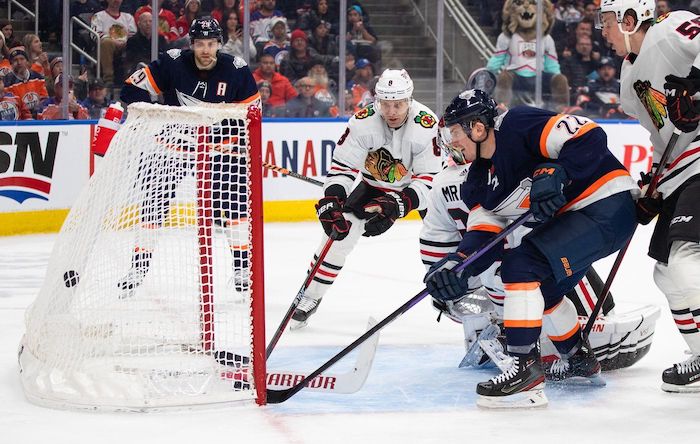 By Shane Jones in Edmonton
The Edmonton Oilers didn't leave anything in the tank before their all-star break hiatus.
Tyson Barrie scored a pair of goals as the Oilers headed into a nine-day break in the schedule on a winning note, coming away with a 7-3 victory over the lowly Chicago Blackhawks on Saturday.
"I thought we responded really well after a tight game against Columbus (Wednesday) where we only got one point against them (3-2 overtime loss)," Oilers forward Zach Hyman said. "I thought we played well and got the two points and we're feeling good going into the break."
Leon Draisaitl, Connor McDavid and Zach Hyman each had a goal and two assists, and Evander Kane and Ryan McLeod also scored for the Oilers (28-18-4) who have gone 7-0-1 in their last eight games leading into a break that sees them idle until Feb. 7.
"We took (the game) over in the second period, but there were still a couple of things I'd like to clean up," Oilers coach Jay Woodcroft said. "But our team is 10-3-2 since the Christmas break and you couldn't script it better for us. I think we've taken a step here, it's a credit to our players."
Jason Dickinson, Jonathan Toews and Taylor Raddysh replied for the Blackhawks (15-29-4) who have lost three of their last four and entered the night sitting in second-last place in the NHL.
"We had a great start, but we maybe just stopped skating a little bit from what we had done in the first," said Blackhawks veteran Patrick Kane. "It would have been nice to control it a little more in the second, those are usually make-or-break periods."
Despite Saturday's drubbing, Chicago still managed to win seven of their last 11 games. They are now off until Feb. 7.
"It is tough losing the last game before a break, but I feel like we have taken a big step in the last month and have been building on our game in all areas with every line chipping in at different moments," Raddysh said. "That is what we are going to need the rest of the way and we have to keep giving it our all every night and keep getting better."
Chicago had a glorious early chance when Andreas Athanasiou was sent in on a clear breakaway, but he bobbled the puck and was unable to get a shot on Oilers starter Jack Campbell.
The Oilers took the lead 5:20 into the first period on a power-play goal as Chicago goalie Petr Mrazek reached out to deflect a Barrie point shot, but it instead caromed off of his blocker and down into the net. Edmonton captain McDavid picked up an assist to give him points in 12 straight games and 29 of his last 30.
Dickinson tied the game 5:25 into the middle frame as he scored his seventh on a partial breakaway after picking up a backhanded feed through the slot from Patrick Kane.
Edmonton's lethal power play put them back in front just over a minute later as McDavid sent a nifty backhand return pass from behind the net to Draisaitl, who beat Mrazek for his 29th of the season.
The Oilers surged ahead with a pair of goals less than a minute apart with about eight minutes to play in the second period. Barrie scored his second goal of the game and seventh of the season after Hyman tipped a shot that trickled behind the Blackhawks goalie, allowing him to sweep in and whack it into an empty net.
McDavid then scored his league-leading 41st of the season, wheeling out from behind the net before elevating a beauty of a backhand shot past Mrazek.
Hyman picked up his third point in a 2:33 span a minute-and-a-half after that, smacking home the rebound of a McLeod shot for his 26th of the campaign. Hyman has now scored in five consecutive games.
Chicago got one back on the power play as Patrick Kane sent a perfect feed in front that Toews tipped past Campbell for his 14th.
However, Edmonton answered back just 12 seconds later as an egregious turnover allowed Draisaitl to make a one-touch pass to Evander Kane, who rifled home his first goal since returning from having his wrist sliced open by a skate blade.
McLeod made it 7-1 with eight minutes to play as his shot was deemed to have crossed the line before defender Seth Jones could bat it out, even though play went on for a while before the horn sounded.
The Blackhawks made it look better with five minutes left as Max Domi took advantage of a giveaway to send Raddysh in to score his 14th on a nice deke.
NOTES
Oilers netminder Stuart Skinner came down with a sudden illness, forcing them to activate emergency backup goalie Matt Berlin, a player from the University of Alberta Golden Bears. With their big lead, the Oilers put him in net with 2:26 to play, saving the only shot he faced. … Oilers forward Kane returned to the lineup after missing the last game while dealing with his bankruptcy case. As a result, James Hamblin was returned to Bakersfield of the AHL. … Out with injuries for Edmonton were Kailer Yamamoto (undisclosed) and Ryan Murray (back). … Chicago also had a prominent forward return as Toews was back after missing the last game with an illness. … The Hawks were without Tyler Johnson (ankle), Jarred Tinordi (facial fracture), Jujhar Khaira (back) and Alex Stalock (concussion). … McDavid became the first Oilers player with 50 assists in seven straight seasons since Jari Kurri (between 1982 and 1990) and the first player in the NHL with 40 goals and 50 assists in 50 or fewer games since Jaromir Jagr and Mario Lemieux both did it in 1995-1996.
UP NEXT
Both teams enter into lengthy breaks, with neither returning until Feb. 7.
This report by The Canadian Press was first published Jan. 28, 2023.