This article originally appeared on The Creative Hive Blog on May 15, 2019.
Season Of Hope Fundraiser: A Fine Art, Fine Jewellery, and Fashion Show
Spring is the ultimate season of hope…right? Seeds get planted and there is anticipation about what will grow, how it will grow and how strong the roots will be to steady it when life comes roaring through. Having hope or being in a season of hope is powerful for Sonja Deklerk. It means there is a future and it means there is a chance for beauty to shine brightly.
Sonja exudes kindness…it was flowing from her the first time we met and I instantly knew she was special. She like so many others popped in to The Creative Hive to see what was going on, but with an idea it may be the right space to host her upcoming Fashion & Art show. That was it. I was wrong about that because it was the beginning of getting to know a person who is inspiring in most everything she does. I hope in the next few paragraphs I can give you some insight in to the inner workings of this Mom, Wife, Creative Soul, Artist, and Entrepreneur who has her own story to tell.
There was a slight chuckle when Sonja described how long art has been an important part of her life and she clearly remembers selling her drawings on the corner in her cul-de-sac at 4 years old. Sonja has never been scared of sharing her art…actually she says it's the most rewarding thing in the world when you see an idea or concept come to life. For the most part, Sonja describes herself as a very joyful person, but there is another side of her…depression. It's that side of her she is most nervous to share, but confidently admits "there is a part of me that is good…a part that is bad…the healthy and the sad…it's all me."
There is an innate strength in standing up and sharing your story. Sonja shares hers to help connect her to the community and wants to be an example or advocate to anyone else who struggles with depression. She first noticed something in grade 6 when she suffered long stretches of not feeling right and not sleeping . By 14, she was seeing a doctor, but it wasn't until after her second child was born at 22 years old, Sonja was diagnosed as bipolar.
The diagnosis wasn't all bad…it gave some answers to everything she was thinking and feeling, but at the same time Sonja says she still very strongly felt it was her fault. That if she just tried harder or was more positive she would be able to manage this. The diagnosis was hard on her entire family…her husband was still a student and they had a one year old son and a newborn. Then her dad passed. It all added up to Sonja realizing she had to get up and share to save her life. She had to reach out.
While she knew that, the feeling of isolation was strong. She explains she felt like she didn't belong and the negative self talk was overwhelming. It came to a point where she attempted suicide. She was in the ICU for a week. Family came to say their goodbyes. It was touch and go and when she came out of it she was low enough to be admitted on the psychiatric unit. She had extreme guilt that she had attempted suicide and says she just wanted to shrivel up and isolate herself because she was too afraid to face the world. Sonja says matter-of-factly that there is no way to sugar coat this… it happened, but at the lowest of lows she found the strength to fight her way back. Her strength came from talking. Sharing her story and opening up about what she struggles with each and every day.
That isn't the end of the story. It does't just stop there. For Sonja some days are great, some days are okay and some days are awful. It's how she deals with each and takes care of herself that allows her to continue to move forward and live her life to the fullest.
Her online blog sharing her journey back to health allowed her to connect with a supportive group that she could also help. In the past 7 years her mission has bent advocate for mental health breaking down the stigma through art, singing and writing.
Her show The Seasons of Hope is happening at The Creative Hive on Saturday, June 22. It's a collection of very joyful pieces and the unveiling of a new style of painting Sonja has fallen in love with. It's also a showcase of her jewelry pieces that she's crafted for more than a decade. The latest line with inspirational messages…affirmations you can touch daily to make you feel stronger.
Sonja says it's important for her to make sure people know they matter. Just by your very nature you are a living breathing soul with value. Believe in yourself. Have the confidence and courage to seek help or help others. Life is better when you surround yourself with love. Life is better with hope.
Learn more about Sonja Deklerk here.
Get tickets to Season of Hope here.
Alberta's 2022 Lt. Governor Emerging Artists Named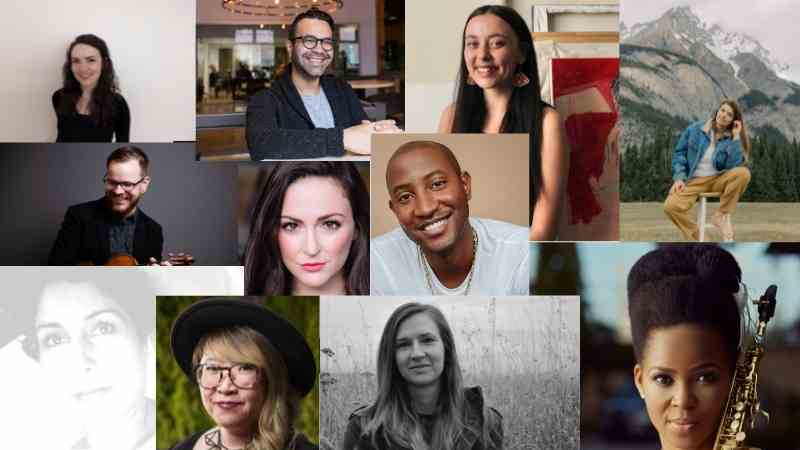 Alberta's 2022 Lt. Governor Emerging Artists Named
The Lieutenant Governor of Alberta Arts Awards Foundation announces awards totaling $110,000 to the 11 recipients of its 2022 Emerging Artist Award.
"When economic times are tough, our artists are particularly vulnerable," says Foundation Chair, Arlene Strom. "We are thrilled to invest $110,000 this year in advancing the careers of these outstanding artists at the early stages of their professional development."
2022 Emerging Artist Recipients:
Perpetual Atife Saxophone, Calgary
Vicki Chau Filmmaker, Calgary
Arlan Vriens Violin, Edmonton; Toronto
Eden Tremayne Soprano, Calgary
Omar Mouallem Writer, Edmonton
Trina Moyles Writer, Peace River
Kiona Ligtvoet Visual Arts, Edmonton
Tenaj Williams Actor, Calgary
Ally McIntyre Visual Arts, Edmonton
Moni Brar Writer/Poet, Calgary
Nahanni McKay Visual Arts, Banff
The Award's patron, Her Honour, the Honourable Salma Lakhani, Lieutenant Governor of Alberta AOE, B.Sc., LLD (hon) awarded the 2022 Emerging Artists at a celebration hosted by the County of Lac La Biche and Portage College on June 10, 2022. Each awardee receives a $10,000 cash award, a handcrafted medal and a certificate.
The 11 recipients were selected from 140 applications in an adjudication process overseen by The Banff Centre. The adjudication panel included: Darren Fung, renowned composer based out of Los Angeles, originally from Edmonton; Sean Caulfield, artist and Centennial Professor in the Department of Art & Design at the University of Alberta; Patricia Darbasie, Alberta actor, director and educator; Jenna Butler, 2014 LG Emerging Artist, award-winning author and educator; Derek Beaulieu, Jury Facilitator, Director of Literary Arts at the Banff Centre.
For more information on the awardees visit artsawards.ca
Who are the 2022 Emerging Artists?
Perpetual Atife Saxophonist, Calgary: Perpetual Atife is retelling African stories and music through her practice as a jazz saxophonist and songwriter. Her entrepreneurial spirit and energy are as impressive as her skills as a band leader and performer. The aural tapestry she creates combines her Nigerian roots and the realities she exists in today. Her debut album, a collection of her journey through instrumental music, spoken word and vocal music, is due to be released in the Fall of 2022.
Vicki Chau Filmmaker, Calgary: Vicki Chau is a filmmaker and media artist based in Calgary. Her two short films Pulled Strings and Hearth of the Lion capture a slice of her Chinese-Vietnamese heritage in a beautiful lyrical way. Her family and cultural identity have been a core inspiration in her artistic practice and help her to promote the appreciation of both Chinese and Vietnamese culture through a uniquely Canadian perspective. She was selected for the WarnerMedia Access Festivals Program at Toronto's Reelworld Film Festival in 2021.
Arlan Vriens, Violin, Edmonton/Toronto: Arlan Vriens is an Edmonton-born classical violinist noted for his ability to evoke strong, emotional performances with difficult, contemporary repertoire that pushes the boundaries of what the instrument was designed to do. Equally at home performing newly-written contemporary works or rediscovering long-lost violin techniques, Arlan is committed to nurturing and critiquing classical music as a living, evolving practice. His chamber music and solo violin projects have been supported by the Canada Council for the Arts and the arts councils of Alberta, Ontario, and Newfoundland.
Eden Tremayne Soprano, Calgary: Eden Tremayne delivers an authenticity and emotional strength that is impressive to see in an emerging opera singer. A soprano with both a strong technical facility and range, she is noted for her stirring performances. For the past three seasons, Ms. Tremayne has been a McPhee Artist with Calgary Opera. She had her Calgary Opera mainstage debut In the 2019-2020 season as Clotilde in Bellini's Norma and covered Musetta in Puccini's La bohème. Tremayne was previously featured as an Apprentice Artist with the San Diego Opera and a Yulanda M. Faris Young Artist with Vancouver Opera.
Omar Mouallem Writer, Edmonton: Omar Mouallem has established himself as a talented young journalist and filmmaker to watch. With the arrival of his important new book of non-fiction, Praying to the West: How Muslims Shaped the Americas, he's an important voice in Canadian literature with a long career ahead. A second-generation Canadian born and raised in Northern Alberta's Muslim Lebanese community, Mouallem has become known for his ability to intertwine human interest stories with world history and broad social issues. Omar co-authored the national bestseller Inside the Inferno: A Firefighter's Story of the Brotherhood that Saved Fort McMurray and co-directed Digging in the Dirt (with Dylan Rhys Howard), a raw look at the psychological toll of oil and gas labour.
Trina Moyles Writer, Peace River: Trina Moyles blends journalistic knowledge with literary expertise and a love for the land. She grew up in the northern community of Peace River, Alberta (Treaty 8), where she spent much of her childhood immersed in the boreal forest. Moyles's first book, Women Who Dig: Farming, Feminism, and the Fight to Feed the World was published in 2018 by the University of Regina Press. Her second book, a memoir and frontline reportage on the increasing prevalence of wildfire in North America, Lookout: Love, Solitude, and Searching for Wildfire in the Boreal Forest, was published in 2021 by Penguin Random House Canada. Lookout won a National Outdoors Book Award in 2021 and has recently been nominated as a finalist for the 2022 Robert Kroetsch City of Edmonton Book Prize and a finalist for the Memoir Award at the 2022 Alberta Literary Awards.
Kiona Ligtvoet Visual Arts, Edmonton: Kiona Ligtvoet looks to experiences with family and the land they live and work on to create paintings, prints and installations that function as both a personal archive, as well as non-linear storytelling. Kiona grew up west of Edmonton near the hamlet of Calahoo where she lived with her moshom and relatives on scrip land. Her family lines are Cree and Métis descending from Michel First Nation, as well as Dutch/ mixed European. Kiona works in painting, printmaking and drawing, recollecting personal stories of grief and tenderness. Most recent exhibitions have been sahkitok mistahi at Ociciwan Contemporary Art Centre (2021), and her solo show, These Are the Things at Latitude 53 (2021). She is currently writing her debut graphic novel We Were Younger Once (2022).
Tenaj Williams Actor, Calgary: Tenaj Williams has built on his community theatre experiences to create a provincial and national footprint as an actor, professionally performing on stages in Alberta and across the country. He has recently branched out into film and television landing roles on various TV series, most prominently the hit CTV comedy show, JANN. Tenaj hopes to further advance his work in the arts and be instrumental in helping to create and foster safe, and brave spaces for diverse and emerging artists. He plans to develop his skills as a director and learn more about theatre production and management.
Ally McIntyre Visual Arts, Edmonton: Ally McIntyre creates bold, powerful paintings that combine passages of abstraction with naturalistic imagery, and which contain moments of aggressive and expressive mark-making, alongside more introspective, sensitive passages of drawing. This blending of visual languages results in highly compelling imagery that fosters unexpected narratives and poetic associations for viewers. Bold and assertive, her works question the prevailing gendered association of large-scale art and expressionism. In 2015, McIntyre was awarded the HIX Award 2015 presented by Tracey Emin and the Jealous Prize 2015. Exhibits include various galleries in London, UK, The Original Print Fair at the Royal Academy, The London Art Fair, Start Art Fair and Art Toronto. She was a finalist in the RBC national painting competition (2018). Her solo exhibition 'Dog Day Circus' was featured at the Saatchi Gallery in London, UK (2022). Her work can be found in private collections in Australia, Asia, Europe, and North America.
Moni Brar Writer/Poet, Calgary: Moni Brar has published in many of the most respected journals in Canada and received a number of the top writing awards. A Punjabi Canadian writer exploring diasporan guilt and intergenerational trauma, she is poised to make major contributions to the literary arts in Canada. She has been nominated for the Pushcart Prize and multiple Best of the Net awards and was the winner of the SAAG Arts Writing Prize, runner-up in PRISM international's Grouse Grind Prize, honourable mention in Room magazine's Poetry Prize, and a finalist in the Alberta Magazine Awards and the Subnivean Awards. Her work can be found in Best Canadian Poetry 2022, the Literary Review of Canada, Passages North, Prairie Fire, Hobart, and the League of Canadian Poets' "Poem in Your Pocket" postcard series.
Nahanni McKay Visual Arts, Banff: McKay's creative practice utilizes photography, digital media, as well as performances in the landscape to explore pressing questions related to environmental change. The work often considers the ways landscape and animals have been depicted historically, particularly in the context of national parks, in order to investigate the complex interrelationship between colonial power structures, identity and ecological degradation and loss. Nahanni uses her photography to bring awareness of the need to coexist with wildlife to prevent further harm to the land we reside on. Exhibits include Personal Structures Exhibition, European Cultural Centre, Venice, Italy (2022), Loop 14, Alberta Foundation for the Arts Travelling Exhibition (2020), EXPOSURE Photography Festival Emerging Artists Showcase, Contemporary Calgary and more.
About The Awards
Founders Fil Fraser, Tommy Banks, John Poole and Jenny Belzberg established the Lieutenant Governor of Alberta Arts Awards Foundation in 2003 to celebrate and promote excellence in the arts. The endowments they established were created with philanthropic dollars and gifts from the Province of Alberta and the Government of Canada. Since its inception in 2003, the Foundation has awarded $1,430,000 to 23 Distinguished Artists and 74 Emerging Artists, all Alberta affiliated. The Foundation administers two awards programs: The Emerging Artist Awards program, established in 2008, gives up to 10 awards of $10,000 each to support and encourage promising artists early in their professional careers. Emerging Artist Awards are given out in even years. The Distinguished Artist Awards program, begun in 2005, gives up to three awards of $30,000 each in recognition of outstanding achievement in, or contribution to, the arts in Alberta. Distinguished Artist Awards are given in odd years.
Edmonton company releases a world first NFT project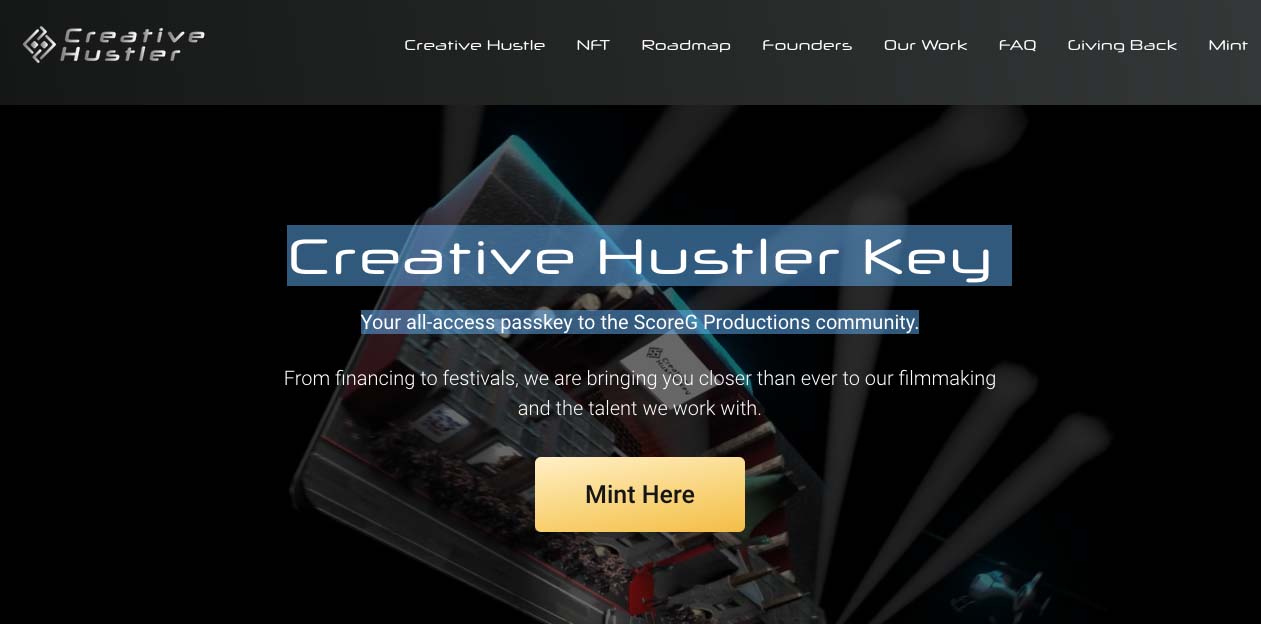 Edmonton based; Score G Productions, launched a first of its kind in the world NFT (non-fungible token) project on April 17th. It's called, Creative Hustler Key. Creative Hustler Key gives buyers through a one-time payment, a lifetime all-access passkey to the Score G Productions. This includes access to a full community of content producers, executive producers, exclusive 3-D NFT artwork, exclusive videos, and even monthly members only access to online workshops featuring creative content producers from around the world. The Creative Hustler Key NFT even offers chances to win access to live in-production sets, access to their studios during editing and post-production, and chances to win tickets and trips to future red-carpet movie premier events. There's more in the works too. Basically, buyers will get access to Score G Productions' impressive Rolodex and industry knowledge.
There are only 999 pass keys for sale, once gone, it will never be expanded, with the promise of no copycat versions of this Creative Hustler Key to ever be started by their team.
We asked Score G Productions founder, father of three, married to his high school sweetheart, Edmonton based Adam Scorgie why he'd take on such a huge undertaking when they are already successful in the film production industry? Scorgie replied, "We get calls, emails and social media posts asking us to help people all the time. People approach us at public events, asking for mentorship, internships, contact access, script readings, it is all kind of overwhelming." Continuing, "I wish I had people I could have called when I was starting out. I knew what I wanted to do, but I knew no one and knew nothing." Explaining, "This is our pay it forward move. I want to help as many people as possible, in any way I can."
A huge personal belief for Scorgie is explained, "I like to do things in and as a team; this will be a world's first team like this. Extremely unique."
The now, world-wide known and highly respect filmmaker with an extensive library of finished and in-production projects never planned on being a film producer, he in fact, never went to film school. He did however, go to acting school in New York and had credits in voice, as dancer, movie and soap opera acting credits. Things were looking up and moving along nicely.
But then his father, Buddy, got sick, very quickly. At 23, he dropped his dreams of Hollywood fame and fortune, moving back to Kelowna where he was born and raised to take over his dad's business, Cheetah's Show Lounge & Bar. Kelowna's only stripper bar. "I went from 23 to 35 in like six months!" the forced adult entertainment entrepreneur said.
His father passed away after a short health battle.
Then things got "really tough". A lawsuit was filed against his father's estate, he had a new partner in the business. While he tried to keep the clothes on his own back and his business afloat; Adam noticed a lot of his patrons, high school friends, same age as himself with cash pouring out of their pockets and stacked high on their tables in the VIP section. They all had 70+ thousand-dollar trucks, 50k Harleys, houses and more. He asked them, what the hell they were all doing to become so rich, so fast? They all said, "We are in the Union, you should join us."
This was in the height of the multi-billion-dollar BC Bud days. The "Union" was code for underground pot grower for organized crime rings being done at arm's length. While Adam admits, he did come close to joining the "Union", he ended up selling his share in the stripper club and put every last cent he had, plus some extra money borrowed from his stepdad into making a full-length documentary movie with his new partner, Vancouver director Brett Harvey. The film was called, The Union: The Business Behind Getting High and it quickly gained a cult following around the world.
And the rest is history! If only it was that easy. Scorgie laughs while reminiscing, "People said I was nuts. I have heard that a lot over the years, especially for just living in Edmonton and not Hollywood."
He fully expects people to say this again about this unique NFT rollout. Being young and ahead of the curve is nothing new for Adam and his team. Scorgie expands, "We didn't have any money for PR marketing firms or to pay agents to promote us. So, we did it all on Facebook and other social media platforms." Continuing, "We had 1.2 million followers on Facebook alone. "Today every production has huge teams of social media specialists, with very expensive detailed marketing plans for social media promotions long before any production even gets close to post-production."
Scorgie remembers one meeting with Hollywood executives when they were shopping a world-wide release of the final cut of the Union. One said, "Oh isn't that cute, you have a Facebook page." Then they saw the Union page had over a million followers for the indie production. Adding, "That got their attention. No one is laughing at us anymore." Finishing, "And years from now, no one will be over this new NFT project."
One of Scorgie's closest friends and partner in Score G Productions, Shane Fennessey, explains more about the Creative Hustler Key project, "There is nothing in the world like what we just launched by offering a real, hands-on community of successful high-quality, award-winning professionals from the film production industry." Adding, "NFT's are known for exclusive digital images and video, yes with us you still get exclusive 3-D images that took months to produce and exclusive videos with the purchase of these keys." Continuing, "What is truly different and very exciting is that this is a utility driven NFT project, a place where professionals will collaborate. It has long-term value too. We are young. As long as we are a business, these keys never expire" Adding, "There are no annual renewal fees, you own the Keys, you can sell them for the going price any time in the future, you can even add them to your estate, they are yours."
Expanding on the added values of the only 999 keys available, Fennessey says, "We know how to apply for grants, we know where the grants are, we know how to fund-raise for the next project." Continuing, "We know all the tax credits and other forms of how to finance projects. We are going to share all of this and even more knowledge that we have about this industry."
In closing Fennessey said, "We love the idea of opening doors for new young Creative Hustlers." Asked if it will it sell out, "Most likely and very quickly we expect, with no outside advertising or media coverage 10% of the 999 keys sold in just the first 2-hours of the Sunday release."
Details for how to get involved can be found here; https://creativehustlerkey.com/
Score G Production's main catalogue;