Coronavirus invasion of major league baseball was bound to happen sooner or later
Well, we knew something like this coronavirus invasion of major league baseball was bound to happen sooner or later. Now, all we can do is hope that other sports organizations do not go through similar messes.
But don't bet against it happening somewhere else, and soon.
My guess from the beginning was that baseball would be first on the list of pending and potential disasters. Operating without the semblance of a safety "bubble" was accurately described as  either arrogant or foolhardy — of course all players would avoid mingling in the public or attending places where individuals sing or dance or cavort in nameless ways.
Hockey, so far, owns the biggest safety record: thousands of tests and no positive findings. In addition, few of the NHL's players have openly elected to step away from the test, quarantine and isolate-when-necessary philosophy introduced by commissioner Gary Bettman, whose political instincts have ranked him among the least popular and most effective leaders in the sport's history.
In a Bettman-directed universe, favoured hockey stories would all be politically correct, linked only to hard-fought victories, lovable team pets, young children and well-publicized contributions to charity by league, franchise or a smiling individual.
Today, it is obviously unfair to take offence at his quiet-at-all-cost stance. As long as occasional players choose to come forward when COVID-19 affects them, much of the media, and therefore most of the dedicated, banner-waving outsiders will be content with whatever information becomes public.
No such refuge is possible for baseball, despite the good fortune provided when Canadian decision-makers ruled against the possibility that U.S teams could cross a mostly-locked border and fly freely through our land for as long as necessary to complete a 60-game season and possible playoff games. Try to imagine the fuss that would be brewing at this moment if anyone who had been within reach of the Miami Marlins was scheduled to land at Pearson Airport in Toronto any time in the near future!
On Tuesday, it was reported that four more Marlins had been found with the infection, bringing the team total to 17; two coaches and 11 players were infected previously. At least half-a-dozen games have been cancelled or postponed, with more schedule changes expected.
Predictably, players who first objected to the baseball plan to operate without clear protection spoke out quickly. Los Angeles Dodgers lefthander David Price was among the first to remove himself from the season.
"Now we'll really get to see if baseball is going to put players' health first," he said. "Part of the reason I'm at home right now is because players' health hasn't been put first."
Washington manager Dave Martinez, whose Nationals are in a four-game home-and-home series with the Toronto Blue Jays, also commented: "My level of concern has gone from an eight to about a 12. I'm going to be honest with you: I'm scared."
"Cheer up, things could be worse." So, we cheered up. Things got worse.
"The elephant in the room is early treatment works." Doctor testifies covid can and should be treated.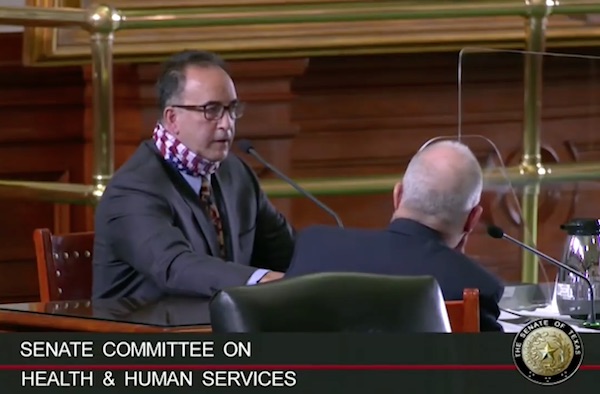 In the early months of the covid pandemic, doctors were unwilling to use what they felt, and what they were told would be ineffective, experimental drugs to treat their patients.  But Houston Doctor Richard Urso refused to send his patients away without trying to help.  Dr. Urso was an early proponent of drugs which became controversial in the media.  He was accused by three of the patients he successfully treated, of malpractice.  It took months, but eventually the Texas Medical Board dismissed the charges and stated the treatment offered by Dr. Urso was in fact, appropriate.  Urso has yet to lose a single patient to covid.
In March, Dr. Urso was invited to testify as the Texas Senate Health and Human Services Committee examined how that state's medical system approached the covid challenge.
Within two days of this testimony (March 10) the Texas Senate introduced legislation to mandate information on early treatment be provided to every positive covid-19 patient.  The key now is for doctors to act.
Click below to see another remarkable testimony from Dr. Peter McCullough.
There's another way to end the pandemic. Doctors can knock covid out with treatment
Canada to get 1 million vaccine doses this week with only Pfizer delivery scheduled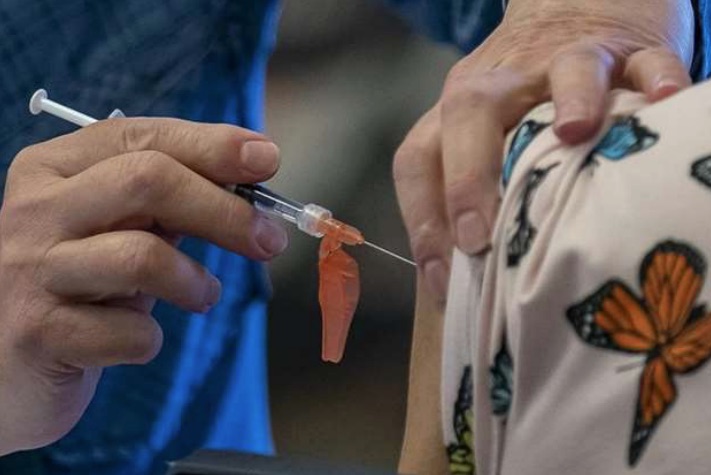 OTTAWA — The recent flood of COVID-19 vaccine doses into Canada is expected to wane this week, with a little more than 1 million shots scheduled for delivery over the next seven days.
Canada has fielded vaccine deliveries from various pharmaceutical firms in recent weeks amid dramatic spikes in COVID-19 case counts across the country.
Yet the Public Health Agency of Canada says the only shipment expected this week will come from Pfizer and BioNTech, which have been consistently delivering more than 1 million doses each week since March.While Canada received more than a million combined doses of the Moderna and Oxford-AstraZeneca vaccines last week, the Public Health Agency is not expecting any of either over the next seven days.

Moderna, which delivers shots every two weeks, is scheduled to ship more than 1.2 million doses to Canada the week of April 19.

Canada has also approved a vaccine produced by Johnson and Johnson, but it is not clear when the first of those doses will be delivered.

The federal government is hoping this week's lull in deliveries will be the exception, with Public Procurement Minister Anita Anand promising on Friday that millions more shots are on their way in the coming weeks and months.

"We are accelerating rapidly in terms of our deliveries," Anand said. "We have moved 22 million doses from later quarters to earlier quarters in the year, including … 44 million doses expected prior to the end of June."

The rush to get vaccines into Canadians' arms has grown more urgent as Canada continues to see a massive spike in the number of new COVID-19 infections.

Thousands of new cases were reported on Sunday, including a record 4,456 in Ontario alone. Dr. Theresa Tam, the country's chief medical health officer, noted admissions to intensive care units surged 23 per cent last week compared to the one before and said the Canada is approaching the peak of the current pandemic wave.

Tam said many of those getting sick are younger than in previous COVID-19 surges, which experts have blamed on virus variants that are spreading across the country.

That has prompted some provinces to start looking at changes to how they are distributing their vaccines.

More than 10 million doses had been distributed across Canada as of Sunday afternoon, according to covid19tracker.ca, with nearly 8 million having been administered.

Almost 20 per cent of the population has received at least one shot.

This report by The Canadian Press was first published April 12, 2021.

Lee Berthiaume, The Canadian Press