Downtown Red Deer: safe, fun and open for business!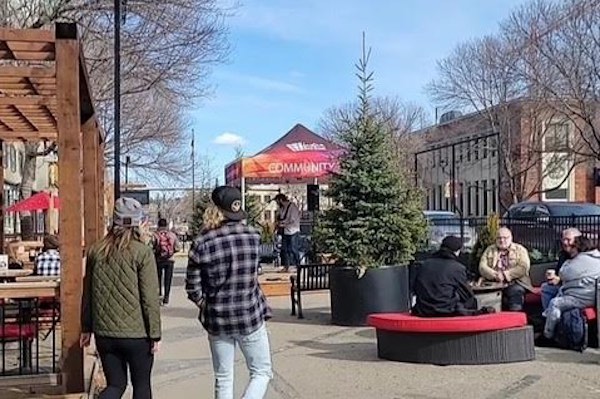 By Mark Weber
With summer just around the corner, downtown Red Deer is all the more bustling with fun events and even more local businesses to check out. But there are a few misconceptions about the area that persist, and that can even prevent some folks from visiting the city's increasingly vibrant core. "Downtown Red Deer has an always lot of good things going for it," explained Amanda Gould, executive director of the Downtown Business Association. "Sometimes, that is outweighed by the perception people have of downtown. "What we need to remember is all that has been happening downtown, what with the murals, the events, the alley upgrades – there are a lot of good things happening. And it's making it such a great destination to come and visit and to also set up your business," she added.
"We have seen, over the last year, an increase of 50 new businesses downtown. It's great news, and the downtown is a great place to go." As mentioned, however, certain misconceptions about the downtown area persist including that
there is a significant parking problem. "We absolutely do not have a parking issue," noted Gould. Visitors may not always be able to park directly in front of their destinations, particularly if they are in a facility with lots of other businesses and agencies, but there are typically plenty of places to park nearby if you are prepared for a short jaunt. "If you were to travel just a half a block down the street, or even a block down, you will find there are usually plenty of spaces. We are lucky that our downtown is walkable as well."
She also mentioned that some residents believe that downtown Red Deer is unsafe. "Again, this is a misperception – it's not the reality of it," she said. "We are so lucky as a neighbourhood downtown to have our own RCMP policing unit everyday – they chat with business owners and help them solve any safety issues they may come into contact with," she said. "There is a team of seven on that unit, and surely that makes downtown one of the safest places to be."
As to the surge in businesses, Gould noted that reasonable rents attract local entrepreneurs to launch ventures there as well – nicely adding to the growing variety of businesses in the area. It's yet another plus for Red Deer residents.
In the meantime, one of downtown's most prominent features – the Ross Street Patio – is really starting to liven up these days with the warmer weather and regularly scheduled musical performances. 'Music on the Ross Street Patio' is a free event and is open to all ages. Performances run from 4:30 –7:30 p.m. on show nights. Another annual favourite, the Downtown Market, kicks off on Wednesday, May 25. An accredited farmers' market, visitors are invited to come down and purchase all their fresh fruits and veggies between 3:30 and 6:30 p.m. each Wednesday. Live music on the Ross Street Patio is also a key feature on Wednesdays.
Gould added that Friday, May 27, is the official kick-off to summer on the Ross Street Patio. To celebrate, they have partnered with Sawback Brewing to introduce a limited-edition Ross Street Patio beer which is super exciting, she explained. "Free samples will be available at 5 p.m. that day (May 27). There will also be music and other activities. The special beer, featured at several downtown restaurants, will be available through the summer.
Looking into June, performances on the Patio will run on Wednesdays, Thursdays and Fridays. "Businesses are now opening up their patios – and we've got the music happening on the Patio, so we are really starting to see a lot more people coming down, spending some time outside and enjoying the live music that we are putting on," she said.
For more about the Downtown Business Association and all that is planned for the Ross Street Patio, find them on Facebook or visit www.downtownreddeer.com.
Air Canada denying passenger compensation claims for staff shortages, citing safety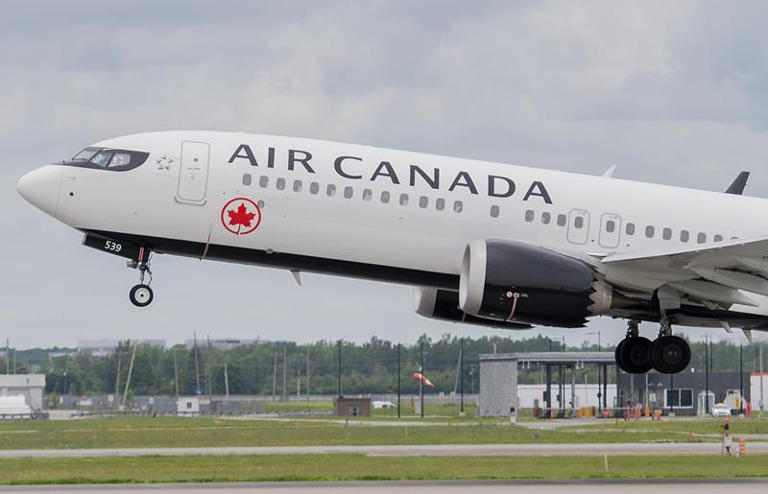 MONTREAL — Less than four hours before departure, Ryan Farrell was surprised to learn his flight from Yellowknife to Calgary had been cancelled.
Air Canada cited "crew constraints" and rebooked him on a plane leaving 48 hours after the June 17 flight's original takeoff time.
Farrell was even more surprised six weeks later, when he learned his request for compensation had been denied on the basis of the staff shortage.
"Since your Air Canada flight was delayed/cancelled due to crew constraints resulting from the impact of the COVID-19 pandemic on our operations, the compensation you are requesting does not apply because the delay/cancellation was caused by a safety-related issue," reads the email from customer relations dated July 29.
The rejection "feels like a slap in the face," Farrell said.
"If they don't have replacement crew to substitute in, then the flight (was) cancelled because they failed to assemble a crew, not because any other factor would have made it inherently unsafe to run the flight," he said in an email.
"I think the airlines are trying to exploit a general emotional connection that people make between 'COVID-19' and 'safety,' when in reality if you put their logic to the test it doesn't stand up."
Air Canada's response to Farrell's complaint was no outlier. In a Dec. 29 memo, the company instructed employees to classify flight cancellations caused by staff shortages as a "safety" problem, which would exclude travellers from compensation under federal regulations. That policy remains in place.
Canada's passenger rights charter, the Air Passenger Protection Regulations (APPR), mandates airlines to pay up to $1,000 in compensation for cancellations or significant delays that stem from reasons within the carrier's control when the notification comes 14 days or less before departure. However, airlines do not have to pay if the change was required for safety purposes.
The Canadian Transportation Agency (CTA), a quasi-judicial federal body, says treating staff shortages as a safety matter violates federal rules.
"If a crew shortage is due to the actions or inactions of the carrier, the disruption will be considered within the carrier's control for the purposes of the APPR. Therefore, a disruption caused by a crew shortage should not be considered 'required for safety purposes' when it is the carrier who caused the safety issue as a result of its own actions," the agency said in an email.
That stance reinforces a decision made July 8 — three weeks before Farrell learned he'd been denied compensation — when the CTA used nearly identical language in a dispute over a flight at a different air carrier. The regulatory panel's ruling in that case emphasized airlines' obligations around advance planning "to ensure that the carrier has enough staff available to operate the services it offers for sale."
In the December memo, which was issued at the height of the Omicron wave of COVID-19, Air Canada said: "Effective immediately, flight cancellations due to crew are considered as Within Carrier Control — For Safety."
"Customers impacted by these flight cancellations will still be eligible for the standard of treatments such as hotel accommodations, meals etc. but will no longer be eligible for APPR claims/monetary compensation."
The staff directive said the stance would be "temporary." But Air Canada acknowledged in an email on July 25 that the policy "remains in place given the continued exceptional circumstances brought on by COVID variants."
Gabor Lukacs, president of the Air Passenger Rights advocacy group, said Air Canada is exploiting a loophole in the passenger rights charter to avoid paying compensation, and called on the transport regulator for stronger enforcement.
"They are misclassifying things that are clearly not a safety issue," he said of Canada's largest airline, calling the policy "egregious."
Consumers can dispute an airline's denial of a claim via a compliant to the CTA. However, the agency's backlog topped 15,300 air travel complaints as of May.
Lukacs also noted that European Union regulations do not exclude safety reasons from situations requiring compensation in the event of cancellations or delays. Payouts are precluded only as a result of "extraordinary circumstances," such as weather or political instability.
"This document, along with the previous declarations and behaviour since the beginning of the pandemic, shows that Air Canada's priority is clearly to try to limit the costs of the flight cancellations instead of providing good service to its clients," Sylvie De Bellefeuille, a lawyer with Quebec-based advocacy group Option consommateurs, said after reviewing a copy of the directive.
She said Air Canada aims to deter passengers from requesting compensation in the first place. "This tactic does not, in our opinion, demonstrate that the company cares about its customers."
Air Canada disagrees with that characterization.
"Air Canada had and continues to have more employees proportionate to its flying schedule when compared prior to the pandemic," the company said in an emailed statement, indicating it had done everything it could to prepare for operational hiccups.
"Air Canada follows all public health directives as part of its safety culture, and during the Omicron wave last winter that affected some crew availability, we revised our policy to better assist customers in their travels with enhanced levels of customer care for flight cancellations related to crew contending with COVID."
John Gradek, head of McGill University's aviation management program, said the transportation agency is partly responsible for the "debacle" because it established looser rules than those in Europe and the United States.
"Carriers have been making strong efforts to point fingers and claim delays are outside of their control to reduce liability," he said in an email.
This report by The Canadian Press was first published Aug. 7, 2022.
Companies in this story: (TSX:AC)
Christopher Reynolds, The Canadian Press
Power utility TransAlta reports $80 million loss in second quarter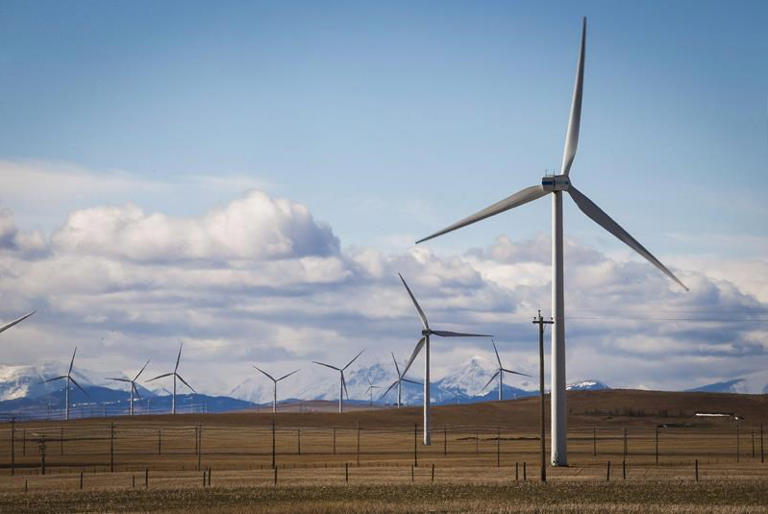 CALGARY — TransAlta Corp. reported a loss of $80 million in its latest quarter compared with a loss of $12 million in the same quarter last year.
The Calgary-based power utility says the net loss attributable to common shareholders amounted to 30 cents per diluted share for the second quarter.
That compares with a loss of four cents per share for the same period in 2021.
Revenue in the company's quarter ended June 30 totalled $458 million, down from $619 million a year ago.
TransAlta says its adjusted earnings before interest, taxes, depreciation and amortization for the quarter was $279 million, down 13 per cent from $319 million in the same quarter a year earlier.
Funds from operations totalled $220 million, down from $267 million in the same quarter last year.
TransAlta's free cash flow was $145 million for the quarter compared with $155 million in 2021's second quarter.
This report by The Canadian Press was first published Aug. 5, 2022.
Companies in this story: (TSX:TA)
The Canadian Press