Downtown Business Spotlight: Urban Farmhouse Fabric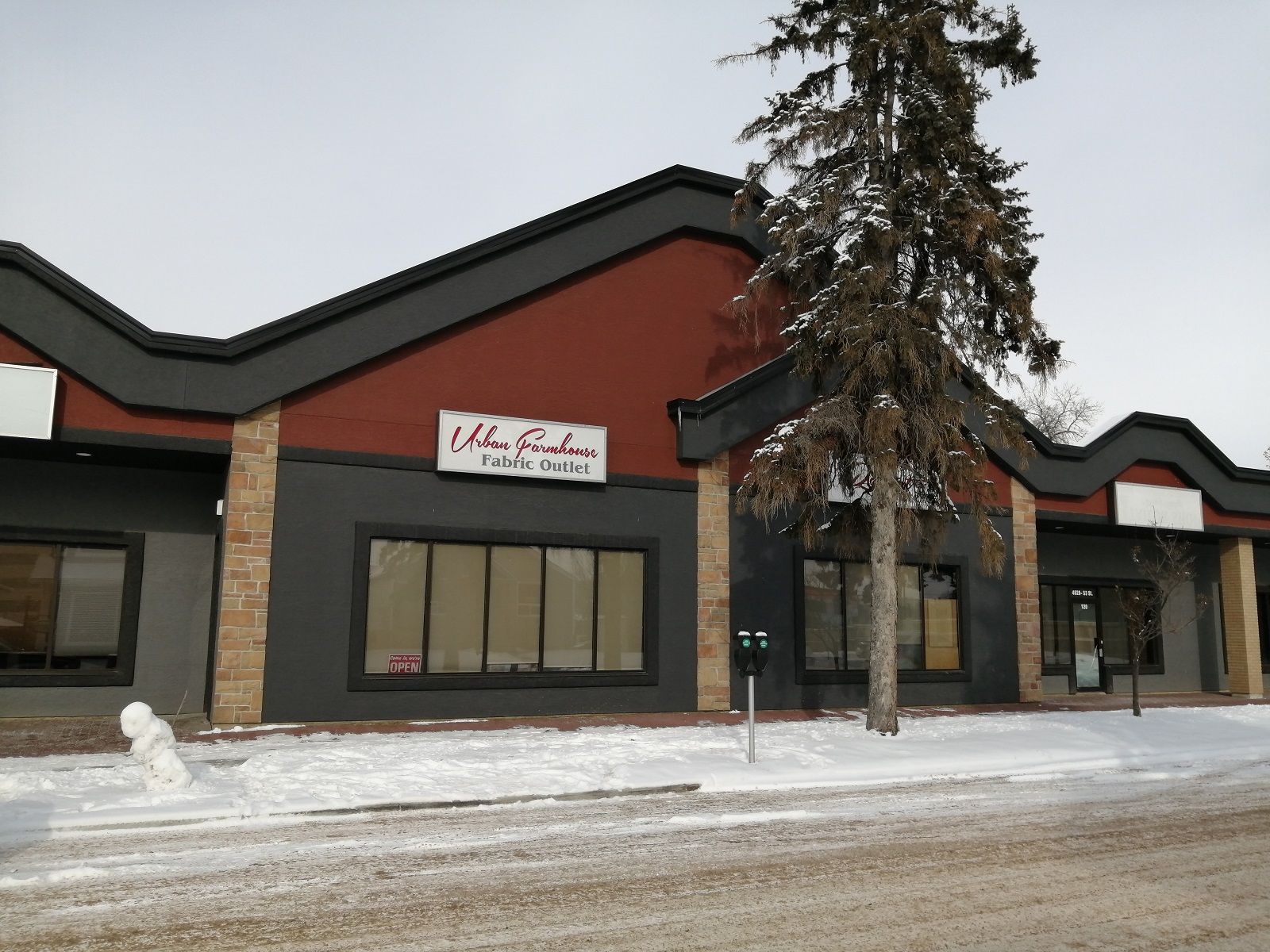 This week's Business Spotlight shines on Downtown's Urban Farmhouse Fabric, located at #140 4828 – 53 Street. This local business offers quality quilt fabric, drop-in sewing classes and retreats as well as all the tools you need for your latest project! Read on to learn more.
What is your business?
Urban Farmhouse Fabric is a modern and traditional quilt fabric store with 100% cotton fabrics, flannels, batiks, backings, notions precuts and patterns – everything you need in one store!
When did you open?
We opened our doors in 2016, across the street and have grown so much since that we moved across the way to a larger space! We now offer a fully accessible space for all your sewing needs and look forward to showing you around.
What are some products/services that you offer?
Urban Farmhouse Fabric strives to offer the best selection of fabrics, sewing notions, quilting supplies (and more!) that the industry has to offer…not to mention the friendliest service around! We also offer a variety of classes in our classroom space next door, from beginner to expert we have a class for every skill level. At each class you will benefit from the knowledge of our expert instructors and leave with a refreshed sense of confidence in your abilities.
Why did you choose Downtown Red Deer as the location for your business?
We wanted to stay central to not only all of the Red Deer but also the surrounding communities. We know that many travel to visit us, so having such a large variety of businesses around us is a benefit to our travelling customers – it's a one-stop-shop type of a deal!
What do you think makes Downtown vibrant?
The many community events and the proud members of the Downtown Business Association. There is so much to take in Downtown year-round, it would be a shame to miss it.
I love Downtown Red Deer because…
It is the heart of our beautiful city. Downtown has the perfect number of shops and services, you would be hard-pressed to not find what you are looking for! We especially love Ross Street for the many music and arts festivals that take place down there!
Check out Urban Farmhouse Fabric on Facebook for the latest deals!
Facebook: https://www.facebook.com/UrbanFarmhouseFabric
Check back next week for another business spotlight! If you would like to see your Downtown business spotlighted, please contact us at 403-340-8696 or [email protected].
House passes bill creating carve-outs for farmers in Canada's carbon pricing scheme
A field of wheat is pictured near Cremona, Alta., Tuesday, Sept. 6, 2022. THE CANADIAN PRESS/Jeff McIntosh
By David Fraser in Ottawa
A private member's bill that would create specific carve-outs for farmers in Canada's carbon pricing scheme has passed in the House of Commons.
The bill would exempt farmers from paying for emissions from natural gas and propane they use for certain activities performed on their farms, such as drying grain, preparing feed, irrigating and heating barns.
It passed with the support of Conservative, NDP, Bloc Québécois and Green Party MPs, with a few Liberals, including agriculture committee chair Kody Blois, joining the opposition parties to vote in favour.
The private member's bill introduced by Conservative MP Ben Lobb in February 2022, which would not exempt farmers from the carbon price for activities performed off-site, will now be debated in the Senate.
Farmer groups have said they are facing rising production costs, and the proposed law would give them critical financial relief from rising costs.
The Agriculture Carbon Alliance, which was created by industry groups in 2021 in response to the federal Liberals' climate policies and advocates for sustainable farming, celebrated the bill's progress on Thursday.
"This legislation will provide farmers with the resources to invest in innovative and sustainable on-farm practices, while ensuring the stability of our food supply," said Dave Carey, the group's co-chair, in a statement.
The executive director of one of its members, the Grain Growers of Canada, said the law will offer significant relief if it is passed.
"As long as we don't have an alternative to fossil fuels, then there is no sense in punishing Canadian farmers for growing food," Erin Gowriluk said.
Not all are celebrating the law's advancement, however.
Tim Gray, executive director of the advocacy group Environmental Defence, said the law would weaken the government's response to climate change.
"Exempting these high-emission activities from carbon pricing for farmers will only further encourage other sectors to demand similar treatment," he said in a statement.
"This is already a problem as many industries, especially the oil and gas sector, have successfully lobbied for, and achieved, favourable treatment, which allows them to pay a much lower carbon price than others, regardless of their lack of actual degree of being energy intensive and trade exposed."
Agriculture Minister Marie-Claude Bibeau maintains that the federal government is helping farmers reduce their carbon footprints and ease financial burdens through a $3.5-billion sustainable agricultural partnership with provinces.
The federal carbon price already features an exemption for gasoline and light fuel oil costs used in tractors and trailers.
But farm groups have long contended that further exemptions are needed, and have at times disputed the federal government's characterization of how much the carbon price is costing producers, especially when it comes to drying grain. Grain must be dried before it can be stored and sold, particularly during wet harvests.
The bill that will now be debated in the Senate would only carve out exemptions for farmers who dry grain on their properties, and would not apply to off-farm activities. The law also includes a sunset clause that would allow a government to add, remove or renew the exemptions in eight years.
A previous bill introduced by a Conservative MP and widely supported by farm groups, which would have carved out similar exemptions, died on the order paper prior to the 2021 federal election.
Bibeau responded to farmers' concerns at the time by announcing dollars to help producers make their own grain-drying operations more environmentally sustainable.
The federal government says it is now spending $37.1 million on 99 grain drying projects as part of its $495.7 million Agricultural Clean Technology program.
Gowriluk said that Russia's invasion of Ukraine has had an impact on the way that federal politicians discuss agricultural policy, arguing that the conversation to focus on what Canada can do to help internationally.
A significant part of that is to "grow as much as we possibly can," she said.
"There's an increasing recognition from Canadian politicians that this isn't easy, and if there's anything they can do to alleviate the burden, and help keep farmers in the green rather than the red, then they're prepared to step up and do that."
Though it is rare for private member's bills to make it all the way through Parliament, minority government situations can create more collaboration between parties.
A second private member's bill focused on the Liberals' climate policy passed in the House of Commons during the same sitting this week, with support from Liberal MPs and ministers.
Green Party Leader Elizabeth May proposed the law, which would require the government to develop a national strategy to address environmental racism within two years of its passage.
A previous version of the bill, introduced by former Liberal MP Lenore Zann, also died on the order paper in 2021 prior to the election.
May acknowledged this week during debate about the bill that the law will require the government to play ball.
"It will then need to have the support from the government of the day and the support of the finance minister to fund the programs, so that communities of colour, Indigenous communities and poor communities are not left without access to environmental justice," she told MPs.
This report by The Canadian Press was first published March 30, 2023.
CNN preaches patience as ratings tank during turnaround
The CNN logo is displayed at the entrance to the CNN Center in Atlanta on Feb. 2, 2022. Cable news ratings are down across the board compared to 2022, when Russia's invasion of Ukraine was in the news. CNN's dip is most dramatic — 61% in prime-time in March. (AP Photo/Ron Harris, File)
By David Bauder in New York
NEW YORK (AP) — CNN's leadership is preaching patience even though thousands of viewers are abandoning the network during its attempted turnaround, with no indication yet whether it will be rewarded.
Cable news ratings are down across the board compared to 2022, when Russia's invasion of Ukraine was fresh in the news. CNN's dip is most dramatic — 61% in prime time in March, with Fox News Channel down 27% and MSNBC off by 12%, according to the Nielsen company.
Fox averaged 2.09 million viewers in prime time in March, with MSNBC at 1.14 million and CNN at 473,000, Nielsen said. In the key 25-54 age demographic for advertisers, CNN is seeing some of its lowest numbers in decades.
CNN is a year into new corporate management with Warner Bros. Discovery, which hired ex-CBS producer Chris Licht to run the network. The chief goal has been to rebuild trust as a non-partisan news brand after years of criticism by former President Donald Trump and his followers, at a time Fox and MSNBC have profited handsomely by appealing to specific points of view.
Licht's biggest programming move to date, a revamp of "CNN This Morning," hasn't borne fruit in the ratings and has been beset by bad publicity, including co-host Don Lemon's ham-fisted reference to a woman's prime years.
Changes to CNN's daytime look are imminent. Licht's vision for prime time is months away, though, and only beginning to take shape.
His plans are to couple news coverage with hosts from different worlds, including entertainment, who can talk about the news without a specific partisan take. Licht is exploring several possibilities, and CNN is reportedly close to deals with CBS' Gayle King and former NBA star turned sportscaster Charles Barkley for shows that will air once a week, although the network wouldn't confirm that.
If Licht's bet pays off, CNN will strengthen its reputation as a news brand while also attracting viewers who are now watching Netflix or HGTV — not just competing news networks.
As those plans develop, CNN's prime-time lineup has largely been in flux after Anderson Cooper's hour at 8 p.m. Eastern. The network has experimented with some interviews, events and subject-focused hours at 9 p.m. Eastern. They include talks with first lady Jill Biden and Ukrainian President Volodymyr Zelenskyy and town halls with Virginia Gov. Glenn Youngkin and one focused on the Ohio train derailment.
The news hours that follow, at least for now, are led by Alisyn Camerota and Laura Coates.
"Viewers are a bit confused with all of the changes, particularly in the prime-time lineup," said Jennifer Thomas, a former CNN producer who now teaches journalism at Howard University. She said CNN needs more news that impacts viewers and less analysis.
CNN expresses pride in some of the efforts, while admitting some are duds. Last Friday, for example, only 295,000 people watched Jake Tapper's interview with "Ted Lasso" star Jason Sudeikis. It was less than a quarter of the people who saw Alex Wagner's MSNBC show at the same 9 p.m. Eastern time slot, Nielsen said.
David Zaslav, president and CEO of Warner Bros. Discovery, delivered a pep talk to hundreds of CNN managers earlier this month to reinforce the message that he wanted to see a network focused on the news that didn't lean any way politically.
CNN saw strong ratings under the leadership of Licht's predecessor, Jeff Zucker, and Zaslav said he recognized that a more partisan approach could bring more viewers and money, but that "it's not what I came here to do," according to a transcript of Zaslav's speech.
He said he hoped the network would be able to figure out what is working and what isn't. He urged the managers to not worry about outside noise.
"Ratings be damned," he said. "Let's focus on who we are. This is our mission. This is our legacy. And this is our journey together."
The question for Licht and his team, as it is often in similar situations, is "how much time do they really have?" said Mark Whitaker, a former executive at CNN and NBC News.
Strong ratings mean more revenue, and more money to spend on programming, Whitaker said.
Cable news viewership is often very habit-driven, with viewers drawn to personalities they know and trust, he said. For the first three days this week, CNN's 9 p.m. Eastern hour had three different hosts — Erin Burnett, Pamela Brown and Kaitlan Collins.
CNN must wonder whether viewers will lose the habit of tuning in while waiting for the network's true personality to emerge under Licht. A new prime-time schedule is not likely until the fall.
It doesn't help that many CNN viewers have long considered the network a utility to be used primarily when there are big stories, and it's a relatively quiet period now. An important test will be how many viewers will reflexively turn to CNN during big news events, where it has often dominated the ratings.
MSNBC, in touting its biggest audience advantage over CNN in nearly four years, said that its viewers watched the network an average of 381 minutes per week during the first three months of 2023, compared to 183 minutes for CNN.
"They're fighting against the toughest foe they can fight," said Rick Kaplan, a former CNN president. "They're fighting against short attention spans. They're fighting against the fact that we're such a divided people, so angry at each other, that if you don't reflect that anger, the people don't have time for you."
Continued poor ratings "eats away at the fabric of the network, if you're doing great shows and nobody is watching," he said.
Kaplan said he believes CNN has the right executive in Licht, who has a strong track record as a successful programmer.
"If there's a right way, he'll find it," he said.