Downtown Business Spotlight : Made With Love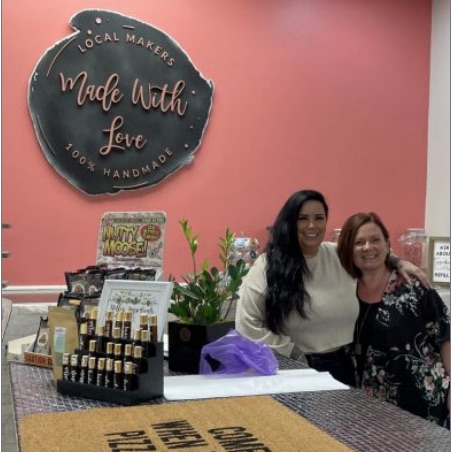 This week's Business Spotlight shines on Made With Love, located at 4801 51 Ave. We spoke with Angela and Chandra to learn more about their 100% handmade boutique!
What is your business?
Made With Love.
When did you open?
We opened in May of 2019 but moved to our downtown location in February of 2021.
What would you say makes your business unique?
All of our 70+ vendors that we have in our store are exclusive to Made With Love. You won't find them in any other stores in Red Deer!
What are some products/services that you offer?
Everything in our store is "Made With Love" by our locally talented vendors. We have items such as home décor, jewelry, candles, clothing, cards, health and wellness products and so much more!
Why did you choose Downtown Red Deer as the location for your business?
It's such a wonderful, convenient location. Right in the heart of Red Deer.
What do you think makes Downtown vibrant?
City Hall Park, the downtown history, Ross Street Patio, The Scott Block Theatre, the great selection of restaurants, the Spray Park. So much!
Finish this sentence: I love Downtown Red Deer because…
…of the sense of community! So many businesses supporting each other. The #shoplocal and #supportsmallbusiness movements are REAL in downtown Red Deer.
Visit Made With Love for beautifully handcrafted products or check them out online:
Facebook: https://www.facebook.com/madewithlovereddeer/
Instagram: https://www.instagram.com/madewithlove_reddeer/?hl=en
Website: http://www.madewithloveshop.ca/
Check back next week for another business spotlight! If you would like to see your Downtown business spotlighted, please contact us at 403-340-8696 or [email protected].
Red Deer Lights the Nights offers festive fun all season long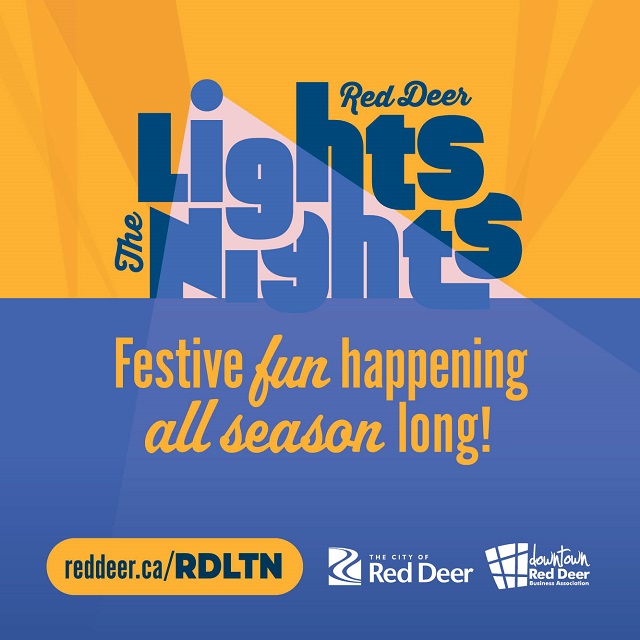 Red Deer Lights the Nights returns as a month-long celebration of the holiday season, starting this Friday, November 17.
Free, family-friendly activities are happening downtown and throughout the community, including:
North Pole Patio Party – November 17 from 4-7 p.m. at Ross Street Patio
Writes of Winter writing contest – through January 15, hosted by Red Deer Arts Council
Winter Market – November 24 and 25 at Millennium Centre
Rare & Remarkable Artisan Market – November 25 at Red Deer Museum + Art Gallery
Capstone Winter Nights Festival – December 1, 2 and 3 at Canada 150 Square
Downtown Twinkle Tour – December 15 throughout downtown
Santa's Bus Tour – December 8, 9, 15 and 16 starting at 5:30 p.m.
Residents are invited to visit City Hall Park any time after November 16 to enjoy a beautiful display of colourful lights and festive decorations. Lights are turned on every day from sunset to sunrise until mid-January.
"We're excited to welcome Red Deerians downtown once again to celebrate the season and enjoy the festive decorations in City Hall Park and along nearby streets. Everyone is invited to come out and participate in all the free activities that are planned, especially Santa's Bus Tour which returns in December to bring Christmas joy to local neighbourhoods."
---
North Pole Patio Party
Friday, November 17: 4 – 7 p.m.
Ross Street Patio
Santa Claus is coming to town – downtown! Visit with Santa in person on the Ross Street Patio as we celebrate the kickoff to the holiday season. Enjoy a free hot chocolate and cozy up to the warm firepits while the kids play candy cane games with the elves. Be sure to pick up a children's craft bag from the friendly Family Services of Central Alberta team and check out the CMHA's fun photo booth.
Kraze 101.3 will be live on location cheering on the holiday fun. We look forward to seeing you at this free family event!
---
Writes of Winter contest
November 17 – January 15
Red Deer Arts Council and The City of Red Deer have partnered on a writing contest to keep our imaginations warm this winter.
Red Deer youth, teens and adults are invited to create a short poem or story (fiction or creative non-fiction) with a maximum length of 500 words about winter and/or the holiday season in Red Deer.
All submissions can be sent to the Red Deer Arts Council at [email protected] for a chance to win exciting prizes. Works will be published for folks to read on We Are Red Deer and the Red Deer Arts Council's social media pages.
Deadlines:
Holiday Season story deadline: December 10, 2023
Winter Blues story deadline: January 15, 2024
For more information, visit the Red Deer Arts Council website.
---
November 24: 3 – 7 p.m.
November 25: 12 – 7 p.m.
Millenium Centre (location tentative)
Every winter, the farmers' market makes a special appearance in downtown Red Deer to help you finish your holiday shopping. You can purchase tasty food and baked goods to feed the whole family, local beers and wines for holiday parties and beautiful handmade gifts sure to impress that special someone at this accredited Alberta Farmers' Market. Join us November 24 and 25 for a great local shopping experience, with tastings and live music from local artists.
---
Saturday, November 25: 10 – 4 p.m.
Red Deer Museum and Art Gallery: 4525 47A Avenue
Join us for a unique Christmas shopping experience where you can explore the arts and crafts of some of central Alberta's premier artists and craftspeople. Up to 15 artists will set up their displays throughout the MAG's Remarkable Red Deer exhibit and gallery spaces, with artwork ranging from pottery, beaded jewelry, wool felting, textiles, oil, acrylic and watercolour paintings, sculpture, mixed media, printmaking, and more.
For more information, visit the MAG's Rare & Remarkable Artisan Market web page.
---
Friday, December 1: 5 – 10 p.m.
Saturday, December 2: 5 – 10 p.m.
Sunday, December 3: 4 – 9 p.m.
Canada 150 Square, Capstone
Capstone presents "Winter Nights" an imaginative light and art festival featuring art installations by B!G ART, live music, entertainment, late night shopping, activities and more! For more information, visit www.liveincapstone.ca/events.
---
December 8: 4 – 7 p.m.
Ross Street Patio
Join the DBA and Spandy Andy on the Ross Street Patio for some frosty fun! Check out the children's entertainers, activity booths and sip hot chocolate under the festive downtown lights. Bring the whole family together for an unforgettable outdoor celebration. Whether you're grooving to the DJ or simply basking in the warm glow of the fire tables, the Ross Street Patio is the place to be for an evening of free family fun. Visit the DBA's Frost Street Patio Party web page for more information.
---
December 8, 9, 15 & 16
5:30 – 8 p.m.
Red Deer neighbourhoods
Santa is back on the bus, merrily cruising down the streets of Red Deer! Check out the route maps below and give Santa, Mrs. Claus, and the dancing elves a wave – they light up this bus just for you!
We've done our best to help Santa visit each neighbourhood in the city, but due to his busy schedule he cannot visit every street. Please choose the route closest to your home to catch a glimpse of the jolly man and his crew. For safety reasons, please remain on the sidewalk or in your yard and stay off the street during the bus tours.
Tours operate from 5:30 p.m. to approximately 8 p.m. on the following evenings. Follow along on the MyBus website or app to see when Santa will arrive in your neighbourhood.
---
Friday, December 15
4 – 7 p.m.
For one night, many Downtown businesses remain open late to help Red Deerians with their holiday shopping and to encourage the support of local businesses. Downtown visitors are invited to pick up a free hot chocolate and a copy of the holiday scavenger hunt on the Patio. Enjoy beautiful window and light displays throughout downtown as you make your way to your favourite shops. Be sure to snag some Reindeer Food and Snowman Soup during your visit, too!
For more information, visit the Downtown Business Association website.
---
A video showcasing Red Deer's holiday spirit will be shared on The City's social media channels so Red Deerians can enjoy the view from the comfort of home.
For more information on Red Deer Lights the Nights activities, presented by The City of Red Deer and the Downtown Business Association (DBA), visit reddeer.ca/RDLIGHTS and follow The City and DBA on social media.
Red Deer Downtown Business Association welcomes 3 new board members.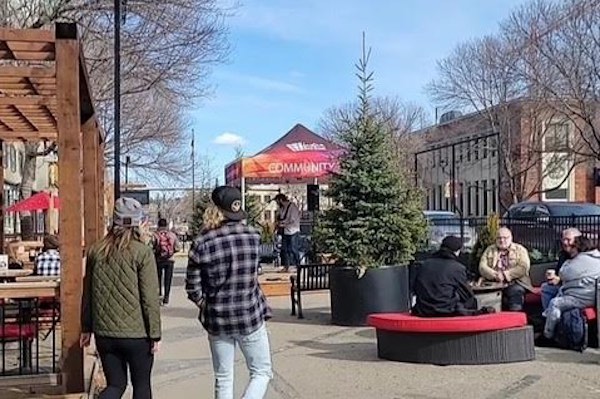 The Red Deer Downtown Business Association (DBA) is proud to welcome three new members to the Board of Directors, to serve 2024-26. Pete Swales of Massage Above All, Kyle Veno of Stream Space, and Matt Buck of Occam's Razor, will join existing members:
1. Brandon Bouchard, 53 on Ross (previously Tribe restaurant)
2. Gary Oosterhoff, Century Centre
3. Katrina Sharpe, Cinch Communications
4. Vicki Finlay, Junktiques
5. Todd Lawrence, Taco Loft
6. City Councillor Victor Doerksen
"I'm delighted with our new board members," said Amanda Gould, Executive Director. "We now have the perfect mix of retail and professional businesses that will ensure all types of businesses have a voice at the boardroom table."
The DBA wishes to thank departing board members Paige Koster of Paige Koster Photography, Matthew Mowbrey of Woodbine Legal Services, and Brett Mauthe of Servus Credit Union, for their input and commitment to the downtown over the past three years.
Board members will meet in January 2024 to elect the Executive for the year.
The Downtown Business Association has been operating in Red Deer for over 30 years, serving
approximately 450 business owners in the Downtown area. Through partnerships and leadership in advocacy and promotion, the DBA is the catalyst for a vibrant and prosperous downtown that is the place to live, work, play and do business.