Downtown Business Spotlight: Alberta Business and Health Institute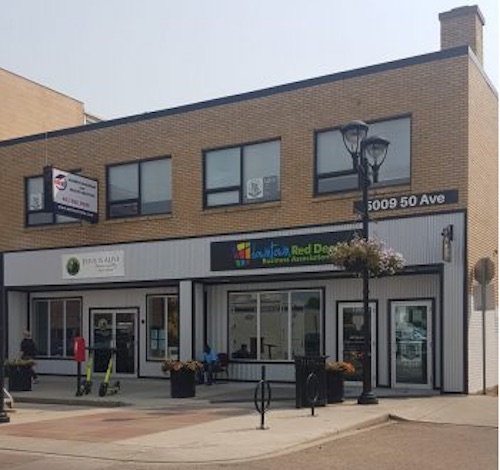 This week's Business Spotlight shines on the Alberta Business and Health Institute, located at 210, 5009 – 50 Ave. We spoke with the Flora and her team to learn more about their programs and how they set up their students for success!
What is your business?
We are a licensed post-secondary school and we are licensed under the Minister of Education through advanced education or private colleges. So we offer post-secondary classes and programs to interested students or those who want to further their career or upgrade their education. All about academics!
When did you open?
2017, but the operation actually started in 2018 because we went through the licensing process. Our first school was in another building, right across from Saputo and above Cash Canada. That's where we started and when we got a little bigger we moved here [210, 5009 -50 Ave] as we needed a bigger space.
What are some products/services that you offer?
For our courses we have massage therapy, business administration, we have accounting and payroll, medical office assistant and pharmacy assistant and soon to come will be education assistant!
What makes your business unique?
What makes our business unique is that even during these challenging and trying times, we continue to thrive and meet the students' changing needs without compromising our values and objectives.
Why did you choose Downtown Red Deer as the location for your business?
We're all from Calgary, but because we are just starting we didn't want to start in a big city and Red Deer is the closest option. I think because Downtown is the center of everything and you can come to Downtown from anywhere in Red Deer. Red Deer has a lot of far flung communities so we thought, why not start in the center of Red Deer? Let's go for it! It's really accessible to everyone.
What do you think makes Downtown vibrant?
I think the diversity of the people who are here, who live here and the diversity of the shops and the businesses that are in Downtown. If you go to Ross St. there is [King] Donair, beside it is City Roast, beside it is Japanese ramen [JusFruit OishiDesu], beside that is Taco Loft! There's banks, Scotia Bank, RBC, there's an Artisan Market, there's pizza over there – all on one street! And on Wednesday's there is the Farmer's Market. Everything is here!
Finish this sentence: I love Downtown Red Deer because…
I love Downtown Red Deer because it feels like home. It's a small city, it feels like you know everyone!
Check out the Alberta Business and Health Institute online:
Facebook: https://www.facebook.com/profile.php?id=100034258592832
Instagram: https://www.instagram.com/abhinstitute/
Website: https://abhinstitute.com/
Check back next week for another business spotlight! If you would like to see your Downtown business spotlighted, please contact 403-340-8696 or [email protected].
Valentine's Day is a fantastic time to Experience Downtown!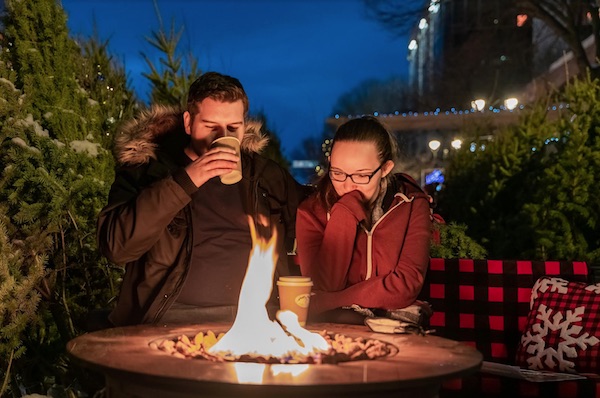 Join us this February 14th, 2023 at 5PM on the Ross Street Patio for music by the Hearts of Harmony. The fire tables will be lit and the winter furniture arranged from 4-7PM for downtown visitors to enjoy two showtimes: 5:00PM and 5:30PM
We are excited to announce that Gabs, a local Albertan artist, will be displaying her creations on the Ross Street Patio from 4-7 on Feb 23rd! Visitors are invited to cozy up by the fire tables with something warm or grab a cocktail from one of the patio businesses to enjoy as you stroll through a glowing open-air gallery on the Ross Street Patio. No matter how you enjoy this art display, it is one we genuinely recommend you come down for, as it is sure to be an illuminating experience!
Every Thursday this spring!

Not a lot feels better than snuggling up beside

a cozy fire with the energy of the

downtown buzzing around you.

Meet over coffee, take your lunch to go

or grab a local brew from one of

the Ross Street Patio businesses to enjoy

all the comforts the patio has to offer.

Part of the DBA's Frost Street Patio Winter Programming.

See you there!
Tribe, Chèvre Rose Charcuterie and Tacoloft banded together

to offer three lucky couples the opportunity to be

served in a geodome under a canopy of lights in

the heart of downtown Red Deer.

How to enter:

Visit one of the following participating business

and enter your name into the ballot box from

February 1st – 28th, 2023 or

check out our Instagram for another chance to win.
Did you know that the Ross Street Patio is an Entertainment District? What does that even mean?

From the City of Red Deer:

"This means that during specific times, adults may consume alcohol while enjoying live entertainment on the Patio. Alcoholic beverages must be purchased from vendors within the site and must be consumed within the boundaries of the district.

Operated by the Downtown Business Association, the Patio features regular live music performances and other special events throughout the year. Surrounded by seasonal decor and enhanced lighting, it's a great place to relax and enjoy food and beverages from a diverse selection of local businesses."

Operating hours are Tuesday through Saturday, noon to 11 p.m, year round! While the Ross Street Patio is open for public use any time, the Entertainment District is restricted to the hours specified above. The Entertainment District was introduced this summer, following the 10 year anniversary of the Ross Street Patio. Tell your friends!
Downtown Red Deer is a vibrant, diverse, engaged and healthy community. To support a thriving environment the DBA is working on participating in 250 events in the downtown core this year! Make sure to watch our socials to stay up to date on what's happening downtown!
Business Spotlight: Ewyn Weight-Loss Studios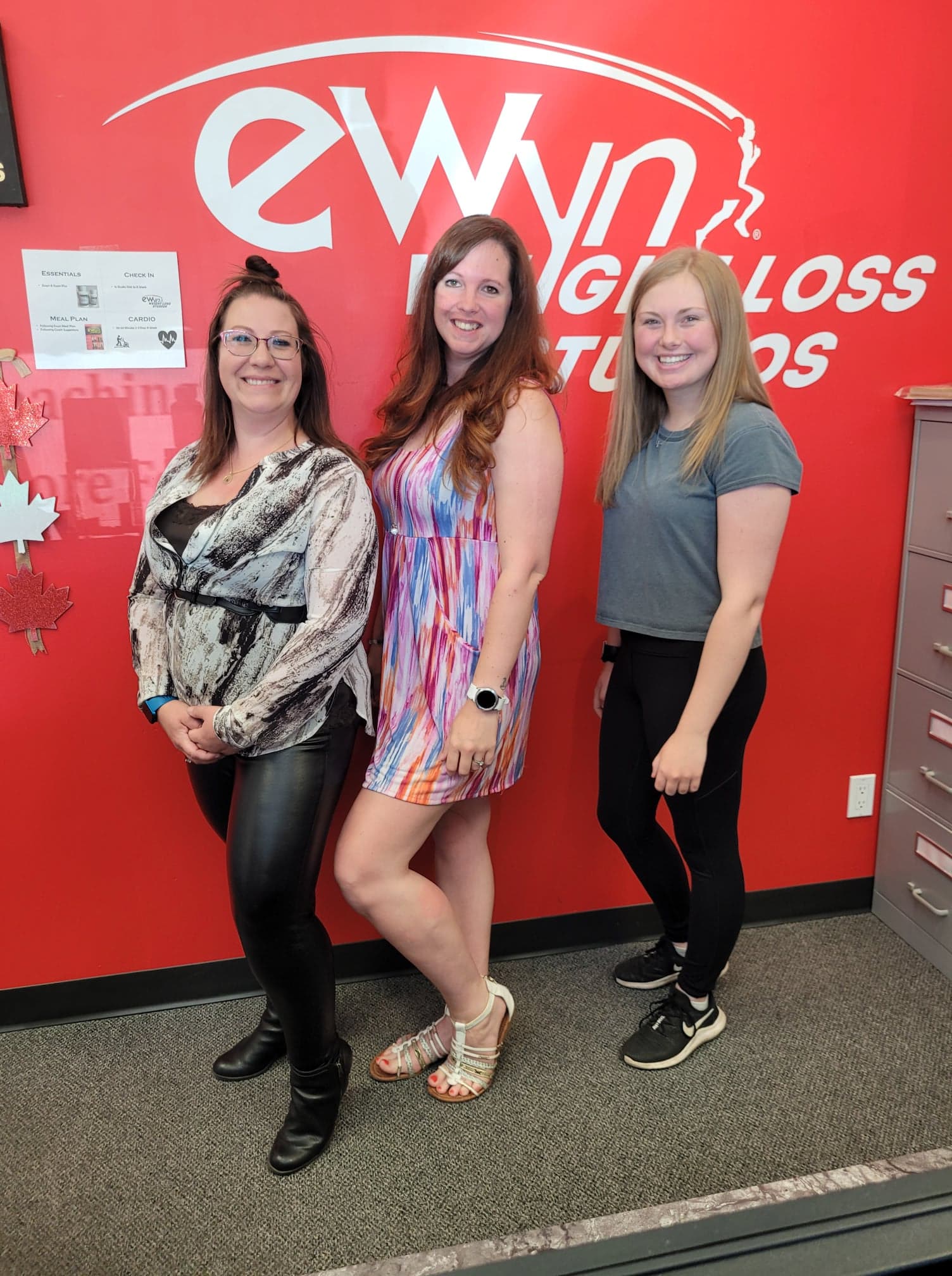 1. What is your business?
Ewyn Weight-Loss Studios support clients on their weight-loss journey through programing, healthy eating, stress management and much more; they are a hub for healthy living.
2. When did your business open?
This Ewyn studio opened in 2017, but Natalie has been running it since 2019
3. What makes your business unique?
Stabilization and maintenance are what make Ewyn's weight-loss different, working with clients to reach their goals than helping them maintain the perfect balance for their individualized goals to make weight loss truly sustainable.
4. What are some products/services that you offer?
A FREE consultation followed by individual programming per client to help them reach their goals of healthy living and weight loss.
5. Why did you choose Downtown Red Deer as the location for your business?
The business was already placed downtown when I took over, but I do find that we get about 15-20% of our business from people stating they saw us as they drove by.
6. What do you think makes Downtown vibrant?
The greenery and opportunity for living an active lifestyle with the tails and outside gyms.
7. Finish this sentence: I love Downtown Red Deer because…
I love the downtown Market, and it has such a sense of community and fresh, inexpensive vegetables. I often recommend it to my clients.