Downtown Business Spotlight: Artisan Food Market on Ross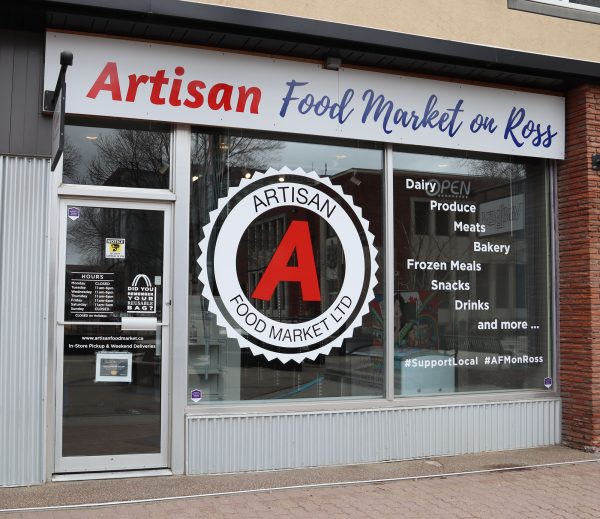 This week's Business Spotlight shines on Artisan Food Market on Ross! This unique restaurant is located right on Ross Street (106, 4916 Ross Street) and offers a large selection of locally made products. We spoke with the owner to learn more about this wonderful establishment!
What is your business?
Artisan Food Market on Ross is a specialty food store. We carry a large selection of local, national, and international foods and ingredients.
When did your business open?
We opened on April 1, 2020.
What makes your business unique?
We carry a large selection of local items and have a variety of frozen meals.
What are some products/services that you offer?
Customers can place orders for their favourite D Dutchmen Dairy or Black Forest German Bakery products and the requested items will get delivered to our store the following week. Additionally, customers can shop online and have their products delivered to their homes even during the times that we are closed. If a customer wishes to place an order they can simply visit us at www.ArtisanFoodMarket.ca.
Why did you choose Downtown Red Deer as the location for your business?
As a Red Deerian, I wanted to make a positive impact for our downtown by setting up a local market store right here.
What do you think makes Downtown vibrant?
I love the flower gardens at the city hall and the assortment of independent shops in our downtown core.
Finish this sentence: I love Downtown because…
It's my home and it's my place for adventure.
Website: Artisan Food Market on Ross Official Website
Facebook: Artisan Food Market on Ross Facebook Page
Instagram: @artisanfoodmarket
Get away from the city – Rock Lake Lodge seeks maintenance and caretaker
Wilderness Lodge Maintenance & Caretaker Needed
Click here to apply now.
Looking to get away from the city and experience the wilderness?
Rock Lake Lodge may have the perfect opportunity for you. WHO ARE WE? We are a lodge located in Rock Lake Provincial Park in Alberta, Canada.
Just a short distance away from a 90-foot deep lake with four species of fish, and the lodge is surrounded by wildlife and abounding nature.
Check out www.rocklakelodge.ca to have a look at the stunning surroundings, our lodge and cabins.
It's not all work and no play up at Rock Lake Lodge! Some of the activities provided on site will be hiking, fishing, canoeing. and wildlife watching. This is a seasonal live-in position from June 2021 -Sept 2021.
We are seeking someone with the following:
-general handyman experience (able to use basic tools and general maintenance of the lodge)
-generator experience
-plumbing & electrical (basic)
-construction experience
Above all, we want someone who loves fishing!
Do you have experience with diesel generators? Log buildings? Chainsaws or log splitters? Let us know in your application. Even if your job history doesn't reflect the above- your personal experiences may be exactly what we're looking for!
Wage to be negotiated. This is a fulltime-temporary contract position.
Experience:
maintenance: 1 year (preferred)
diesel generator: 1 year (preferred)
rural water systems: 1 year (preferred)
chainsaw: 1 year (preferred)
plumbing: 1 year (preferred)
electrical: 1 year (preferred)
Driver's License (MANDATORY)
Contract length: 3 months
Start date: Immediately
Click here to apply.
Alberta opens COVID-19 lottery; 48,000 more first doses needed to lift health rules
EDMONTON — Premier Jason Kenney says 48,000 more Albertans must step up for a first dose of COVID vaccine to fully lift health restrictions, and hopes his new lottery plan will be that incentive.
"The more people we can get vaccinated more quickly, the safer we all are," Kenney said Monday while announcing details of three $1-million lotteries, which will roll out this summer.
Kenney said he asked Health Minister Tyler Shandro a month ago to devise an incentive plan, knowing that demand for first doses would drop off.
"We knew a point would come when we would run out of low-hanging fruit in terms of people who were eager to get the jab, and we reached that point about a week, two weeks ago," said Kenney.
 "I asked (Shandro's) team to start getting creative about shaking the trees for that last 10 or 15 per cent (of the eligible population).
 "Now is the time, exactly the right time, for us to start being creative, offering these incentives."
Almost 69 per cent of those eligible have received at least one dose of COVID vaccine.
Once 70 per cent is reached, and the vaccines have two weeks to take full effect, the province plans to lift all but a handful of health restrictions, essentially returning the economy and community to its pre-COVID state.
The first $1-million lottery draw will be held on the day the restrictions lift, likely at the end of June or early July.
Every Albertan 18 years and older who has received at least one vaccine dose will be eligible, but must sign up online ahead of time. 
Registrations began Monday.
The winner must also show proof they got the shot before the registration cutoff date, in order to avoid someone signing up and winning the lottery, then running out to get vaccinated only after their name is drawn.
The next two lottery draws will be at the end of August and the end of September — also $1 million each — and will be open for those over 18 who have had two doses. 
There will also be other non-cash incentive prizes between now and the end of September, with details yet to be finalized.
Members of the Alberta legislature and their families are not eligible to win.
Opposition NDP health critic David Shepherd said he supports any effort to get more people vaccinated, including a lottery.
"But let's remember that this government is still failing to do the simple things to motivate Albertans," said Shepherd.
"An announcement that all members of the UCP government caucus have been vaccinated wouldn't cost taxpayers a dime.
 "An earlier and more aggressive campaign of temporary clinics would probably have helped as well."
Manitoba has already announced a vaccine lottery, holding two lottery draws this summer with $100,000 prizes and $25,000 youth scholarships.
Alberta has 3,089 active cases of COVID-19. There are 270 people in hospital with the illness and, of those, 73 patients are in intensive care.
Health officials reported 115 new cases and no new deaths Monday.
The province is now in the second stage of its reopening plan, the most ambitious reopening program in Canada.
Museums, libraries, movie theatres, casinos and other entertainment venues reopened last week to limited capacity after being shuttered for months.
Restaurants can now have diners indoors as well as on the patio.
Kenney has said he would like to see Alberta fully reopened by early July so people can take part in signature festivals such as the Calgary Stampede.
Also Monday, Stampede officials announced the event, expected to run from July 9-18, would keep its attendance at half capacity. They said attendees could be required to show proof of vaccination or undergo rapid testing to enter some venues. 
Staff and volunteers will also be required to wear masks and have rapid COVID-19 testing.
This report by The Canadian Press was first published June 14, 2021.
Dean Bennett, The Canadian Press