Downtown Business Spotlight: Century 21 Advantage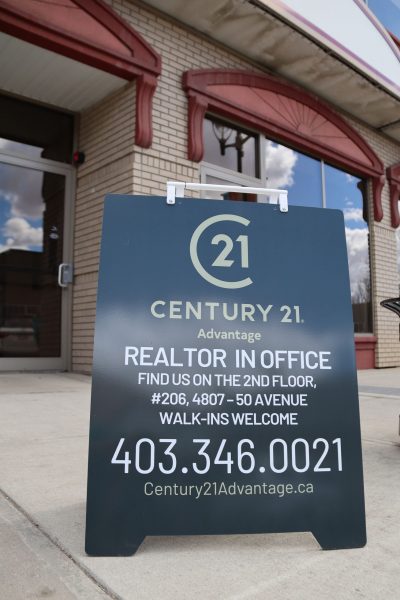 This week's Business Spotlight shines on Century 21 Advantage! This unique establishment is located right on #206 4807 50 Ave in Century Centre and provides you with professional commercial real estate services. We spoke with the owner to learn more about this wonderful establishment!
What is your business?
Century 21 Advantage is a full-service Real Estate Office specializing in the Central Alberta area. Associates can be found here that can meet your residential, country residential including farms and commercial listings and sales.
Century 21 Advantage takes pride in being the oldest real estate company in Red Deer, proudly celebrating 110 years of service this year in the Central Alberta area.
Past years have found our office on Gaetz Avene, Ross Street, Bower Mall, Parkland Mall and now we are happy to make Century Centre our current office location.
When did your business open?
Century 21 Advantage has been part of the downtown core for a number of years. The Commercial division of our office has been located here at Century Centre since 1998 when the building was renovated.
Our commercial and residential offices consolidated in 2019.
Upon our lease expiring, we then moved our offices back to Century Centre in December 2020 and started the new year of 2021 in our new location.
What are some products/services that you offer?
Century 21 Advantage is proud to be a full-service Real Estate office with associates specialized in all areas of Central Alberta. Big town little town, country or city, farming or commercial, there is someone in this office that would be happy to assist you on your new venture.
The Century 21 networks are literally worldwide so connections and access to the world are unlimited. Whenever your real estate needs may take you, Century 21 would be able to assist.
Why did you choose Downtown Red Deer as the location for your business?
When looking for a new office location, we drove around the city to find up and coming and possibly unique areas for a real estate office to be located. While there is lots of growth and exciting things happening around Red Deer, we felt the downtown area would best meet our needs.
Our downtown location is central to all corners of Red Deer, with great access to bussing, banks and a variety of businesses that call Downtown Red Deer home. We wanted to be part of the up and coming times in this area and thought it to be very positive to be located in historic Red Deer where our roots and history began as a business.
While only having been here a few months now, we appreciate being able to walk at lunch, the variety of services available and most of all the different food venues that can be found simply outside the doors of Century Centre. We as an office are really enjoying having great lunch places to go and coffee coffee coffee.
What do you think makes Downtown vibrant?
Potential and so much of it. The changes, growth and revitalization are going to be very exciting for this area as people renew their love for a sense of community found within the downtown area.
The Wednesday market is a good example of how people gather weekly and visit Little Gaetz to pick up their local shopping wares. Century 21 Advantage looks forward to being a part of this weekly event.
Finish this sentence: I love Downtown because…
Of its history and roots in the community. The atmosphere and eclectic diversity can be found.
Website: Century 21 Advantage Official Website
Facebook: Century 21 Advantage Facebook Page 
Twitter: Century 21 Advantage Twitter
Get away from the city – Rock Lake Lodge seeks maintenance and caretaker
Wilderness Lodge Maintenance & Caretaker Needed
Click here to apply now.
Looking to get away from the city and experience the wilderness?
Rock Lake Lodge may have the perfect opportunity for you. WHO ARE WE? We are a lodge located in Rock Lake Provincial Park in Alberta, Canada.
Just a short distance away from a 90-foot deep lake with four species of fish, and the lodge is surrounded by wildlife and abounding nature.
Check out www.rocklakelodge.ca to have a look at the stunning surroundings, our lodge and cabins.
It's not all work and no play up at Rock Lake Lodge! Some of the activities provided on site will be hiking, fishing, canoeing. and wildlife watching. This is a seasonal live-in position from June 2021 -Sept 2021.
We are seeking someone with the following:
-general handyman experience (able to use basic tools and general maintenance of the lodge)
-generator experience
-plumbing & electrical (basic)
-construction experience
Above all, we want someone who loves fishing!
Do you have experience with diesel generators? Log buildings? Chainsaws or log splitters? Let us know in your application. Even if your job history doesn't reflect the above- your personal experiences may be exactly what we're looking for!
Wage to be negotiated. This is a fulltime-temporary contract position.
Experience:
maintenance: 1 year (preferred)
diesel generator: 1 year (preferred)
rural water systems: 1 year (preferred)
chainsaw: 1 year (preferred)
plumbing: 1 year (preferred)
electrical: 1 year (preferred)
Driver's License (MANDATORY)
Contract length: 3 months
Start date: Immediately
Click here to apply.
Find some adventure this summer – Rock Lake Lodge seeks housekeeper