Did COVID Rules Kill My Son?
This post was written by Mark Ogden, a graduate of Lindsay Thurber Comprehensive High School in Red Deer.  Mark lost his son in Saskatchewan due to a medical issue which was due for a check up months ago, but was postponed due to COVID-19.  Mark has posted this on his Facebook page and he's hoping that people will share this widely to encourage a conversation about these health care issues.
This is my 19 year old son Aaron. He died early in the morning on August 15, 2020.
He was such an amazing young man always wanting to play tricks and do mischief. A hard worker. Sometimes he could say the wrongs things and be annoying while he would have that smirk of a grin on his face. He loved to meet new people and wasn't afraid to be anyone's friend.
In December 2019 Aaron was in a major car accident where he was t-boned on the highway. The force of the accident throwing his body sideways jostled his heart so badly that it weakened his aorta. They had to put a stint in the vessel in order to strengthen the walls of his aorta.
Aaron recovered miraculously from brain damage and a broken pelvis to almost a full recovery. He was certainly a different person, but he was fully active and fully functional. He went through everything from the ICU to rehab and the Saskatchewan health care system was incredible and gave Aaron the best care. Everyone gave 110%. We are so grateful to them.
As ongoing care Aaron was to have continual checkups on the stint in his aorta and so he was scheduled for a CT scan in June 2020. But that was cancelled in Yorkton, SK due to Covid regulations. He was told it would be rescheduled. July went by and then into August and no word of rescheduling.
On August 13th Aaron went for a morning run and collapsed on the sidewalk. He was holding his head and throwing up and he couldn't feel or move his legs. It turns out there was a blood clot forming at the stint in his aorta and as he went for a jog the clot exploded showering through his lower body clogging the blood vessels supplying his organs and muscles with oxygen. He survived for 45 more hours as the incredible health care staff tried to save him. They did their best but the damage was too much.
This blood clot had been forming for some time. This stint is the size of a small garden hose and so much blood is constantly flowing through it. The surgeons said that it was closed to the size of a small hole the size of the tip of an ink pen. If Aaron had gone to that CT scan in June or even if it was rescheduled in July than they may have seen something developing in his aorta and been able to deal with. The end result would be my son still walking amongst us. Instead out of the fear and panic of COVID, rules were made that cancelled a simple procedure that would have saved my sons life.
This procedure was to be done in Yorkton, SK and was cancelled due to COVID, but there is zero COVID cases in the hospital in Yorkton. It appears to me that now in the Yorkton area we have a COVID related death, my son Aaron Ogden. In fear bad rules have been set up and procedures that may save lives are not being done out of fear of spreading COVID. While trying to save lives they have killed others. This is unacceptable. I'm calling on those who make these rules to answer for this.
Let's not kill more people because of fear. This also does not have to be a trade off of one danger for another. These procedures, like a CT scan can be done safely with all COVID screening in place. I think something needs to be changed.
Thank you for reading this and please share this so that we don't have to have any more senseless deaths.
COVID cases falling! Below 200 in Red Deer and under 1200 in all of Central Alberta – Mike York Update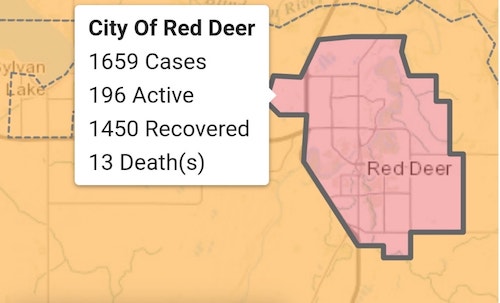 Thursday January 14th, 2021 Covid-19 update from AHS goes like this.
In the Central Zone, 64 new cases and 186 new recoveries.
Wow!
The total active cases has dropped dramatically since yesterday from 1275 to 1152 in our region.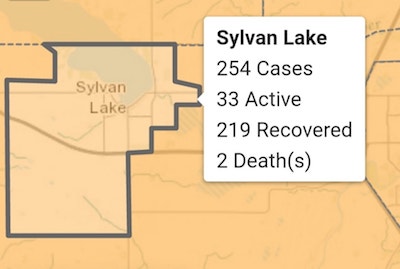 There are now 75 people in hospitals which is 5 fewer than yesterday's total. 15 of these people are in ICU. Sad to report 1 additional death in the zone since yesterday to bring that total to 65 to date.
Red Deer had some positive numbers also.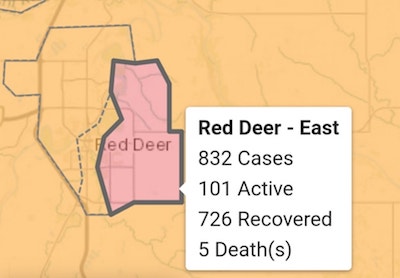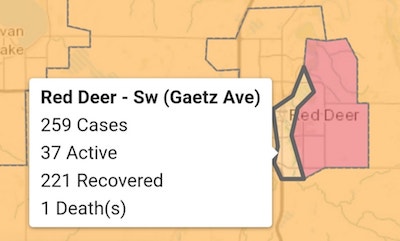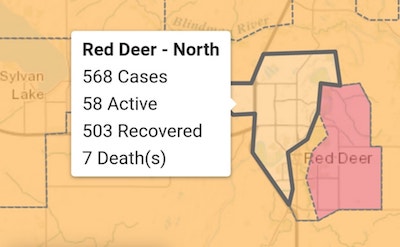 Just 13 new positive cases and 33 recoveries. Thus our active cases has decreased by 20 to just 196 at this time.
Very promising outlook going forward, it seems our current health measures are working, way to go people.
Cheers for now.
Only 5 new COVID cases in Red Deer – Mike York Update for Jan 12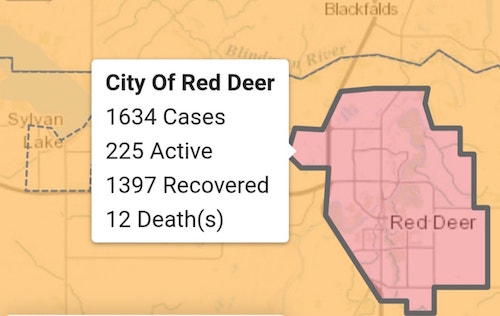 Here is the AHS Covid-19 report for Tuesday January 12, 2021.
Our province is showing some current positive numbers of late.
Today Alberta has had more than twice as many recoveries as opposed to new cases. Just 652 new cases of the virus but a remarkable 1311 people recovered.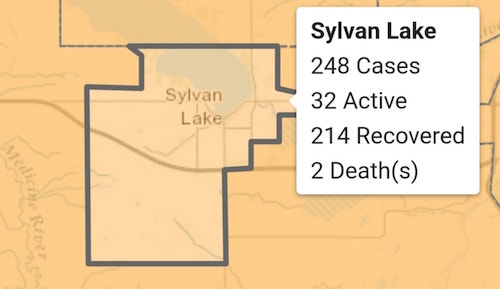 In the Central Zone, the tragic news first. Unfortunately 6 more casualties to covid were reported since 24 hours ago. Our resort town to the west, Sylvan Lake has had its second fatality, the city of Camrose has had 2 new deaths bringing there total up to 11 now. There was also another life lost in the Vegreville area, there third.
Also, our fair city of Red Deer has suffered 2 more deaths to bring our total now to 12.
The Central zone had just 37 new cases since yestetday, that's the lowest single day total of new cases in nearly 6 weeks.(22 on Nov. 29th)
The zone had almost 3 times as many recoveries as new cases with 109. The result is a decrease of 78 in active cases, down from 1472 yesterday to 1394 today.
There are 84 people in hospitals in the zone, 16 of which are in the ICU in RDRH.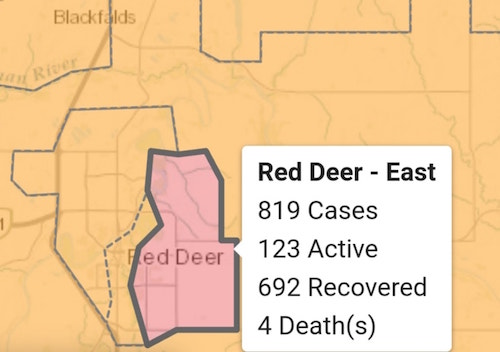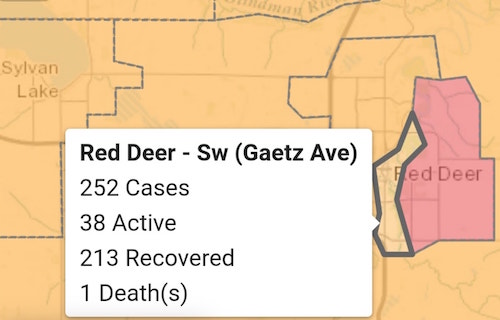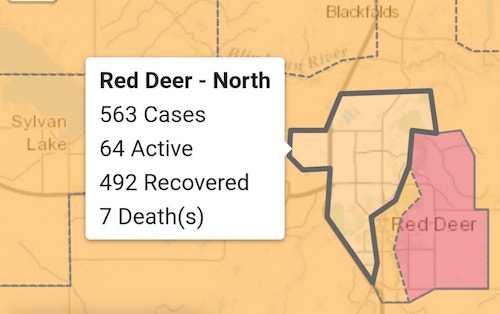 In the city we love, Red Deer, we had just 5 new cases reported, the lowest single day total since November 21, and only the 4th time since the end of September we have had 5 or less cases reported in a single day. Way to go people!
Along with the 5 new cases comes 18 new recoveries. We therefore now have just 225 active cases.
This is the lowest our active cases has been since November 16th when there were 217.
The total number of people in our hospital with the virus is now 43, 16 of which are in Intensive care.
Again, its nothing other than the people following protocol and guidelines in our city, and in our zone that effects these numbers getting worse or getting better. Whatever we are collectively doing, is starting to show results!
Keep up the good work and be proud of the sacrifices you are making everyone.
Cheers to you all !!