Cultural non-profits, heads up! Applications soon to be accepted for Community Culture Development Fund
The City of Red Deer will accept applications for the 2019 Community Culture Development Fund grant program starting May 15, 2018. The program provides financial support to not-for-profit organizations that deliver arts, culture and heritage initiatives in Red Deer. Grant funds are intended to assist organizations to build their capacity to provide a service, manage a cultural facility, act as an umbrella organization for other cultural organizations, develop new cultural programs and services or to host a special event or festival.
The Culture Development category provides funding for up to three years while the Culture Opportunities category offers support for short notice and/or one-time costs.
"Our community's unique culture is conveyed through artistic expression, creative citizens, public art, natural and built heritage features, cultural heritage, festivals, special events, and more," said Tara O'Donnell, Culture Superintendent. "The Community Culture Development Fund is designed to support these initiatives and build the kind of vibrant community that Red Deerians have expressed is important to them."
Applications for the Culture Development category for the 2019 funding year will be accepted from May 15 to June 30, 2018. In previous years, the application deadline was December 15. Moving the deadline to June will allow successful applicants to receive funds in January rather than April of the funding year. This is a permanent change to the intake dates for the program. Applications for the Culture Opportunities category for the 2019 funding year will be accepted from May 15, 2018 until the funds have been expended. This change is for the 2019 funding year only, to encourage community projects connected to the 2019 Canada Winter Games.
Interested groups are invited to attend an optional information workshop on Tuesday, May 15 that will outline the grant application and reporting process. The workshop will be held from 6:30 – 8:30 p.m. at Culture Services (3827 39 Street). Please RSVP to 403-309-4091 or [email protected] by Friday, May 11.
For more information and to access funding application forms, visit http://www.reddeer.ca/recreationand-culture/arts-and-culture/culture-in-the-community/community-culture-grants/.
Notre Dame Fine Arts Department presents: "Elf, the Musical!"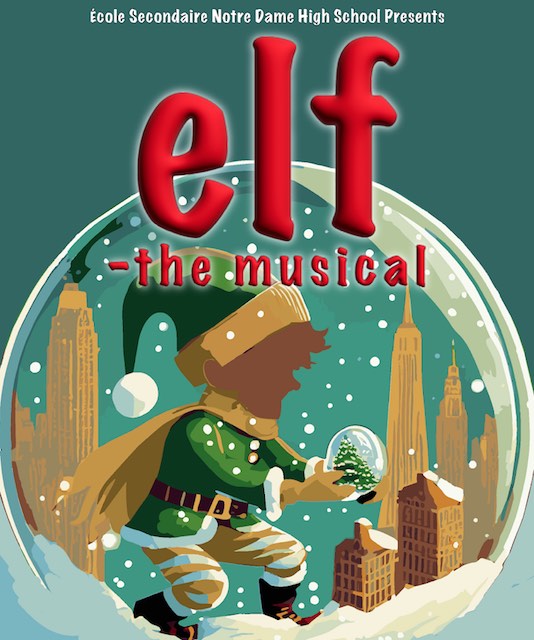 News release from Red Deer Catholic Regional Schools
NOTRE DAME FINE ARTS DEPARTMENT IS INVITING YOU TO OUR MUSICAL PRODUCTION OF Elf, the Musical!
TICKETS ON SALE NOW!
Directed by Jennifer Cocolicchio starring JM Amurao, Addy Penney, Please join the Notre Dame Fine Arts students for their interpretation of Matilda.
A title known the world over, Elf The Musical is a must-produce holiday musical that can easily become an annual tradition for any theatre. Based on the cherished 2003 New Line Cinema hit, Elf features songs by Tony Award nominees Matthew Sklar (The Wedding Singer) and Chad Beguelin (Disney's Aladdin on Broadway), with a book by Tony Award winners, Thomas Meehan (Annie, The Producers, Hairspray) and Bob Martin (The Drowsy Chaperone).
Buddy, a young orphan, mistakenly crawls into Santa's bag of gifts and is transported to the North Pole. The would-be elf is raised, unaware that he is actually a human until his enormous size and poor toy-making abilities cause him to face the truth. With Santa's permission, Buddy embarks on a journey to New York City to find his birth father and discover his true identity. Faced with the harsh realities that his father is on the naughty list and his half-brother doesn't even believe in Santa, Buddy is determined to win over his new family and help New York remember the true meaning of Christmas.
This modern-day holiday classic is sure to make everyone embrace their inner elf. After all, the best way to spread Christmas Cheer is singing loud for all to hear. (https://www.mtishows.com/elf-the-musical)
The shows take place at Red Deer's Memorial Center on December 7, 8, & 9 at 7:00pm.
There are also Matinees on December 8 and 9 at 1:00pm.
TICKETS ARE $25.00
TICKETS AVAILABLE in advance at Notre Dame's front office, and online at https://www.studentquickpay.com/rdcrs/MyAccount/Main.aspx or on the date at the theatre door.
First Fridays Gallery Openings for Red Deer September 1, 2023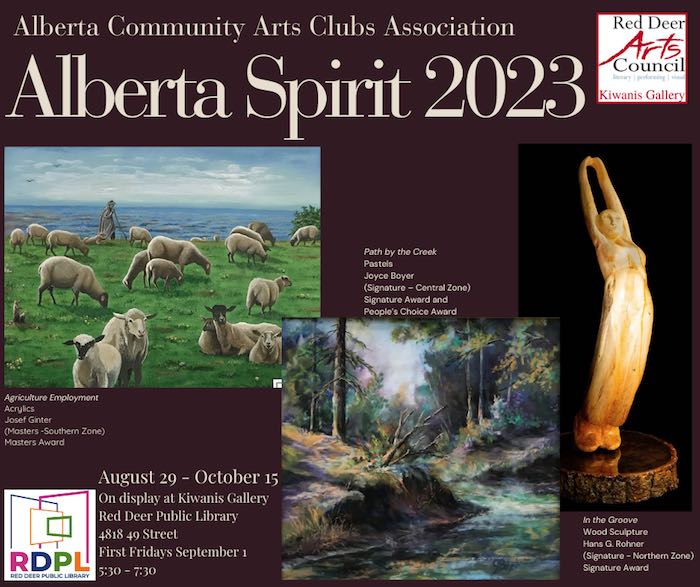 Title: Alberta Spirit Show
Kiwanis Gallery, 4818 49 Street, in Red Deer Public Library
Media: Various
Exhibition Dates: August 29 – October 15, 2023
#FirstFridaysRedDeer opening reception September 1 from 5:30 – 7:30pm with several of the Artists in attendance.
Exhibition Description: The Alberta Community Art Clubs Association's Spirit Show follows the province-wide Zone shows each year. The Alberta Spirit Show this year is made up of the best of the works from the
Northern, Central and Southern Zone shows to produce the Alberta Wide Exhibition. Truly, the best of the best is an understatement!
Hours: Mon – Thurs: 9 am – 8 pm, Fri: 9 am – 5 pm, Sat & Sun: 10 am – 3 pm
Title: Here, There, and Everywhere
Artists: William Armstrong, Judy Brownlee, Marianne Harris, Lynn LeCorre, Lucy McKavanagh, Kristina Miko, Nicole Murray, Jan Raymond, Betty Schnell, Hazel Sheehan, Carmen
Therriault, Theresa Towers Rickard, and Eelkje VanderMeulen-Smart
The Red Deer Arts Council Community Gallery, 6–4919 49 Street
Media: Various
Exhibition Dates: August 31 – October 3, 2023
#FirstFridaysRedDeer reception September 1, 2023 from 5pm – 7pm.
Description: For our Alberta Culture Days group exhibition, artists were asked to submit works that considered the importance of place, and their responses included culturally meaningful places, places of solace, places we
live. Come see how these artists interpreted the places they love, here, there, and everywhere in both imagery and poetry. Presented in collaboration with Central Alberta Retired Teachers' Association.
Regular (Summer) Gallery Hours: Monday to Friday 10am – 4pm
Title: The Oracles of Time
Artists: Eleanor P. Boyden
The Viewpoint Gallery, 5205 48 Avenue
Media: Acrylic Abstract Paintings
Dates: August 4 – September 22, 2023
#FirstFridaysRedDeer – the Gallery is open 8am – 8pm.
Artist's Statement: This new body of work, developed during an extended period of isolation, poses the question – How might we reconsider our experience of time, both singularly and as a community, from the past, through the present, and speculatively into the future?
As a collection, these abstract paintings engage with the viewer to collectively shift our understanding of how time is segmented, layered, and communicated. The work operates both as a meditation on many difficult aspects of isolation I experienced during the Covid pandemic, specifically how my relationship with time was altered, as well as reflecting a desire to shift from a sense of the endlessness and recognize the gift of time to explore a new painting process and deepen the themes presented in this series. I am truly excited about this body of work. I feel that The Oracles of Time series provides an opportunity to reconsider perceptions of the past, through our present experiences, and to look into the future with speculative wonderment. I believe that this project can reach a large and diverse audience and will challenge people's notions of how we experience time.
About the Gallery: The Viewpoint Gallery showcases original works of art by individual artists and collectives, and curated exhibitions. The gallery is in the lobby of the City of Red Deer Culture Services facility. Visit our Viewpoint Gallery page for more information.
Hours of operation: Monday to Friday: 8:00am – 4:30pm
Title: The Beauty of Our Natural World
Artist: Sharon Wright
Marjorie Wood Gallery, Kerry Wood Nature Centre, 6300 45 Avenue, Red Deer, AB
Media: Paintings
Dates: September 1 – October 16, 2023
#FirstFridays Opening Reception September 1 from 4 – 6pm in the Marjorie Wood Gallery with the artist in attendance.
Description: Come enjoy Sharon's vibrant, impressionistic oil paintings of people, animals, and places.
Submitted Artwork by Sharon Wright
Title: Lines and Shadows
Artists: Carol Lynn Gilchrist and Guest Margriet Hogue
Riverlands Studio and Gallery, 5123 48 Street, Red Deer
Media: Mixed Media
Dates of Exhibition: September 1 -27, 2023
Opening Reception: September 1 from 5:30 – 8:30 pm
http://Facebook.com/RiverlandsStudioandGallery
http://Instagram.com/@clgilchrist_artist
http://Instagram.com/@margriethogue
http://Facebook.com/MargrietHogue
Website: www.margriethogue.com
Title: September Sunflowers
Artists: Marlene Kallstrom-Barritt, Betty Schnell, Elizabeth Schapansky, Wendy Meeres, Amanda Frost, Audrey Rits, and many more!
Curiosity Art & Framing, 5002 48 Street, Red Deer
Media: Various
Dates: September 1 – 30, 2023
Description: September Sunflowers is an exhibition this month that has the theme of Sunflowers and floral fall. Stop by our new gallery at the corner of Little Gaetz and 48th Street.
Continuing Exhibitions
Title: Drawings by Martin Dahl
Artists: Martin Dahl
The Corridor Community Gallery, 4501 47A Ave inside the Recreation Centre
Media: Ink, Pencil, Coloured Pencil Drawings
Dates: August 4 – October 3, 2023
Description: Martin is a self-taught Red Deer artist who enjoys drawing old barns and buildings with abandoned and decaying cars and trucks in the foreground, or partially sunken and beached boats or ships. The drawings are mainly inspired by Martin's own photos taken in Alberta, Saskatchewan, and British Columbia or from those sent to him by family and friends.
About the Gallery: The Corridor Community Gallery is hosted by the City of Red Deer Community Development. This space, adjacent to our clay studio spaces, provides a public venue for local artists and allows us to share in the talents of fellow community members.
Visit https://www.reddeer.ca/corridor for more information.
Hours of operation: Monday to Friday 5:30 am – 10pm, Saturday 8am – 10pm, Sunday 11am – 8pm, Stats 12pm – 5pm
For information on visual arts classes and programs offered by the City of Red Deer or to enquire about showing your artwork in the Corridor Community Gallery, please contact: The City of Red Deer, Community Development | 403-406-8820 | [email protected]
Title: Body Language: Reawakening Cultural Tattooing of the Northwest
Red Deer Museum + Art Gallery (MAG) 4525 47A Avenue
Friday, September 1 from 5 – 8pm
Drop in to see the current exhibition Body Language: Reawakening Cultural Tattooing of the Northwest as part of #FirstFridaysRedDeer.
NEW: The MAG is now open Wednesdays and Fridays until 8pm on a permanent basis.
Velvet Olive Lounge, 4928C 50 Street, Red Deer (or enter via Capitol Pkg Store on Ross Street Patio)
Artribute Art School, 212 – 4836 50 Street, in the Old Courthouse. Treaty 6 & 7
Solorzano Spa Cafe & Wine Bar, 4631 50 Street, Red Deer, AB
First Fridays Red Deer is the monthly event where downtown art galleries hold exhibit openings and special events.
Creativity Understood.