Covid vaccines available at 9 Red Deer pharmacies – Locations and contact information
From the Province of Alberta
COVID-19 immunization program
To ensure fair access to all Albertans needing to be immunized and to prevent unnecessary wastage of vaccine doses please book ONLY one appointment per person. Do not book multiple appointments at multiple sites.
Who is eligible to receive the COVID-19 vaccine through a pharmacy?
Pharmacies are able to offer immunizations to seniors 75 years of age and older (born in 1946 or earlier) living in the community.
Alberta Health Services will offer the vaccine directly to residents in retirement centres, lodges, supportive living and other congregate living facilities.
Where can I get the vaccine?
Below is a list of participating pharmacies. You must book an appointment with the pharmacy closest to you to receive the vaccine. No walk-ins will be permitted.
Due to limited vaccine quantities and storage and handling requirements, only select pharmacies in Edmonton, Red Deer and Calgary are able to participate in the vaccine rollout at this time. Once there is adequate COVID-19 vaccine supply, distribution will be expanded.
Pharmacies are listed in alphabetical order.
Johnstone IDA Pharmacy
100-2 Jewell Street
403-348-8203
Loblaw Pharmacy #1579
Red Deer Superstore
5016 51 Ave
403-350-3530
London Drugs #24
109-2004 50 Ave
403-342-1242
Notre Dame Pharmasave
1109-2827 30 Ave
403-588-3195
Save-On-Foods Pharmacy #6682
6720 52 Ave
403-343-7744
Shoppers Drug Mart #2306
1 Chambers Ave
403-342-5548
shopersdrugmart.ca/en/health-and-pharmacy/covid-19?ShortURL=covid
Shoppers Drug Mart #326
Bower Mall Location
A6-4900 Molly Bannister Drive
403-343-3355
shopersdrugmart.ca/en/health-and-pharmacy/covid-19?ShortURL=covid
The Medicine Shoppe Pharmacy #341
130-2950 22 Street
403-343-8831
medicineshoppe.ca/en/alberta/red-deer/the-medicine-shoppe-pharmacy-341-7041122
Wal-Mart Pharmacy #3075
Parkland Mall Shopping Centre
6375 50 Ave
403-347-1123
Red Deer family needs a little support as toddler spends 3rd birthday in Children's Hospital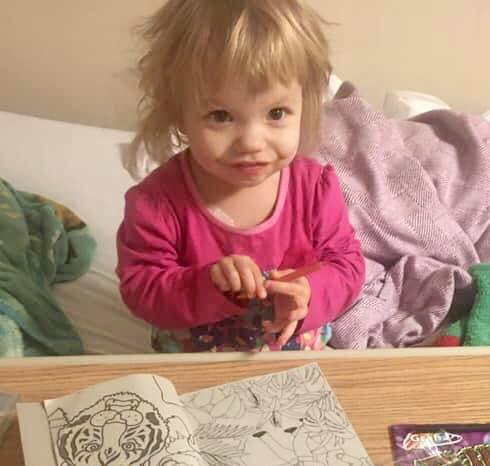 Article submitted by Roxzane Sisson Armstrong.
It's time for:  
Coffee for Codeigh!
This is a challenge I am starting for my sweet cousin's fundraiser.
Please share, share, share and have some fun challenging others!
Details in the pictures attached.
Fundraiser can be found at:
From gofundme
It's been about a month since our last update. When last we left you, Codeigh Mae was in the hospital for a "tune up" to her dialysis as we attempted to manage her ever changing sodium levels.
Her and Dad spent close to two weeks at the children's hospital making changes to various medications and when we came home, Codeigh Mae's hospital schedule was changed to twice a week – once for Albumin and bloodwork and once to get a shot to increase her red blood cell count, which seemed to keep dropping – a common complication of Congenital Nephrotic Syndrome and the secondary conditions it causes, such as blood clots and low iron.
We notice during this time home that Codeigh Mae doesn't have the same energy levels, she's puffy and she's peeing less – even on Albumin days, when we're used to getting very full wet diapers. After multiple instances of very high blood pressure, it was decided to send her back to the children's hospital.
She's now been there for a week and we're not 100% sure what the going home plan looks like. She even spent her 3rd birthday in the hospital!
Codeigh Mae is really throwing these doctors for a loop. They've noticed her bloodwork will be dramatically different based on what time of day it's taken at or whether it comes from her arm or her port. As soon as they get control of one set of numbers (for example, her sodium), other numbers will go crazy (like her potassium). Her blood pressure has also been hard to manage and on multiple occasions she has had what is called a hypertensive crisis, in which the blood pressure reaches dangerous levels. Her hemoglobin (or red blood cell count) has also been incredibly low – nearing transfusion territory, which we need to avoid for transplant reasons.
Yesterday, Dad met with the surgeon to discuss and get consent for a double nephrectomy. The actual term is Radical Bilateral Nephrectomy – radical meaning the whole kidney (not just a part of it) and bilateral meaning both kidneys.
Yes, you can live with no kidneys!
Essentially, her kidneys, which still function even though she's on dialysis, are releasing a hormone that tells her blood vessels to constrict – which causes her blood pressure to rise. Remove the kidneys, remove the hormone and cascades that cause funkiness in her other numbers and you almost remove the problem. The dialysis becomes her kidneys entirely and we don't have to worry about what the actual kidneys are doing and what role they place in the process.
While the surgeon feels comfortable doing the surgery while her hemoglobin is low, the team has ultimately decided to try to boost the hemoglobin as much as we can prior to surgery – which will hopefully negate the need for a transfusion during.
They expect at least another month before we go for the nephrectomy (hence why the title of this update includes May) and are optimistic that Dad and Codeigh Mae will get to come home before we're admitted again for another undetermined amount of time.
So that's what we know so far! Be sure to follow Caring for Codeigh Mae on Facebook for more regular updates as they happen:
http://facebook.com/codeigh.mae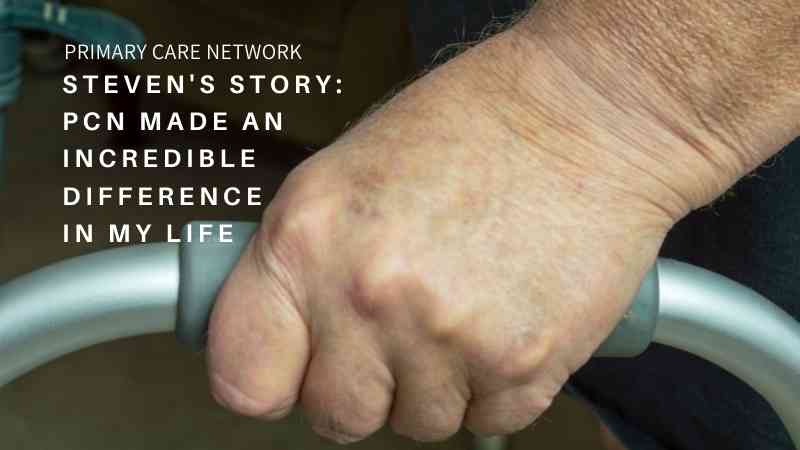 Every day is a new day!
Life was challenging for Steven after a series of 5 heart attacks that have affected his physical and mental health over the last 10 to 12 years. Steven became quite isolated and had little interaction with anyone.  He was on a number of medications which changed over time, yet he never felt good. He also tried different doctors and finally ended up with one who referred him to the RDPCN. He has taken both the Happiness program and the Moving on with Persistent Pain program twice, and also taken Health Basics, Anxiety to Calm, Quit Smoking, and used the services of a pharmacist and mental health counselor.
The PCN staff has connected him with other community resources such as the Golden Circle. His medication has been decreased and he has gained perspective on different healthy solutions to his challenges.
Steven says the PCN has made a tremendous difference in his life. He has gained social skills and confidence which started through interacting with the PCN staff.  Gradually he has put his foot forward and used the skills he learned to connect with other people and programs.  He is a very different person than he was two years ago. It is much easier for him to talk to people. He does lots of walking using his walker. And he has a much healthier perspective: Every day is a new day and he makes the most of it!
Steven's wife and daughter have attended PCN programs on his recommendation and loved them. Steven says every connection with the PCN has been is very positive and very educational!
Click here to learn more about the Red Deer Primary Care Network.
Cick here to read more success stories from the PCN.