COVID cases plummeting in Central Alberta, except in Wainwright area
Covid-19 cases in Central Alberta Zone are dropping drastically. Just 19 new cases were reported from August 7 to August 13.
More than half of the remaining 81 active cases in Central Alberta are in the Wainwright area where 44 people are battling COVID.
The number of cases have plummeted in Beaver County at 3, and Starland County at 1.
Wainwright area at 45 account for 170 out of the 224 cases in Central Alberta. Here's the Central Alberta breakdown in cases including the 8 municipalities with no cases at all.
Central Alberta Communities – Active Cases
MD of Wainwright – 44

Red Deer – 10
Settler County – 6

Vermillion River County – 5
Flagstaff County – 3
Lacombe County – 3
Beaver County – 3
Red Deer County – 3
Drumheller – 2
Starland County – 1
Kneehill County – 1
Camrose – 1
Lacombe – 1
Mountain View County – 1
Paintearth County – 0
Sylvan Lake – 0
Special Areas 2 – 0
Provost County – 0
Camrose County – 0
Clearwater County – 0
Wetaskiwin – 0
Olds – 0
Ponoka County – 0
Two Hills County – 0
Wetaskiwin County- 0
Minburn County – 0
Special Areas 4 – 0
In the City of Red Deer there are 10 active cases. 2 in "North" Red Deer, 2 in "South-West" Red Deer, and 6 in Red Deer – East.
Here are the total number of cases for the entire province including all the recoveries.
Grant's story: Amazing Improvement with Hard Work & Support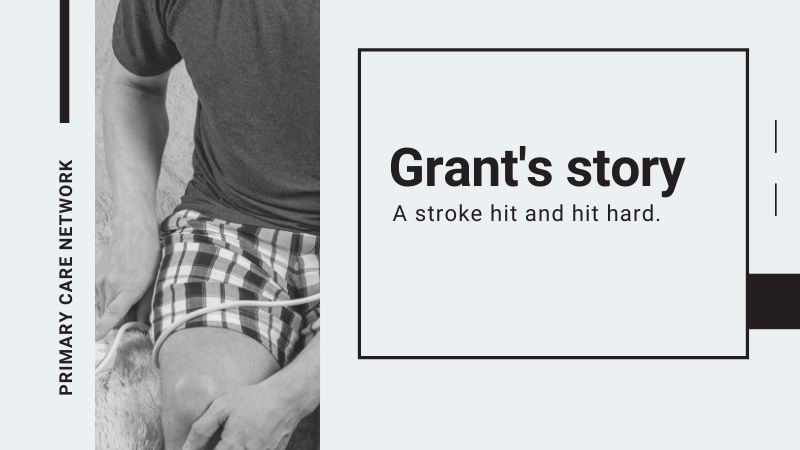 Grant was in his mid-fifties – maybe a bit overweight but with no other cardiovascular risk factors. However, a stroke hit and hit hard. His right side was very compromised, he had little use of his hands, he was unable to walk or lift his right arm. He was hospitalized in Red Deer for 4 months and then went to the Centennial Centre in Ponoka for rehab for 6 months. His doctor had told him that he would be bound to a wheelchair for the rest of his life and would never walk again or be able to recover from this stroke. This made Grant angry as he didn't want this prognosis.
Since that time, he has put a lot of work and effort into getting better. The physios and rehab team helped him make progress, but he kept asking them how he could get more training. They were able to refer him to Recreation Therapy at RDPCN. His therapist arranged to work with him at the Gary W Harris Canada Games Centre three times per week. He is doing a lot better now. He can walk with a cane and he can lift 30 pounds on the machines at the gym. He can now clap hands. He has gained strength and control, his gait has improved along with his endurance, and he has an increased range of motion and strength in his upper extremities. He can now do many more tasks of daily living such as carry groceries, cook and barbeque.
Grant states that his doctor can't believe his progress. Other people he knows have said very similar things. Working with the Rec Therapist has been very encouraging and supportive. The Rec Therapist has really helped me to stay motivated. Having a plan for myself also helps the attendants at the Gary Harris Centre to work with me to move forward. I have highly recommended this program to others I know who have had a stroke.
My work is not done but I am proud of the progress I have made and thankful for everything I can do for myself.
To learn more about the RDPCN programs, visit www.reddeerpcn.com
Attention young athletes! The Alberta Sport Development Centre is back with new and flexible program options
Have you checked out our new and flexible programming options? Or do you want to know what we are all about? Watch our videos below to hear from athletes who have used our programs.
Our AEP program is open to serious athletes, 15 years and older, striving to be achieve their best performances. This 12 month program will include strength training and winning edge seminars.
Each athlete who signs on for AEP receives a full one (1) year membership at the RDC Fitness Centre at the Gary W. Harris Canada Games Centre. Athletes also have the option to train in a coach-led/supervised session a minimum of 2x per week.
A personalized strength and conditioning program that is delivered to the athlete via the App – TrainHeroic
Regularly scheduled Mental Skills (MS) training sessions. MS program is a tiered program (Bronze/Silver/Gold/Platinum). Bronze & Silver MS consists of 3 sessions of group learning delivered in-person or online. Gold MS is only open to athletes who have completed Bronze and Silver levels and consists of monthly small group sessions with an MS facilitator either in-person or online. Platinum MS is only open to athletes competing/training at a National Team or international level but are not considered 'carded' athletes by their National Sport organization. Platinum athletes receive personalized 1 on 1 learning opportunities and training.
Access to regularly scheduled Nutrition sessions. The Nutrition program follows the same basic format as MS.
Access to regularly scheduled learning sessions on other topics each year. Topics may include such topics as – rest & regeneration; media training; sleep; concussion awareness, guest speakers and others.
Enrollment to this program is continuous and the 12-months period will start on the month you enroll.
Cost: $525
Follow link to apply – AEP Application