COVID cases plummeting in Central Alberta, except in Wainwright area
Covid-19 cases in Central Alberta Zone are dropping drastically.  Just 19 new cases were reported from August 7 to August 13.
More than half of the remaining 81 active cases in Central Alberta are in the Wainwright area where 44 people are battling COVID.
The number of cases have plummeted in Beaver County at 3, and Starland County at 1.
Wainwright area at 45 account for 170 out of the 224 cases in Central Alberta.  Here's the Central Alberta breakdown in cases including the 8 municipalities with no cases at all.
Central Alberta Communities – Active Cases
MD of Wainwright – 44

Red Deer – 10
Settler County – 6

Vermillion River County – 5
Flagstaff County – 3
Lacombe County – 3
Beaver County – 3
Red Deer County – 3
Drumheller – 2
Starland County – 1
Kneehill County – 1
Camrose – 1
Lacombe – 1
Mountain View County – 1
Paintearth County – 0
Sylvan Lake – 0
Special Areas 2 – 0
Provost County – 0
Camrose County – 0
Clearwater County – 0
Wetaskiwin – 0
Olds – 0
Ponoka County – 0
Two Hills County – 0
Wetaskiwin County- 0
Minburn County – 0
Special Areas 4 – 0
In the City of Red Deer there are 10 active cases.  2 in "North" Red Deer, 2 in "South-West" Red Deer, and 6 in Red Deer – East.
Here are the total number of cases for the entire province including all the recoveries.
Judy's story: I'm on the healthy road!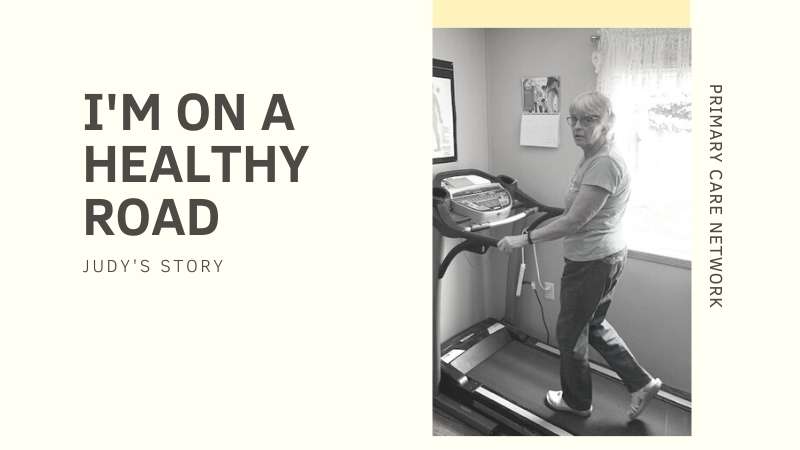 On the Healthy Road!
My journey to better health starting when my doctor told me my blood sugar was at pre-diabetes levels, my blood pressure continued to require medication and I had weight to lose.  He sent me to see the RDPCN nurse. After some appointments there, the nurse referred me to the Health Basics program.
Exercise was my downfall. Working from home, I always found something else to do rather than exercise.  Health Basics increased my awareness. I tracked what I was eating and became more aware of what I ate, when I ate and why I ate. I also realized things that would make me healthier that I wasn't doing.  I realized being healthy is a process and I took one healthy step at a time. I also became aware of the wider variety of options for healthy lifestyle.
My husband and I visited friends over the summer and noted they had lost weight.  This stimulated us to pay even more attention to our food intake. As a result of our overall efforts, I have lost about 32 pounds and my husband has lost 37. My blood sugar is now in the normal range. I have had significant decrease in my blood pressure medication. I have more energy. I enjoy exercising more as it is easier to move around and I have less arthritis pain. Health Basics is an excellent class- it started me on the healthy road. I also have much more confidence in my future health.
Click to learn more about the Red Deer Primary Care Network.
Read more success stories from the Primary Care Network.
Stars and RCMP chopper combine to rescue fallen ice climber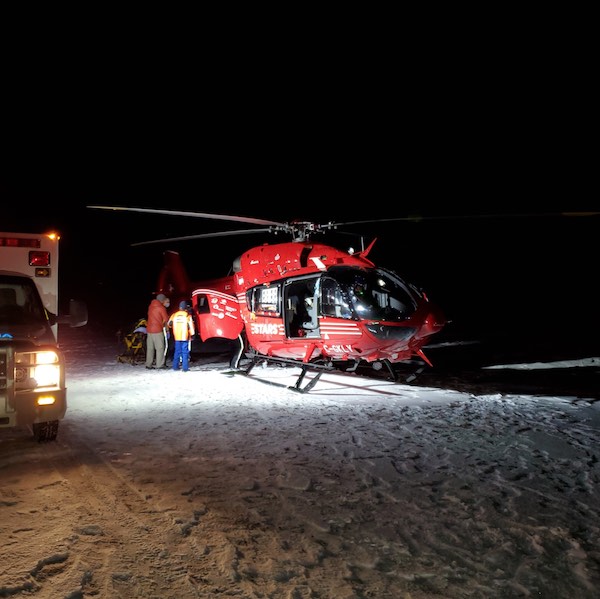 From Alberta RCMP media relations
Rocky Mountain House RCMP assist in ice climber rescue
On Jan. 15, 2021 at approximately 2:30 p.m., Rocky Mountain House RCMP received a dispatch of a fallen ice climber who was in need of medical assistance. A SOS beacon was received locating the fallen ice climber at the south end of Abraham Lake. Reports indicate the climber fell approximately 12 meters.
RCMP, EMS, Search and Rescue (SAR), STARS air ambulance and Alstrom Helicopters assisted in the rescue. The 28 year old injured male was long line rescued from his location by Alstrom Helicopters, with the assistance of Rocky Mountain House SAR. STARS was waiting nearby and further transported the injured male to a Calgary hospital.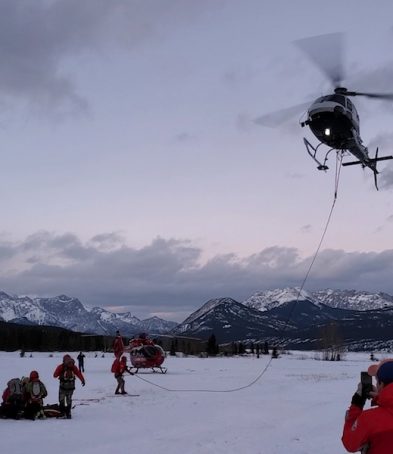 The rescued male suffered serious but non life threatening injuries as a result of his fall.
Everyone who assisted in this rescue should be commended for their professional, swift and incredible work. Well done!