City's 'Social Diversion Team' called upon nearly 900 times in first 6 months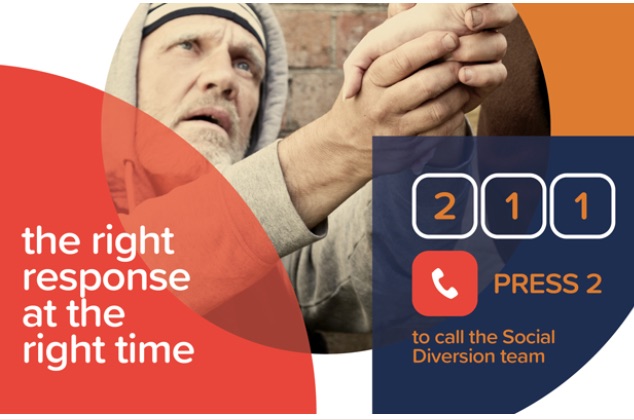 Red Deer's Social Diversion Team making a difference
Since launching in late January of this year, Red Deer's Social Diversion Team has been making a huge impact by providing help to individuals in distress and reducing the number of non-emergency calls dispatched to emergency first responders.
"In the first six months, the Social Diversion Team responded to 878 events, averaging approximately six calls per day," says Jeremy Bouw, Safe & Healthy Communities Supervisor for The City of Red Deer. "Each one of these calls represents an event that was diverted from our emergency medical services and policing resources, and also demonstrates our ability to respond to individuals in need with the right resources at the right time."
Since January, Red Deerians have had the option to call 2-1-1 and press 2 when they see someone that needs non-emergency support, such as someone experiencing mental health issues, addictions crisis or homelessness. Statistics show that the team is having the greatest impact in the city's downtown core. "We have had really great feedback from downtown businesses, where a majority of our calls stem from," says Stephanie MacDonald, Program Manager with Safe Harbour. "The Social Diversion Team has been very effective in both working with the individual to connect them with the resources they need, as well as provide positive outcomes for the businesses that have called us."
The most common issues the Social Diversion Team responds to are related to homelessness, intoxication and mental health. As these Teams are comprised of a Licensed Practical Nurse and a Social Diversion Specialist, they are uniquely prepared and qualified to provide support to these issues. The team connects people with the social services they need, such as housing supports, mental health supports, detox programs and harm reduction resources. "When we launched this program, our goal was to improve community safety by providing a broader spectrum of supports," says Bouw. "In reviewing the six-month data, it has been demonstrated that the Social Diversion Model has been successful in supporting first responders, the business community, citizens, and the individuals in crisis."
The program utilizes the 2-1-1 service for dispatch and contracts personnel through Safe Harbour. While the Social Diversion team's hours are 7 a.m. to 7 p.m. currently, 2-1-1 responds to calls 24/7, and refers them to the proper agency for response.
For more information about the Social Diversion team, please visit www.reddeer.ca/211.
Blue Jays play long ball to snap skid, beat Rays 5-1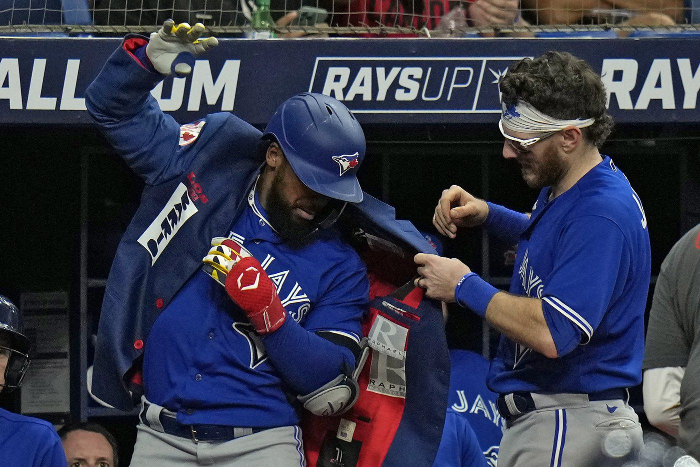 By Dick Scanlon in St. Petersburg
ST. PETERSBURG, Fla. (AP) — Teoscar Hernandez and Danny Jansen homered in the eighth inning and the Toronto Blue Jays beat the Tampa Bay Rays 5-1 Saturday to end a five-game skid.
Hernandez, who missed three weeks with a sore left oblique, hit his second homer of the season leading off the eighth in a 1-1 game.
"We all know that we needed a big hit like that. It came from my bat, but I know the other guys are going to keep hitting and we're going to get into a winning streak now," said Hernandez, who had 32 homers and 116 RBIs last season. "It's been a long time for me without hitting a ball like that, especially since I was injured, but it's just about time."
Jansen was activated Saturday after being sidelined for more than a month with a strained left oblique and hit his third homer in only his ninth at-bat this year. He reached base three times and lined out to the warning track in center field.
"He hasn't missed a beat," manager Charlie Montoyo said. "He looked really good at the plate."
Both homers came off Ryan Thompson (1-2), who also gave up singles to Santiago Espinal and Lourdes Gurriel Jr. in the decisive four-run inning that served as a sigh of relief for the Blue Jays.
"To have a four-run lead, that hasn't happened very often," Montoyo said. "It was great to see the two-out hits. That's who we are. When you add on runs, then you don't have to play tight games."
Tim Mayza (2-0) got the win in relief after striking out two of his three batters in the seventh.
Vladimir Guerrero Jr. singled in the first inning off Rays starter Ryan Yarbrough, extending his hitting streak to 11 games, and scored on Espinal's sacrifice fly.
Manuel Margot and Randy Arozarena had two hits each for Tampa Bay. Margot stretched his career-high hitting streak to 11 games, during which he is hitting .486.
Yandy Diaz led off the Rays first with an opposite-field, 333-foot home run off left-hander Hyun Jin Ryu for the Rays' only run. It was Diaz's third of the season.
Ryu, pitching for the first time since April 16 due to an inflamed left forearm, gave up one run on four hits in 4 2/3 innings, striking out three.
"I just wanted to make sure I went deep into the game," Ryu said through a translator. "I regret the walk I gave up in the fifth inning more than the home run. If I didn't give up the walk, I could have finished the fifth."
He threw 71 pitches.
"Besides the great win, it was great to see Ryu do what he did today," Montoyo said. "What he did was perfect. That's what we needed. We'll go from there."
TRAINER'S ROOM
Blue Jays: CF George Springer, who sprained his left ankle Friday night, did not play. Montoyo said Springer will play Sunday if the ankle feels better.
Rays: RHP Pete Fairbanks, who has been on the 60-day injured list all season with a right lat strain, threw a baseball for the first time Saturday.
EXTRA JUICE NEEDED
Before Hernandez's homer in the eighth, the Blue Jays had four balls caught at the warning track.
"Everybody knows how hard it is to hit a ball out of the park right now because of things that they've been doing to the baseball. It's obvious that they've changed the baseballs," Hernandez said. "It's been hard, but I got that one pretty good."
UP NEXT
RHP Alek Manoah (4-0, 1.75), who beat the Rays three times last season and struck out 36 of the 98 Rays he faced in four starts, will pitch Sunday's series finale against LHP Jeffrey Springs (1-1, 2.12).
___
More AP MLB: https://apnews.com/hub/MLB and https://twitter.com/AP_Sports
Red Deer MP's drill the federal government on vaccine mandates and the plan to eliminate Western Canada's oil and gas industries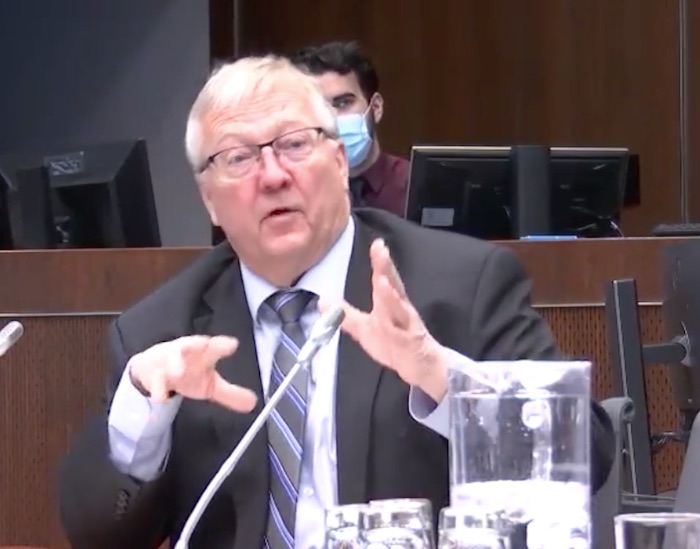 Red Deer's MPs have been flexing their opposition muscles this week. Earl Dreeshen and Blaine Calkins found themselves in the middle of some tense exchanges during question period and in committee meetings. Emotions in Ottawa have been high for months as a number of issues seem to be reaching the boiling point.
Regarding vaccine mandates and covid restrictions, Canada finds itself among only a few countries on the planet which has not dropped travel restrictions against its own citizens. MP Blaine Calkins offered a stinging rebuke and a pointed question which Liberal MP Adam Van Kouverden replied to by quoting a recent study by some Canadian scientists who set out to defend vaccine mandates with mathematical modelling which showed vaccinated people are at more of a risk when they interact with unvaccinated people. It's obvious from the exchange that it will take a lot more heat from the opposition to start to change the Liberal / NDP government's covid response.
Calkins has posted the exchange on his facebook page and introduced it with this statement, "The NDP-Liberal vaccine mandates are nothing more than a punitive policy meant to punish those that they view as holding unacceptable views. It's way past time to follow the science, to follow the lead of the provinces and our international peers and get rid of these harmful mandates."
Calkins also posted a short video to explain an incredible situation developing which 'could' result in fraud charges against the Prime Minister for accepting an illegal vacation to an Island owned by The Aga Khan.
Meanwhile, in a committee meeting regarding fossil fuel subsidies Earl Dreeshen called for an end to attacks on Alberta's oil can gas industry. Dreeshen posted this comment with his video. "The Government's plan to eliminate oil and gas is dangerous. There is no actual solution for Canadians who don't have the luxury of excess wealth and no real plan underneath their ideological promises."