City offering "virtual" fitness classes and deeply discounted recreation space rental rates for households
From the City of Red Deer
At home or with your household – new recreation opportunities available
Registration starts today for two new recreation opportunities – virtual fitness and household facility rentals.

While indoor City recreation facilities remain closed for general public use, we recognize that recreation plays an import role in supporting physical, mental and social wellbeing. With that in mind, we are excited to roll out two new programs this week.

Our new virtual fitness provides access to over 30 live classes a week, all taught by the fitness instructors you know and love. Classes are available to anyone, but recommended for those 14 and over. Virtual fitness classes are a safe, accessible and affordable way for citizens to revisit and explore fitness from the comfort of their own homes.

A monthly Virtual Fitness Pass is available for $25 per month, or single class registration is $5 per class. Passes can be purchased through Look n' Book, with classes beginning on March 15. To buy a pass or sign up for classes, please visit reddeer.ca/virtualfitness.

For those looking for in-person activities, our household facility rentals allow households

to rent specific amenities at a temporary discounted rate – $25 for one hour. Available amenities include dry space (field house, gymnasium and indoor soccer spaces), pool (Michener Aquatic Centre dive tank, lane pool and warm pool), and ice at various City arenas.
Household facility rentals can be booked starting today through an Activity Reservation on Look n' Book. Bookings will be available up to seven days in advance, with the first bookings beginning on Monday, March 15. Times will vary as these bookings are being coordinated around existing facility rentals by user groups. All participants must reside in the same household. More information is available here.
In addition to these programs, the walking track at Servus Arena will open for use through Activity Reservations on Look n' Book; reservations open today, with access beginning March 15. It is free to use the walking track, but an Activity Reservation is required; no drop in use is permitted at this time. Users must wear a mask at all times and ensure activity remains at a low intensity level.
The City continues to review and assess the services we can safely and practically offer under the existing provincial health measures. We are working towards a gradual return to services, with some additional activities targeted to begin as early as March 29, dependent on further announcements from the provincial government.
For more information on The City's response to COVID-19, visit: https://www.reddeer.ca/whats-happening/covid-19/
The Laft Hus celebrates 35 years in Red Deer
The Laft Hus is a replica of an 18th-century farmhouse in the Numedal district in Norway. It was created through the efforts of volunteers, and it officially opened to the public in 1987.
The museum contains many old artifacts and examples of Norwegian arts and crafts and a small butikk of Norwegian items and the house itself is of note due to its traditional sod roof.
The museum and gift shop are open to visitors every day (except Mondays) from June 1 through to August 31, 9:00 am to 3 pm. For the remainder of the year, the Norwegian Laft Hus is open each Wednesday when a group of ladies meet to work on Norwegian arts and crafts.
This year, the Laft Hus celebrates its 35th year in Red Deer. The annual festival will take place on June 18, 2022 and will have many activities, entertainment, Norwegian food and vendors for the visitors to enjoy. Help us celebrate!
For more information, visit their website.
Children's Fest is back in the park in 2022!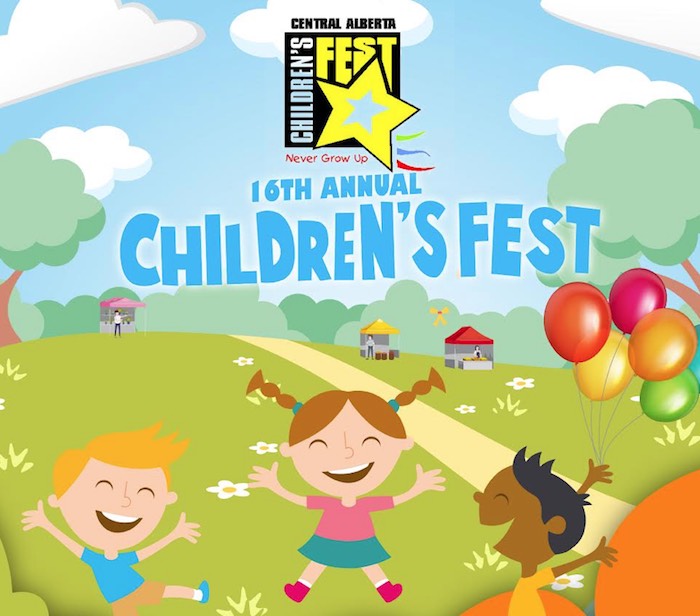 Groups and organizations come together to host the 16th Annual Central Alberta Children's Festival
Never Grow Up!
After 2 years of re-imagined festivals we are excited to be hosting the 16 th Annual Central Alberta Children's Festival back in the park. This family-friendly event is held over two days the first weekend of June. The festival is an opportunity for children and their families to get first-hand knowledge and exposure to the arts, to allow their creativity and imaginations to blossom.
June 3rd and 4th Rotary Recreation Park 4501 47A Ave, Red Deer will come to life with music, dancing, children running and laughing enjoying tons of interactive fun!
The community planning committee has been busy putting together a great two days that will enchant and engage children of all ages. With support from various community partners, the festival brings affordable, culturally diverse, and exciting entertainment through featured artists and interactive fun. We strive to allow families to actively engage in learning and playtime by fostering their imagination and creativity. From dancing, ultimate fort building, Laser Chase, Imaginate where you will learn from local artists, glitter tattoos, and performances this children's festival has it all.
Live shows include:
 Beppie a JUNO nominated recording artist and an award winning music educator based out of Edmonton,
 LANCE CARDINAL ᐊᐧᒐᐢᐠ First Nations artist, designer, and entrepreneur. Lance recently began a new role as Indigenous consultant and designer for the Edmonton Oilers, writing the new pre-game land acknowledgement video and designing the new Turtle Island Logo.
 The Joe Show – Start with a little magic. Add some breathtaking illusions. Stir in appearances from an amazing collection of animal friends with ventriloquism, Sprinkle in a healthy dose of jokes, laughter and fun, and you have the recipe for an amazing show known as the Joe Show
With our admission fee of only $7 per person, or $25 per family or anytime pass $40.00 for a family, every family can enjoy the world-class entertainment and all activities. Included with the admission, families will also have access to free
snacks and water (bring a bottle!), The Central Alberta Children's Festival welcomes kids ages 0 – 99!
For more information on the festival visit www.centralalbertachildrensfestival.ca