City Manager Allan Seabrooke retiring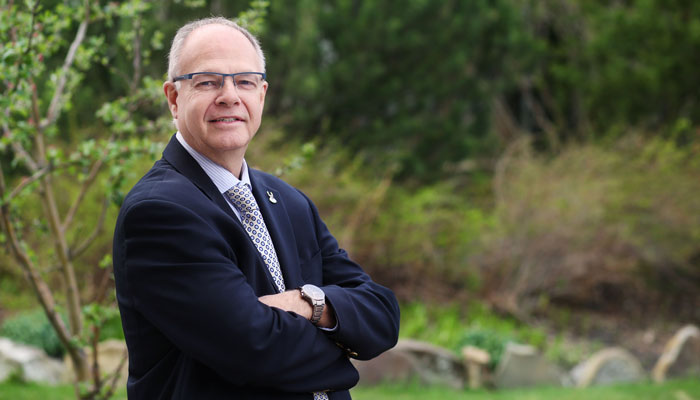 City Manager announces retirement
After two years with The City of Red Deer and more than 30 years in public and private sectors, City Manager Allan Seabrooke announced his intention to retire effective May 21, 2021, as he plans to return to Ontario to be closer to family.

Allan Seabrooke became City Manager for The City of Red Deer after most recently serving as the Chief Administrative Officer and Commissioner of Community Services with The City of Peterborough in Ontario.

"Serving in the public sector at a local level has afforded me the opportunity to connect with the community of Red Deer in meaningful and lasting ways. I am honoured to have had the opportunity to contribute to this city and its citizens at a time when the many challenges we collectively face in Red Deer, Alberta and across the country are forcing us to be increasingly innovative when it comes to municipal service delivery and meeting the needs of citizens," said City Manager Allan Seabrooke.

In his time working with The City of Red Deer, Seabrooke achieved many of the goals he felt were important when he arrived. His work streamlining governance processes, implementing a multi-year budget, establishing business friendly practices, reducing red tape and completing an organization restructure, to name a few, have all contributed to meaningful organizational improvements for the benefit of the entire community.

"Allan has served our community with a dedication that has helped us navigate innumerable and complex social, economic and health challenges like we have never faced before. His commitment to transparency, accountability and creating a culture of excellence and responsiveness has resulted in positive and lasting changes within the organization and our community," said Mayor Tara Veer. "The past year has challenged administrative leadership in extraordinary ways, and Allan's pandemic response has been strong and resolute. As he leaves our organization, he leaves a legacy of stability, and we are thankful for all he has brought with him to The City of Red Deer. We wish Allan and Teresa all the best in retirement."

"While my time in Red Deer is shorter than I initially envisioned, my decision to leave is personal in nature. As I am sure is true for many, the pandemic has brought with it new light to my personal experiences, as I seek to reconnect with family. It is my sincere hope that we are through the worst of Covid-19, and as I leave this organization, I have the utmost confidence that I leave this City in goods hands with the current General Management Team and senior leadership that is in place at The City of Red Deer," said Seabrooke.

With City Manager Seabrooke's retirement on May 21, 2021, Tara Lodewyk, current Deputy City Manager, will take on the role of Acting City Manager until Council proceeds with the next phase of its recruitment process.
Red Deer is Canada's most active community. Celebrate with free activities at the Collicutt Centre!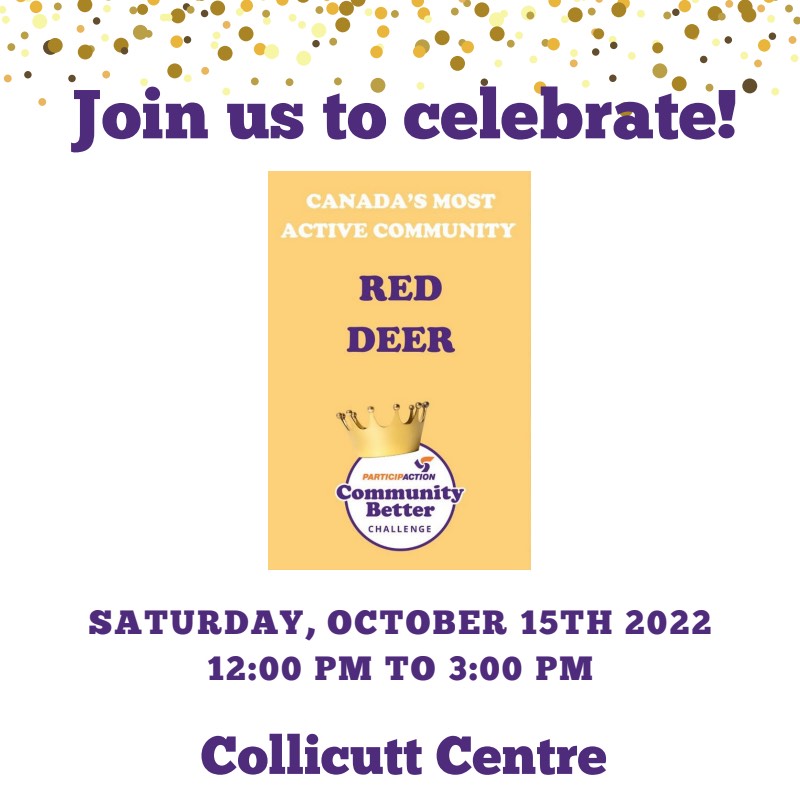 News release from the Red Deer Primary Care Network
Residents are invited to celebrate Red Deer winning the Community Better ParticipACTION Challenge and the title of the "Most Active Community" in Canada.
October 15, 2022, Collicutt Centre
In June, Red Deer Residents participated in the ParticipACTION Community Better Challenge.
This challenge saw our citizens and community organizations tracking over 19 million minutes of physical activity. We had over 700 community members and 35 community organizations showing a total of 153,010 people participating in organized community events and tracking their activity on the ParticipACTION app or website.
This support by our community helped Red Deer WIN the title of Canada's Most Active Community. Along with the title we received the $100,000 grand prize to be put back into our community to stay active and healthy.
As recognition and to thank everyone for their efforts and celebrate this victory, we welcome all Red Deer citizens to join us at that the Collicutt Centre on October 15th, 2022, from 12:00- 3:00pm.
There will be a warm welcome address by Mayor Johnston between 12:00-12:15pm followed by FREE Swimming, Skating and activities in the Field House for everyone to participate in. There will also be the opportunity to connect with community organizations showcasing their services on mainstreet in the Collicutt.
City still working out details of homeless shelter site with Province of Alberta
City and Province of Alberta continue discussion about potential site for future shelter in Red Deer
A future shelter site for Red Deer continues to be a priority for the Province of Alberta and City of Red Deer following a meeting between Mayor Johnston, members of City Council and Provincial Ministers in Calgary on Tuesday.

While The City had hoped to be in a position to release its recommended site today, further considerations pertaining to the recommended site are being jointly explored by the Province and City to ensure its suitability prior to publicly disclosing any information about a potential site.

"We know our community has been patiently waiting for us to identify the potential future shelter site in our city; this is a big decision, and we must ensure that we are making the best decision possible for our community – and that we are making that decision in good faith and partnership with our provincial colleagues," said Mayor Johnston. "We are continuing to move forward with our provincial partners, and we want to have a decision for our community very soon."

The narrowing of potential sites comes on the heels of an extensive site selection process that initially included 96 sites. The selection process also involved intensive public participation with more than 820 participants engaging with The City about the project. These participants included residents, businesses, social agencies, and people with lived or living experience of homelessness.

"I am proud to be working closely with the City of Red Deer to ensure that we are aligned on a shelter model and location that is best for Red Deer. We will continue to work closely together in collaboration to improve the support we offer homeless people in Red Deer and make the community safer as a whole," said Jason Luan, Minister of Community and Social Services

"Alberta's government remains committed to providing $7 million in capital funding to support the Red Deer integrated emergency shelter. We will continue to plan and work with community partners and the city to address the need for a larger, more functional space to meet demand. Our shared objective is to ensure Red Deer residents in need have access to a safe, accessible overnight shelter," said Josephine Pon, Minister of Seniors and Housing

"Selecting the right site for Red Deer requires pragmatic innovation that meets our joint vision for an integrated shelter in our community, and we will continue to work alongside the province, social support agencies and citizens throughout the entire process to re-envision the future shelter as a place that provides the support our vulnerable population requires on their journey to being housed," said Johnston.

During a closed meeting on September 12, 2022, Red Deer City Council selected a potential site for the future shelter; upon presenting the site to the province as part of the site selection process, it was identified that further analysis is needed prior to public disclosure of the site.

As more information is publicly available, it will be shared through The City's website at www.reddeer.ca/shelter.