City Manager Allan Seabrooke retiring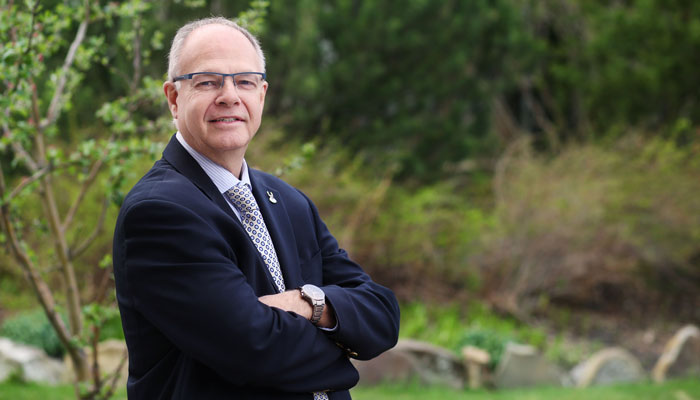 City Manager announces retirement
After two years with The City of Red Deer and more than 30 years in public and private sectors, City Manager Allan Seabrooke announced his intention to retire effective May 21, 2021, as he plans to return to Ontario to be closer to family.

Allan Seabrooke became City Manager for The City of Red Deer after most recently serving as the Chief Administrative Officer and Commissioner of Community Services with The City of Peterborough in Ontario.

"Serving in the public sector at a local level has afforded me the opportunity to connect with the community of Red Deer in meaningful and lasting ways. I am honoured to have had the opportunity to contribute to this city and its citizens at a time when the many challenges we collectively face in Red Deer, Alberta and across the country are forcing us to be increasingly innovative when it comes to municipal service delivery and meeting the needs of citizens," said City Manager Allan Seabrooke.
In his time working with The City of Red Deer, Seabrooke achieved many of the goals he felt were important when he arrived. His work streamlining governance processes, implementing a multi-year budget, establishing business friendly practices, reducing red tape and completing an organization restructure, to name a few, have all contributed to meaningful organizational improvements for the benefit of the entire community.
"Allan has served our community with a dedication that has helped us navigate innumerable and complex social, economic and health challenges like we have never faced before. His commitment to transparency, accountability and creating a culture of excellence and responsiveness has resulted in positive and lasting changes within the organization and our community," said Mayor Tara Veer. "The past year has challenged administrative leadership in extraordinary ways, and Allan's pandemic response has been strong and resolute. As he leaves our organization, he leaves a legacy of stability, and we are thankful for all he has brought with him to The City of Red Deer. We wish Allan and Teresa all the best in retirement."
"While my time in Red Deer is shorter than I initially envisioned, my decision to leave is personal in nature. As I am sure is true for many, the pandemic has brought with it new light to my personal experiences, as I seek to reconnect with family. It is my sincere hope that we are through the worst of Covid-19, and as I leave this organization, I have the utmost confidence that I leave this City in goods hands with the current General Management Team and senior leadership that is in place at The City of Red Deer," said Seabrooke.
With City Manager Seabrooke's retirement on May 21, 2021, Tara Lodewyk, current Deputy City Manager, will take on the role of Acting City Manager until Council proceeds with the next phase of its recruitment process.
University status "one of, if not the most singular, strategic economic development" initiative – Council on RDC Polytechnic announcement
Mayor Veer statement on Red Deer College announcement on behalf of Council
"Today, Advanced Education Minister Demertios Nicolaides announced Red Deer College will become a polytechnic institution, as a result of a recent post-secondary review process. The people of Central Alberta have waited 25 years for an answer regarding the future of Red Deer College, with the goal of ensuring the people of Red Deer and Central Alberta have equitable access to options in advanced education.

Red Deer College was expected to receive final approval for university status last spring, but the Provincial Government held back on the final decision until the Province's system review of post-secondary institutions was complete. According to the Government of Alberta, the study was intended to assess how the post-secondary system was meeting current and future needs, review the governance structure, provide comparisons to other post-secondary systems and develop a vision for the future.

While there are some expressed concerns within our community about the change in direction from RDC becoming a university to RDC as a polytechnic institution, including Council's own questions on behalf of Red Deerians expressed to the Government, ultimately I support a path forward that will protect RDC's ability to stay true to its roots in trades, technology and the arts, with the ability to confer degrees for other academic pursuits and fields of study. RDC assures City Council that the polytechnic accomplishes these objectives.
Degree conferring status for RDC is one of, if not the most singular, strategic economic development and community building initiatives we can undertake. For our city and region to fulfill our potential, we need to not only retain our existing population, we need to become a competitive contender in keeping and attracting new population to our city. One of the most promising means of doing so is through the development of a skilled labour force, offering a broader spectrum of career options locally, and attracting population who will stay and strengthen our local economy through their future contributions in various sectors.
Most importantly, building advanced education capacity at RDC ensures students in Red Deer and the region have more equitable access to advanced education services closer to home instead of being forced to relocate to other communities at great financial expense, or even more concerning, not pursue post-secondary education at all as a result of financial or geographic barriers.
I'd like to thank the generations of RDC leadership, faculty, staff, students, Students' Association representatives and our community for your steadfast resolve and your insistence that the people of Red Deer and Central Alberta have equitable access to options in advanced education.
On behalf of Council and community, congratulations to this year's graduates – we are proud of your accomplishments and look forward to supporting you in your future endeavors. Today, we welcome the fact that Red Deer College can finally take a significant step towards its future, and we remain committed to supporting the College, and the interests of the students who will always be RDC's most compelling imperative, during this transition and in the years to come."
New ice surface, spray park and other amenities for North Red Deer as G.H. Dawe expansion about to begin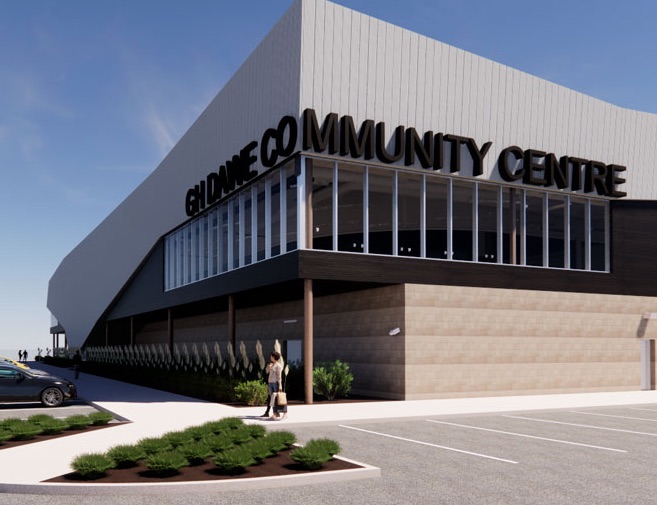 G.H. Dawe Community Centre project kicks off this spring
During budget deliberations earlier this year, Council approved the 2021 Capital Budget for the G.H. Dawe Community Centre project. The enhancements will improve access, increase opportunity to modernize fitness and programming, provide additional outdoor amenities including a spray park and washroom facilities, and modernize the current ice surface and add a second surface.

The modernization/improvement of the G.H. Dawe Community Centre focuses on the following areas/aspects of the facility, which were not upgraded as part of the G.H. Dawe Community Centre Revitalization Project in 2008.
To meet ice user needs with the decommissioning of the Kinex Arena:

modernization of the existing ice surface to NHL standard size
twinning of existing arena
relocate underground services to facilitate the twin

To meet parking, site servicing and egress requirements:

Introduce right in and right out site access off of 67 Street for improved traffic flow and parking
create facility access on the north side of the facility
To align with Phase 2 of the 2007 G.H. Dawe Master Plan:

review fitness/programming and barrier-free access opportunities
outdoor spray park and outdoor washroom facility
"Proceeding with the G.H. Dawe Community Centre project right now enables us to benefit from cost advantages, while stimulating our local economy at a time when our community needs it most," said Sarah Tittemore, Community Services General Manager. "The project will work to provide as many opportunities as possible to engage qualified local contractors at a time when it is needed the most."
Starting later this week, contractors will begin to mobilize on the site, with office trailers moved into place, and safety fencing set-up. Full site preparation will begin near the end of May.
Pending approvals, the contractor will begin underground service work that will extend between June and July. At the same time as this work is taking place on the site, inside the facility demolition will begin in preparation for the project tie-ins. Any disruptions to programs and activities on the site will be communicated, and it is anticipated that programing like summer camps and fitness activities to be transitioned to another facility for the duration of interruptions.
The G.H. Dawe Community Centre is a community hub for citizens living in north Red Deer and across the city. The facility is shared by the G.H. Dawe Community School, the G.H. Dawe Branch of the Red Deer Public Library, and St. Patrick's Community School.
For more information about the G.H. Dawe Community Centre project, visit www.reddeer.ca/daweproject.