City Council urged to get back to the table to vote on future of Westerner Park
Letter submitted by Lyn Radford (Chair of the 2019 Canada Winter Games)
Lack of Council Leadership or Election Posturing?
In this unprecedented time of the pandemic, of polarized political views I have tried to stay out of commenting on decisions our political leaders have to make. We all know there is not usually a clear-cut answer. But this delay situation by City Council regarding the Westerner clearly baffles me.
First, I want to send out a thank you to both the Westerner and City Administration for their hard work and excellent reports and options for this very unfortunate situation. Second, I want to thank the Westerner Board for not running from a situation but rather staying to try to sort out a mess. As a volunteer myself, I know this has not been an easy situation for you and your families. I also want to acknowledge Councillors Wyntjes and Dawe for wanting to move this forward, whatever their decision would have been.
The City's Vision Statement and Strategic Goals clearly lays out a pathway to help guide Council to make a positive, community benefiting decisions. "Innovative Thinking, Inspired Results, Vibrant Community" are their key words.
Strategic Goal #4 "A chosen destination: We are a four-season destination where visitors and residents enjoy our parks, trails and distinctive amenities, all within our "city in a park". Centrally located in the province, we attract events that generate investment and enhance our community identity.
My question is how by delaying a decision does City Council justify following their Vision Statement and Strategic Goals.
I add these queries and statements:
You have had more than year to gather information, make enquiries, have closed council information sessions, spoke to community members, and should have delved into this. You received the report far in advance of the special session and should have come ready for a decision without delay. Why did this not happen?

The City has been locked and instep with the Westerner in the last year. The Westerner has fulfilled all requests and have been measured through two (very expensive) audits by Deloitte.

There is over $3.5 million generously donated by a private family, held in trust for the Westerner Foundation, that could be doubled with a potential matching grant that will be dispersed upon a sustainable decision for Westerner Park, if a deal has been reached by May 15

th

. And our community will most likely lose this because of this delay. Sad.

If CIBC closes on the loan for default (community this is very, very real), there will be hundreds of thousands of dollars spent putting this into receivership, of which our community will have no gain or say. And further, we will not have an event center capable of hosting the economic driver our community so sorely needs right now, as we know what the vacant downtown and business parks are looking like today.

How much staff time has been spent already? Spend more money delaying a decision, no matter what the cost?

Twice, not just once, in your session, councillors questioned the capabilities of the Westerners CEO. Did you not have time in the closed sessions to request a character assessment? Do councillors feel this was the right, very public forum for this? Rather than being able to say you did your due diligence in a professional and respective manner?

Through the whole poor decision making by the Westerner Board that brought this terrible situation forward, there were

three members of today's council

that actively sat on the Westerner Board. Maybe some ownership needs to happen here and a review of the responsibility process for Councillors to be revisited, giving a level of responsibility to council. If you want to sit at the table, then accept all the responsibility as every other board member has had to do.

Further, the initial loan that started this process way back in 2017 and subsequent refinancing all had to be signed through a tri-party agreement by the City of Red Deer, fully knowing that this result could happen. Why is there any hesitation here?

The window of borrowing from the province is very small now, missing this will create more costs.

The Westerner annually, has been contributing a $150 million/year economic impact to our community. They were one of the largest employer's, well over 600 employees each year and then add all the employees of the supporting vendors, we can comfortably say that in a year well over a thousand of our community members that pay property taxes are impacted by the Westerner directly.

The Westerner has been a volunteer ran organization for 130 years. These volunteers and eventually along with paid staff have contributed so much to our "vibrant community", building an asset value of over $57 Million dollars. This is a big bump but not a mountain, lets deal with it.

No matter who you are or what your interests are, the Westerner has been providing experiences for us for 130 years – concerts, sporting events, rodeo events, fairs, shopping opportunities, cultural experiences, first jobs, first dates, health fairs, Agri trade, a place to first learn to drive, the day you wed, celebrating the season, ringing the New Year……all for our community
In conclusion, what we need right now is Council members to host a special meeting immediately and make a decision one way or another. I sincerely hope the decision will be to support, empower, trust and not control or try to compete with the community run Westerner Board, volunteers, and staff to rebuild a "distinct community amenity". It can become a strong thriving contributing member of our broken community once again. We are in need of some strong leadership.
Respectfully submitted,
Lyn Radford
USAID head urges crisis-hit Sri Lanka to tackle corruption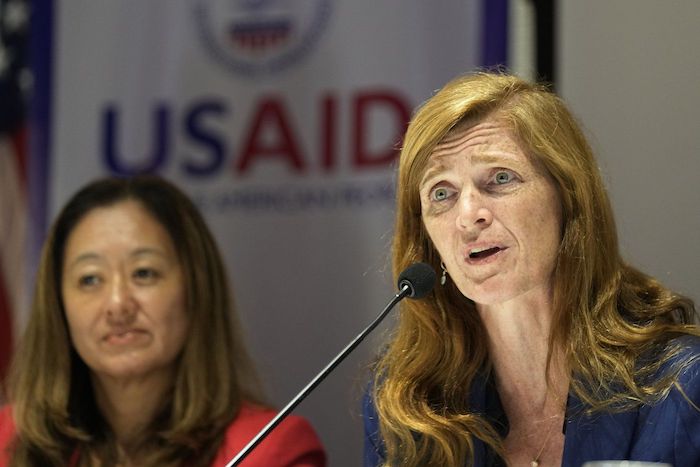 By Krishan Francis in Colombo
COLOMBO, Sri Lanka (AP) — A visiting U.S. diplomat on Sunday urged Sri Lankan authorities to tackle corruption and introduce governance reforms alongside efforts to uplift the country's economy as a way out of its worst crisis in recent memory.
USAID Administrator Samantha Power told reporters that such moves will increase international and local trust in the government's intentions.
"Assistance alone would not put an end to this country's woes," Power said. "I stressed to the Sri Lankan president in my meeting earlier today that political reforms and political accountability must go hand in hand with economic reforms and economic accountability."
She said that international investor confidence will increase as the government tackles corruption and proceeds with long sought governance reforms. "As citizens see the government visibly following through on the commitment to bring about meaningful change, that in turn increases societal support for the tough economic reforms ahead," she said.
During her two-day visit, Power announced a total of $60 million in aid to Sri Lanka. After meetings with farmers' representatives at a rice field in Ja-Ela, outside of the capital Colombo on Saturday, she announced $40 million to buy agrochemicals in time for the next cultivation season.
Agricultural yields dropped by more than half for the past two cultivation seasons because authorities had banned the imports of chemical fertilizers ostensibly to promote organic farming. She said that according to the World Food Program, more than 6 million people — nearly 30% of Sri Lanka's population — are currently facing food insecurity and require humanitarian assistance.
On Sunday, she said an additional $20 million will be given to provide emergency humanitarian assistance to vulnerable families.
Sri Lanka has faced its worst crisis after it defaulted on foreign loans, causing shortages of essentials like fuel, medicines and some food items.
It has reached a preliminary agreement with the International Monetary Fund for a $2.9 billion package to be disbursed over four years. However, the program hinges on Sri Lanka's international creditors giving assurances on loan restructuring. Sri Lanka's total foreign debt is more than $51 billion of which $28 billion must be repaid by 2027.
Power said that the U.S. stands ready to assist with debt restructuring and reiterated that it is imperative that China, one of the island nation's bigger creditors, cooperate in this endeavor.
Infrastructure like a seaport, airport and a network of highways built with Chinese funding did not earn revenue and are partly blamed for the country's woes.
Saskatchewan warns that federal employees testing farmers' dugouts for nitrogen levels could be arrested for trespassing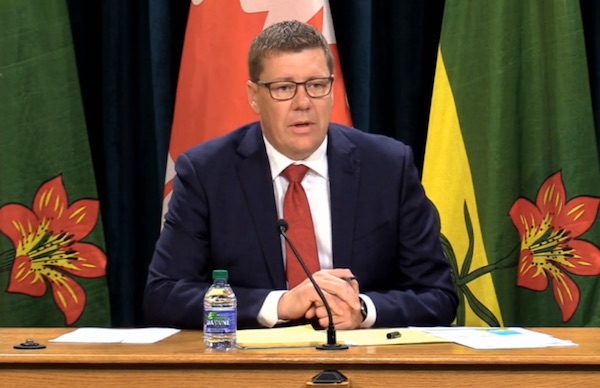 An escalating battle between Western Premiers and the federal government over restricting the use of nitrogen fertilizer has reached a new level of tension.
Premier Scott Moe
is demanding to know why federal employees of Environment Minister Steven Guilbeault are "trespassing" on private land in Saskatchewan. Moe signed a strongly worded letter (below) from Jeremy Cockrill, the Minister in charge of Saskatchewan's Water Security Agency.
The letter dated Sunday, August 21st states farmers from at least 3 different communities in southern Saskatchewan have reported Government of Canada employees in marked vehicles have been trespassing on their private land. When confronted, the agents have admitted to testing dugouts for nitrogen levels.
On his official Facebook page Moe says
"We are demanding an explanation from federal Minister Guilbeault on why his department is trespassing on private land without the owners' permission to take water samples from dugouts."
We are demanding an explanation from federal Minister
Steven Guilbeault
on why his department is trespassing on private land without the owners' permission to take water samples from dugouts. We have received reports of this occurring in several places throughout our province.
We have advised the federal government that this should cease immediately and if it does not, it will be considered a violation of the province's Trespass Act.
Violating this Act is serious, including a maximum penalty of $25,000 for repeat offenders, up to six months imprisonment following a conviction for a first or subsequent trespass offence, and a $200,000 maximum penalty for any corporation that counsels and/or aids in the commission of that offence.
Anyone wishing to report an incident of trespassing on private land can call 1-855-559-5502
Saskatchewan Premier Scott Moe has already
flatly said no thanks
to a federal initiative to restrict the use of fertilizer by up to 30%.
Premier Moe is not alone in this battle with Ottawa. Alberta's Premier Jason Kenney has already weighed in on the nitrogen restrictions in this strongly worded video shared two weeks ago.
Ottawa's planned attack on fertilizer will hurt our farmers.

It needs to stop.

Less fertilizer means less food.

Europe shut in about 50% of its fertilizer production.

Canada should not repeat the same mistake. pic.twitter.com/BztOiC1CPd

— Jason Kenney 🇺🇦 (@jkenney) July 27, 2022
The letter from Saskatchewan comes on the heals of another strongly worded letter from Manitoba's Agriculture Minister Heather Stefanson. In Stephanson's letter to Prime Minister Trudeau, she says this is no time to cut food supply and raise the price of groceries.