CFL faces very difficult future
This is an unpleasant reality: The Canadian Football League faces an extremely difficult future.
In truth, it may not have a future at all.
In the few days since commissioner Randy Ambrosie finally confirmed the obvious that the 2020 season had been only a figment of many imaginations, there has been a rush of both critics and devout supporters to explain at least partially the many reasons for the CFL's arrival on the edge of final, fatal league disappearance.
Most of the observers are content to point out that large markets such as Toronto and Vancouver lost their way after National Football League franchises were established in nearby Buffalo (the Bills) and Seattle (the Seahawks),creating a painful reduction of several million dollars in gate revenue each year.
If only that were true . . . but it is not.
Much more damage has been done through simple — but very thorough — disrespect of the game by the owners and presidents and general managers positioned to grow Canadian football rather than to destroy it.
At one point, the Canadian brand of football was vastly different from the U.S.-based game although both admittedly grew from the foundation of British rugby.
In the 1950s, after decades of evolution, the biggest obvious disparity remained the difference in on-field lineups: 12 in Canada, 11 in the United States. The extra players provided more blocking and, often, more of a ground attack. Although imports had been approved, there were still more Canadians — many more — on every roster.
At that time, the Americans allowed unlimited blocking on every play; in Canada, no legal interference was allowed more than 10 yards downfield. Blocking on pass plays was a non-no in this country for many years.
This space, and many more, have wallowed in the old truth that Canada once paid U.S. imports more than the NFL did. Witness,for example, all-time Edmonton Eskimo great Jackie Parker; he and other imports signed here because the Canadian dollar had more value on the market than the American buck did.
Former Calgary Stampeders stars Earl Lunsford and Don Luzzi — all-star fullback and two-way tackle — entered the CFL a few years later for similar reasons. They played when the single point had strategic importance. Now, it is considered both unique and insignificant.
Veteran punt returners like 5-foot-8 Gene Wlasiuk of Saskatrchewan boasted wryly that they entered the league as six-footers but shrank when swarmed by tacklers. No blocking on punt returns, back then.
During this general time frame, U.S.- trained coaches and general managers became a majority. Jim Finks in Calgary, himself once a starter at quarterback in the NFL, heard claims that the CFL players were "too small": to be real football players. He countered by pointing out the NFL had finally followed the CFL in using elusive runners and receivers; he was right. By and large, Canadians didn't notice.
Hugh Campbell created a dynasty in Edmonton by making sure Canadian players had some ability, and then using them in every situation.
Through it all, import limits grew from a handful to today's situation where rosters are clogged with more unknown U.S. college kids and pro failures than ever before. Alleged experts present the obnoxious theory that the CFL should openly become a farm system for NFL teams.
Misguided commissioner Ambrosie saluted his entry to the new job by proposing that the CFL should be loaded, as quickly as possible, with citizens from Greece, Germany, Scotland, or any other nation with strong, well-conditioned athletes who might be better than the kids graduating year after year from Canadian universities.
History shows that the CFL has spent so much time emulating the NFL and seeking "gimmicks" to boost profits that the road to any future was lost entirely. The most devastating example of contempt for their own product came when Herb Capozzi, a former B.C. Lions player, wrote a nationally-syndicated weekend column in which he insisted "Canadians Play Lousy Football."
Later, he operated the Lions franchise and ultimately the entire league.
No further questions needed.
Flames bounce back with 5-1 victory over Ducks
Calgary Flames right wing Tyler Toffoli (73) celebrates with goaltender Dan Vladar (80) after the Flames defeated the Anaheim Ducks in an NHL hockey game in Anaheim, Calif., Tuesday, March 21, 2023. (AP Photo/Alex Gallardo)
By Joe Reedy in Anaheim
ANAHEIM, Calif. (AP) — Tyler Toffoli had three assists, Calgary scored twice on the power play and the Flames bounced back from a six-goal loss one night earlier with a 5-1 victory over the Anaheim Ducks on Tuesday.
Toffoli has nine points in the past four games, including six assists.
Nick Ritchie, Troy Stecher, Rasmus Andersson, Elias Lindholm and Andrew Mangiapane scored Calgary's goals. Mikael Backlund had a pair of assists and Dan Vladar stopped 19 shots for the Flames, who rebounded from an 8-2 defeat Monday night in Los Angeles.
"We just wanted to put that game behind us. And there's no better way to put it behind you than to just go out there and play right away," said Mangiapane, who scored on a breakaway with less than five minutes remaining for his 12th of the season. "I think the first period set the tone for us. We wanted to come out strong and hard and just keep building off of that."
The win kept Calgary four points behind Winnipeg for the final wild-card berth in the Western Conference with 10 games remaining after the Jets beat Arizona 2-1.
"As a coach it is really simple: I just want to keep every game meaningful," Flames coach Darryl Sutter said.
Frank Vatrano scored Anaheim's lone goal. John Gibson made 38 saves, facing more than 40 shots for the 20th time this season.
"We knew that they were going to be a little ornery after their game last night against L.A., and other than a few spurts in the second period, maybe for about six minutes in the second, we couldn't sustain much. Every time we turned, they were in our face," Ducks coach Dallas Eakins said.
Calgary has 12 goals with the man advantage over the past month, which is fifth best in the NHL.
Andersson put Calgary up 3-0 less than three minutes into the third period on a one-timer off Toffoli's pass. It was Andersson's 11th goal and his third in the past six games.
The Flames grabbed the lead 37 seconds into the game when Ritchie put in the rebound after Gibson made a pad save on Noah Hanifin's shot from the point. Ritchie's 12th of the season marked the sixth time Calgary has scored in the opening minute.
Stecher broke a 90-game goal drought at 16:50 of the first with a snap shot from the right faceoff circle to the high side of the far post. Stecher — whose last goal was on Feb. 17, 2022 — has three points (one goal, two assists) since being acquired from Arizona at the trade deadline.
Anaheim got on the board five minutes later when Vatrano lifted a wrist shot over Vladar's shoulder on his glove side. Vatrano's 17th marked only the second goal in Anaheim's last 15 power-play opportunities.
Lindholm scored his 21st and gave Calgary a 4-1 lead 46 seconds into the third on a one-timer.
NOTES
Hanifin extended his point streak to six games with the first assist on Ritchie's goal. He has six points (two goals, four assists) during that span. … Calgary defenceman Chris Tanev was scratched an hour before the game due to an upper-body injury. … Anaheim forward Nikita Nesterenko made his NHL debut. Nesterenko was acquired from Minnesota in the John Klingberg trade at the deadline. Nesterenko played three seasons at Boston College and signed a two-year, entry-level contract last Wednesday.
UP NEXT
Flames: Open a three-game homestand against the Vegas Golden Knights on Thursday.
Ducks: Host the Winnipeg Jets on Thursday.
2022 World Senior Men's gold medalist rink and Cheryl Bernard among teams at Senior Curling Championships at Red Deer's Pidherney Centre this week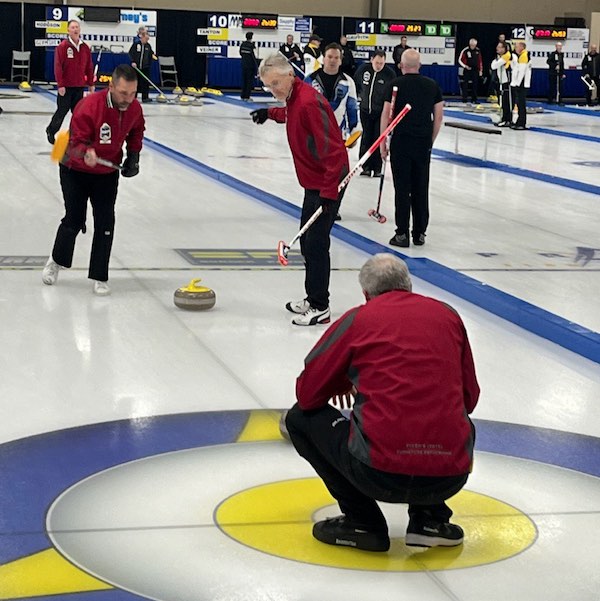 The 2023 Alberta Servus Credit Union Senior Men's and Women's Championships will take place at Red Deer's Pidherney Centre on March 21 to 26.
Thirty-three rinks are on hand to vie for the right to represent Alberta at the Men's and Women's Canadian Championships next fall.
The 2022 World Senior's gold medalists, Team Wade White looks to add yet another championship title to his name alongside teammates, third Barry Chwedoruk, second Dan Holowaychuk and lead George White. While defending Alberta champion, Team Pahl will keep the pressure on to represent Alberta once again.
Other noteworthy names on the men's side include, Mickey Pendergast; Master's Provincial Champion and former teammate of local legend, Rob Armitage, and 2017 Senior's Champion, Glen Hansen.
The talent continues on the women's side with nine of the top senior women's teams in the province.
The star studded line-ups include Olympians, Cheryl Bernard, Carolyn McRorie, Sandra Jenkins and Shannon Kleibrink forming a team under Bernard, and Glenys Bakker and Atina Ford-Johnston skipping their own rinks, with Cory Morris joining Ford-Johnston as lead.
With defending champion, Diane Foster, out of the race, it truly is anyone's title to claim.
Draws run throughout the week with the semi-finals of both the women and men at 9 am on Sunday March 26 followed by the finals at 2 pm.
Admission is free thanks to support from Servus Credit Union.