Celebrating International Women's Day In Red Deer!
By Sheldon Spackman/ Photos and Video by Lindsay Wiebe
The City of Red Deer will join other communities throughout the world today in marking International Women's Day March 8th. Among the activities slated for our city, a "Reflection Event" taking place at the old Sport Check location at the Parkland Mall from 9 am to 4 pm.
Red Deerians are encouraged to drop in and take some time to reflect on women who have been murdered and ones that are missing. The event is being hosted by the Central Alberta Sexual Assault Support Centre where staff plan on showing the missing and murdered women's absence by displaying many pairs of shoes in a room. Those shoes will be accompanied with a short description of the women and children that once filled our lives with love, happiness and joy. In their absence, it's hoped you will have the chance to reflect on their lives.
Later this evening, it will be "Celebration of Women Around the World". The Central Alberta Refugee Effort (C.A.R.E.) and Red Deer Museum + Art Gallery (MAG) are inviting you to celebrate local and international women at this cultural café. There will be short presentations, social conversation and treats at the Red Deer Museum + Art Gallery as International Women's Day is celebrated. It's run from 6:30 – 8 pm, is free to attend and everyone is welcome.
Also on Wednesday night, it's an International Women's Day Concert at the Hub on Ross Street. Justine Vandergrift, Randi Boulton, Liz Stevens, Erin Kay and Billi Ziz will perform Songs in the Round from 7 until 9 pm. The concert is suitable for all ages. Admission is $20.
ParticipACTION Community Challenge 2023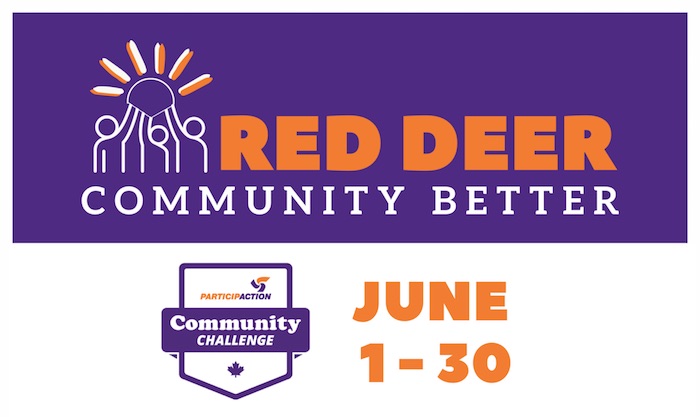 Red Deer Community Better Poster
Red Deer let's get active together!
We're excited to announce that Red Deer is participating in the 4th annual ParticipACTION Community Challenge from June 1 – June 30, as we strive to keep the title of Canada's "Most Active Community".
The ParticipACTION Community Challenge is helping strengthen communities through physical activity and sport because Everything gets better when you get active. ParticipACTION is awarding a $100,000 prize to the community who rallies the most participants and accumulates the most active minutes during the challenge. Individual participants can also win prizes by recording their activity through the ParticipACTION app.
Red Deer will be awarding local prizes through the Move Your Mood ParticipACTION grant. Local residents will have a chance to win an Apple Watch, a $100 Sport Chek gift card, a $100 Save On Foods gift card, and a five punch pass to the Breathing Room Yoga Studio. To be entered to win, simply share a photo of you or a group getting active on social media and use hashtag #communitybetterreddeer. If you are not on social media, you can also e-mail a photo to [email protected] . We will draw the winners at the end of June.
We invite all individuals and organizations to get involved. You can participate as an individual by downloading the app and tracking your activity. As an organization you can get involved by creating an active group and track your group activity on the ParticipACTION website. If you have a family, you can track your kids' activities, sports teams and family activities on the website. You can record any physical activity from exercise classes, team sports and even house cleaning! Make sure you track from June 1-30. If you have not started tracking already it is not too late, you can go back to June 1 and add your activities on the website. See QR codes on the attached poster.
Thank you for participating in the Community Challenge and helping connect Red Deer citizens through physical activity.
Gateway Christian students experience life changing trip to Dominican
Students from Gateway Christian School recently returned from a life changing trip to the Dominican Republic as part of their Intercultural Studies program.
Gateway's 2023 Co-Impact Team, which included 13 students, two staff and an additional chaperone, spent 10 days on the ground over Spring Break connecting with other students and families to help to build a basketball court and physical education area at the Pena de Horeb school via Edudeo Ministries. Pena de Horeb is primarily a Haitian school, serving the students and families amidst a very poor Haitian neighbourhood. In the months leading up to the trip, Gateway students raised funds to help assist with the build. Gateway also spent a significant amount of time building relationships with and learning from students and staff at their partner school, El Colegio Cristiano Reformado Los Guandules.
"Service is an important part of the culture at Gateway, and this experience was the culmination of that. The Co-Impact Team fundraised not only for their trip, but also for funds to go towards the school we worked on in the Dominican Republic," said Geannette Lehman, Principal at Gateway Christian School. "The trip was part of their Intercultural Students class, which they receive credit for. We met weekly at 7:15 a.m. to complete aspects of the Intercultural Studies course, bond as a team, and prepare craft lessons and activities to teach students at the school in the Dominican. It was not only a great experience in the Dominican, but in preparing for the trip as a team as well."Alexa Huska, Gabe Gillies, and Kate Stober were three students who were part of the Co-Impact Team.
"It was really neat to connect with my fellow Grade 12 students," said Alexa. "We've gone to school together since we were kids, so to have an experience like this together was really special. We were able to connect on a deeper level."
Gabe added it was humbling to see how grateful those in the Dominican Republic were, even for the smallest things. "They have little compared to us, and they are just so happy," he said. "They are grateful for the things they have and they don't stress about the small stuff."
Kate agreed. "They have so much joy, and nothing mattered other than just being with one another," she said.
Ultimately, it was a great experience for all involved.
"The kids were greatly impacted by seeing the world through another lens. Our lens is so different from those around the world," said Geannette, adding she is proud of her students. "They gave up their Spring Break, immersed themselves in another culture, and represented Gateway and Red Deer Public so well."
To read Gateway's Co-Impact Team's blog of their experiences, click here.