Cafe Owner who went to jail for violating health restrictions is taking AHS to court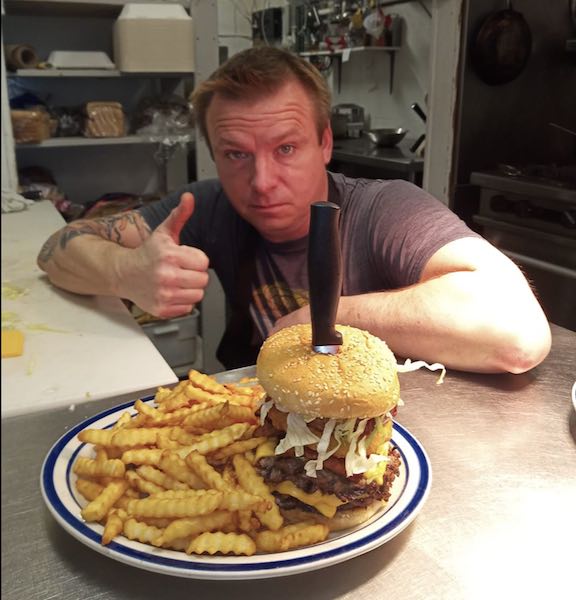 For months Christopher Scott and The Whistle Stop Cafe at Mirror have been a focal point of opposition to the AHS's covid related restrictions enacted against indoor and outdoor gatherings as well as businesses.  This spring Scott's battle came to a head when he was arrested and jailed.  Now that Alberta has decided to take a different path and treat covid like any other respiratory virus, restaurant owners around the province are getting back to business as usual.  Not Christopher Scott.  Scott is waiting on future court dates when a judge will decide whether he will be further punished with fines or  jail time.  But Scott has decided not to wait quietly.  Using funds raised by Rebel TV to "Fight The Fines", the owner of The Whistle Stop Cafe has decided to take the offensive. 
It's official. I've filed a claim against The Crown, The CMOH, and AHS in response to their blatant violations of my, and YOUR, charter rights and freedoms. How can the government hide behind legislation that explicitly states that the Alberta Bill of Rights must be upheld in application of the act and then instead trample all over it without justification? I would encourage you to go back through my posts from January through May and listen carefully to what I've been saying. I've made mistakes, yes. I'm human and not perfect. But I know what's right and I'll fight for it. And I'll fight for you too. Your opinion of me and of my actions won't change that.
Share this, and let the world know that Alberta won't stand for this!
In this video posted to Facebook Monday, June 9, Chris explains this new legal challenge.
Veteran Canadian rider Mario Deslauriers wins Spruce Meadows Grand Prix
CALGARY — Canada's Mario Deslauriers and Bardolina 2 posted two clear rounds Saturday to take the Queen Elizabeth II Cup Grand Prix at Spruce Meadows.
In a jump-off with Mexico's Carlos Hank Guerreiro and Australian Katie Laurie, Deslauriers and the 12-year-old mare didn't put a rail down and topped the leaderboard with a time of 53.05 seconds.
Deslauriers said Bardolina 2 can be difficult to ride, but she was on her game Saturday in Calgary.
"Today, she jumped incredible," Deslauriers said. "She was straight like an arrow and she jumped beautiful."
Deslauriers and Bardolina 2 were Canada's lone show jumping entry in the summer's Tokyo Olympics where the duo placed 22nd.
"She was very good I think in the medal round (there)," Deslauriers said. "She had two fences down that were very cheap, but overall she jumped super well.
"Before she came here, she had to do three weeks quarantine because I was over my limit when I came back from Europe.
"Really, I jumped her one time at home, she got in the truck and came here, so I think she's matured a lot. I can count on her. I don't need to practise so much any more."
Deslauriers, 56, is from Saint-Jean, Que., but lives in New York.
The North American is the last of three September tournaments totalling $5.6 million in prize money.
Spruce Meadows resumed hosting international show jumping events after a two-year hiatus because of the COVID-19 pandemic.
This report by The Canadian Press was first published Sept. 18, 2021.
The Canadian Press
Mother and child lived in same complex as man charged in their murders: Alberta RCMP
HINTON, Alta. — RCMP in Alberta say a man charged in the deaths of a woman and her 16-month-old toddler lived in the same apartment complex as the victims, but otherwise had no connection to them.
Police say in a news release that Robert Keith Major, 53, from Hinton, Alta., has been charged with two counts of second-degree murder and one count of indignity to human remains.
Mounties in Hinton have said the bodies of the 24-year-old woman and her child were found after they'd been reported missing on Thursday night from the community 290 kilometres west of Edmonton.
Police say they are not releasing the names of the woman and child out of respect for the wishes of the family, adding the family has asked for privacy to grieve.
They say they are not seeking any other suspects in the case.
Major remains in custody and will appear in Edson provincial court on Tuesday.
Autopsies are taking place Saturday and Sunday, police say.
This report by The Canadian Press was first published Sept. 18, 2021.
The Canadian Press