Flames and Oilers Battle of Alberta brings in a Million dollars for the Central Alberta Child Advocacy Centre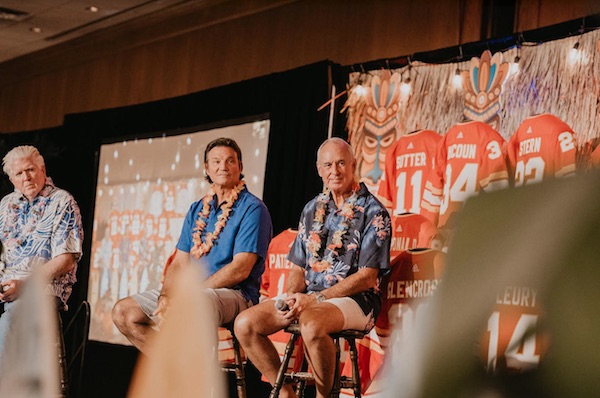 News Release from the Central Alberta Child Advocacy Centre
Records Broken for the CACAC Battle of Alberta
The Central Alberta Child Advocacy Centre held their signature event: The Battle of Alberta for the second time this past Tuesday and Wednesday after being postponed for a year, grossing over $1M!
The CACAC Battle of Alberta Charity Golf Tournament is a two-day event presented by the Edmonton Oilers and Calgary Flames. The two notorious rivals come together with one goal in mind – helping our children by bringing together both alumni and current players to battle it out on the green!
"The past 18 months have been extremely challenging and have certainly brought Mental Health even more to the forefront than it had already become before COVID. The fact that the Central Alberta Child Advocacy Centre is in the Mental Health sector it is fitting that we are having one of the first events post COVID." – Terry Loewen, Board Chair, CACAC
The first night of the BOA includes a celebrity auction hosted at the Cambridge Hotel & Conference Centre, and this year records broke with highest bid for the top two players: Kelly Buchberger and Theoren Fleury. Twenty-eight other Oilers & Flames joined in to cap-off the 30 team roster, including: Lanny MacDonald, Louie Debrusk, Kris Russell, Glenn Anderson, and Mike Vernon. The Luau-themed event also included exclusive hot-stoves with Brian Burke, and was co-hosted by Danny Hooper and Ron Maclean.
"The Calgary Flames and the Calgary Flames Alumni are always so grateful for the support we receive from our fans in Central Alberta. We consider Red Deer our home that we happily share with our rivals in Edmonton during this important fundraising event in support of the Central Alberta Child Advocacy Centre. Congratulations to Terry Loewen and his hard-working committee on another extremely successful Battle of Alberta Golf Tournament. And a special thank you to Flames alumnus Sheldon Kennedy for his leadership in changing the way Alberta responds to child abuse. This new facility in Red Deer will ensure every child's needs are met, and they are supported in the most child-friendly way."
– Rollie Cyr, Executive Vice-President, Calgary Flames
The golf tournament was hosted at the beautiful Red Deer Golf and Country Club, where the 30 teams teed off with their celebrity players and caddies. Every hole was sponsored by local community organizations and included activities, draws, food and beverages, along with stories of the old days by alumnus and talks about the upcoming season with the current players.
"It was truly incredible to see the community come together for the Battle of Alberta Golf Tournament in support of the Central Alberta Child Advocacy Center (CACAC) in Red Deer. What the CACAC is doing to help children and families in central Alberta is remarkable, and they're making a difference for so many children in need of support. The entire Oilers Entertainment Group and Oilers Alumni are proud to support central Alberta and the CACAC, and you can bet we're already looking forward to the tournament in 2023." –Bob Nicholson, Chairman, Edmonton Oilers
The event concluded with the After Party back at the Cambridge where another two hot-stoves took place, along with a record-shattering live auction and newly added virtual silent auction.
"To say we're blown away by the generosity and support at the child advocacy centre is an understatement. As an organization, we could not have had three better events over the two days to celebrate the work we do for children. At the end of the day, we're trying to make a difference for children and families in Central Alberta. What we witnessed at this event is what happens when a whole group of difference makers come together for the good of a community. A heartfelt thanks to the many people who helped make the Battle of Alberta tournament a success."
– Mark Jones, CEO, CACAC
Another new stand out addition to the Battle of Alberta was the donation of two custom trucks to the Live Auction! A fully custom, one-of-a-kind Calgary Flames truck and Edmonton Oilers truck, both valued over $90,000 were given to the CACAC to auction off.
Dan Wiebe of Integrity Group of Companies heard about the work that the CACAC was doing and wanted to be involved. Dan enlisted the help of friend Brad Rempel of Alberta Boys Custom to customize an Edmonton Oilers truck specially for the BOA Live Auction!
After the donation of the Oilers truck, a few of our supporters wanted to ensure the "C of Red" was represented! Together, Rob McWilliams of McWilliam Auto Appraisals, Garrett Scott of Kipp Scott GMC, TNT Customs, and Dave Appleby of Vibe Audio came together to create their very own exclusive Calgary Flames Truck for the 2021 Battle of Alberta Live Auction. Both trucks were auctioned off Wednesday night with 100% of the proceeds going to the CACAC.
The CACAC is overwhelmed with the success of the event – and the support of the community. Final numbers are still coming in with net proceeds to be calculated in the coming weeks, but the CACAC is proud to say that over $1,000,000 gross was raised in two nights with a small but mighty group of people. Not only was money raised for the CACAC, going towards specific projects like the upcoming building project, but awareness was raised; conversations were had, and everyone stood up to be a voice for the children in our community who need it most.
The CACAC would like to thank every single donor, participant and volunteer who had a part in the 2021 Battle of Alberta.
"I want to thank all of you for your participation and sponsorships. I'm not sure if people fully realize the magnitude of their impact; the lives they change or lives they have saved by supporting this organization! You are all champions of the CACAC – thank you! – Terry Loewen, Board Chair, CACAC 
The CACAC would like to recognize the following donors with special thanks to the committee and volunteers (Listed in randomized order):
Presenting, Major & Event Sponsors:
Edmonton Oilers | Calgary Flames | Integrity Group of Companies | D.J. Will Holdings | Alberta Boys Custom | McWilliam Auto Appraisals | Cambridge Hotel & Conference Centre | Eagle Builders | Kipp Scott GMC Cadillac Buick | Vibe Audio | Blue Grass 
Sponsors:
HPC High Performance Coatings, Flo-Pro Performance Exhaust, Waschuk Pipeline, MNP,  GSC Energy Services,  Electric Horsepower,  Scotia Wealth Management: Keylock Group, Gallagher Insurance, White Swan Environmental Ltd., ATB,  Edmonton Oilers Community Foundation, Scotia Wealth Management: Calgary, Marshall Construction Company, Cody Snyder Bullbustin', Earth Smart, Precede Occupational Health Services, Q2 ALS, Blackfalds Bulldogs,  Red Deer Motors, Phone Experts,  Jedco, Glover Trucks, The Liquor Hutch,  Fourlane Ford, Ing + McKee Insurance, Bill Hull, Canadian Western Bank, Rogers Insurance, Cilantro & Chive, Tiffany's Steakhouse, Shek Crane, Mal's Diner, Chiefs, Molson Beer, Earls, Bo's Bar and Grill, Culligan Water, Red Deer Golf & Country Club, Cooperators, Deerfoot Inn & Casino, TRC Auctions, Riverview Insurance, Abbey Platinum Master Built, Four Star Drywall, Pivotal LLP, Care Industries, Servus Credit Union, ViTreo, Melcor, Tar-ific Construction, Red Deer Discount Golf, The Coverall Shop, P.J.M. Home Advantage, Alberta Parking Lot Services, Adrenaline Exotics, General Appliances, Parkland Funeral Homes ,BJ Bobcat Trucking Ltd., Aesthetic Solutions, Apollo Landscaping Compass Geomatics, Big 105 & Rewind Radio, Gasoline Alley Harley-Davidson, Al Sim Remax, League Projects, The Zukiwsky Group, True Spirits Mobile Bar, Ten02, Willson Audio Visual, Ash Maclean Photography, Danny Hooper Productions, Prospector Visual,  Haywork Secure Driving Services/Douglas Workman, Central Alberta Tile One, Duane Sokalski, Theoren Fleury, Grant Fuhr, Reid & Wright Advertising, Andrew Hutchins, Calgary Flames Foundation, Toast of the Town, Todayville, Trevor Roszell, Nucleus Energy Services, John Macphail, Kelly Hallgren, Laebon Homes, Johnston Ming Manning, Printing Place, Red Deer Rebels, Safari Spa & Salon, Flames TV, Oilers TV, SN960, OilersNOW, Rivertown, Chainsaw Spirit plus our incredible Silent Auction sponsors (check them out here!)
Please visit centralalbertacac.ca to learn more about the community support services the CACAC offers. Collectively, we can end child abuse.
Alberta government says jobs, economy, COVID to be focus of fall legislature sitting
EDMONTON — The Alberta government plans a busy fall legislature sitting aimed at adding jobs and diversifying the economy while focusing on tamping down the renewed surge of COVID-19.
Government house leader Jason Nixon says this will include proposed legislation on recognizing professional credentials to address labour shortages. The bill will be introduced by Premier Jason Kenney.
"Our focus will be on Alberta's workforce, a couple of bills around diversifying the economy, a big focus on building infrastructure for our future, (and) growing our resources, particularly on the energy side," Nixon said in an interview Friday.
There will also be new initiatives on environmental protection and conservation.
Nixon said there will be 18 to 20 bills for the sitting, which begins Monday and is scheduled to run to the first week of December. 
"It's a very robust fall agenda," he said.
Nixon said the government will continue to take steps to reduce COVID-19 cases, which have severely stressed the health system.
No COVID-19-specific bills are planned, he said, noting they were passed in previous sittings. 
"There's certainly other stuff to be done to manage the pandemic … but we'll stand ready if Alberta Health needs us to pass any legislation to deal with the pandemic."
He said debate in the chamber is expected to return to some semblance of normalcy.
In the spring sitting, both the United Conservative government and the Opposition NDP reduced their numbers in the chamber to prevent the spread of the virus. 
This time, with all NDP members and all but one on the UCP side vaccinated, all will be allowed back in for debate.
The lone UCP member has a medical exemption and will be tested regularly, said Nixon.
He said there are still masking rules and members will try to maintain distancing where possible.
The NDP said it plans to hold the government accountable for what went disastrously wrong on COVID-19.
"This fall sitting of the legislature will be laser-focused on getting answers from the UCP on why they've failed Albertans so miserably in managing the devastating fourth wave of the COVID-19 pandemic," said Christina Gray, the NDP house leader.
"Since July 15, more than 85,000 additional Albertans have been infected with the virus and 700 have died."
Gray said the NDP will call for an all-party inquiry into the government's handling of the pandemic with the power to compel documents and testimony.
Nixon said the government will not agree to such a motion. He said it would be wrong to redeploy vital health resources right now and that Kenney has promised an eventual review of how the province handled the pandemic.
Kenney has also promised to bring forward a motion to ratify and act on the results of Monday's provincewide referendum on Canada's equalization program.
Final results aren't in from Edmonton, but figures from Calgary and other cities suggest the referendum will pass with about 60 per cent in support of urging the federal government to remove the principle of equalization from the Constitution.
Kenney has said the issue is not about removing equalization, something no province can do unilaterally, but about getting leverage to negotiate other issues surrounding federal transfers to attain a better deal with Ottawa.
Political scientist Jared Wesley said Kenney will likely continue to focus on initiatives such as the equalization referendum, if only to change the narrative on his low popularity ratings.
"The premier will be spending most of his time, if he has anything to say about it, outside the province, stumping for this fair deal," said Wesley, with the University of Alberta.
COVID-19 numbers have been trending down in recent weeks. But Kenney and Dr. Deena Hinshaw, the province's chief medical officer of health, say the situation remains precarious.
On Friday, there were just over 10,000 active COVID-19 cases in Alberta. And there were 191 COVID-19 patients in intensive care. 
Alberta's fourth wave troubles began after Kenney lifted almost all COVID-19 related health restrictions as of July 1, boasting that the pandemic had moved to the "endemic" phase and there was no need to plan for a renewed case surge.
This report by The Canadian Press was first published Oct. 22, 2021.
Dean Bennett, The Canadian Press
'You're looking at it:' Undercover officer says suspect led them to burial site
CALGARY — A Calgary man who killed his girlfriend and is on trial for the murder of her young daughter took undercover officers in the middle of the night to a remote, snow-covered area where they were buried.
Robert Leeming, who is 36, has pleaded guilty to second-degree murder in the death of Jasmine Lovett and not guilty to second-degree murder in the death of 22-month-old Aliyah Sanderson. 
The mother and toddler were reported missing in April of 2019 after they didn't show up for a family dinner.
Court heard this week that Leeming was befriended by two undercover officers, who told him they had retrieved a bag of evidence from a nosy neighbour. 
They offered to help him with his problems — including removing the bodies of Lovett and her daughter, who were in a shallow grave under a pile of mulch and branches in a day-use area west of Calgary.
One of the officers testified that Leeming knew exactly where the bodies were.
The officer said they went to the area in the early morning of May 6, 2019, and walked a short distance on foot.
"I said, 'OK, where to?' And (Leeming) goes, 'You're looking at it.' And he points down. And underneath and against my left foot were branches and a pile," said the officer.
"(Leeming) goes and he grabs a branch and lifts it up as if to prove what's underneath all these branches. As he does that, I see a small bit of blue that I believe to be the moving blankets."
Investigators previously testified that the mother and child were doused in gasoline and wrapped in blue blankets before they were covered in dirt, mulch and branches.
The trial also heard that Lovett had skull fractures and was shot in the head. Aliyah died of blunt force head trauma.
The officer said Leeming boasted about steps he had taken to hinder a possible police investigation — including hiding wads of raw bacon around his house to throw off cadaver dogs and filling the back of his car with mulch.
"Well, mulch is death, right? So it smells like death," Leeming told the officers in a tape recording played in court.
"You cleaned that car up good?" asked the undercover officer. 
"Oh, yeah," he replied.
The officer said Leeming also expressed relief that his 2014 Mercedes seized by police was an older model.
"It's funny 'cause they were telling me the Mercedes, they pretty much can hook up to the computer in the car and know exactly where I've been," Leeming said with a laugh. 
"It's too old a car. If it was an '18, then I'd be in jail."
The prosecution was expected to wrap up its case Friday.
This report by The Canadian Press was first published Oct. 22, 2021.
Bill Graveland, The Canadian Press