Buildings to be demolished. City will take over Michener Centre North lands
From The City of Red Deer
City and Province work together to determine the future of Michener Lands
The City of Red Deer has been working closely with the Provincial Government regarding the future of the Michener north lands. In August, The City entered into a Memorandum of Understanding (MOU) with the Government of Alberta to provide for shared planning and consultation on the future land uses, including existing buildings and infrastructure on the Michener North lands.
After reviewing options and extensive studies on the land, the profound history of the area, the current state of the buildings on site, and the sensitive ecology of the escarpment and wetlands, the Government of Alberta will proceed with the demolition of the remaining Michener North buildings later this year and finalizing The City's purchase to protect these public lands as a community asset.
"Alberta's Government is committed to managing the Province's buildings and facilities in a cost-effective way that best serves Albertans. The demolition of the buildings and reclamation of this provincial surplus site will put The City of Red Deer in the best position to make use of the area," said Infrastructure Minister Prasad Panda. "Alberta Infrastructure and The City of Red Deer have proven that we can find a solution to benefit all Albertans by working together towards a sale agreement of the Michener North lands."
The City intends to move forward with the acquisition of the Michener North lands, following demolition and reclamation by the Province, to ensure that these public lands remain public. There is 132.2 acres of land in the area, which would serve as a future Red Deer destination legacy.
"As the Province decides on the future of the existing buildings and site, opportunity exists for The City to mark a significant piece of Red Deer's history and protect these impeccable public lands for Red Deerians for generations to come," said Mayor Tara Veer. "The land provides opportunity to commemorate the past, while providing for future public use opportunities our citizens. The Michener lands are public, and should remain a public asset."
The Michener North lands have deep roots in Red Deer's history, economy, park space, and natural areas. The centralized location provides a place to reflect history, access the Waskasoo trail system, experience wildlife and enjoy open outdoor space year round.
"After significant heritage assessment and thorough cost analysis, it is evident that it is cost prohibitive to preserve or repurpose any of the buildings. We will, however, find ways to ensure meaningful site commemoration to honour the history of the people who lived there," said Mayor Tara Veer.
The City also recently purchased the J.J. Gaetz House and the escarpment. Originally a private residence, the house became part of the Michener Centre in 1939 and was renovated for Michener Centre use. The J.J. Gaetz House is currently a Municipal Designated Heritage Site under the Historic Resources Act. This site could potentially offer a future home for an interpretive visual history of the lands.
Vision for downtown Capstone neighbourhood beginning to come together.
"HotSpot" – How to use the City of Red Deer's new downtown parking app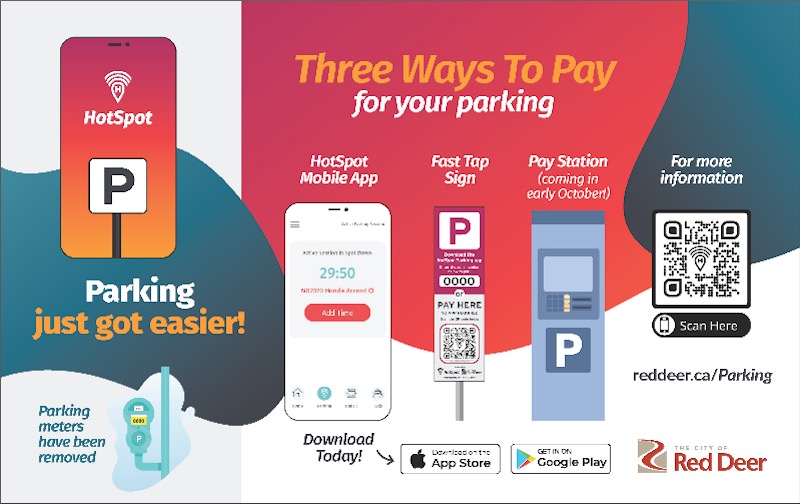 HotSpot has launched in Red Deer! If you're visiting our downtown for work, attending an event, or supporting a downtown business, you'll use HotSpot to pay for your parking.
Three ways to pay!
HotSpot mobile app
A free download for iPhone and Android users, the HotSpot app is the easiest way to manage daily parking sessions and monthly permits.
Download HotSpot:
Fast tap signs
Located throughout the downtown parking areas, fast tap signs allow payment through the HotSpot website with a quick scan code. You don't need a HotSpot account to use the fast tap signs.
Pay stations
If you prefer not to use an app or website, 21 new pay stations will be available throughout downtown and hospital zones. Pay stations offer several payment options, including coins, credit cards, Interac tap, Apple Pay and Google Pay. SmartCard parking cards will also be accepted at the pay stations, but are no longer able to be reloaded and are no longer being sold. Pay stations are expected to be up and running in early October. Until they arrive, customers are encouraged to use the app and fast tap signs to pay for parking.
Pay Station and Parking Zone Map (pdf)
HotSpot app features By using the HotSpot mobile app to manage your parking, you can:
Pay for parking
Extend parking sessions
Avoid tickets with auto-alerts
Refund unused time
Manage your monthly parking permit
More information
Review The City of Red Deer Parking Management Strategy (pdf).
Questions about downtown parking may be directed to The City's Inspections & Licensing department at 403-342-8185 or [email protected].
The City of Red Deer thanks the Government of Alberta for supporting the Parking Infrastructure Improvement Project through Municipal Sustainability Initiative (MSI) funding.
Bus fares and transit fees rising next month: City of Red Deer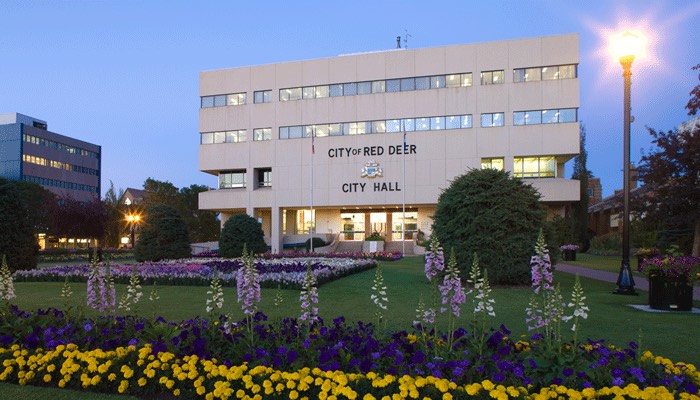 Increase to fees and fares, effective September 1
Starting September 1, 2023, there will be an adjustment to fares and fees for Transit, Recreation and Cemetery Services.During 2023/2024 budget deliberations City Council agreed that an increase to bus fares, recreation fees and cemetery fees was necessary to keep up with the rising costs for operating.

"Like every business, our operating costs have increased and in order to maintain our current levels of service for our riders we had to consider increasing our bus fares," said Jeremy Bouw, Manager, Transit & Fleet Services. "This year we have seen our ridership slowly increasing and we want to keep that trend moving upward by maintaining our transit services and continuing to attract new riders."

As of September 1, the following rates will be applied to Transit services:
Cash Fares

Adult (18-64 years) – $3
Youth (6-17 years) / Student / Senior – $2.50

12 Ride Pass

Adult – $33
Youth / Student / Senior – $27.50

Unlimited Ride (Monthly Pass)

Adult – $75
Senior – $62
Student – $62
MyRide, The City's electronic bus pass, is available for purchase at Transit Customer Service in Sorensen Station or at City Hall. MyRide can be conveniently reloaded with the fare type of your choice in 12 ride bundles or unlimited monthly passes at Transit Customer Service, City Hall or one of the seven reload stations located throughout the community.
As of September 1, the following recreation services will experience rate changes:
Daily admission at the Collicutt Centre, Recreation Centre, Michener Centre, Servus Arena, Kinsmen Community Arenas and Setters Place at Great Chief Park
Monthly Recreation All Access Passes and Recreation Value Passes*
10 punch passes at the above-mentioned facilities
Group admission fees at the above-mentioned facilities
Childminding fees at the Collicutt Centre and G.H. Dawe Community Centre
Facility rental fees
* The Recreation Plus Pass fee was adjusted with the opening of the newly expanded G.H. Dawe Community Centre in February, and will not receive another adjustment in September.
"Our intent is always to provide as much access to recreation as possible, while managing increased costs, staffing levels and maintenance demands," says Tammy Greba, acting Recreation Superintendent. She continues, "as a demonstration of this, we continue to offer the Fee Assistance Program to those needing financial help accessing City Arts and Recreation programs and services."
For more information on fees and fares visit: