Ilan Cooley is an Edmonton based entrepreneur and writer. She is a an avid traveller, rescue dog mama and advocate of kindness and community.
You can read a recent story featuring Ilan that was published in the Globe and Mail on April 27, 2020. Wath this recent video story featuring Ilan and this topic on Global TV Edmonton.
__________________________________
Original article follows
Isolation has been a predicted social epidemic for a while now. Younger generations don't know a world before apps and social networks, and our large population of beloved boomers will face increasing challenges of loss and solitude. Then last week happened.
I have had this itchy need to write something about this for a while, but now it is impossible to ignore. The things I write often demand to be let out. I didn't want to seem like a doom spreader, because I'm actually an optimistic realist, and I know nobody wants just another seemingly negative thing in their feed.
However, I feel uniquely qualified to express this.
I cannot deny I have a blessed life. I have a roof over my head, a successful business (for now), two quirky pets, good friends and a loving family, but I am alone most of the time. Solo entrepreneurship and, let's call them 'a series of unfortunate events', led me to being alone more since last summer than I have ever been. For the first time ever, I felt the negative effects of it.
It's been awful.
I've always been a lone wolf, fiercely independent, and comfortable in my own company. I felt I was prepared to handle whatever came my way. With all of its ups and downs, I thought I was as likely as anyone else to continue to handle life's many lessons. I'm a strong person. I'm resilient. I'm a fighter.
I was wrong.
Like all things, dealing with a challenge is a process. The pity party portion of the program lasted four months. I spent most of that time alone. I focused on the things knew how to do, like running my business, but there were also some pretty major changes in the workisphere, and even that didn't feel familiar.
"…In the midst of this, I experienced something else. A peripheral 'noise' detox of sorts…"
Around Christmas I hit my breaking point. I usually love getting together with friends, sharing the fudge I make, exchanging gifts, and spreading the cheer and joy of the season, but aside from a few people who lovingly stood by me and knew what I was going through, I suffered mostly in silence.
Many of the people usually present in my life were not there. To be fair, some of them died, which were some of the unfortunate events. Other people I care about were also struggling, for which I have endless compassion. Some just disappeared. I still have two undelivered Christmas gifts in my closet, lovingly tagged for close friends I haven't seen in months. I hope I will still get the chance to give them. It has been a very unusual time.
The pity party involved endless tears, wine, unspeakable sadness and a trip into a place I didn't like. A place of agonizing isolation.  The second phase of the process is still ongoing. It involves accepting the friendship of those who still choose to be in my life, guitar lessons, long overdue trauma counselling for my chronic pain, yoga, group training sessions, eating better, reading more, and no wine. I even saw a medium. Apparently, even in isolation, I'm not idle.
In the midst of this, I experienced something else. A peripheral 'noise' detox of sorts. It gets really strange when things grind to a halt. I describe it as what I imagine it might feel like to blaze through the earth's atmosphere as a meteor. You feel hot, and it's like you're about to explode, or implode, or both. It is a fiery ball of chaos, until you break through. It feels foreign to shed the 'too much of everything' our world constantly throws at us. The cycle of too many meetings, phone calls, deadlines, texts and commitments. Take solace in this pause. I actually think that part is healthy. Once the detox is done, I promise it feels better.
"…My advice is to be kind with other people's pain and struggles…"
The reason I'm writing this now is I feel a strange sense of community forming around the isolation that is being imposed on the collective "us." I've lived alone and worked alone for many of my 18 years as an entrepreneur, but this recent experience has been different. It has gutted me, tested me, and brought me to my knees. It made me dig deep inside for the strength to get up. My mum says, "you're like me. We get knocked down, but we get back up again." I hope she's right. I think she's right. I'm trying.
This has not been easy. It's not comfortable to admit things like, I'm hurting, I'm struggling, I'm lonely. I need help. I've found expressing this kind of truth doesn't sit well with most other people. There have been a lot of blank stares, interjections that it can't be that bad, some unreturned phone calls, and texts that went into the abyss.
Being alone can be wonderful, but being lonely is another thing. It can be devastating. I fear many more people will soon understand how it feels and that worries me. I want others to be okay, so maybe I can help, even just a little. My advice is even if you're struggling and even if at first people don't seem to understand, don't let go of the ones you care about. Let them stay tethered to you. We need each other. Don't let someone else's struggle make you walk away.
I believe we are inherently social beings. We gravitate towards love, laughter, joy, congregation, sharing and caring for one another. The obstacles currently in our way are not going to make us feel good. It's going to be really tough, but we can take some comfort in knowing we are all in it together.
My advice is to be kind with other people's pain and struggles. We do not know how a situation or circumstances may impact an individual. Don't try to explain away someone's reality as unimportant. If you don't know how to respond, just say "I'm here for you," "I care about you," "you are important to me," or "I love you." If you can't ask "what can I do to help?" because you have nothing left to give, that's okay. Be honest and communicate. Don't just walk away. We need each other now more than ever.
So, from my isolated little world to yours, I'm still here. I'm here for myself, but I can also be here for other people too. I can still do that. I want to do that. If isolation gets you down, don't stop telling people how you're feeling and don't stop checking in on others. Rely on the people who want to be there for you. I promise there are people who do.
This story was published originally on March 18th, 2020.
Ilan Cooley is an Edmonton based entrepreneur and writer. She is a an avid traveller, rescue dog mama and advocate of kindness and community.
Listen: Ryan Jespersen, Lynda Steele, J'Lyn Nye are joined by writer Ilan Cooley: The Untold Toll of Online Trolls
'Back to normal:' Alberta to lift all remaining COVID-19 public health restrictions
EDMONTON — Alberta will lift its remaining COVID-19 health restrictions on July 1, becoming the first province or territory in Canada to do so.
Premier Jason Kenney says 70.2 per cent of Albertans aged 12 and over have now received at least one dose of a COVID-19 vaccine.
He says that means it's safe to return to normal after the vaccines take full effect in two weeks.
Alberta has administered about 3.6 million vaccine doses and almost one-quarter of those eligible have had the required two shots.
Some doctors have said the province needs to get more second doses administered to be fully protected against the Delta variant.
Health Minister Tyler Shandro says people who received their first dose in May are now eligible to book their second doses.
This report by The Canadian Press was first published on June 18, 2021.
The Canadian Press
Mission Update: A behind the scenes look at Alberta's Army Reservists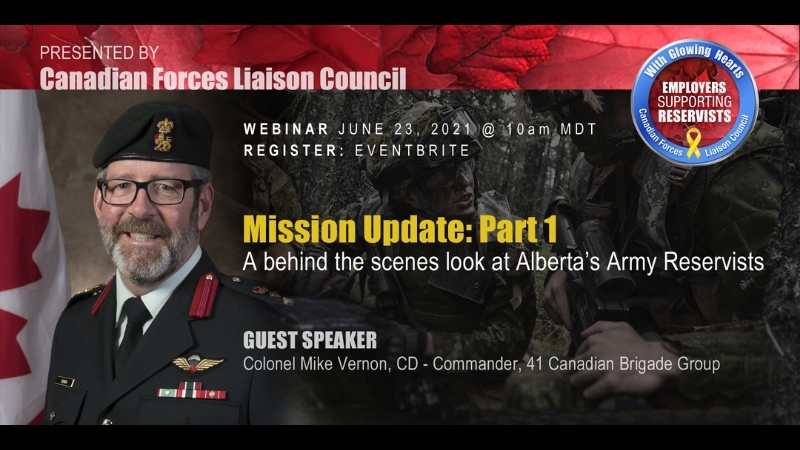 Submitted by: Canadian Forces Liaison Council
Join us for an informative webinar on June 23rd with guest speaker Colonel Mike Vernon, CD/Commander of 41 Canadian Brigade Group. 
Learn more and register for Mission Update Part 1: A behind the senes look at Alberta's Army Reservists:
A behind the scenes look at who reservists are, what they do, and how the Alberta Reserve is preparing and training to support our communities and country when we need them most. 
Numerous Alberta businesses employ individuals who are members of the Reserve Force. When Alberta faces a disaster – the Covid-19 Pandemic, fires, floods – reservists are asked to respond to the call and assist in the survival and support of our communities. Responding to these calls often pulls reservists away from their regular employment.
Reservists are skilled and talented people who are part-time "citizen soldiers", sailors and airmen/airwomen. In addition to their military responsibilities, they also work full time in the civilian workforce. They enhance corporate culture, small and large businesses, with the experience they have attained in the military. As a candidate for a position they have a well-earned skill set that goes above and beyond another candidate for the same role. If you already employ a Reservist, you know the benefits they bring to the workplace with both hard and soft skills.
The Canadian Armed Forces provide Reservists with world class training to develop key skills which form not only the foundations of an valuable Reservist but also a highly qualified employee. Employers benefit from their core skills and abilities such as leadership, teamwork, discipline, initiative, determination, problem solving, and the ability to work under pressure.
When you employ a Reservist, they bring their learnings from the military to your organization. In turn, they also contribute their workplace expertise when serving in the military. It's a win-win for both the organization and the Canadian Armed Forces. Reservists who serve help to provide a safe environment for businesses to thrive and is one of the very reasons many people are proud of our serving members.
The Basics
Reservists are members of the Canadian Armed Forces (CAF) who train and serve with the CAF on a part-time basis. They typically serve on weekday evenings and weekends. From time to time Reservists attend military courses and training that lasts one or two weeks and occasionally longer durations. Reservists have the opportunity to volunteer to serve on domestic and international operations on a full-time basis augmenting the regular component of the CAF. Through floods, fires or ice storms, Reservists are there to help and to keep communities and businesses operating. Their training provides both domestic response and international support – when you employ a Reservist, you in turn, are serving your country.
What is the With Glowing Hearts Initiative?
The With Glowing Hearts – Reservist Support Initiative is an HR program to attract and retain talented employees. The Canadian Armed Forces has trained over 25,000 Reservists who bring exceptional qualifications to an organization or business. Consider the Reserves as a talent pool to source potential employees to support company goals and initiatives. The initiative provides guidance and tools to support both Employers and Reservists and the good work they do together. Employing a Reservist is good for business and it makes your work, and workplace, better – With Glowing Hearts, we stand together supporting our community and country.
How does the program work?
It's simple – like any other HR initiative, the program becomes an offering to attract employees. For example, a company may already have a maternity leave policy in place, growth programs for leadership, or even policies for internships. The With Glowing Hearts – Reservist Support Initiative creates a "reserve-friendly" culture for an organization to attract, and keep, experienced and valued employees. The turnkey program assets can be used to create awareness through communication channels of choice.
What does the program include?
The program consists of the following elements:
Reservists 101: What Reservists offer Employers
"With Glowing Hearts" Reservist support customized certificate for Employers
"With Glowing Hearts" Employer/Reservist Recognition stickers
"With Glowing Hearts" Customized employer support icon (online use)
HR & FAQS: Q&A for employing Reservists
Military Leave Policy (MLP): Examples of MLP for small and large businesses
What's next?
How can I find out more information for my business?
Employers Supporting Reservists – Canadian Forces Liaison Council
Visit the website: https://www.canada.ca/en/department-national-defence/services/benefits-military/supporting-reservists-employers.html