Budget 2023 – Alberta's Affordability Action Plan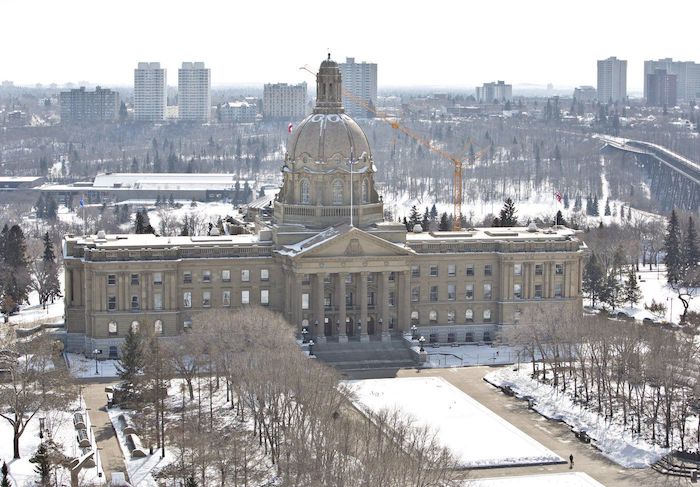 Budget 2023 funds ongoing programs and services that support Albertans and builds on Alberta's Affordability Action Plan, expanding relief for high utility costs and providing new measures for students, workers in the social services and disability sectors, and in continuing care.
Alberta's government is permanently extending the natural gas rebate program. Moving forward, whenever natural gas prices exceed $6.50 per gigajoule, the rebate will take effect.
"Inflation continues to challenge Albertans, and affordability remains top of mind for many. That's why we are working hard to save Albertans money so they can focus on what really matters. Budget 2023's strong affordability measures – including extended fuel tax relief, continued utility rebates and new supports for students and social services workers – will help to keep life affordable for families, seniors, individuals and vulnerable groups across the province."
Supporting post-secondary students
Post-secondary students in Alberta will see real relief, thanks to $238 million for new, targeted affordability measures.
Budget 2023 caps tuition fee increases for domestic students at two per cent annually effective for the 2024-25 school year.
Students receiving financial assistance will get more help repaying their loans, with an extension of the student loan grace period from six months to one year and an increase to the threshold for eligibility for the loan repayment assistance plan to $40,000, up from $25,000 in income.
Albertans repaying student loans will see their payments drop by an average of $15 per month thanks to the new student loan interest rate being reduced from prime plus one per cent to prime.
"These new measures will help all students keep up with the increased cost of living. We are committed to keeping post-secondary education accessible and affordable so that all Albertans can gain the skills and knowledge they need to build successful careers and secure Alberta's future."
Supporting families
Parents shouldn't have to choose between filling up the car and putting food on the table. Budget 2023 leaves more money in the pockets of Alberta families by funding affordability measures, including direct payments of $100 per month through June 2023. All parents or guardians of a dependent under 18 can still apply to get $100 per month for six months for each child if their adjusted household income is below $180,000, based on the 2021 tax year.
Through Budget 2023, investments of $90 million over three years will help secure more supports for families with young children by indexing the Alberta Child and Family Benefit to inflation, increasing benefit amounts by six per cent in 2023.
Enabling parents to expand their families and helping more children find their forever home by making in-Alberta adoptions more affordable is an important initiative in Budget 2023. Alberta's government is investing $12 million more over three years and providing supplementary health benefits for children adopted from government care or through licensed adoption agencies to ensure more successful adoptions. In addition, there is $6,000 in grant funding for prospective adoptive parents making less than $180,000 a year and an increase of the provincial adoption expense tax credit to $18,210 to match the federal threshold in 2023.
Budget 2023 allocates $1.3 billion in 2023-24, $1.4 billion in 2024-25 and $1.6 billion in 2025-26 in operating expense in the Child Care program from provincial funding and Alberta federal-provincial child-care agreements.
An additional operating expense of $143 million over three years responds to the increasing complexity of children receiving child intervention services and an additional $26 million over three years will support youth and young adults in care transitioning to adulthood.
"We want a better future for our children, which is why we are continuing to prioritize making high-quality child care more affordable and accessible for Alberta families. We are also providing more supports to reduce barriers in the adoption process as well as increasing supports for vulnerable children and youth in care while advancing our government's priority of making life more affordable for all Albertans."
Supporting seniors and other vulnerable Albertans
Seniors aged 65 and over with a household income under $180,000 based on the 2021 tax year are still eligible to receive direct payments of $100 per month for six months (January 2023 to June 2023).
Albertans who receive the Alberta Seniors Benefit, AISH and Income Support have been automatically enrolled to receive the same Affordability Relief Payments of $600 over six months.
Alberta's government is further supporting seniors, low-income and vulnerable Albertans with a six per cent increase to core benefits in 2023. Benefits including AISH, Income Support and the Alberta Seniors Benefit are indexed to inflation, which is helping Albertans combat today's increased cost of living.
Budget 2023 helps put food on Albertans' tables by funding local food banks, including $10-million direct funding through the Family and Community Support Services Association of Alberta and $10 million to match private donations, over two years.
Alberta's government values the work done by disability service providers and workers throughout the province in caring for the disability community. That is why Budget 2023 provides a five per cent increase to the disability sector to help with administration costs in Persons with Developmental Disabilities (PDD) and Family Support for Children with Disabilities (FSCD) provider contracts and family-managed agreements.
It is important that Albertans are able to get to and from work, to a doctor's appointment, the grocery store or a pharmacy. To support low-income transit pass programs, Budget 2023 is investing $16 million in 2023-24 to support municipalities throughout the province as they provide affordable transit to their residents.
"For so many seniors, low-income individuals and Albertans living with disabilities, the increased cost of living has made life more and more difficult to afford. Alberta's government is continuing to take steps to support these individuals and families, which I know will have a huge impact for many households across the province."
Supporting social services and disability services workers
The government is helping to attract and retain more social service workers to support more people in need. Budget 2023 includes $102 million in 2023-24 to increase wages for more than 20,000 workers in disability services, homeless shelters and family violence prevention programs. This funding builds on the $24 million the government provided to service providers in February to enable wage increases retroactive to Jan. 1, 2023.
Alberta's government is also providing $8 million in 2023-24 for disability service providers to address increasing administrative costs.
Budget 2023 secures Alberta's bright future by transforming the health-care system to meet people's needs, supporting Albertans with the high cost of living, keeping our communities safe and driving the economy with more jobs, quality education and continued diversification.
Police looking for these 3 suspects after Super 8 Motel in Innisfail robbed early Monday morning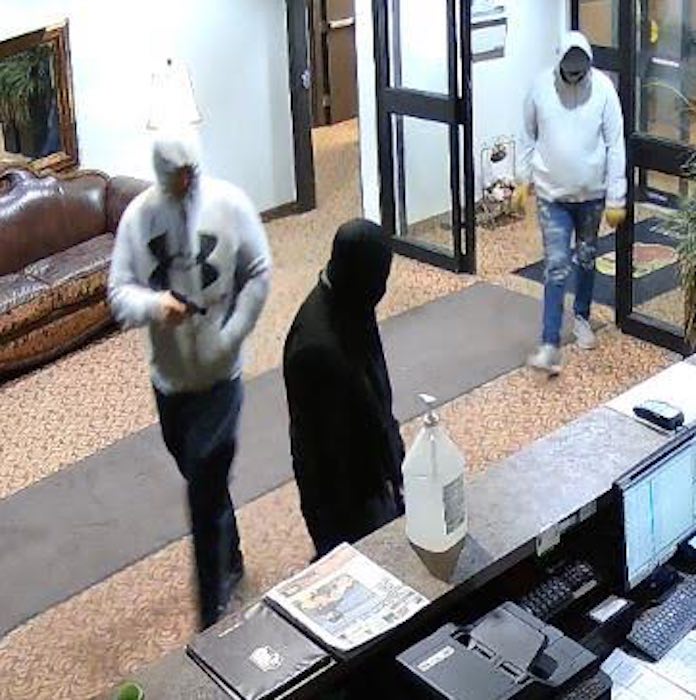 Innisfail RCMP investigate robbery
Innisfail Ala. – On May 29, 2023, at approximately 4:10 a.m., the Super 8 motel in Innisfail was the victim of an armed robbery. Three male suspects entered the hotel, two of which had firearms. Money was demanded from the manager. All three left the motel in a vehicle which is described as:
Chevrolet Dura Max truck
Sliver
Lifted
The suspects are described as:
Suspect #1: Caucasian male, tall and muscular. Wearing jeans and a grey Under Armour hoody. He was carrying a pistol.
Suspect #2: Caucasian male, short. Wearing all black. He was carrying a sawed off shotgun
Suspect #3: Caucasian male tall with a chubby belly. He was wearing a grey hoody, jeans and a black ball hat.
If you have information about this incident, please call the Innisfail RCMP at 403-227-3341 or call your local police. If you want to remain anonymous, you can contact Crime Stoppers by phone at 1-800-222-8477 (TIPS), by internet atwww.tipsubmit.com, or by SMS (check your local Crime Stoppers www.crimestoppers.ab.ca for instructions).
'Tragic accident' blamed for recent death of giraffe at Calgary Zoo
The Wilder Institute/Calgary Zoo says a "tragic accident" led to the recent death of an adult Masai giraffe. A statement from the zoo says the female giraffe named Emara died May 19 after tangling one of her horns on a cable surrounding her enclosure. THE CANADIAN PRESS/HO-Wilder Institute/Calgary Zoo-Sergei Belskey
Calgary
The Calgary Zoo says a "tragic accident" led to the recent death of one of its adult Masai giraffes.
A statement from the zoo says a female giraffe named Emara died May 19 after tangling one of her horns in a cable surrounding her enclosure.
The statement says a necropsy revealed Emara fell against the enclosure fence and died almost instantly of a broken neck.
Emara, who had just turned 12, came to Calgary from the San Diego Zoo in 2016.
The statement says she was a treasured member at the zoo and was known for her cautious yet curious personality and gentle nature.
The zoo says it is checking fencing within its African Savannah Yard enclosure to see if changes are needed to better protect the other giraffes and animals that share the space.
Doug Whiteside, interim associate director of animal care and welfare at the zoo, said Emara was in her prime and was in excellent health when she died.
"Major life changes such as this not only affect our people but can affect our animal residents as well," Whiteside said in the statement Monday.
He said the zoo's remaining giraffes, Nabo and Moshi, are doing well.
Grief counsellors are being made available to Emara's caregivers and other zoo staff.
This report by The Canadian Press was first published May 29, 2023.