Break in and ATM theft at Parkland Mall this morning
Red Deer RCMP investigate break-in and ATM theft at mall
Red Deer, Alberta – Red Deer RCMP are investigating a break-in at Parkland Mall early this morning in which three men in a truck smashed through the mall doors and stole two ATMs, causing significant damage within the mall.
RCMP responded to a report of a break-in in progress at the mall at 4:15 am on August 2 and determined that the suspect truck drove through the mall doors at Entrance 5. The truck drove through the mall to two separate ATMs in the food court area, and the three male occupants of the truck were seen lifting the cash machines into the back of the truck. The truck then smashed through glass doors at Entrance 1 and fled.
The male driver wore a white face mask and dark coveralls with reflective stripes. The other two male suspects wore dark hoodies and dark pants. The suspect truck is described as a white diesel extended cab, a Ford F250 or F350, with significant body damage and a tie strap over the back. It was last seen driving eastbound on 67 Street.
If you have information about this crime, please contact Red Deer RCMP at 403-343-5575. If you wish to remain anonymous, call Crime Stoppers at 1-800-222-8477 or report it online at http://p3intel.com/. If your information leads to an arrest, you could be eligible for a cash reward up to $2,000.
Read more stories about area crime on Todayville.com.
Peavey Industries LP, the Red Deer-based retailer, has announced the acquisition of long-term partner and fellow Red Deer stalwart, Guy's Freightways.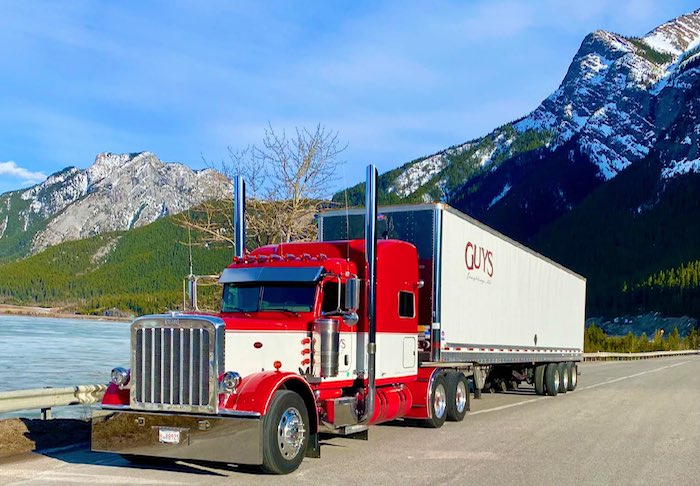 News release from Peavey Industries
Guy's Freightways, a leading logistics and transport company established in 1975 by Bernie Schwartz, began its journey as a single truck operation delivering products to just six Peavey Mart stores. Today, with 16 full-time trucks and 43 trailers, Guy's has evolved alongside Peavey Mart, now part of Peavey Industries LP, to service their vast retail network across in Canada.
National Farmway Stores, founded in 1967 and later rebranded as Peavey Mart in 1975- has grown exponentially over the decades. Today, Peavey Industries LP (Red Deer, Alberta) has more than 160 retail locations with its brands Peavey Mart, ACE Canada & MainStreet Hardware, with Guy's Freightways being instrumental in ensuring reliable product delivery to many of these stores in Canada.
The acquisition will see Guy's Freightways operate as a subsidiary of Peavey Industries LP. This strategic move solidifies an already close relationship that has endured for nearly 50 years. Peavey Industries LP recognizes the enormous value that Guy's Freightways has brought to their operations, having played a pivotal role in their expansive growth over the years.
'We've had a great relationship with Peavey for 48 years, so it was only natural to have Peavey continue the Guy's legacy. I'm thrilled for our people to be able to continue being a part of the Peavey family' said Todd Schwartz, Guy's Freightways.
'Today marks a historic moment for both Peavey Industries LP and Guy's Freightways,' said Doug Anderson, CEO of Peavey Industries LP. 'By formalizing this symbiotic relationship, we are enhancing our operational efficiency while preserving Guy's Freightways' legacy. We look forward to continuing our growth journey together.'
Red Deer Polytechnic recognizes achievements of graduates at 2023 Convocation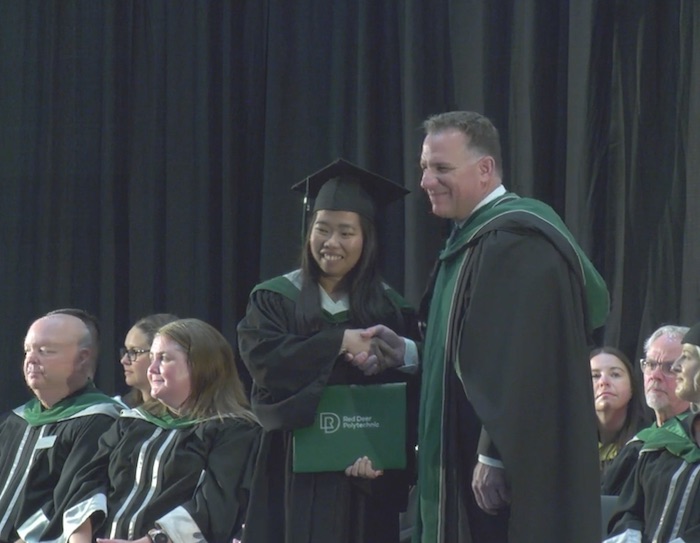 Friday, Red Deer Polytechnic (RDP) celebrated the Class of 2023 with families, community members and employees attending its 59th Convocation Ceremonies.
"Convocation is the most important day of the academic year, when we come together as a community to celebrate our graduates and all they have achieved," says Stuart Cullum, President of Red Deer Polytechnic. "I congratulate the Class of 2023 and wish them every success as they start the next chapter of their lives."
More than 620 of 1,470 eligible RDP graduates from 2023 attended the ceremonies in the Gary W. Harris Canada Games Centre. Little Buffalo Drum Group welcomed the graduates into The Fas Gas – On The Run Gymnasium with an Indigenous Grand Entry Song, which was performed to acknowledge and celebrate significant achievements in life.
This year is the first graduating classes of RDP's Bachelor of Science in Biological Sciences, Business Certificate, Business Diploma, Business Certificate Skywings and Bachelor of Applied Arts in Film, Theatre, and Live Entertainment – Film Production.
Brittany Parker received the Governor General's Academic Medal (Collegiate Bronze Level), achieving the highest academic standing among all graduates from Red Deer Polytechnic's diploma-level programs. Parker completed an Occupational and Physical Therapist Assistant Diploma, earning seven grades of A+ and a GPA of 4.0 during the 2022/2023 academic year.
"To earn the Governor General's Academic Medal takes hard work, commitment and effective time management," says Dr. Paulette Hanna, Interim Vice President Academic. "Brittany has demonstrated these important skills throughout her time at Red Deer Polytechnic and we are very proud of her accomplishments. We wish Brittany well as she embarks on her career."
Parker and the entire Class of 2023 now join an esteemed group of more than 80,000 RDP alumni who are key contributors to industry and communities.
This year, Red Deer Polytechnic granted Honorary Bachelor of Interdisciplinary Studies Degrees to both Dr. James Barmby and Dr. Russell Schnell for providing meaningful impact in Alberta and around the world. They were formally acknowledged at the Convocation Ceremonies.
Dr. Barmby is a respected post-secondary educator and leader who has made significant contributions provincially and nationally. His expertise and advocacy for higher learning have contributed to student success for almost 40 years. Along with his ongoing community involvement, Dr. Barmby is currently Co-chair of the Minister's Advisory Council on Higher Education and Skills. Dr. Barmby, who was an Art and Design student at the Polytechnic, transferred to university before completing the program. At Convocation, he was also granted a Visual Art Diploma.
Dr. Schnell was recognized for his global contributions to environmental sciences. He was a member of the Intergovernmental Panel on Climate Change that was a co-recipient of the 2007 Nobel Peace Prize. Dr. Schnell discovered biological ice nuclei, which are effective initiators of natural precipitation, while working on the Alberta Hail Project. In recent years, he has built Little Free Libraries out of recycled materials and donated them to communities in Alberta and around the world to inspire youth.
Dr. Barmby and Dr. Schnell join a prestigious group of nine other individuals who have also received Honorary Degrees from Red Deer Polytechnic. The Polytechnic first began bestowing this honour in 2014.
More details about RDP's 59th Convocation, the institution's second as Red Deer Polytechnic, are available at: rdpolytech.ca/convocation.