Bob Stollings Award presented to 35 year veteran of service to the City of Red Deer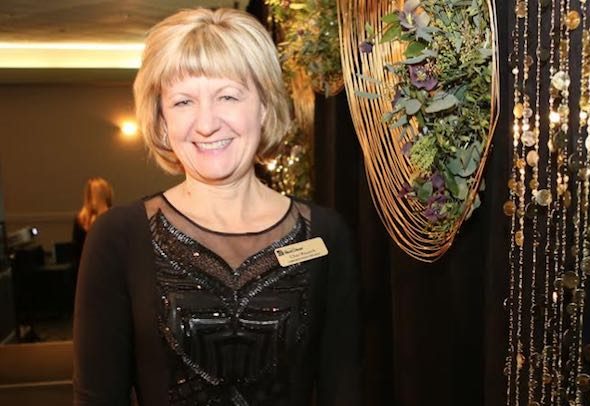 City of Red Deer Bob Stollings Award winner announced
Each year, The City of Red Deer is proud to celebrate the hard work and dedication of our staff through the annual Employee Recognition Awards. With COVID-19 restrictions in place, how the awards were handed out looked a lot different this year. Awards were personally delivered to each recipient rather than at an evening awards banquet.The awards celebrate long-term service employees and offers special recognition for those who have excelled in innovation, environmental stewardship and exceptional growth.The most anticipated award of the year is the Bob Stollings Memorial Award. This award was established by City Council in 1985 and is presented every year to honour Robert (Bob) E. Stollings, a loyal and dedicated employee of The City of Red Deer from 1960 to 1984. The recipient of this award has displayed outstanding civic performance in alignment with The City's Cornerstone Values – Respect, Integrity, Service and Excellence. Nominations are submitted by fellow coworkers detailing the employee's achievements professionally and interpersonally, along with letters of support.
We are proud to announce this year's Bob Stollings Memorial Award recipient is Char Rausch. She is the Corporate Events Specialist, but has held many roles within The City throughout her more than 35 years of service. From her time with the RCMP, Mayor and City Manager's Office, Legislative Services and now with Corporate Communications, Char has always brought her dedication to community and never-ending energy, to her work.
"Those who know Char, know the passion, commitment to excellence, and complete care she puts into everything she does," says Tracy Bruce, Human Resources Manager. "More than 35 years of service, Char has lived our corporate values and we are happy to celebrate her accomplishments by presenting her with the Bob Stollings Award."
Keep cool with the firefighters this Thursday!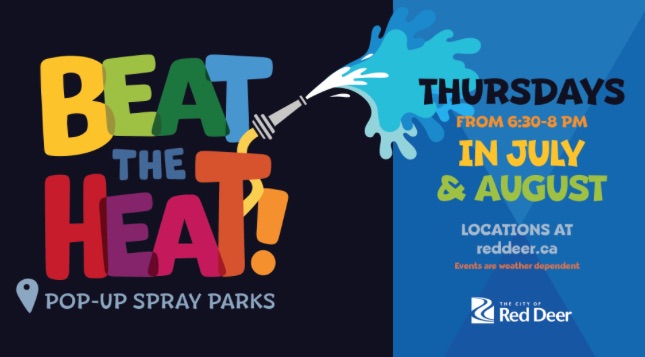 Pop-up Spray Parks
Members of Red Deer Emergency Services, RCMP and Municipal Enforcement blasted the hoses to keep you cool Thursdays in July and August.
Pop-up spray parks are popping up across Red Deer this summer. Beat the heat with Red Deer Emergency Services, Municipal Policing Services and RCMP in a neighbourhood near you.
Participants are reminded to not attend if they are feeling unwell or are currently required to quarantine.
Thursdays from 6:30 – 8 p.m.
| Date | Location | Address |
| --- | --- | --- |
| | | |
| July 22 | Highland Green Community Centre | 65 Halladay Avenue |
| July 29 | Deer Park Community Association | 181 Dowler Street |
| August 5 | To Be Confirmed | —– |
| August 12 | Riverside Meadows Community Centre | 6021 57 Avenue |
| August 19 | Joseph Welsh Elementary School | 4401 37 Avenue |
*Events are weather dependent.
City Hall open for ALL payments and customer services as of Monday
All payments and customer services available in-person starting Monday at City Hall
Starting Monday, July 12, all payments and customer services provided in-person at City Hall prior to COVID-19 resume. The reintroduction of additional customer services on Monday include:
Parking inquiries
Licence and permit applications
Inspections
Services that resumed in-person on June 21 include:
Utility bill payment
Property tax payment (taxes were due June 30)
Parking ticket payment
Re-loading parking cards
Accounts Receivable invoice payment
Licence payment
Special event permit payment
Other miscellaneous fee payments
A reminder to anyone visiting City Hall that although most public health restrictions were lifted on July 1, The City's priority continues to be the health and safety of our staff, citizens and community. Social distancing and proper hand sanitizing will still be in place at our facilities, and City of Red Deer staff are still required to wear masks while in the workplace under our internal policy. Anyone feeling sick or experiencing any COVID-19 symptoms are asked to stay home.
Although all payments and services are available in-person starting Monday, residents are encouraged to take advantage of the online services available when possible. Payments, permit applications, tax certificates along with other items are available through MyCity. Visit www.reddeer.ca/MyCity for more information.