Blackfalds is spending $2,000 per resident to expand Multi-Plex and Library… Will Red Deer "bite the bullet" to compete?
Submitted by Opinion Blogger Garfield Marks
July 3 2019, and the town of Blackfalds announced they are expediting moving forward on twinning their Multi-Plex to the tune of $15 million, and $5 million to expand their library. This is only a few years after opening their $15 million Abbey Centre.
Blackfalds moved construction up a few years to avail themselves of economic savings. Construction costs are down while the industry has slowed and the residents will save money.
Granted it is still $2,000 per resident as Blackfalds only has 10,000 +/- residents.
The city of Red Deer is delaying discussing building an Aquatic Centre, 18 years after opening the Collicutt Centre.
Blackfalds, population of 10,400 will spend $1,500 per person twinning their multi-plex just a few short years after spending $2,000 per person on the Abbey Centre. $500 per resident on the library.
2013 population of Blackfalds was around 7,500.
In just a few years Blackfalds is committing about $4,000 per resident on recreational facilities.
Red Deer, population 101,002 is looking at spending less than $1,000 per resident on recreational facilities in decades.
Blackfalds was named the fastest growing city by population in Canada.
Red Deer is stagnant in population, increasing by only 1% in the last 3 years.
Red Deer needs to build an Aquatic Centre with a 50m pool. Red Deer is in need of a new multi-plex. Red Deer has a shortage of recreational facilities north of the river. Red Deer is in need of an identity.
Red Deer is afraid of investing in itself. The price of $100 million is high and can be lowered, but if the price was $101 million it would be only $1,000 per resident. Blackfalds had a population of 6,500 when it started building the Abbey Centre, or $2300 per resident. Now a few years after opening they are investing another $1500 per resident in twinning their multi-plex.
Red Deer is abdicating it's leadership role in Central Alberta. Penhold, Sylvan Lake and Blackfalds have all invested in their recreational facilities in recent years and have maintained population growth while Red Deer has ceased investing in new facilities, and seen a decline in population.
I would suggest that we bite the bullet, proceed with an Aquatic Centre that can hold provincial and national competitions and attract tourist and investment dollars. Build it north of the river by Hazlett Lake and offset the costs with sponsorships, like we did with the Collicutt Centre.
Or we can just welcome mediocrity and obscurity.
Just saying.
Garfield Marks
28 year old Blackfalds woman arrested after drug trafficking investigation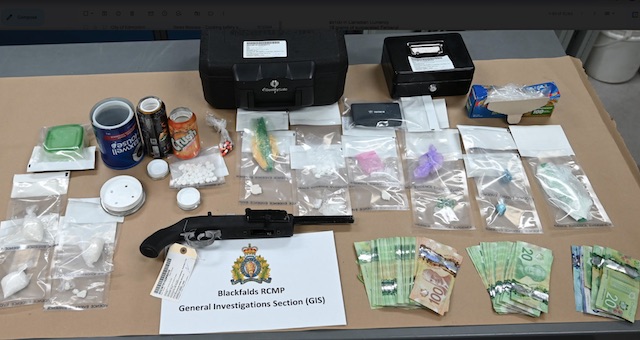 News release from Blackfalds RCMP
Blackfalds RCMP lay charges after drug trafficking investigation
In the summer of 2023, Blackfalds RCMP began an investigation into drug trafficking in the Blackfalds area. As a result of the investigation, on Sept. 5th, 2023, RCMP observed the suspect who appeared to be selling drugs from a Toyota Camry. RCMP initiated a traffic stop and arrested the suspect. RCMP seized:
86.8 grams of suspected Methamphetamine
5.6 grams of suspected Cocaine
93 Percocet pills
A loaded prohibited/Restricted firearm
$5100 in Canadian Currency
16 grams of suspeceted Fentanyl
Other pills that are not yet known.
Evidence obtained in the search of the vehicle led officers to continue the investigation. On Sept. 6, 2023, RCMP executed a search warrant at a hotel in Red Deer. As a result of the search of the hotel room, RCMP seized:
28.3 grams of suspected methamphetamine
8 grams of suspected Cocaine
12.6 grams of suspected Fentanyl
RCMP have arrested and charged Blackfalds resident, Reanne Brodersen (28), with:
Possession for the Purpose of Trafficking (x4)
Possession of the Proceeds of Crime
Weapons offences (x4)
Failure to Comply with Weapons Prohibition Order (x2)
Fail to Comply with Release Order (x2)
Bordersen has been taken before a justice of the peace and remanded with her next appearance date set for Oct. 19, 2023, at the Alberta Court of Justice in Red Deer.
Blackfalds Community Plaza To Be Named Border Paving Plaza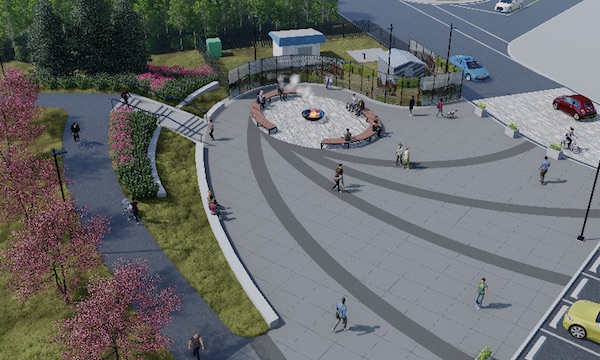 News Release from the Town of Blackfalds
The Town of Blackfalds is proud to announce that the community plaza set to open in the fall of 2022 will be officially named the Border Paving Plaza! Council formally approved the naming sponsorship at the March 22 Regular Council meeting.
The Border Paving Plaza will be a four-season gathering place that will provide residents and visitors with an aesthetically pleasing open area in which they can participate in markets, festivals, performances, and other community events. The Plaza will be east of the Eagle Builders Centre and south of the existing parking lot.
"Over the past number of years, outdoor gatherings and events have been steadily growing in participation and popularity in Blackfalds, so it's very exciting that we are moving forward with the Border Paving Plaza project that will serve to be a focal point for many of these exciting events," shared Mayor Jamie Hoover. "Along with completing the Eagle Builder Centre and the road realignment, this outdoor plaza will quickly become a central point of pride in our always improving community."
The 24,000 square foot space will feature a decorative stained concrete deck, stairs and ramps, landscape features, and a natural gas fire pit.
Border Paving Plaza's budget is $668,000, of which 75 per cent was approved through the Canada Community Revitalization Fund. The remaining funds will be alleviated from sponsorships, including Border Paving Ltd, DB Bobcat Services, STEP Energy, Stantec, and ATCO gas.
Amanda Stasiuk, Border Paving's Community Outreach Coordinator, said that the company is looking forward to the development and the continued partnership with the Town.
"Once again, we are very excited to be a part of Blackfalds' commitment to public gatherings and community-minded development. Donations like this are part of our long-standing commitment to the communities we are part of."
Construction of the Border Paving Plaza will begin this spring, in conjunction with the Gregg Street Realignment project.