Big residential increase and renovation of the Dream Centre featured in April's building permit stats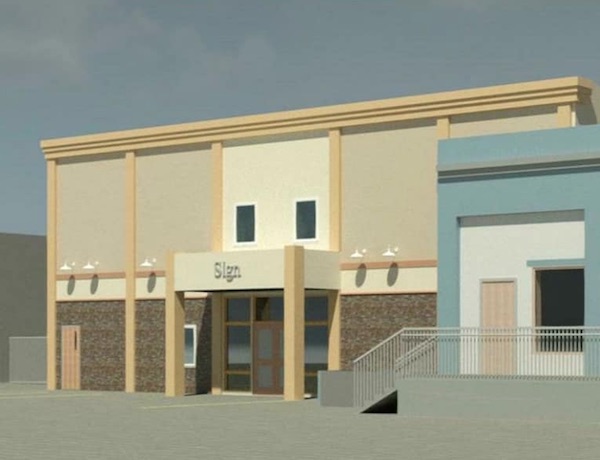 Building permit values up in April
Building permit values continued to rise in April, with 123 approved permits valued at $10.3 million, compared with 53 permits issued in April 2020 worth just over $16 million.
Year-to-date building permits have dropped in value from the first four months of 2020, with current values at $29.9 million compared with $86.9 million last year.
Notable permits include:
Building permit for roof renovation at 100 College Boulevard, valued at $1.5 million
Building permit to renovate existing building to 40 bed drug and alcohol treatment facility with supporting offices at 4614 50 Avenue, valued at $1.4 million
Building permit for tenant improvements to restaurant at 110-6852 66 Street, valued at $600,000
Building permit for renovation to existing pharmacy technician classroom 1323 and 1323A, valued at $375,000
Building permit for removal of demising wall between unit 176 and 177 to allow expansion of Bower Dental at 176-4900 Molly Banister Drive, valued at $350,000
Ford says EV unit losing billions, should be seen as startup
Ford's Chief Executive Engineer Linda Zhang unveils the Ford F-150 Lightning on May 19, 2021, in Dearborn, Mich. Ford Motor Co. announced Thursday, March 23, 2023, that their electric vehicle business has lost $3 billion before taxes during the past two years and will lose a similar amount this year as the company invests heavily in the new technology. (AP Photo/Carlos Osorio, File)
By Tom Krisher in Detroit
DETROIT (AP) — Ford Motor Co.'s electric vehicle business has lost $3 billion before taxes during the past two years and will lose a similar amount this year as the company invests heavily in the new technology.
The figures were released Thursday as Ford rolled out a new way of reporting financial results. The new business structure separates electric vehicles, the profitable internal combustion and commercial vehicle operations into three operating units.
Company officials said the electric vehicle unit, called "Ford Model e," will be profitable before taxes by late 2026 with an 8% pretax profit margin. But they wouldn't say exactly when it's expected to start making money.
Chief Financial Officer John Lawler said Model e should be viewed as a startup company within Ford.
"As everyone knows, EV startups lose money while they invest in capability, develop knowledge, build (sales) volume and gain (market) share," he said.
Model e, he said, is working on second- and even third-generation electric vehicles. It currently offers three EVs for sale in the U.S.: the Mustang Mach E SUV, the F-150 Lightning pickupand an electric Transit commercial van.
The new corporate reporting system, Lawler said, is designed to give investors more transparency than the old system of reporting results by geographic regions. The automaker calculated earnings for each of the three units during the past two calendar years.
Model e had pretax losses of $900 million in 2021 and $2.1 billion last year, and it is expected to lose $3 billion this year. In the past two years Ford has announced it would build four new battery factories and a new vehicle assembly plant as well as spending heavily to acquire raw materials to build electric vehicles.
By the end of this year, the company based in Dearborn, Michigan, expects to be building electric vehicles at a rate of 600,000 per year, reaching a rate of 2 million per year by the end of 2026.
Ford Blue, the unit that sells internal combustion and gas-electric hybrid vehicles, made just over $10 billion before taxes during the last two years. Ford Pro, the commercial vehicle unit, made $5.9 billion during those years, the company said.
For this year, Ford expects Ford Blue to post a $7 billion pretax profit, modestly better than last year. Ford Pro is expected to earn $6 billion before taxes, nearly double its earnings last year, Lawler said.
Ford was to present the new structure, announced last March, to analysts and investors on Thursday. Other business units include corporate, Ford Credit and Ford Next, a new business incubator. Shares of Ford rose 1.8% in Thursday morning trading ahead of the presentation.
Lawler said the company is changing the way it does business, not just doing an accounting exercise.
"After 120 years, we've essentially re-founded Ford," he said. "We're embracing technology and competitive disruption in our industry, fundamentally changing how we're thinking, how we're making decisions, and how we're running the company."
Allow unvaccinated Canadians to cross U.S. border, Poilievre asks President Joe Biden
U.S. President Joe Biden shakes hands with Conservative Party of Canada Leader Pierre Poilievre, as Prime Minister Justin Trudeau looks on, during a welcoming ceremony on Parliament Hill in Ottawa, on Friday, March 24, 2023. Conservative Leader Pierre Poilievre says allowing Canadians who are unvaccinated against COVID-19 to cross into the United States was among issues he raised with President Joe Biden. THE CANADIAN PRESS/Justin Tang
By Stephanie Taylor in Ottawa
Conservative Leader Pierre Poilievre said Friday he asked President Joe Biden to remove the U.S. government's requirement that Canadians be vaccinated for COVID-19 before crossing the border.
He told reporters after their meeting that American citizens are no longer required to have their shots and Canada allows unvaccinated Americans to visit.
"There are millions of good, decent, honourable people who, through a personal medical decision, are discriminated against at the border," Poilievre said.
"I encouraged the president to lift those restrictions to allow them freedom of mobility."
Poilievre won the leadership of his party a little more than six months ago by mounting a vocal opposition to COVID-19 health restrictions, including mask and vaccine mandates, but he has since focused his message on cost-of-living issues.
He met with Biden on Parliament Hill Friday during the president's 27-hour visit to the Canadian capital, and later shared a photo of the two online.
Michael Ignatieff was the last Opposition leader to have face time with a U.S president. The former Liberal leader met with former President Barack Obama in 2009. It happened at the airport.
Poilievre said Friday he found Biden wants to be a "friendly" and "decent" neighbour to Canada, and on a personal level, he said he told the president they share Irish heritage.
He said they discussed the need for Canada to bolster its defence systems and "bring fairness" to workers by seeing the U.S. exempt Canada from its Buy American policies.
The Tory leader also said he expressed a need for Biden to axe tariffs on Canadian softwood lumber, arguing that the long-standing dispute saw a brief reprieve under Conservative prime minister Stephen Harper.
"I don't believe that Prime Minister (Justin) Trudeau has pushed and fought on behalf of Canadians," he said.
Before the meeting, Poilievre had shared some unscripted moments with the leader of the free world.
As he stood in a receiving line of Canadian politicians from all parties who were greeting Biden upon his arrival at Parliament Hill, Poilievre introduced himself as the "Leader of His Majesty's Loyal Opposition."
That prompted Biden to question, still shaking Poilievre's hand: "Loyal opposition?"
Poilievre assured him that yes, "we believe that opposition is an act of loyalty in our system."
Biden chuckled, patting Poilievre on the arm.
"We do, too, unfortunately," he said, chuckling.
Later, while addressing the House of Commons, Biden noted that both he and Trudeau appointed cabinets that were half women, making them the first in their respective countries to do so.
Many in the chamber broke out in applause.
Biden noticed that Poilievre and the Opposition Conservatives were not quick to rise, and quipped: "Even if you don't agree, guys, I'd stand up," which Poilievre and others then did.
Asked afterwards about that interaction, Poilievre said only: "We support gender equality for all Canadians."
Poilievre was on the guestlist for a dinner with Biden Friday evening, along with other government ministers, officials and celebrities.
The invitation process came with a dash of partisanship.
Earlier in the day, staff in Poilievre's office were left scratching their heads when they said it had not received an invite from Trudeau's office to attend, and asserted that any suggestion he had refused the invitation was false.
The Prime Minister's Office confirmed it had sent Poilievre notice of the dinner — but the invitation went to a personal email account that notifies senders it is not monitored.
This report by The Canadian Press was first published March 24, 2023.