UPDATE: Beiseker RCMP Request Public Assistance in Locating Stolen Tractor
Southern Alberta Crime Reduction Team – Arrest made in theft of tractor, truck from Beiseker
Beiseker, Alberta – Investigators have made an arrest and recovered a tractor and picker truck that were stolen from the Irricana area and Acme earlier this month.
On March 11, Beiseker RCMP received a report of a tractor stolen from a farm near Irricana. Information was received that the tractor may have been transported to Saskatchewan. Beiseker Detachment, Southern Alberta Crime Reduction Team (SACRT) and Southern Alberta Auto Theft combined resources to investigate this matter.
On March 19, a picker truck was taken from an Acme concrete business. Investigators received tips from the public that indicated the same individuals who stole the tractor were also responsible for the theft of this truck. Throughout the next two days, the investigative team progressed the investigation and identified a man from Linden as a suspect.
On March 20, SACRT members located the suspect and recovered the stolen pick up truck in Rosetown Saskatchewan. The stolen tractor was then recovered later that night near the community of Alsask with the cooperation of the suspect.
Both the stolen tractor and truck are being returned to the rightful owners. Charges are pending against a 19-year-old Linden man who has been released on a Promise to appear in Airdrie Provincial Court on May 3. SACRT are also proceeding with charges against a second suspect identified in the case and a warrant for his arrest is expected in the coming days.
"This is a good example of how we can bring investigative support to rural detachments for investigations such as these" Says Brad White, Sergeant in charge of SACRT. "Rural property crimes are tough to solve but sometimes, with the right support from the community and a great team of investigators results like these are possible."
Rockyview County, Alberta –
Beiseker RCMP are asking for tips from the public after a tractor was stolen from a farm near Irricanna over the weekend.
On 2018-03-11, Beiseker RCMP responded to a complaint of a stolen tractor. Between March 3, 2018 and March 10, 2018, unknown persons stole a 2011 T7-235 New Holland Tractor by loading it onto a flat deck trailer and hauling it away. At the time of the theft, the tractor was outfitted with a 860 TI loader.
Here is a photo of a similar tractor.
Beieseker RCMP are asking anyone with information on this crime to contact the Beiseker RCMP at 403-947-3420.
If you if you want to remain anonymous, you can contact Crime Stoppers by phone at 1.800.222.8477 (TIPS), by internet at www.tipsubmit.com, or by SMS (check your local Crime Stoppers [www.crimestoppers.ab.ca] for instructions on how).  You do not have to reveal your identity to Crime Stoppers, and if you provide information to Crime Stoppers that leads to an arrest(s), the recovery of stolen property, and/or a seizure of illicit drugs, you may be eligible for a cash reward.
Husband and wife charged in multi-million dollar Ponzi scheme
March 23, 2021
Alberta RCMP Federal Policing charge husband and wife in multi-million dollar Ponzi scheme
Calgary – Following a referral from the Alberta Securities Commission (ASC), the Alberta RCMP Integrated Market Enforcement Team (IMET) investigated fraud allegations against a husband and wife operating several companies identified as Vesta Capcorp Inc. and Vesta Equity Partners in Calgary. What was discovered to be a Ponzi scheme resulted in the loss of millions of dollars for various investors between Feb. 2014 and Sept. 2016.
Following an extensive investigation, Brian Kitts, 65, and Shannon Kitts, 55, of Summerland, British Columbia have each been charged with the following:
Fraud over $5,000 contrary to Section 380(1)(a) of the Criminal Code;
Theft over $5,000 contrary to Section 334 of the Criminal Code; and
Laundering the Proceeds of Crime contrary to Section 462.31 of the Criminal Code.
Brian and Shannon Kitts are scheduled to appear in Calgary Provincial Court on Apr. 12, 2021.
The Alberta RCMP was able to successfully carry out this investigation in collaboration with the Forensic Accounting Management Group, Financial Transactions and Reports Analysis Center of Canada, Public Prosecution Service of Canada and Specialized Prosecutions of the Province of Alberta, the ASC, and the Federal Bureau of Investigation.
"Unfortunately, the victims sustained substantial losses as a result of their investment within the Ponzi scheme they believed to be legitimate. The RCMP IMET urges investors to remain vigilant with their investment by performing due diligence."
– Inspector Charlene O'Neill, Officer in Charge of the Alberta RCMP Integrated Market Enforcement Team.
The IMET is a specialized unit under the RCMP Federal Policing program that detects, investigates, and deters market fraud. The IMET unit works closely with the ASC to protect investors and further enhance confidence in the Canada's capital markets.
With March being Fraud Prevention Month, Albertans are reminded to remain aware of potential scams, conduct their due diligence with investments, and report suspected criminal acts to law enforcement. If you have information with respects to a market-related fraud, you are asked to contact IMET at [email protected].
Community & Sustainability with Alberta Original Alley Kat Brewing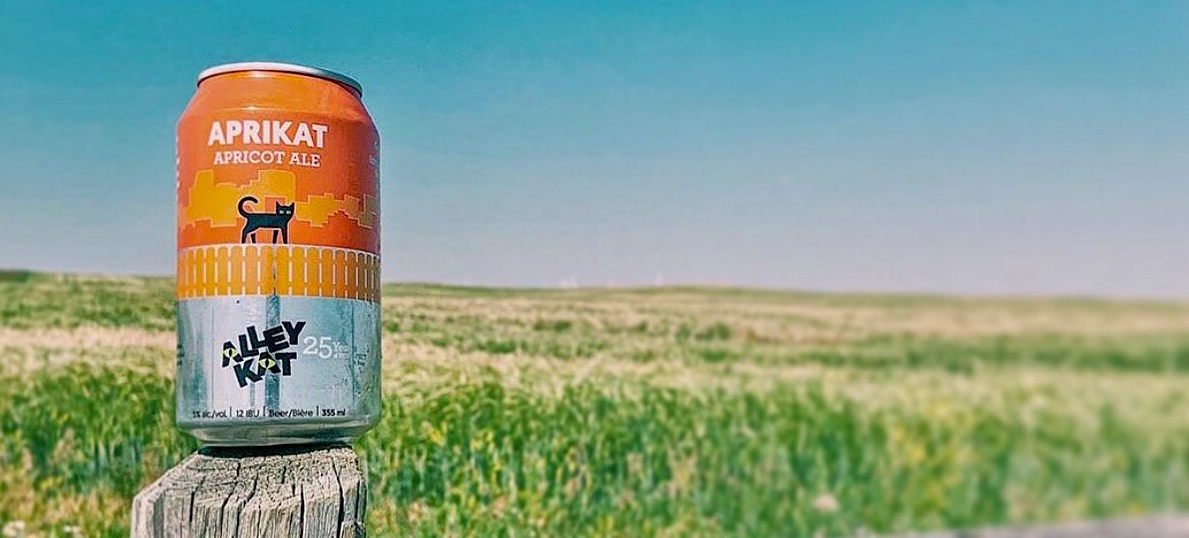 Alberta is home to more than 100 unique craft breweries, the majority of which are located in the city of Calgary and the provincial capital, Edmonton. The number of breweries has grown exponentially since 2013, when Alberta experienced a craft beer boom following legislative changes by Alberta Gaming, Liquor and Cannabis (AGLC) that made owning and operating a microbrewery far more accessible. 
Founded in 1995, well before the boom, Alley Kat Brewing is an Alberta original. Having celebrated its 25th birthday in 2020, Alley Kat is the oldest microbrewery in Edmonton and the 4th oldest in all of Alberta.
Located on 60th Ave in NW Edmonton, this brewery was originally launched by local Edmontonians Neil and Lavonne Herbst. In February 2020 the brewery was purchased by Cam French and Zane Christensen, two childhood friends from St. Albert, Alberta. 
Accountants by trade, Cam and Zane had been looking for opportunities to transition into the craft brew industry, and found Alley Kat to be a good fit. According to original founder Neil Herbst, who has remained involved with the day-to-day at Alley Kat, keeping the brewery local
was a key part of the decision. "At a time when we are seeing some craft breweries being absorbed by large multinationals, keeping Alley Kat in independent hands was extremely important to us," said Neil in 2020. "This sale ensures Alley Kay continues to remain locally owned and operated" (Alley Kat Blog, February 2020). 
Since taking over the brewery, Cam and Zane have continued to focus on the foundations laid by the Herbst's, including furthering sustainable, environmentally friendly practices wherever possible and keeping close ties with the community. In an effort to minimize their footprint as much as possible, Alley Kat looks for ways to recycle, repurpose and reduce waste throughout all stages of brewing and distribution. "From a social consciousness perspective, we know how important it is to do our part," says Cam, "Alley Kat will always look out for the good of our customers and our environment."
Alley Kat's environmental practices include repurposing their spent grain, the product leftover once flavor and sugar has been extracted from their mash, by donating it to Edmonton's Four Whistle Farm to be used as livestock feed. The brewery is also powered by Bullfrog Energy, which allows them to offset their electricity use with green energy, reducing their overall carbon footprint. Furthermore, everything that can be recycled is recycled throughout the process, and the owners continue to stress the importance of recycling the iconic Alley Kat can once it is empty. 
Alley Kat Brewery has and continues to be a dedicated member of the community in Edmonton and across Alberta. Most recently, the brewery announced a partnership with the Alberta Junior Hockey League (AJHL) in support of local teams, including the Sherwood Park Crusaders, Olds Grizzlys, Whitecourt Wolverines, Drayton Valley Thunder and the Bonnyville Pontiacs. $1 from each 6-pack of Alley Kat Blonde Ale will go towards helping cover travel, meal and equipment expenses for the young athletes.
"I played hockey for Drayton Valley growing up," says Cam, "so this is a great way to give back and help these players have the same experiences I did." 
After an exciting – if not somewhat trying – first year at Alley Kat Brewing, Cam and Zane are excited for the remainder of 2021. Fans of Alley Kat and Canmore's Grizzly Paw Brewing can look forward to a collaboration beer, coming soon in honor of 25 years for both breweries.
A new Alley Kat "Summer Fling" mixed pack, featuring 3 new beers will be coming out soon as well, just in time for patio season, and their annual summer seasonal beer will be released on April 1st!

For more information on Alley Kat Brewing, visit https://www.alleykatbeer.com
For more stories, visit Todayville Calgary.