Because it's Friday. Have you ever seen how Ontario's Welland Canal works?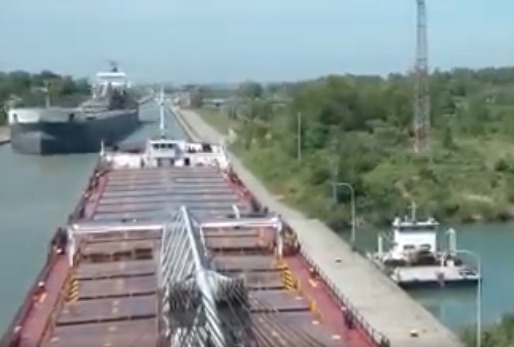 Sometimes we like to give you a visual treat, just because you deserve it.
Here's an amazing short video from the
Facebook page of Professor de Fisica
. Professor de Fiscia has garnered over a half million followers who enjoy his posts about many of the scientific, engineering, and natural wonders of the world. It's definitely worth a look. Here's a post featuring an engineering marvel in Canada.
From the Facebook page Professor de Fisica
The massive Canal Welland lock system that travels 42 miles, connects Lake Erie to Lake Ontario, Canada, and allows ships to cross the Niagara Escarpment, avoiding Niagara Falls.
The gigantic lock system of the Welland Canal that runs 42 km (27 miles), connects Lake Erie to Lake Ontario, Canada, and allows ships to cross the Niagara Escarpment, avoiding Niagara Falls.
Red Deer Brewery to hold Beer Tasting on the Ross Street Patio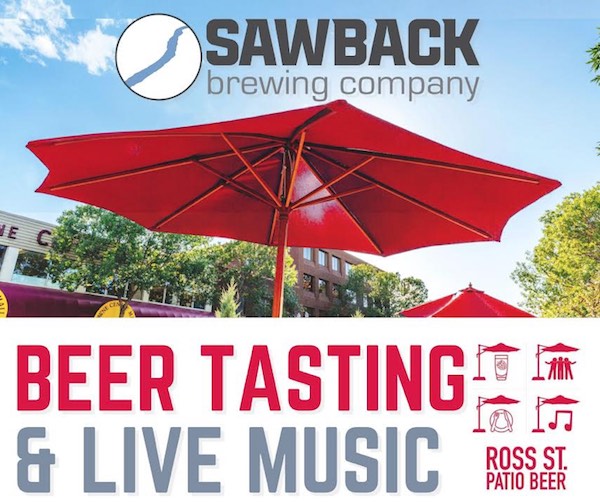 Sawback Beer Tasting on the Ross Street Patio
The Ross Street Patio is celebrating its 10th summer and Sawback Brewing Co. is releasing a new Raspberry Ale named after the Downtown's most loved feature – The Ross Street Patio!
On Friday, May 27th, the Downtown Business Association and Sawback Brewing will host a free tasting from 5-8PM, complete with live music from Paeton Cameron and James Adams and a light snack from Chubby's Jerk BBQ & Kitchen! Visitors can then grab a seat on one of the adjacent restaurant patios for a full-sized Ross Street Patio Beer and enjoy the show. This event is free and open to the public.
Amanda Gould, Executive Director of the DBA says, "This is such an exciting time for the Ross Street Patio and Downtown. We have so much planned over the summer and the next natural step is to license the entire patio through council deeming it an Entertainment District. We will find out in the beginning of June if council approve the bylaw and, straight after that, you can start enjoying full-sized beverages right on the patio while enjoying the summer entertainment!"
The Ross Street Patio is the hub of downtown entertainment, and the DBA is proud to be programming it for the summer season – summer activities include art installations, live music and family fun activities. "Follow us on Facebook to keep updated on what's going on and when. If you are a community group or an event organizer wishing to bring some activity to Ross Street Patio, please direct message or call the DBA to find out about the support, including financial support, that we can provide to help your event or activity come to life."
The Downtown Business Association has been operating in Red Deer for over 30 years, serving approximately five-hundred business owners in the Downtown area. Through partnerships and leadership in advocacy and promotion, the DBA is the catalyst for a vibrant and prosperous downtown that is the place to live, work, play and do business.
How this Calgary Seniors Community is Transforming the Experience of Getting Older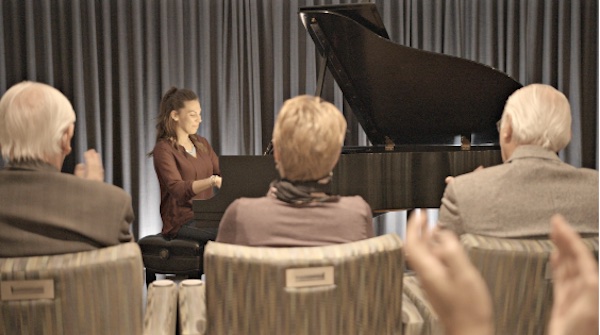 When people reach their retirement years, they often look for ways to enjoy life without the difficulties of looking after the family home, and once they've made the transition to an older adult community, they don't want to move again should they need extra health care. They want to simplify their lives while continuing to enjoy a positive, active lifestyle that encourages health, creativity and lifelong learning.
United Active Living is a senior living and retirement community in Calgary with two locations – Garrison Green and Fish Creek – that champion creativity and lifelong learning by integrating them into their daily offerings. To ensure the
programming is relevant and interesting to residents, many of the programs come from resident suggestions.
Both communities provide residents with the opportunity for emotional, creative and intellectual expression with a full calendar of interesting and informative programming and events every week.
The depth and breadth of opportunity available to each resident encourages active minds, bodies and imaginations, and is a big part of what makes United Active Living unique.
Residents have access to fully equipped art studios that are staffed seven days a week with professional artists who can provide guidance.
"I like to draw, but I've never had an art lesson in my life," says Olive, a United Active Living resident. "When I came here, the creative facilitators introduced me to the art studio, and it turned out I had a natural talent for it!"
Libby, another United Active Living resident, says she has learned so many new things in her community. "The programming is basically over the top," she says. "I couldn't ask for more."
Older adults are looking for a community that values their contributions, that provides a stimulating environment and supports their ongoing health needs. It's a discussion that should happen when you are still in good health. In other words, make the decision when you want to, not because you have to.
One resident who moved recently into United's Fish Creek community said, "I was so familiar with my community all my life so moving here was an adjustment, but I can't say enough about the employees. They're the most caring, efficient, pleasant, and helpful people."
United's large luxurious suites are appointed with everything residents need, and United offers a wide range of lifestyles, from independent living, to assisted living to memory care. A unique aspect is that those living with dementia aren't separated from the rest of the community. They have the opportunity to take part in everything the communities offer.
That's because United Active Living approaches aging from a social perspective rather than a medical one. Residents are in control of the programs and their activities. While the medical side is important, the emphasis is on the arts,
socialization and community, which research has shown can go a long way towards improving a person's health and well-being.
As well, United Active Living believes that living in an older adult community should extend beyond the four walls to include partnerships with arts, cultural and educational institutions such as Mount Royal University, St. Mary's University, the Calgary Philharmonic and more.
The whole idea of positive aging is to be able to give residents the opportunity to continue to grow and to learn, as well as to be part of a community that's sees them as valuable contributors.
United Active Living can answer your questions about their unique approach to aging.
Tours can be booked through their website.