Because it's Friday. Have you ever seen how Ontario's Welland Canal works?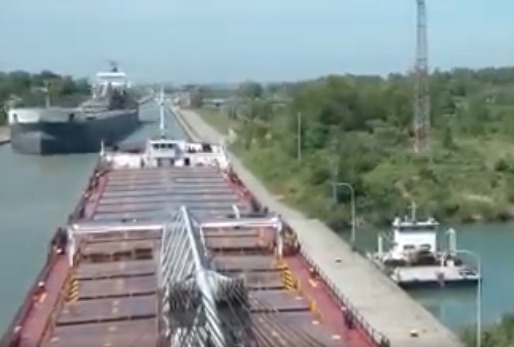 Sometimes we like to give you a visual treat, just because you deserve it.
Here's an amazing short video from the
Facebook page of Professor de Fisica
. Professor de Fiscia has garnered over a half million followers who enjoy his posts about many of the scientific, engineering, and natural wonders of the world. It's definitely worth a look. Here's a post featuring an engineering marvel in Canada.
From the Facebook page Professor de Fisica
The massive Canal Welland lock system that travels 42 miles, connects Lake Erie to Lake Ontario, Canada, and allows ships to cross the Niagara Escarpment, avoiding Niagara Falls.
The gigantic lock system of the Welland Canal that runs 42 km (27 miles), connects Lake Erie to Lake Ontario, Canada, and allows ships to cross the Niagara Escarpment, avoiding Niagara Falls.
The Olympic Peninsula by Gerry Feehan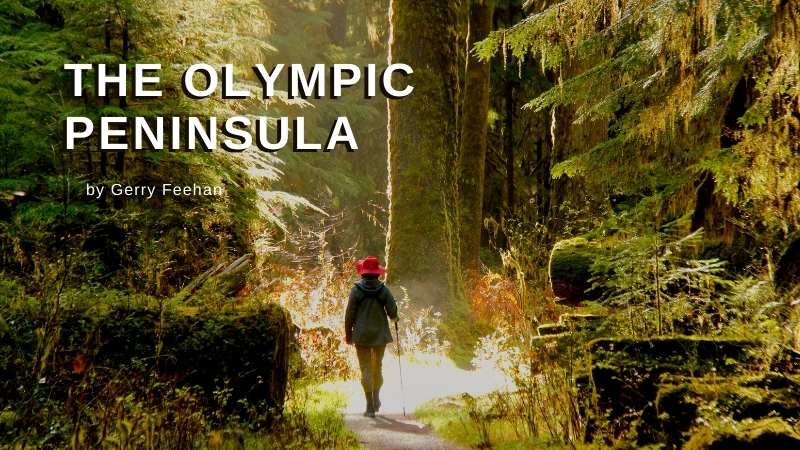 The Olympic Peninsula
On November 8, 2021 the land border to the USA opened again!
I love America. The weather is great, the scenery fantastic and the people hospitable. But the US has a problem: guns. We hadn't been in the country twenty-four hours before we found ourselves staring down the barrel of a sheriff's assault rifle—at a campground. After a lovely morning hike overlooking Washington State's San Juan Islands we were skipping happily back to our site when a camouflaged sniper waived us to the ground. We crawled toward our motorhome—which had been commandeered for police cover.
Four muzzles were aimed from behind our RV toward an adjacent trailer. I heard the words, "domestic…choking…firearms," crackle over the commander's radio.
What would spark gunplay in a campground? Had someone made the campfire coffee too strong? Were the marshmallows charred? We never did find out. The police escorted us out the park gate—and we returned blithely to the meandering highway. We monitored the radio to ascertain the cause of the fireworks but learned nothing. Perhaps a nearby school massacre overshadowed the shootout at the OK Campground.
But after this first hiccup our Washington State experience was gun-free, peaceful and marked entirely by friendly encounters. Everywhere we were greeted by kind, attentive folk with a genuine interest in how their Canadian brethren were faring.
"Do you think we can get through the south shore road to Grave's Creek campground tomorrow?" I asked.
The Rain Forest Resort sits along the shores of Lake Quinault in Washington's beautiful Olympic Peninsula. The narrow road to the resort passes through a cathedral of towering Douglas fir, Sitka spruce and red cedar. The largest in the world of each of these species grows within spitting distance of the lake—and the quaint village provides access to one of the world's great temperate rain forests.
The Morrison family has owned this little jewel of a resort—and everything else in town (including the coin laundry and paid showers)—since the 1960's. The town gets four meters of rain a year. The camp store sells a lot of quarters to soggy travellers trying vainly to dry hiking gear—while thawing chilled bones in a hot shower. In the 48 hours we were hunkered down, hiding from a brutal storm, 15 cm of rain bombarded the Rain Forest Resort campground. The lake rose and water began lapping up the wheels of our RV. There was a knock on the door. Don Morrison kept both feet safely on the running board of his old pickup as he pointed to the half-submerged post to which our electrical cord was plugged.
"We'd better get you to higher ground."
We evacuated uphill, and plugged in at the local post office building (which, naturally, is owned by the Morrisons). So neither snow nor rain nor heat nor gloom of night can stop the post office from delivering—either the mail or electricity to a stranded RV. That evening, over happy-hour cocktails at the Salmon House Restaurant (which is owned by… guess who?), Don and his brother traded war stories about just how high the water can get.
"Remember '94?" said Don. "That was the year we put the cabins up on stilts."
"Yeah, but what about the summer of '79 when we lost power for ten days?" responded his brother. "We threw out three freezers of elk, salmon and frozen clams."
While they happily reminisced about past disasters Florence and I stared out the window at the non-stop deluge.
"Do you think we can get through the south shore road to Grave's Creek campground tomorrow?" I asked.
"Hard to say," said Don. "You'll have to drive through Sasquatch valley, which can be slippery and there could be some trees down. There's always the long way round, over the north shore." He pointed across Lake Quinault.
Optimistically we struck out in the morning on the south route. On a narrow stretch ten kilometers down a muddy gravel road we rounded a steep curve. I slammed on the brakes. Fifteen or twenty massive, freshly fallen trunks lay across the road. A swath of ancient conifers had toppled, domino-like, rendering the route impassable. The locals call this a blow-down event. Where the trees had formerly stood, a narrow window of light shone brightly through the dark canopy, illuminating the carnage.
We backed up for almost a kilometer before finding a safe spot to turn around. Intent on getting to the remote rain forest at Graves Creek, we drove around the lake and tested the equally tricky north shore road. We arrived at the secluded campground as darkness descended. The rain had abated from gale-force to storm-watch. In the morning we geared up for a wet tromp. An hour or so in we met Michael Butler on a remote hiking trail that had converted itself into a medium-sized creek. The sky was pouring buckets. The only people stupid enough to brave the elements were Mike and the Feehans. We were headed upstream and he down.
"It gets quite a bit worse up there," he remarked, glancing over his shoulder, soaked to the bone and smiling. Water was running out the toes of his hiking boots. A banana slug floated by. We abandoned ship and turned back, down-trail with Mike.
He was from Long Island New York, sleeping in his car and subsisting on cold rice. His eyes were red. "I didn't sleep much last night," he said. "I have mice—two of them."
We invited him for dinner chez Feehan for Florence's famous Friday night homemade pizza. He acquiesced without an arm-twisting. Mike is a lanky kid, but like most twenty-two year olds can really pack away the groceries—particularly when served up in a dry, rodent-free establishment. Mike was travelling the entire "lower 48" carrying his grandparent's ashes, leaving a trace in every State. He'd been on the road for six months but still had a bunch of places in which he'd not yet spilt his relatives' remains. He'd taken a sabbatical from medical school to nurse his grandparents at the end of their lives. After they died he quit school entirely, disgusted with the insurance companies and the medical system in general. Did I say the US has a problem with guns? Apparently it also has health-care issues.
When we left in the morning, Mike was still sawing logs, mouth agape, driver's seat splayed back. Through the foggy windshield I spied a mousetrap, set for action. We quietly left a note under his wiper:
"I can see a pair of mice by your dashboard lights."
As we drove out, through an ancient grove of large-leaf maple trees draped in wet club moss, the rain stopped. For the first time in days the sun began to shine.
Gerry Feehan is an award-winning travel writer and photographer. He lives in Kimberley, BC.
Thanks to Kennedy Wealth Management for sponsoring this series. Click on the ads and learn more about this long-term local business.
We will travel again but in the meantime, enjoy Gerry's 'Buddy Trip to Ireland'
Judy's story: I'm on the healthy road!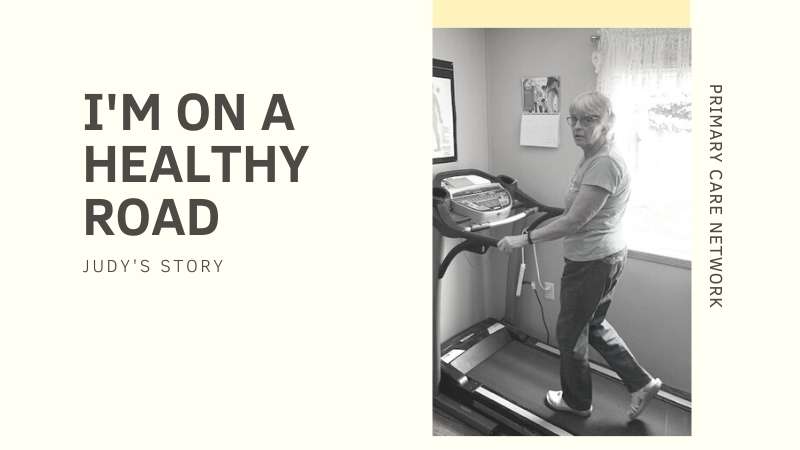 On the Healthy Road!
My journey to better health starting when my doctor told me my blood sugar was at pre-diabetes levels, my blood pressure continued to require medication and I had weight to lose. He sent me to see the RDPCN nurse. After some appointments there, the nurse referred me to the Health Basics program.
Exercise was my downfall. Working from home, I always found something else to do rather than exercise. Health Basics increased my awareness. I tracked what I was eating and became more aware of what I ate, when I ate and why I ate. I also realized things that would make me healthier that I wasn't doing. I realized being healthy is a process and I took one healthy step at a time. I also became aware of the wider variety of options for healthy lifestyle.
My husband and I visited friends over the summer and noted they had lost weight. This stimulated us to pay even more attention to our food intake. As a result of our overall efforts, I have lost about 32 pounds and my husband has lost 37. My blood sugar is now in the normal range. I have had significant decrease in my blood pressure medication. I have more energy. I enjoy exercising more as it is easier to move around and I have less arthritis pain. Health Basics is an excellent class- it started me on the healthy road. I also have much more confidence in my future health.
Click to learn more about the Red Deer Primary Care Network.
Read more success stories from the Primary Care Network.