Bard on Bower is Back! Summer Shakespeare Festival starts Thursday night at Bower Ponds
From Prime Stock Theatre
Bard On Bower 2019
The 9th season of Red Deer's own 3 week festival celebrating the works of William Shakespeare. Presented on the outdoor stage at beautiful Bower Ponds in Red Deer for a limited run July 25th – August 11th, 2019
Featuring MacBeth and The Tempest performed in repertory, and NEW THIS YEAR "Bard in a Box" touring pocket productions of A Midsummer Night's Dream and Comedy of Errors playing FREE in select parks in Red Deer and area.
Enjoy LIVE theatre on a warm summer's evening against the romantic backdrop of beautiful Bower Ponds! Live music! Feature Days! Picnic Baskets! Performances suitable for all ages!
How much does it cost?
The shows on the main stage at Bower Ponds are proudly presented with NO ADMISSION charge, thanks to government support and sponsors. We do welcome cash donations at the mainstage shows, which go directly towards covering a small portion of the expenses not covered by our fundraising, and to the cast & crew who are SHAREHOLDERS in the festival. They do not get paid a fixed amount for working full time hours for weeks on end to provide this exciting cultural event for all central Albertans. For info on becoming a sponsor please click here.
Is it a rain or shine event?
Most of the stage is covered by a roof and we do provide some tents and several umbrellas to the audience. If the day is rainy leading up to the performance and we are convinced no one will want to come, we may cancel a performance. Rain has come upon us during performances and we have always finished the show (taking impromptu intermissions as needed). If severe weather closes the park system all shows are suspended until the park reopens. For notice on cancellations follow us on twitter and like us on facebook!
Are there washrooms and amenities?
Washrooms are located in the Bower Ponds Pavillion, where there is also a concession. These are closed by the time our performances end. Here's a closer look at the site:
OUR PERFORMANCES
MACBETH
MacBeth – Director: Victoria Wells-Smith
"Screw your courage to the sticking place"
(Act I, scene vii)
A desperate warrior yearns to become king. His destiny foretold by witches, and encouraged by his aspiring wife, MacBeth exercises ruthless dominion over troubled Scotland, and pays the price for his ambitions.
"MacBeth shall sleep no more"
(Act II, scene ii)
THE TEMPEST
The TEMPST – Director: Ben Blyth (of The Malachites / Edmonton/ London)
"Oh, Brave new world, that has such people in't"
(Act V, scene i)
Shipwrecked on the magical isle of Prospero, love-lorn Ferdinand and sheltered Miranda discover the wonder of love in a Brave new world. Retribution and forgiveness clash in the spirit world of Ariel and Caliban
"We are such stuff as dreams are made on!"
(Act IV, scene i)
BARD in a BOX! TOURING POCKET PRODUCTIONS OF A MIDSUMMER NIGHT'S DREAM and COMEDY OF ERRORS
The touring company – condensed (45 minute) retellings of the popular summer romps, set to tour the civic parks of Red Deer and the surrounding County. Cast size of 4-5.
A Midsummer Night's Dream (45 minute version) – Director Thomas Usher
Helena and Hermia and their suitors run away, and run afoul, in a mysterious woodland realm of the faery king and queen. Meanwhile, local would-be actors rehearse a bizarre play in a nearby glade with asinine results.
"Lord, what fools thee mortals be"
(Act III, scene ii)
TOGETHER WITH:
The COMEDY of ERRORS (45 minute version) – adapted by Glen Gaston, Director Ashley Mercia
"I am to the world like a drop of water, that in the ocean seeks another drop"
(Act I, scene ii)
Separated at birth, two sets of identical twins encounter each other's servants and families by chance. Unaware of what ties them together, they now must untangle whatever kept them apart.
"One of these men is genius to the other"
(Act V, scene i)
NEW THIS YEAR – Tea-for-2 picnic from Cronquist House
The package includes a carafe of tea or coffee, sandwiches, squares all personally packed in a basket for a summer evening repast watching BARD on BOWER. Order through Prime Stock website.
Bower Ponds Outdoor Stage Schedule
Thursday July 25, 7pm MACBETH
Friday July 26, 7pm MACBETH
Saturday July 27, 7pm MACBETH
Sunday July 28 (New to Canada Day!), 1pm The Comedy Double Bill! COMEDY OF ERRORS & A MIDSUMMER NIGHT'S DREAM, 7pm MACBETH
Tuesday July 30, 7pm THE TEMPEST
Wednesday July 31 (LGBTQ2S+ Night!), 7pm THE TEMPEST
Thursday August 1, 7pm MACBETH
Friday August 2, 7pm THE TEMPEST
Saturday August 3, 1pm THE TEMPEST, 7pm MACBETH
Sunday August 4, (Family Day!), 1pm The Comedy Double Bill! COMEDY OF ERRORS & A MIDSUMMER NIGHT'S DREAM, 7pm THE TEMPEST
Tuesday August 6, 7pm The Comedy Double Bill! COMEDY OF ERRORS & A MIDSUMMER NIGHT'S DREAM – with special guests the Edmonton Magpie Morris Dancers!
Wednesday August 7, 7pm MACBETH
Thursday August 8, THE TEMPEST
Friday August 9, 7pm THE TEMPEST
Saturday August 10, (Treaty 6 & 7 Day!), 1pm The Comedy Double Bill! COMEDY OF ERRORS & A MIDSUMMER NIGHT'S DREAM, 7pm MACBETH
Sunday August 11, 1pm THE TEMPEST
What should I bring with me?
Seating is on the sloped ground so you may want to bring a blanket or low festival chair to sit on. We have many tarps on hand that you can lay under your blanket (the geese will have left unwelcome presents for you on the grass). Picnics are welcome, and as it cools off you will find bug spray and an extra layer of clothing useful. A hat, sunscreen and rain-gear are always wise, and you may want cash if you choose to make a donation or take advantage of any refreshments available. We have a limited number of tents set up for public use, and many umbrellas.
Is the park accessible for wheelchairs and strollers?
The audience area is on a sloped grassy hill which might be a little awkward, but it is a barrier-free park. The ground is more flat at the back of the seating area just off of the walking path. Bulky items like strollers should be kept to the periphery of the seating area.
What if I have other questions?
When you are at the ponds please visit our donations tent at the back of the audience area if you have any questions at all, or if need to see someone with First Aid. In advance of a performance you can e-mail us at [email protected]
Free admission to see incredible country music stars at CFR!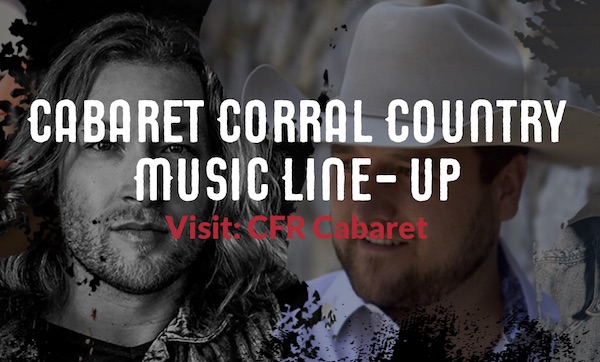 "Cabaret Corral" All-Canadian Country Music Line-up
Wednesday, November 3 – Saturday, November 6
FREE for all ages to attend!
Doors open at 2:00pm Wednesday, Thursday & Friday, and 11:30am Saturday.
The rodeo is live streamed in the Cabaret Corral at performance times.
From 8:30 pm to 9:30 pm, enjoy live music from our CFR All Star Band, featuring a different guest singer each night. This will be followed by the Buckle Presentations, then the Headliner act takes the stage at 10:30pm.
We are excited to announce an all-new "Cabaret Corral" country music entertainment lineup. This year features all Canadian artists on the TD Cabaret Stage, FREE for all ages to enjoy, including:
---
Aaron Pritchett's legacy continues to be unstoppable. His authentic desire to connect with his fans, whether it be onstage, via his digital platforms, in person or through his music, has sustained and grown a robust and loyal fanbase for 2 decades. Pritchett has charted anthems like "Dirt Road In 'Em" (CERTIFIED GOLD), "Let's Get Rowdy," "Hold My Beer (Certified GOLD)," and also appealed to the softer side with powerful hits like "Done You Wrong," and his top 5 smash – "When A Momma's Boy Meets A Daddy's Girl." Pritchett's single "Better When I Do" hit #1 on the Canadian Country radio charts, and the brand new single 'Not Enough You' is available on all streaming platforms now.
Cory Marks' debut album 'Who I Am' has been garnering tremendous attention here in Canada and across the globe for its signature blend of hard-hitting anthems and deep, soulful, tracks – and along with over 100 million streams world-wide, it has now been nominated for CCMA 'Alternative Country Album of the Year.' The album also features the stand-out track 'Drive,' which Billboard coined 'the feel-good country hit of the summer,' and current single now making noise on the Canadian Country Charts, 'Blame it on the Double.'
Alberta-based, the award-winning country artist Trevor Panczak has gained friends and supporters through his two top-50 hits from his full length album 'Where I Go to Come Back.' The popular and critically acclaimed single 'Cheap Shades', and the upbeat and affectionate 'For a Girl' both represent Trevor's affinity for material that is simple, but not simplistic – songs that are laden with the sort of sentimental imagery that makes any listener smile with a sense of familiarity and recognition.
Dan Davidson exploded onto the Canadian country scene to became arguably the Indie story of 2016/2017 as his single 'Found' rocketed up the charts and he became the #1 charting Indie artist in Canada. Dan has created undeniable momentum in the last few years, with 6 CCMA nominations, 10 ACMA awards, a gold record, a number 1 selling Canadian song and record, top 20 charting numbers and hundreds of performances.
"Cabaret Corral" All-Canadian Country Music Line-up
Wild TV launches streaming app for hunting enthusiasts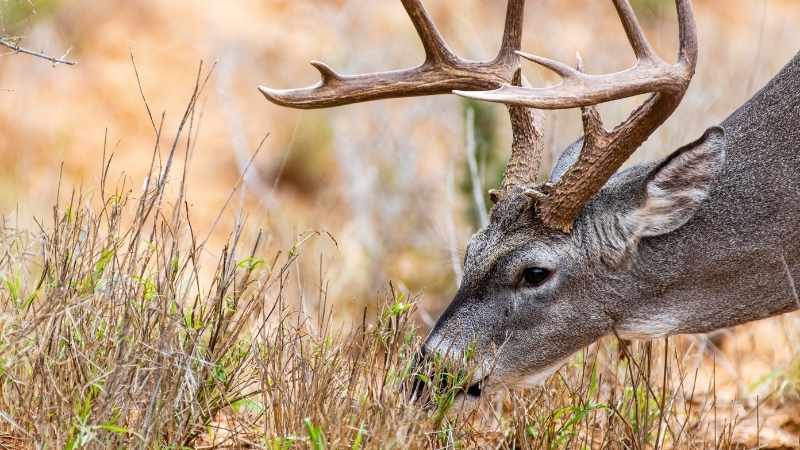 Wild TV launches streaming app for hunting enthusiasts
If you're a hunter, or an enthusiast, this new APP from Edmonton's Wild TV Inc might be the perfect addition to your entertainment options.
Wild Television Network (Wild TV), the number one hunting, fishing, and outdoor lifestyle television channel in Canada, is launching its subscription streaming service, The Wild TV App, to provide its fans in North America access to its trove of hunting content anywhere and anytime.
After running a successful linear TV channel for over two decades, Wild TV expands its services to offer hunting enthusiasts a new way to experience its unparalleled hunting content with The Wild TV App for only $4.99 per month or $39.99 per year.
The Wild TV App will feature shows made by hardcore hunters who share their stories, lessons and experiences from the most exceptional hunting environment globally – the Canadian Wild. It will also include the network's hit shows, including How to Hunt, The Edge, Trapping Inc., Mitchell Payment's Moment of Truth and Non-typical Nation, to name a few.
Ryan Kohler, President of Wild TV Inc., said the Wild TV App would complement their linear television service and help further realize their vision of building the strongest hunting community in the world by promoting excitement, wellness and conservation.
"The launch of The Wild TV App marks the beginning of a new era for us and our fellow Wilders. We know what makes a great hunting entertainment because we eat, sleep and breathe hunting. Every show in The Wild TV App is hand-picked by a hunting expert," he said.
"With The Wild TV App, we also want to bring people closer together and inspire them to get outside to hunt. We want to further strengthen the hunting community by entertaining, sharing knowledge and respecting the ecosystem," Kohler added.
The Wild TV App is available on all Apple and Android devices, Roku devices, Amazon Fire TVs and Fire Sticks, Samsung Smart TVs, LG Smart TVs, and the web www.wildtvplus.ca.
About Wild TV:
The Canadian wilderness has the best hunting in the world and we want you to explore what makes it so great. Wild TV is the only viewing platform for hunting enthusiasts made by hardcore hunters that share stories, lessons, and experiences from the most exceptional hunting environment in the world – The Canadian Wild.
Our shows are made by hunters, for hunters! We know what makes great hunting entertainment because we eat, sleep and breathe hunting. Every show is hand-picked by a hunting expert, who would rather be outside hunting.
We are Wild TV. Contact your local service provider to subscribe to our television channel today. Or click here to purchase the Wild TV APP and get access to exclusive hit hunting TV shows featuring some of the biggest names in the hunting world.
(This article was originally published on October 21, 2021)