Bard on Bower is Back! Summer Shakespeare Festival starts Thursday night at Bower Ponds
From Prime Stock Theatre
Bard On Bower 2019
The 9th season of Red Deer's own 3 week festival celebrating the works of William Shakespeare. Presented on the outdoor stage at beautiful Bower Ponds in Red Deer for a limited run July 25th – August 11th, 2019
Featuring MacBeth and The Tempest performed in repertory, and NEW THIS YEAR "Bard in a Box" touring pocket productions of A Midsummer Night's Dream and Comedy of Errors playing FREE in select parks in Red Deer and area.
Enjoy LIVE theatre on a warm summer's evening against the romantic backdrop of beautiful Bower Ponds! Live music! Feature Days! Picnic Baskets! Performances suitable for all ages!
How much does it cost?
The shows on the main stage at Bower Ponds are proudly presented with NO ADMISSION charge, thanks to government support and sponsors. We do welcome cash donations at the mainstage shows, which go directly towards covering a small portion of the expenses not covered by our fundraising, and to the cast & crew who are SHAREHOLDERS in the festival. They do not get paid a fixed amount for working full time hours for weeks on end to provide this exciting cultural event for all central Albertans. For info on becoming a sponsor please click here.
Is it a rain or shine event?
Most of the stage is covered by a roof and we do provide some tents and several umbrellas to the audience. If the day is rainy leading up to the performance and we are convinced no one will want to come, we may cancel a performance. Rain has come upon us during performances and we have always finished the show (taking impromptu intermissions as needed). If severe weather closes the park system all shows are suspended until the park reopens. For notice on cancellations follow us on twitter and like us on facebook!
Are there washrooms and amenities?
Washrooms are located in the Bower Ponds Pavillion, where there is also a concession. These are closed by the time our performances end. Here's a closer look at the site:
OUR PERFORMANCES
MACBETH
MacBeth – Director: Victoria Wells-Smith
"Screw your courage to the sticking place"
(Act I, scene vii)
A desperate warrior yearns to become king. His destiny foretold by witches, and encouraged by his aspiring wife, MacBeth exercises ruthless dominion over troubled Scotland, and pays the price for his ambitions.
"MacBeth shall sleep no more"
(Act II, scene ii)
THE TEMPEST
The TEMPST – Director: Ben Blyth (of The Malachites / Edmonton/ London)
"Oh, Brave new world, that has such people in't"
(Act V, scene i)
Shipwrecked on the magical isle of Prospero, love-lorn Ferdinand and sheltered Miranda discover the wonder of love in a Brave new world. Retribution and forgiveness clash in the spirit world of Ariel and Caliban
"We are such stuff as dreams are made on!"
(Act IV, scene i)
BARD in a BOX! TOURING POCKET PRODUCTIONS OF A MIDSUMMER NIGHT'S DREAM and COMEDY OF ERRORS
The touring company – condensed (45 minute) retellings of the popular summer romps, set to tour the civic parks of Red Deer and the surrounding County. Cast size of 4-5.
A Midsummer Night's Dream (45 minute version) – Director Thomas Usher
Helena and Hermia and their suitors run away, and run afoul, in a mysterious woodland realm of the faery king and queen. Meanwhile, local would-be actors rehearse a bizarre play in a nearby glade with asinine results.
"Lord, what fools thee mortals be"
(Act III, scene ii)
TOGETHER WITH:
The COMEDY of ERRORS (45 minute version) – adapted by Glen Gaston, Director Ashley Mercia
"I am to the world like a drop of water, that in the ocean seeks another drop"
(Act I, scene ii)
Separated at birth, two sets of identical twins encounter each other's servants and families by chance. Unaware of what ties them together, they now must untangle whatever kept them apart.
"One of these men is genius to the other"
(Act V, scene i)
NEW THIS YEAR – Tea-for-2 picnic from Cronquist House
The package includes a carafe of tea or coffee, sandwiches, squares all personally packed in a basket for a summer evening repast watching BARD on BOWER. Order through Prime Stock website.
Bower Ponds Outdoor Stage Schedule
Thursday July 25, 7pm MACBETH
Friday July 26, 7pm MACBETH
Saturday July 27, 7pm MACBETH
Sunday July 28 (New to Canada Day!), 1pm The Comedy Double Bill! COMEDY OF ERRORS & A MIDSUMMER NIGHT'S DREAM, 7pm MACBETH
Tuesday July 30, 7pm THE TEMPEST
Wednesday July 31 (LGBTQ2S+ Night!), 7pm THE TEMPEST
Thursday August 1, 7pm MACBETH
Friday August 2, 7pm THE TEMPEST
Saturday August 3, 1pm THE TEMPEST, 7pm MACBETH
Sunday August 4, (Family Day!), 1pm The Comedy Double Bill! COMEDY OF ERRORS & A MIDSUMMER NIGHT'S DREAM, 7pm THE TEMPEST
Tuesday August 6, 7pm The Comedy Double Bill! COMEDY OF ERRORS & A MIDSUMMER NIGHT'S DREAM – with special guests the Edmonton Magpie Morris Dancers!
Wednesday August 7, 7pm MACBETH
Thursday August 8, THE TEMPEST
Friday August 9, 7pm THE TEMPEST
Saturday August 10, (Treaty 6 & 7 Day!), 1pm The Comedy Double Bill! COMEDY OF ERRORS & A MIDSUMMER NIGHT'S DREAM, 7pm MACBETH
Sunday August 11, 1pm THE TEMPEST
What should I bring with me?
Seating is on the sloped ground so you may want to bring a blanket or low festival chair to sit on. We have many tarps on hand that you can lay under your blanket (the geese will have left unwelcome presents for you on the grass). Picnics are welcome, and as it cools off you will find bug spray and an extra layer of clothing useful. A hat, sunscreen and rain-gear are always wise, and you may want cash if you choose to make a donation or take advantage of any refreshments available. We have a limited number of tents set up for public use, and many umbrellas.
Is the park accessible for wheelchairs and strollers?
The audience area is on a sloped grassy hill which might be a little awkward, but it is a barrier-free park. The ground is more flat at the back of the seating area just off of the walking path. Bulky items like strollers should be kept to the periphery of the seating area.
What if I have other questions?
When you are at the ponds please visit our donations tent at the back of the audience area if you have any questions at all, or if need to see someone with First Aid. In advance of a performance you can e-mail us at [email protected]
Curtain set to open on Lindsay Thurber production, Head Over Heels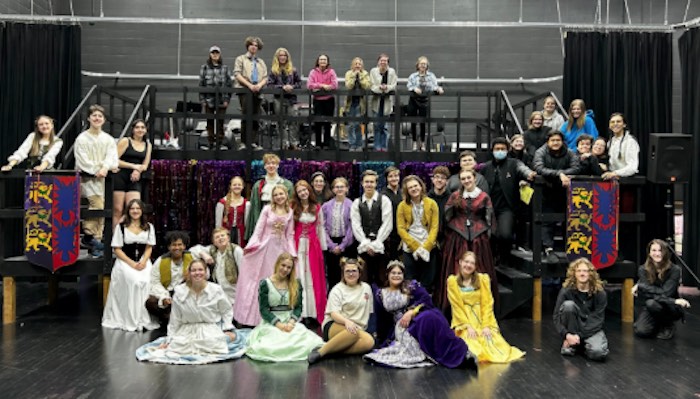 Get ready to laugh, party, witness exciting fight choreography, and groove to the music of The Go-Gos in Lindsay Thurber Comprehensive High School's production of Head Over Heels The Musical, High School Edition. Performances run March 17 – 25 in Studio A at the school.
A mash-up of posh and punk, Head Over Heels is an Elizabethan romp about a royal family that must prevent an oracle's prophecy of doom. In order to save their beloved kingdom of Arcadia, the family embarks on a madcap journey wrought with mistaken identities, prophetic riddles, scandal and self-discovery. Set to the exuberant beats of the 80s pop music of The Go-Gos, Head Over Heels is a heartfelt show where love is celebrated and the beat is divine!
About 50 students from Grades 9-12 are involved in the production. This includes three classes of Musical Theatre, Technical Theatre and Pit Band, who make up the show's actors, production crew, and pit band musicians.
"Head Over Heels is a show that is relatively new," said Tara Koett, Director. "I suspect that not a lot of the audience is familiar with it as it premiered on Broadway in 2018. It is a Renaissance comedy and the dialogue is written in verse. In tandem with this Renaissance comedy, it's also a jukebox musical of the music of The Go-Gos. It's very, very fun and it's a sweet and clever script that captures the modern sensibilities of what a lot of us go through on our journeys to find love."
Koett said one of her favourite aspects of the show is that while with many jukebox musicals, the songs can feel shoehorned in, in Head Over Heels, the songs are placed in the production in a way that feels organic. "For people who don't know The Go-Gos, like many of our high school students before beginning this course, it truly feels like those songs and those lyrics belong in the story or are from the characters themselves, so I think it's really well done for a jukebox musical."
Koett added she encourages students, family and friends as well as the general community to take in the production and see the exceptional skills of the high school students involved.
"This show is so much fun. It's such a beautiful celebration of all different types of love. It has such catchy, high energy music, relatable characters and representation, themes relevant to 2023, and it's a mishmash of posh and punk that is different from what a lot of people associate with musical theatre," she said. "It's a great opportunity for people to be back in live theatre again and to laugh together, maybe even cry together, to take in a beautiful story told with some really incredible music."
To purchase tickets, click here.
List of 2023 Oscar winners
Michelle Yeoh, left, reacts in the audience with excitement as she accepts the award for best performance by an actress in a leading role for "Everything Everywhere All at Once" at the Oscars on Sunday, March 12, 2023, at the Dolby Theatre in Los Angeles. Jamie Lee Curtis, from right, and Ke Huy Quan are seen in the audience. (AP Photo/Chris Pizzello)
By Jake Coyle in Los Angeles
LOS ANGELES (AP) — Oscar winners announced Sunday:
Best picture: "Everything Everywhere All at Once"
Best actress: Michelle Yeoh, "Everything Everywhere All at Once"
Best actor: Brendan Fraser, "The Whale"
Best supporting actor: Ke Huy Quan, "Everything Everywhere All at Once"
Best supporting actress: Jamie Lee Curtis, "Everything Everywhere All at Once"
Original song: "Naatu Naatu" from "RRR"
Film editing: "Everything Everywhere All at Once"
Best director: Daniel Kwan and Daniel Scheinert, "Everything Everywhere All at Once"
Best animated feature: "Guillermo del Toro's Pinocchio"
International feature film: "All Quiet on the Western Front" (Germany)
Documentary feature: "Navalny"
Live action short: "An Irish Goodbye"
Cinematography: James Friend, "All Quiet on the Western Front"
Makeup and hairstyling: "The Whale"
Costume design: "Black Panther: Wakanda Forever"
Documentary short: "The Elephant Whisperers"
Animated short: "The Boy, the Mole, the Fox and the Horse"
Production design: "All Quiet on the Western Front"
Music (original score): Volker Bertelmann, "All Quiet on the Western Front"
Visual Effects: "Avatar: The Way of Water"
Original screenplay: "Everything Everywhere All at Once"
Adapted screenplay: "Women Talking"
Sound: "Top Gun: Maverick"
___
For more on this year's Oscars, visit: https://apnews.com/hub/academy-awards