Aspiring Leaders program focuses on fostering effective relationships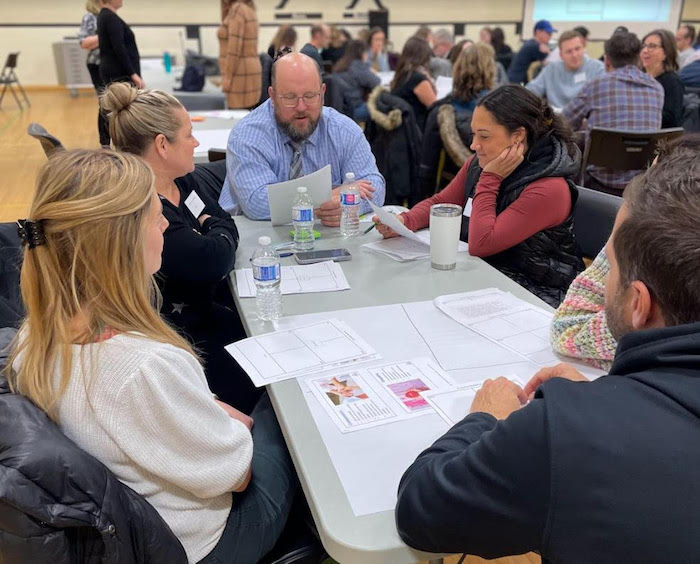 Creating a welcoming, caring, respectful and safe learning environment by fostering effective relationships was the goal of the second Red Deer Public Schools' Aspiring Leaders session.
Nearly 60 Red Deer Public staff including administrators, teachers and support staff attended the session on January 11.
Hosted by the Division's Human Resources department, the session, titled 'Fostering Effective Relationships', allowed attendees to take part in an empathy mapping exercise. The exercise gave participants a leadership scenario in which they each had a role. After reviewing their scenario, which included a choice between a coworker or a classroom scenario, participants then reflected on the series of events from the scenario from the perspective of the role they were playing.
Associate Superintendent, Human Resources Corrine Thorsteinson shared that relationships are the foundation of good leadership and successful leaders rise to the occasion in the way they navigate through difficult or challenging conversations and situations. "There are two key leadership concepts upon which effective relationships are built: empathy and compassion. These two concepts work hand-in-hand to provide a lens for perspective taking and staying out of judgment," she said. "The result is meaningful connections which help us work towards solutions."
More Aspiring Leaders sessions will take place throughout the rest of the school year.
"We encourage staff, who haven't already registered, to consider signing up for any of our sessions through the remainder of this school year," said Corrine. "These sessions are a perfect opportunity for any Red Deer Public employee who wants to explore whether a formal leadership position is right for them; wants to build or enhance their leadership toolkit; wants to lead where they are at; or wants an opportunity to learn from and engage with other colleagues interested in leadership."
Notre Dame Fine Arts Department invites you to see Roald Dahl's Matilda, the Musical!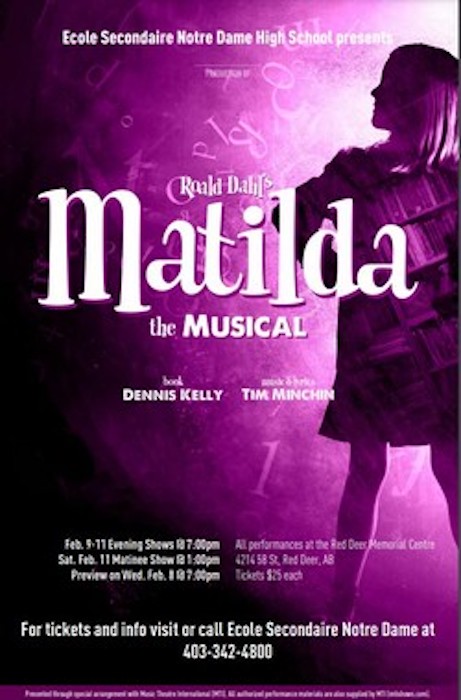 From Red Deer Catholic Regional Schools
Roald Dahl's Matilda, the Musical!
Co-Directed by Jennifer Cocolicchio and Stephanie Layden starring Addy Penney, Jordana Woroniuk, Coryn Tardif, David Jones, and Mikayla Beever.
Please join the Notre Dame Fine Arts students for their interpretation of Matilda.
Inspired by the twisted genius of Roald Dahl, the Tony Award-winning Roald Dahl's Matilda The Musical, from the Royal Shakespeare Company, revels in the anarchy of childhood, the power of imagination and the inspiring story of a girl who dreams of a better life. Book by Dennis Kelly and original songs by Tim Minchin.
Matilda is a little girl with astonishing wit, intelligence and psychokinetic powers. She's unloved by her cruel parents but impresses her schoolteacher, the highly loveable Miss Honey. Over the course of her first term at school, Matilda and Miss Honey have a profound effect on each other's lives, as Miss Honey begins not only to recognize but also appreciate Matilda's extraordinary personality. Matilda's school life isn't completely smooth sailing, however – the school's mean headmistress, Miss Trunchbull, hates children and just loves thinking up new punishments for those who don't abide by her rules. But Matilda has courage and cleverness in equal amounts, and could be the school pupils' saving grace!
Packed with high-energy dance numbers, catchy songs and quick wit, Matilda is a joyous girl power romp. Children and adults alike will be thrilled and delighted by the story of the special little girl with an extraordinary imagination.
The shows take place at Red Deer's Memorial Centre on February 9, 10, & 11 at 7:00pm. There is also a Matinee on February 11 at 1:00pm.
TICKETS ARE $25.00
TICKETS AVAILABLE in advance at Notre Dame's front office, online at https://www.notredamehigh.ca/programs/fine-arts or on the date at the theatre door.
SPECIAL PREVIEW NIGHT on February 8 at 7:00pm – Free for all press representatives and pay what you can for the general public.
Red Deer Polytechnic welcomes Patrick Machacek as Vice President, Development & Partnerships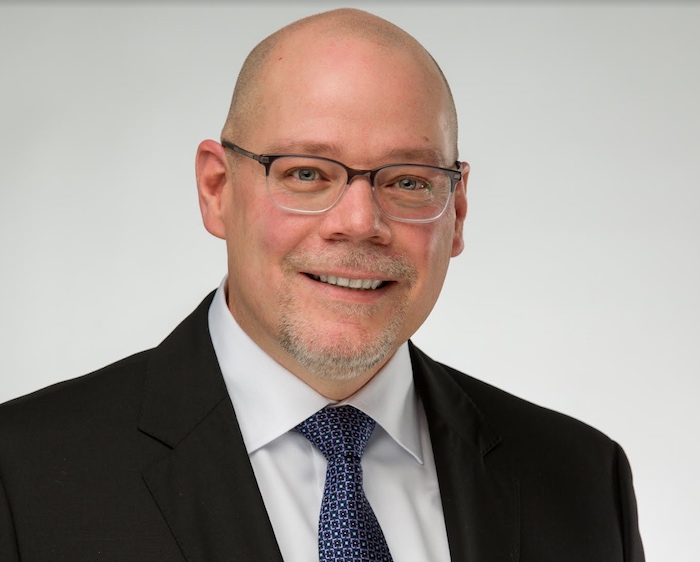 Red Deer Polytechnic is pleased to welcome Patrick Machacek as Vice President, Development & Partnerships.
"This exciting new position will provide leadership toward RDP's strategic and operational planning, communications and marketing, applied research, extended education, external relations and also guide our partnerships with industry and the community," says Stuart Cullum, President of Red Deer Polytechnic. "Patrick's experience and track record speaks for itself, and we look forward to his contributions to RDP and the Red Deer region."
Patrick has spent his career as a fund development professional. He has more than twenty years leading post-secondary external relations portfolios including roles as the Vice President, Development & Strategy at Olds College; Vice President, Transformation at NorQuest College; and Associate Vice President, Advancement, Communications & Corporate Training at NAIT. During the past two decades, Mr. Machacek has led teams and implemented new business models that have produced significant impact. Through his leadership, he has increased enrolments, market and brand growth, enhanced industry and stakeholder engagement, and raised more than $450 Million in donations, research funding, corporate training, capital grants and other earned revenues.
Patrick received his undergraduate education from the University of Lethbridge (BA) and his MBA from Queen's University.
"I am very excited to be joining Red Deer Polytechnic at this pivotal time in the institution's trajectory," says Patrick Machacek, Red Deer Polytechnic's new Vice President, Development & Partnerships. "As a polytechnic, there is a tremendous opportunity for RDP to expand its impact for learners, the community
and the province. I look forward to working and collaborating with our dedicated team of faculty, staff, researchers, and external stakeholders, as we continue to evolve and build a world-class polytechnic that serves the needs of learners, employers and industry."
Mr. Machacek will begin his new role on January 30, 2023.